Traditional Shetland patterns influence scarf design
Linda Shearer, member of the Shetland Guild of Spinners, Knitters, Weavers and Dyers, shares her latest project with us, which was inspired by two patterns from the book, A Shetlander's Fair Isle Graph Book – In Colour. She writes:
With the success of the book 'A Legacy of Shetland Lace' produced by the Shetland Guild of Spinners, Knitters, Weavers and Dyers in 2012, we decided to start work on another book – this time Fair Isle patterns using members' own designs.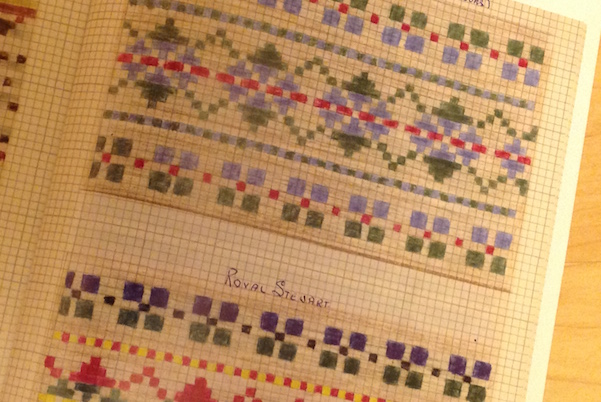 This prompted one of our members, Kathleen Anderson, to look out old graph books which had been given to her quite a few years ago by the son of the knitwear manager for Anderson & Co. where she previously worked.  Kathleen took the books along to a Guild meeting where most of us thought the books should be produced just as they were.  The Shetland Times published the books, into one volume, split into two parts.
After the Guild had the book published, I decided I would like to try knitting one of the coloured patterns from it.  I chose the two patterns, 'Hunting McIntyre' and 'Royal Stewart', thinking it would be fun to knit them both in a scarf.  I tried to choose colours as near to the graphed picture as possible.
The scarf is modelled by Linda's daughter, Emily.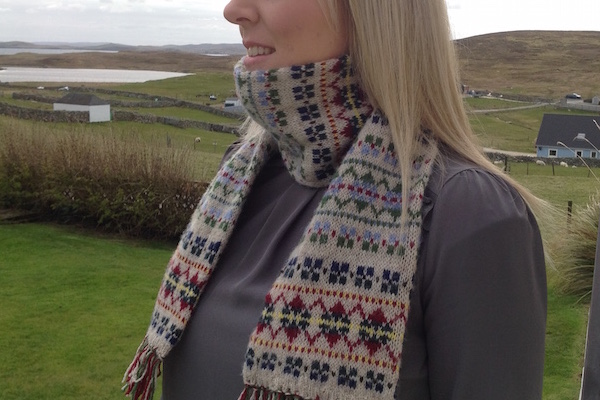 We are still in the process of producing our own book of members Fair Isle knitting patterns, and hope to have it completed in the next few months.