Projects for 2017
A new year can only mean one thing … new projects.. We asked some of our Shetland Wool Week tutors what they've got lined up this year and what they're looking forward to.
Ella Gordon
One thing I'm looking forward to is Edinburgh Yarn Festival in March. Last year being there launching myself and my pattern for Shetland Wool Week 2016 was nerve wracking but very exciting. I'm looking forward to seeing this year's pattern and patron and meeting up with the many friends I've met thanks to Shetland Wool Week. I've already bought my ticket!
Donna Smith
I have a lot of ideas for things I would like to do in 2017 (probably far more than I have time for).  Most of this involves designing new patterns, but there are a couple of fairly big projects I have had on the back burner for a little while I would like to work on.  My biggest challenge this year though is to figure out how to use my designing and knitting time more effectively as I have to fit it in between family and my part time job and I often find my mind is working faster than my hands can work!  I will be teaching a bit again this year; I have been invited to teach and give a talk in the Netherlands in May at the 'nederlandse breidagen' (translated as Dutch Knitting Days) which I am excited about and I will be running more evening classes for adults on Fair Isle knitting (run by the Shetland Islands Council Adult Learning Department).   I am also very pleased to be a tutor on the new Shetland Wool Adventures tours starting this year and of course am looking forward to Shetland Wool Week!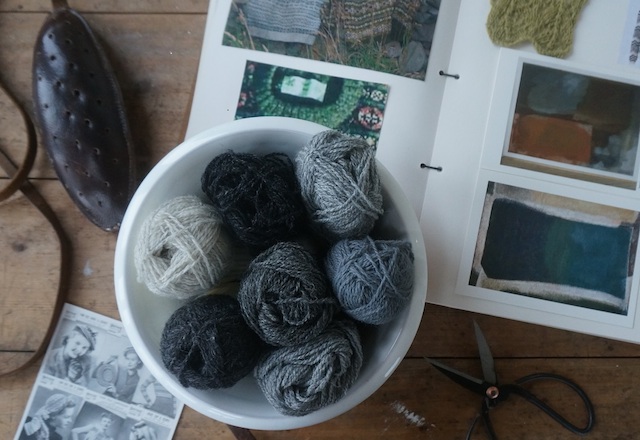 Rachel Hunter
I am looking forward to two main things things next year: (1) Attending Edinburgh Yarn Festival for the first time; and (2) entering the  Voe Show/Jamieson and Smith Colourbox Competition this summer.  This year the Colourbox competition will be a bit different as its a lace challenge (in previous years it has always been a Fair Isle challenge in which you had to use at least five colours from a selection of eight Jumper Weight yarns)  in which you have to knit an article using one or more of the selected Shetland Heritage Yarns.
Julia Billings
This year, I am really looking forward to learning more from other natural dyers and hope to study with very experienced dyers from Latvia and Denmark! In learning from (and with) others, I hope to be able to achieve a wider range of colours and to be more energy-and-time-efficient in my processes… and to expand my program to include a weekend-long workshop encapsulating all aspects of dyeing with plants. It should be an exciting year!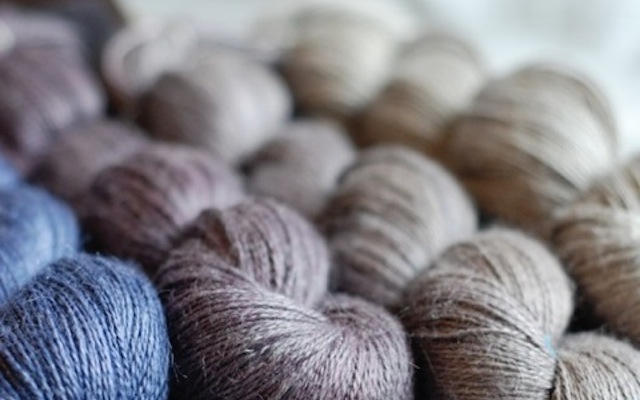 Niela Kalra
The 'on-season' has begun! Although Shetland doesn't get as many visitors at this time of year, things are far from quiet at Nielanell. I'm at an exciting stage with some new designs—swatching and sampling! The new collections will be ready and in-studio when  we reopen with regular hours in May. Wool Week 2017 classes are being planned and I'm also preparing for a visit to the USA, where I'll be presenting new pieces at a design symposium. Of course alongside the daily studio business that Diane is keeping on top of, there's also the online shop… and there's a special web offer coming for Up Helly Aa, so watch out!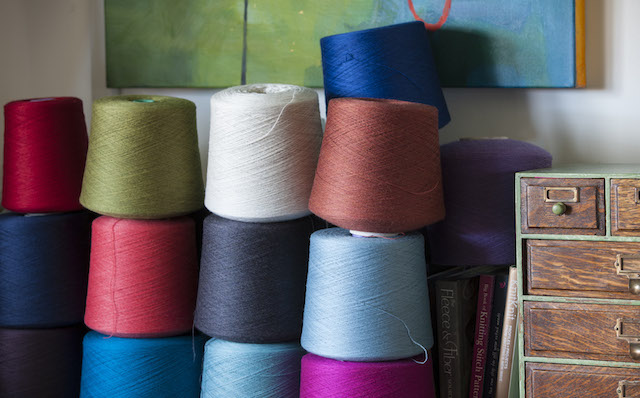 Hazel Tindall
With Elizabeth Johnston as my adviser/helper I plan to do a second DVD/download. I'm not entirely  sure of the title yet but it will show tips and techniques.
Elizabeth Johnston
I recently saw the Bergen launch of my new book which I co-authored with Hildur Hákonardóttir, and Marta Kløve Juuhl, called The Warp Weighted Loom which is all about the importance part wadmal and weaving has played in women's history. I'm looking forward to getting some feedback on that and hope to have it available at Shetland Wool Week too.
Janette Budge
Looking forward to wearing this cardi soon, still learning lots from my mam. So many other things I want to knit too!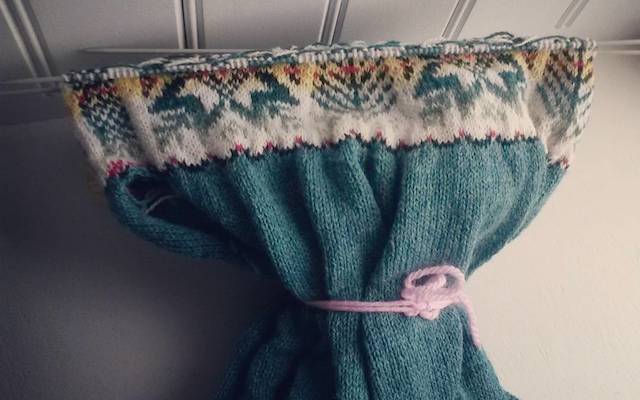 Barbara Cheyne
This year I'm keen to complete a Fair Isle yoke lumber I have knitted using a steek. The steek still has to have a crochet line down each side before cutting and sewing down. As you can see the front bands have been knitted on so once the steek finishing is completed I will overlap the front bands, roughly sew them together, wash, spin and board the garment. When dry (overnight) it will be removed from the board, the rough sewing undone, pressed with a hot iron over a damp cloth to shape it. The buttons are next then it is ready to go. During Wool Week I shall be taking classes in steeking and will be delighted to meet everyone and remove the fear of the scissors!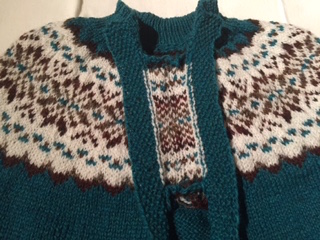 Outi Kater
This year I am hoping to concentrate on designing new knitting patterns and improving my pattern writing skills. I have got a couple of exciting projects in the pipeline and have been working on them through the holiday season. I also recently bought two new books I want to read in depth. One of them is The Knowledgeable Knitter by Margaret Radcliffe, that a fellow Wool Week tutor recommended to me, and the other one is Sukupolvien Silmukat by a group of inspiring Finnish knitters and designers, a book that looks into the mitten and sock heritage of Karelia in the Eastern Finland and reproduces traditional patterns from this region.
Helen Roberston
I love Shetland Wool Week and look forward to it every year. I love meeting the folk that come from all around the world and as we already all have a shared interest, friendships and connections are so quickly made. I haven't finalised my plans yet but following on from the success of last year I am planning to run the 'Enamel Your Own Shawl Pin and Buttons' workshop again. Last year several of the participants requested a whole day to try out different techniques so I'm looking forward to seeing the results from that day. I'm very excited about a project I'm working on to test and document matching enamel colours to Shetland Wool so would like to invite participants to brings yarn to colour match for future projects so they can create their own perfect buttons.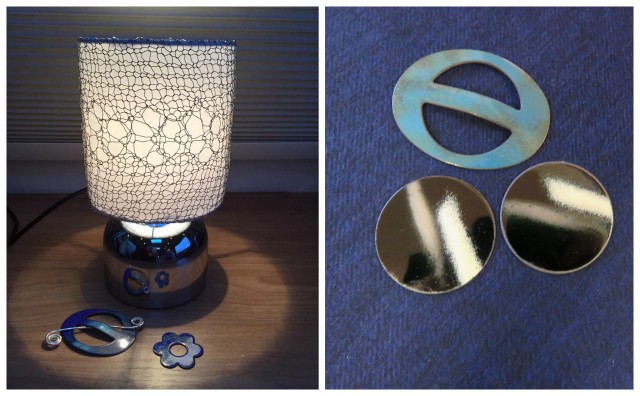 Linda Shearer
I have been tutoring Fair Isle through Adult Learning for the past five years.  I do this for a few weeks during the winter (usually starting in January).  However, this January (starting 11th) I have changed tack and am going to try a class on 'An Introduction to Lace knitting'.  The class will begin by looking at the different shells – old shell, new shell, cockleshell and trying a small piece of each.  The learners will then decide if they would like to try a scarf/cowl/small shawl etc using one of the shells, or something completely different!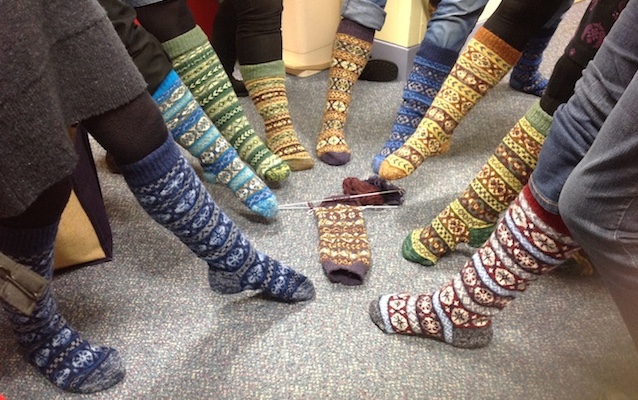 Anne Eunson
In January I need to finish knitting a lace hap for a baby due in early February.  I'm hoping this baby doesn't decide to come early for I still have about two-thirds to knit!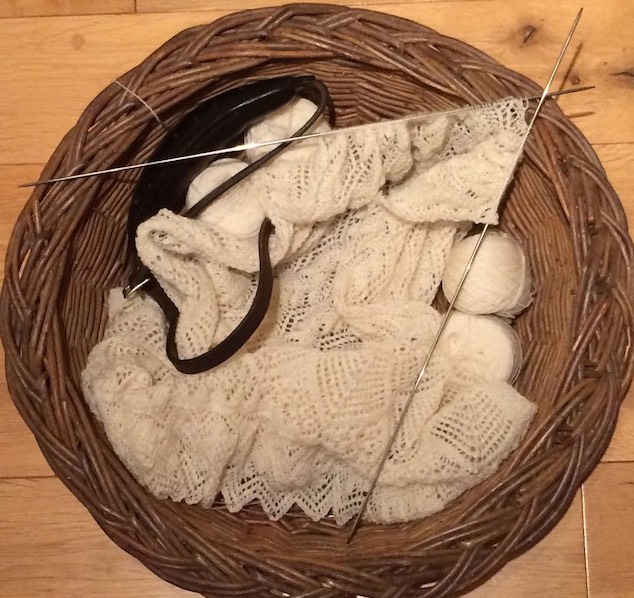 Kathy Coull
There is just no end to the gifts that Shetland sheep can give us!
I had an interesting conversation with a Scandinavian workshop participant about traditional Skinfel work. She gave me a pair of wrist warmers her friend had made from Gotland sheepskin. I had cured some of my own Shetland sheepskins earlier in the year and thought I would try out some not so traditional ways of applying colour and pattern to the skin. The wrist and neck warmers seemed the ideal way to start. (The ultimate ambition to be able to make a full sized sheepskin bed cover!) My process is developing…….so far, so good! I might be able to offer an exploratory workshop at Wool Week 2017…