Countdown to Shetland Wool Week 2019!
We're just days away from celebrating our tenth Shetland Wool Week – which will be our biggest one yet.
The event has gained incredible momentum over the years. What began with just a handful of events in 2010 as an initial response to the newly launched Campaign for Wool, an initiative of HRH the Prince of Wales to help promote sheep farming and wool, into what is now a significant date in the international fibre calendar is something we are very proud of.
We love this picture by Jamieson & Smith that visually shows how much the event has grown (there was no programme in 2010!). Read the J&S blog to find out more about SWW over the years.
We are grateful to each and every one who has supported us – patrons, industry, tutors, volunteers, the Shetland community – and all our wonderful supporters. So, thank you – to those who have followed us from afar and perhaps never visited Shetland, to those who have been returning year on year. We love our SWW woolly community!
For those joining us at the end of the week, here is some useful information:
The Hub
The SWW Hub is located in the Shetland Museum and Archives, Lerwick and will be open daily from 10.00am – 7.00pm (5.00pm on Sundays).
There is no need to register for your classes, but come along and collect your premium membership (travel cup, candle and project bag), and any pre-ordered annuals and hat illustrations if you chose the 'Click and Collect' option.
For those not attending we will be posting out memberships, illustration prints and annuals from the 30th September.
The Hub is also the place to catch up, find out what tickets are still available, check out the noticeboard to find out the latest news and perhaps arrange transport – or just enjoy a cuppa, a natter and a knit.
This year representatives from the Shetland Visitor Information Centre will be joining us and they will be able to answer any queries relating to eating out, transport, taxis and general Shetland information.
The Shetland Museum is a must visit at any time of year, the permanent textiles collection is outstanding, and there are also some special exhibitions to coincide with Shetland Wool Week, including: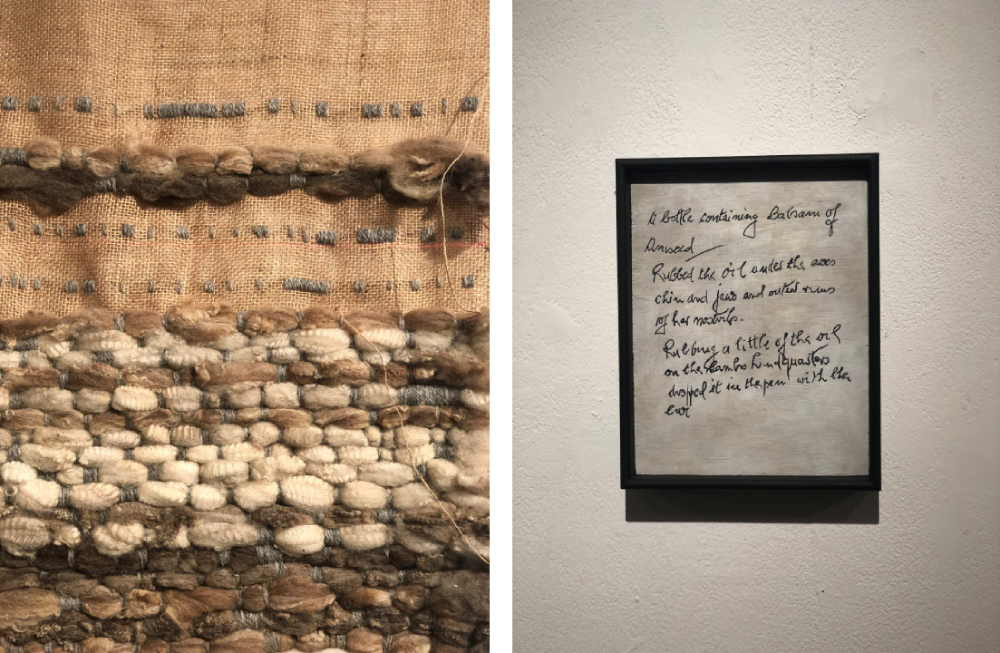 Vivian Ross Smith: Paes-Wisp
Susan Pearson: Reconsider Wool: The Laird's Witch
Nottingham-Shetland Knitted Lace Research Project
Deborah Gray: Of the Land: Icelandic Wool
Diana Warmels-Edes: Lace Knitting from the Sea
We'll also be displaying all the items from this year's beautiful Shetland Wool Week Annual, Volume 5 before we (reluctantly) return them to their designers. Come along and take a closer look at all the garments.
Photo booth:
We will have a photo booth, inspired by an old Shetland croft house – come and take your photo throughout the week and upload your image to #swwmadebyme2019
Noticeboard:
Check out the noticeboard for daily updates.
The MRI Makkers will be joining us on some of the days too – where you can talk to some of the volunteers and find out all about their work to raise funds for the Shetland MRI Scanner Appeal.
Holistic Therapy
We're also thrilled to welcome Amanda Souter from Island Holistic Therapy from Monday – Friday, who will be offering 10 minute holistic treatments in Thai Hand Massage; Indian Head and Neck Massage; Reflexology. We thought you might need a bit of a treat after all that knitting, spinning and weaving.
Amanda has very generously offered to donate all money raised to the MRI Scanner Appeal.
Bookings will be taken at the Hub information desk 24 hours in advance and we suggest a £5 donation per treatment. Come and chat to us and find out more.
SWW Merchandise
As always we will launch our new range of SWW merchandise at the start of SWW. This year we have collaborated with illustrator Cathryn Worrell, who has designed a super cute Shetland sheep which includes a nod towards our tenth event. It's fun, it's colourful, it's part of our celebration!
Depending on stock levels we will add merchandise to the online shop after Shetland Wool Week.
SWW Welcome, Sunday 29th September
We look forward to welcoming many of you to the 'SWW Welcome' at the Clickimin Leisure Centre Main Hall. Entrance is via the Main Door.
Doors open at 6.30pm for a 7.00pm start.
We have some fun things lined up with a welcome Shetland Reel Gin cocktail or Lerwick Brewery Beer and Mirrie Dancers chocolate. It will be a relaxed, celebratory event and there will be a chance to visit the SWW Sponsors' display tables as well as buy gin, beer and chocolate! Remember to bring your SWW hat for the official photograph!
Sadly there is not room for everyone, but the event will be recorded by Promote Shetland so there will be a chance to watch it later on.
Highlights of the week
There are so many drop-ins and free events taking places all over Shetland throughout the week. Check out the programme for details. Highlights include:
Shetland Flock Book Show and Sale, Shetland Rural Centre, Lerwick
Saturday 28th – All Day
Bigton Hall: Loops and Lunches Exhibition
Tuesday – Friday (see the programme for details)
Knitwear exhibition, teas and lunches
Exhibition of Bressay Knitwear
Sat 28 Sept – Sun 6 Oct
Knitwear, textiles, art and crafts for sale
Drop in Knitting, Spinning and Wheel Clinic, Hoswick Visitor's Centre
Tuesday & Thursday (see programme for details)
An Evening with Islesburgh Spinners and Knitters, Islesburgh, Lerwick
Tuesday 19.00 – 21.30
Walls Regatta Club: Café, Knitwear and Fleeces
Tuesday – Thursday 11.00 – 16.00
Meet local knitters, buy knitwear, tweed gifts, local raw fleeces, traditional Shetland slipper knitting patterns.
Tak Your Sock Night, Anderson High School, Lerwick
Wednesday 18.30 – 20.30
More than a Happening, Ollaberry Hall
Saturday – Wednesday
Ulsta Craft Fair (Yell)
Tuesday & Wednesday 09.00 – 18.00
Unst Heritage Centre Open Day
Wednesday 11.00 – 15.00
Meet local knitters and see knitting displays including fine lace knitting.
Whalsay Welcomes Wool Week
Friday 12.30 – 19.00
Have a Go! Unst Heritage Centre
Friday 14.00 – 16.00
Drop in session with the Unst Knitting and Spinning Group
Shetland Flock Book 2019 and Fine Fleece Prizegiving Supper and Dance with Vi-Spring
Saturday 5 19.00 – 23.30, Tingwall Hall
Round off your Wool Week and enjoy a social evening with traditional Shetland fiddle music, Shetland dancing and a light supper.
SGSWDK Sunday Teas, Exhibition and Demonstrations: Brae Hall
Sunday 6 October, 14.00 – 17.00
Knitters exhibitions, demonstrations, Sunday teas and traditional music
Sumburgh Head Nature Reserve, which is owned and operated by the Shetland Amenity Trust will be open throughout SWW. As well as boasting one of the best views in Shetland, there is also 'Katja's Cakes' Café, serving delicious coffee and cakes. We highly recommend the mandarin gateaux!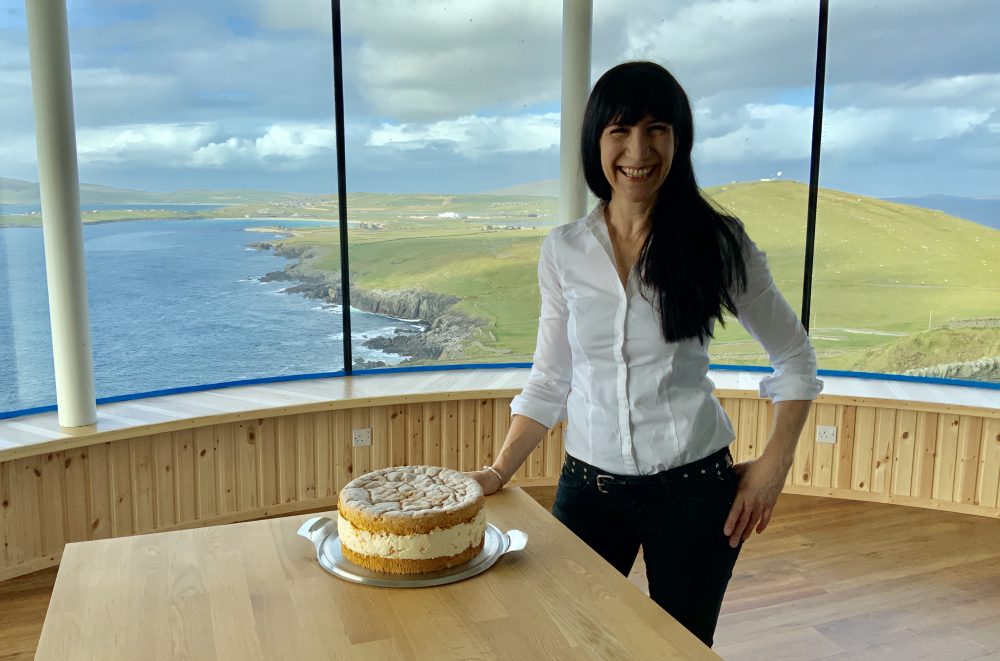 #swwfairislefriday
During Wool Week we will be launching 'Shetland Wool Week Fair Isle Friday' on Friday 4 October.  This is something that already takes place informally but we are keen to make a real splash with it this year – and the aim is to make it an annual event and to raise the profile of this unique design and of Shetland's textile heritage.
Whether you're in Shetland or elsewhere, wear some Fair Isle and upload it to instagram using the hashtag #swwfairislefriday. Or email your photos to us at info@shetlandwoolweek.co.uk
Spread the word!
We will be joined on Friday 4th by 'Fivla' and 'Vitamin', two Shetland ponies from Thordale stud who will be wearing their finest Fair Isle and ready to strike a pose at Hay's Dock, next to Shetland Museum.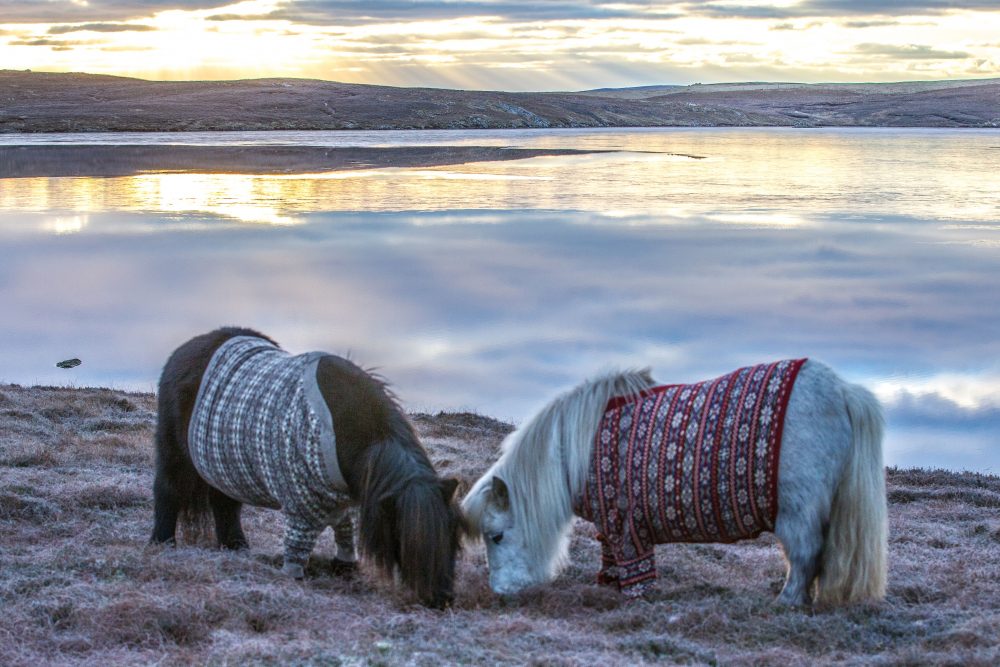 SWW Makers' Market
Saturday 5 October, Anderson High School, Lerwick, 11.00 – 16.00
This will be a great chance to meet local makers (and a few visiting ones too!) and purchase beautiful Shetland wool pieces, many not available in shops.
The Anderson High School will also be providing soups, cakes and coffee – so come and enjoy a few hours with us!
And away from SWW, there is a wonderful project that has just been completed at the Shetland Museum:
Three Kirks Project
Shetland Museum has been working on a project to uncover the mystery of 'the three kirks'.
The team have discovered that three ancient church sites in Shetland were built from stone that does in fact originate from Orkney. Legend has it that these kirks were gifted to Shetland by three Norwegian sisters and have a key role to play in the Orkneyinga saga.
There is currently an exhibition at the Shetland Museum which highlights important research recently undertaken by Curator Jenny Murray in a joint project with local geologist Allen Fraser. They have used science to prove that red sandstone built into the local three kirks was brought here from Orkney quarries, around the same time as the cathedral was being built by Earl Rognvald to house the relics of his uncle, Saint Magnus.
The exhibition includes church furniture made of red Orcadian sandstone, including a piscina on loan from Papil in Burra, and a small portable alter from Eshaness. There is also a very special loan from Kirkwall cathedral which has never been in Shetland before. A beautiful hand-woven altar cloth inspired by the research and made by The Shetland Tweed Company using local wool kindly sponsored by Jamieson's of Shetland, adds another colourful dimension to this unique exhibition. Here Andy Ross explains his involvement with this exciting textiles project:
Remembering Saint Magnus by Andy Ross
A few months ago, I was asked if we, at The Shetland Tweed Company, would be interested in working with the Shetland Museum on an intriguing project about three 12th century towered churches in Shetland, associated with the cult of Saint Magnus. I went down to Lerwick and met with Jenny Murray (Curator of Collections) and John Hunter (Exhibitions Officer) for a wide-ranging discussion about how to commemorate the building of these churches and the saint. Recent research by Jenny and local geologist, Allen Fraser, has shown that Orkney red sandstone, used to build the three church towers, was quarried in Orkney and brought to Shetland, most likely at the same time as St Magnus cathedral in Kirkwall, Orkney was being built. See their project blog here:
Jenny, John and I went on a visit to various Shetland places to see the sandstone in situ, and I was struck by how the red of the alien geology glows in amongst the more muted local rock.
Jenny suggested the idea of an altar cloth, which would be shown in the Museum as part of a display to celebrate the findings of their research. I spent a few weeks, pondering and trying out different ideas, before hitting on one which I thought might work well, either as an altar cloth or as a wall hanging.
By using the colours of the rock, a spectrum became gradually apparent. The way we work in the studio is first by arranging cones of yarn in various permutations, shifting them around as the inherent qualities of the colour become clearer. Some colours work well against others, bringing out the brightness of the yarns, some do not but blend well and create a different effect. I wanted the inner section of the cloth to glow, partly because it is an interesting effect but also because I wanted to create a haloed cross in the centre of the fabric. Having been brought up as Anglican and been active in the church when I was young, so I am familiar with ecclesiastical garments, vestments and fabrics, and some of my favourite artists have been the Mid-Century designers who created materials for places like Coventry Cathedral. All these were things that influenced the final piece.
Many samples later and after countless discussions with Jenny (thank you for all the time!) I wove the length of the altar cloth in one afternoon.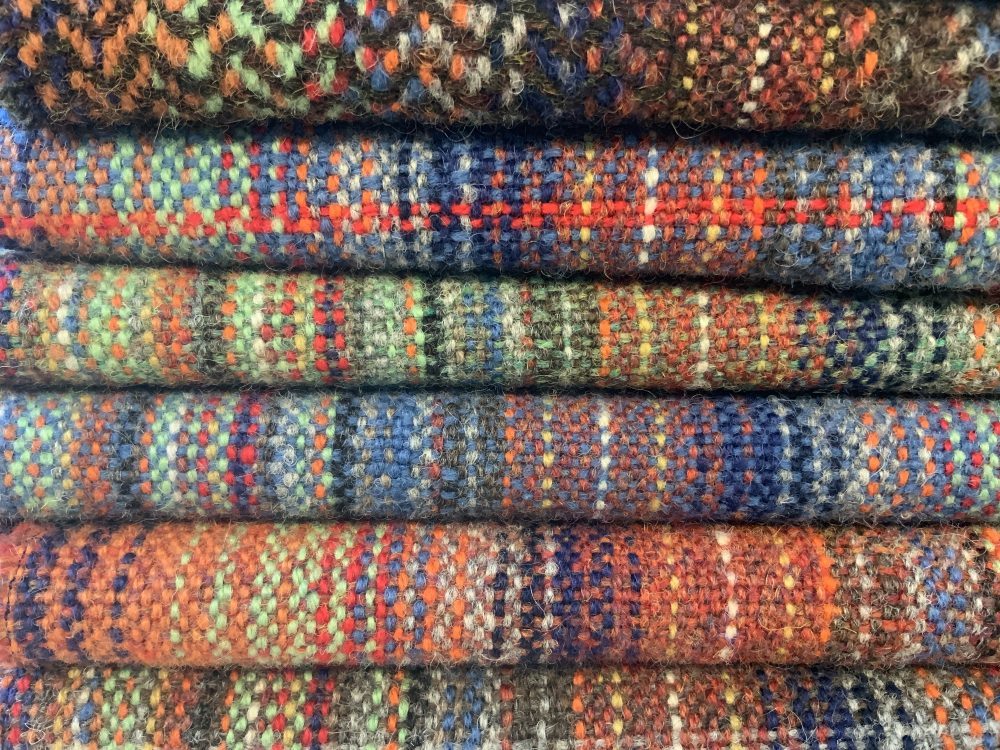 It has been a fascinating project, one which will continue for a little while yet. There are scarves in the same colours as the altar cloth, and next year we are planning a Limited Edition of blankets – thirteen of them for the thirteen disciples. I am very proud to have been part of this project and even more proud that the altar cloth is now a permanent part of the Shetland Museum textile collection; a Nationally Recognised archive.
Thank you for asking me to be part of this. It has been a great honour, not to mention a lot of fun!
Shetland Museum and Archives would like to thank Jamieson's of Shetland for sponsoring the altar cloth, providing us with the lovely Shetland wool used in its creation.
Look forward to seeing many of you very soon. We'll share regular updates through social media throughout the week!
Safe travels,
Best wishes from the Shetland Wool Week team