Shetland Winter
Wednesday, December 19, 2018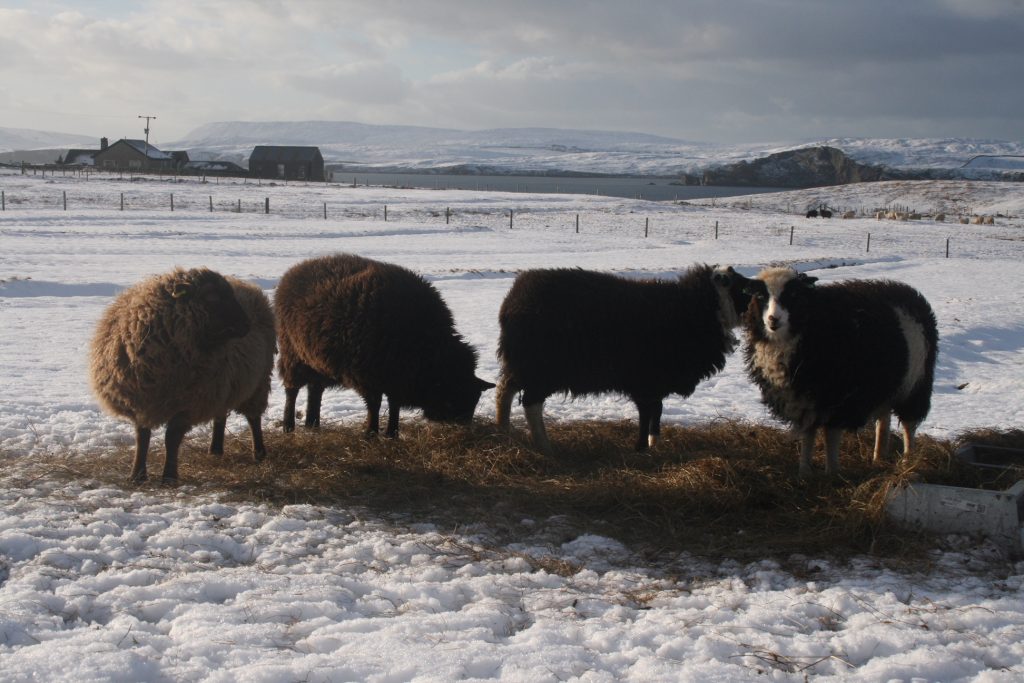 It's literally days before Christmas and we're getting in the festive spirit. Amid the flurry of school concerts, social events, last minute work deadlines and a few glasses of mulled wine along the way, we're edging towards the holidays. We've been battling against Storm Deidre over the weekend, and the days in Shetland have been dark and short. Sometimes it's hard to find the motivation to get going and the worry of a glitter topped Christmas seems unattainable. But we are not chasing perfection, and instead see this as a time to tie up loose ends, reassess and look forward to those moments connecting with friends and family.
The great outdoors beckons, too, and while the wild winds can make getting outside a challenge, the weather also throws up magnificent seas and views that invigorate. After a blustery walk there is always the added incentive to get back home, cosy up with woollen projects, and begin on plans for future ideas and trips.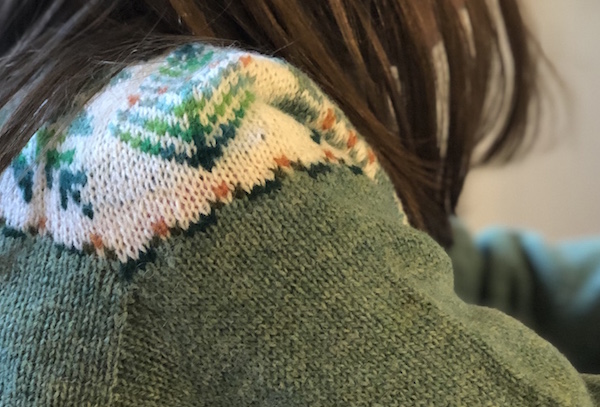 We are all for celebrating Christmas, fun, and laughter, but, like many, are choosing to reject the throwaway culture that often surrounds the season. We loved reading Hazel Tindall's blog and her views on Christmas Jumper Day and fully support the alternative idea of a 'favourite jumper' that can be wornthroughout the year. A #lifetimegoal was achieved recently when Victoria managed to snap up one of Ella Gordon's precious jumpers from her Vintage Collection. We've been eyeing it up for years and were drawn to the brilliant greens and tree of life pattern. It's a little small, so has been gifted to a young lover of Fair Isle, and has already been worn, admired and been a talking point in the classroom. Who needs sequins and a light up Rudolph nose after all?

This has also been the season to celebrate the many talents of others living in Shetland. Back in November, straight after Shetland Wool Week, we enjoyed the Shetland Arts and Craft Fair.What an inspiring weekend admiring the work of talented makers, many of whom have other jobs, families and commitments that all have to be juggled. A visit to the newly opened V&A Dundee was also a highlight (and a great place to visit if you are heading for the ferry at Aberdeen). Set on the River Tay, the impressive architecture presents endless photographic opportunities. Inside it was wonderful to see Shetland's contribution to the Scottish Design Relay as well as the display of Fair Isle patterned knitwear and a lace shawl in the Scottish Design exhibition, which features around 300 exhibits.
Shetland Wool Week received some great coverage in the press this year too. The New York Times featured the isles and the festival on the front page of their Travel section. Juliet Bernard visited Shetland Wool Week and wrote about her experiences in The Knitter (Issue 132), saying "It is so hard to capture the whole experience in a few words, but the welcome we received from Shetlanders was so incredibly warm. They were more than happy to share their skills in an informal and generous way, which completely bowled me over. I learned so much, both in and outside of the workshops." There is also a brilliant feature on Wilma, Terri Laura and Alyssa Malcolmson.
Fruity Knitting also joined us and over the past months have shared some fantastic podcastsbased on their time here, where they caught up with various tutors and personalities from Shetland's textile and crofting community.
Lace Project Begins
There have been exciting developments at Shetland Museum as they have begun their Lace Assessment Project. The 400+ knitted lace objects are part of the Museum's large Textile Collection, awarded the status of a collection of national significance in 2013. The project is being generously funded by Museums Galleries Scotland's Recognition Fund. The two-year study will review, assess condition and design, and digitally photograph each piece in the collection, from simple scarves to a black cocktail dress. Designs of a unique character are being selected for charting and samples will be knitted,to be used as a handling collection for researchers. The individual motifs chosen for charting will be compiled in a publication at the end of the project. The Museum team will keep you abreast of progress, special discoveries, and stories about knitted lace on the project blog. It's a fascinating project and we hope you'll be keen to follow developments.
The Lace Assessment Project developed as the obvious successor to in-depth research on the Shetland lace industry by Roslyn Chapman, School of Humanities, University of Glasgow, in partnership with Shetland Museum and Archives. Dr Chapman's PhD thesis is now available online, check our Lace Project blog for further information and download link.
My Day in Stitches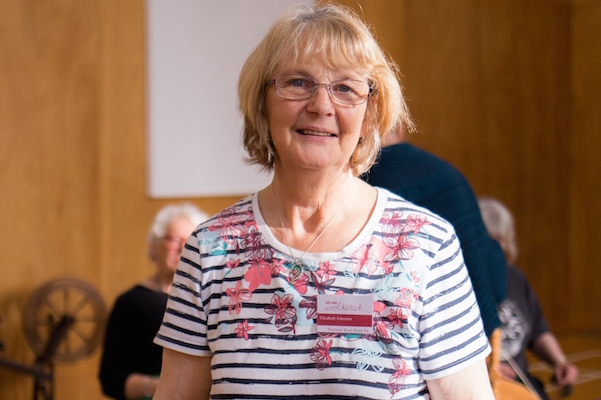 This month we caught up with Shetland WoolWeek 2018 Patron, Elizabeth Johnston to find out more about her work. Born in Shetland to a Shetland family, she has always lived here and can't imagine being anywhere else. Her mother's family is from Cunningsburgh and her father's from Sound, which is on the outskirts of Lerwick. She grew up in Lerwick butspent many weekends and holidays working with croft work at both Cunningsburghand Sound. She worked in finance, but knitting was always work as well. She hand knitted as a teenager, mostly Fair Isle yokes, and she later did machine knitting and finishing. Knitting was always a good second job. Now hand spinning ,hand knitting and natural dyeing, and teaching these skills as well as weaving is her main and only job.
Why do you knit/spin/dye/weave?
The answer to that question is – I have no idea. I have always knitted, and I think to begin with I just wanted to do what the adults were doing, and in the evenings that was knitting. As children we learned to knit garments. The first I knitted were children's mittens, and whenI could knit them well enough, I sold them. Having earnings from knitting was an incentive to knit more. I saw spinning as a child and always wanted to try. When I did start spinning I was just hooked, it is very addictive. Dyeing was just an extension of that, and the colours from natural dyeing are so easy to work with. Weaving for me is on the warp-weighted loom, and that came from an interest in Shetland's long and continuous textile history, with much of that being weaving on the old loom and with spindle spun yarns.
Where and when do you usually spin/knit?
All day, every day, anywhere, anytime…it is full time work for me. But maybe not on Sundays.
How does your perfect day shape up?
A typical day for me starts with preparing fleece for spinning. What needs to be done will depend on whether I am starting to usea fleece or if I am part way through spinning a fleece. Fleece need to be skirted, graded, teased, then carded. After a couple of hours of fleece preparation I should be ready to spin for the rest of the day. I have to take a break through the day to check and answer emails and check social media, but otherwise I would spin through the afternoon. Knitting is more of an evening job, and the perfect knit would be a hap which I can knit easily whether a visitor stops by or I watch agood film on TV.
What are you working on right now?
Winter time is when I get most of my spinning done, so right now I am spinning to get stock levels up. It is, however, good for the soul as well as the body to have some knitting to do as well, for a bit of variety. And as we all know there has to be more than one knitting project on the needles. I have just finished an allover waistcoat, a commission in my handspun yarns. Then there is a shawl which I have been working on slowly for a few months, and writing the pattern as I knit. The pattern is copied from a shawl which was knitted about 70-80 years ago so the pattern will have a little story with it. I have a Fair Isle throw almost finished, a sample for one of the colourways of my Fitful Head cushion and throw pattern. And, as it is December, I am knitting a few slouchy toories for grandchildren for Christmas presents. I might write the pattern for those for next year. They are knitted in one colour but with a 2-coloured rib where you can play with colour. I am also working on an idea for a different style of shawl, which will perhaps have a jumper or waistcoat to match. If the design works I will write the pattern and perhaps have it ready for Edinburgh Yarn Festival in March.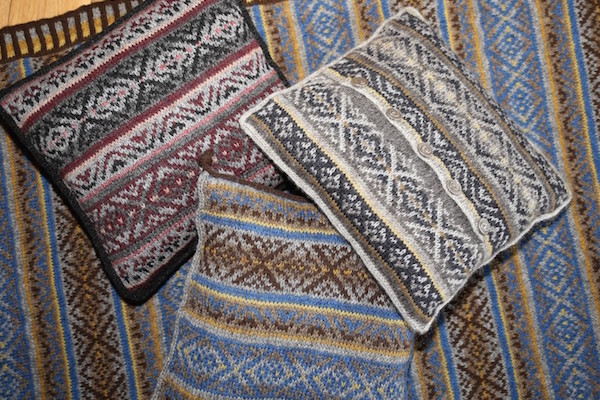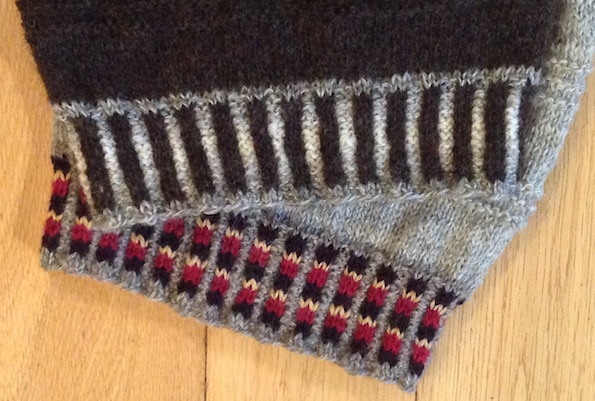 What has been your most challenging knitwear/spinning/dye/weave project to date?
… that has to be my Lunklet Jacket! The first one was a very satisfying knit. The problems started after having it at EYF in 2016. I displayed it as a sample of my handspun lace yarns, where we were repeatedly asked for the pattern. My sisterwas with me on the stand and her response to being asked was– no, sorry, it is in her head, – and that was how it was knitted, straight out of my head. That is how we design and knit. So I changed that response to – no, but the pattern will be here next year. I did not think of the difficulties of writing the pattern as I had knitted it, as a complete garment with no seams, and writing for different sizes. Of course I did have a year to figure it out, but then I did not start working on it till January the next year. That meant that the pressure was on to complete it. It took time but I completed the task and the pattern has been very successful.
What inspires you?
Now that is a hard one. Mostly I am spinning,and spinning natural coloured Shetland fleece. When choosing fleece I am looking for soft fleece in a range of greys and browns. Often a fleece will just say I have to take it – it is just the look of the fleece. From those spun yarns I will choose some as base colours to over-dye with natural dyes to get a range of colours which will shade. Inspiration should be involved with choosing colours for Fair Isle and Lace garments, but it is really just those colours that are my inspiration, if I could call it that. I will see two colours that appeal to me, that look good together, and to that first two colours I will add more to give a 'mood' to a colour scheme. Very occasionally I will have something that does inspire a design, as with the Shoormal Neck Shawl pattern. In that it was a beautifully coloured high tide line on the beach, the line that we call -shoormal.
Neutrals or colour?
I don't think of neutrals. I would think naturals (which are all those greys and browns in our fleece) and colours. For me it has to be natural fleece colours – and blue – you almost can't get a better colour than blue. In the past we did have a natural blue fleece, called 'blaegit', which translates to 'blue'.
What has being SWW Patron meant to you?
It was a privilege to be asked to be Patron, and perhaps a bit daunting to be the face of Shetland Wool Week for a year. A photo of my hand spinning were on the front of the catalogue and there was a photo of me with a message inside as well.That and the hat pattern made me quite visible – something I don't think I ever am (but apparently I am wrong!). I did enjoy talking to visitors during Wool Week and seeing all the hats that were knitted, seeing the different colours people had used, and quite a few in my handspun yarns. There are still hats being knitted with photos regularly coming up on social media.
Favourite Shetland dialect word and why?
Oh, there are so many good Shetland words, it is such a descriptive dialect. If I stay with spinning then I could choose 'hesp tree' which is a niddy noddy, or 'sweerie box' a lazy kate, but my most favourite word would have to be 'hentilagets'. As a child we were sent out to gather hentilagets. Some are now gathered by visitors to Shetland and there are always some Wool Weekers who come in to my classes with a pocket full of hentilagets to ask if they can use them. So what are hentilagets? 'hent' means to pick up or gather, and a 'lag' is a tuft of fleece. As Shetland sheep are a primitive breed they shed naturally and many will therefore loose some tufts of fleece before they are sheared which we can then pick up– those are 'hentilagets'.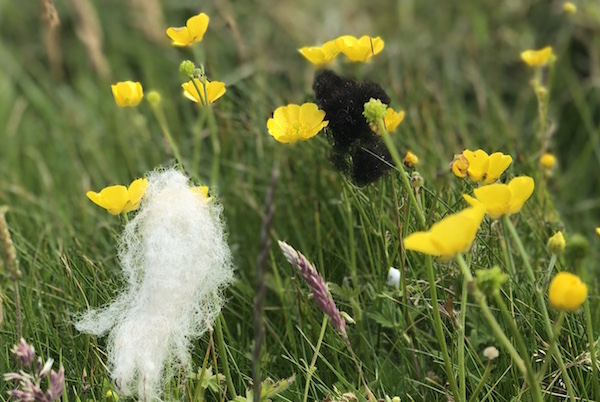 What's your favourite thing about Shetland?
That has to bethe sea, it is a constant, it is always there and almost always in sight. It is the sea combined with the landscape, the green fields and the rocky heather hills, the skerries, voes and geos, which make the magic in the atmosphere we see in the changing weathers. An extra bonus is to watch baby ducks feeding with their mother in the ebb stones on the beach, or watch a seal chase a small fish in the shallows of a sandy beach, and all from your bedroom window.
#Wovember
And on a final note, we were inspired by the responses to #Wovember in November, a collective appreciation of wool, celebrating its unique qualities in stories and pictures. It was touching to read various posts on instagram and hear just how passionate people are about wooland what it means to them on a personal level. What particularly resonated were the comments that said that wool signifies so much more to them than its physical form, and how it brings joy, comfort and calm. Some talked of how wool means connections to people through shared experiences, and is a way to show love and care. To others, wool brought hope and possibility. In our minds, pretty much the perfect Christmas message.
Stay warm this winter.
Woolly round up 2018
Thursday, November 15, 2018
Hello, and a warm and cosy welcome! We can't believe that we're hurtling through November already and Shetland Wool Week 2018 took place over a month ago. It feels strange that after a year of planning, it is now over, and we're beginning to think about the next one.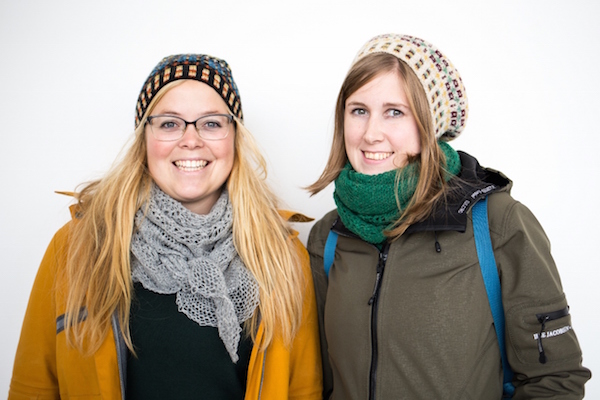 But in true autumn mode, which is surely a time to slow down a little and reflect, we wanted to look back on what was another inspirational, sociable and creative festival.
This year we welcomed almost 700 people to Shetland from near and far to take part in our ninth Shetland Wool Week. What an incredible experience it was, and we enjoyed seeing new and familiar faces. Many had taken time off their work and travelled from all corners of the world including Australia, Alaska, Hawaii and Israel. It is truly staggering when you reflect on the distances involved.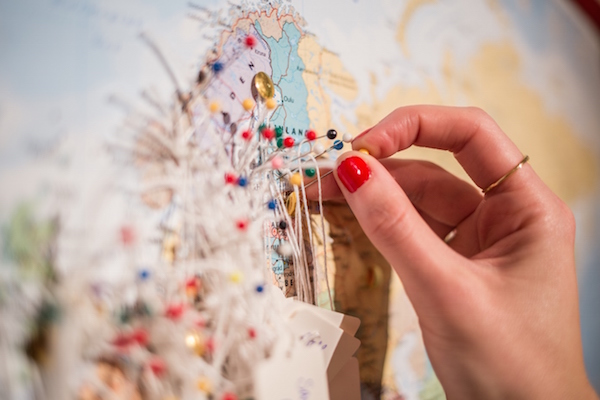 For those of you familiar with SWW one of the major draws is the destination. For such a tiny place, we like to think our archipelago packs a memorable punch.
As the event has grown, and more of the local community has become involved, we really aim to make sure that there are wooly-related events throughout the islands. This year was no exception with workshops, classes, drop ins, teas and tours taking place from north to south, east to west.
We have noticed that many visitors are now coming for longer, seeing it as an opportunity to learn new skills, holiday with friends, make new friends, travel, socialise, knit, spin, weave and make memories. In fact, SWW has been described by some as a 'life affirming' experience.
As ever during SWW there was a great buzz to the place. Visitors arrived throughout the week and on different days according to their schedules. We loved welcoming everyone to the cosy Hub at the Shetland Museum and Archives –  where people collected their membership bags, browsed the museum collections and displays and had the chance to familiarise themselves with the event. For first time visitors to Shetland it can be a little overwhelming to understand how things 'work' in Shetland. The Hub is the perfect place to speak to others and get questions or concerns answered.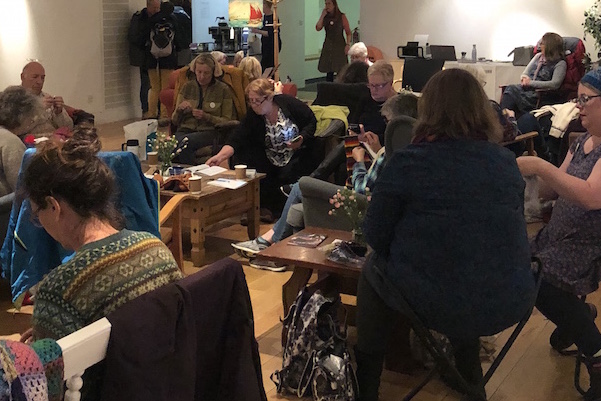 This year we decided to kick off the event with a more informal 'Welcome' than in previous years. It took place in the brand new Anderson High School.  What a colourful sight it was to see so many Merrie Dancers Toories! After music by the talented Shetland fiddle group, Hjaltibonhoga, there were short speeches, including one from SWW patron Elizabeth Johnston. Everyone then got a chance to mingle, catch up with old friends, put faces to Instagram names, meet tutors, and enjoy a glass of wine and chocolate from Mirrie Dancers Chocolatiers. The sponsors were there with their teams and had put together small display tables too. Overall it was a lovely sociable event – and also a great place to people watch and admire all the amazing knitted garments – almost a mini fashion show in itself! So much skill and talent from all over the world under one roof.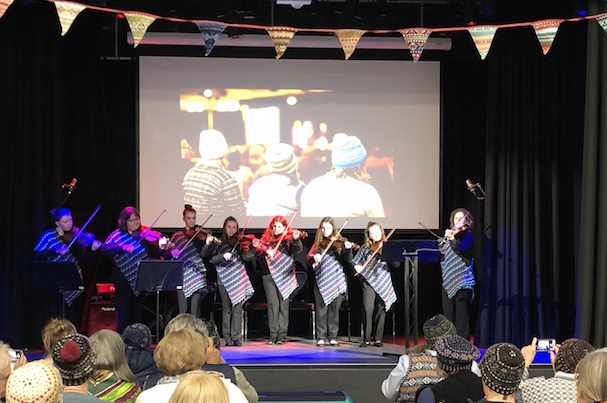 Anyone familiar with the programme will know that workshops run for the nine days of the festival, and whilst we recognise that it is sometimes difficult to get hold of tickets due to the small class sizes, we hope that the breadth of events offered encouraged people to perhaps try something new. There was a diverse line up of events which included hand knitting, machine knitting, Fair Isle and lace knitting, weaving, spinning, felting, crochet, colourwork, dyeing, silver making, design, tours and talks as well as a host of free exhibitions, open studios, demonstrations and drop-in events.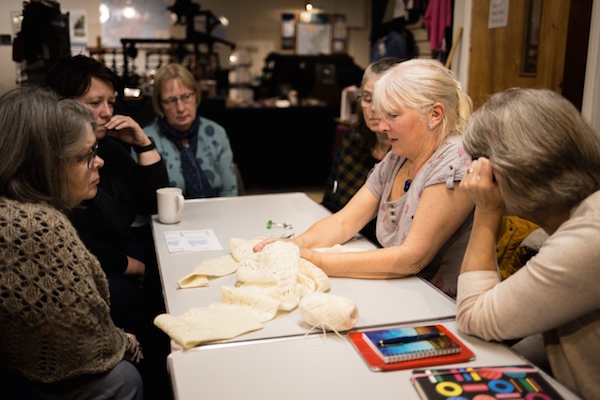 With a slew of over 300 events it is almost impossible to choose highlights. But we are so grateful to our tutors for putting on such a broad range of classes and generously sharing their expertise and passing on valuable knowledge and skills. Many go the extra mile and share their personal history and bring a range of homebaked goodies to class too. We even heard of one tutor taking home a visitor's much loved but damaged vintage Fair Isle jumper and fixing it overnight. We don't think you can put a price on experiences like that.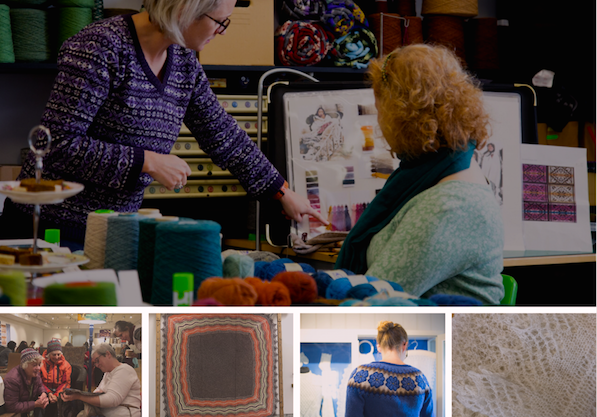 Our visiting tutors were very welcome too, and included Anna Vasko travelling from Finland who ran a series of natural dye classes; Dorset Button Making with Tania Ashton Jones; Thrummed Mittens with Helene Driesen, Peruvian Knitting with Frankie Owens and a range of classes from Beth Brown Reinsel; Sally Melville, Susanne Schmid, Marjolein Reichert; Tori Seierstad and Amy Detjen.
Patron Elizabeth Johnson, who seems to have one of the busiest diaries we know, managed to deliver an enormous range of events and activities. As well as giving two talks throughout the week, overseeing the Hoswick Wool Week events, she also ran her own classes in spinning, knitting, lace and natural dyeing. We don't know how she stays so calm!
The Shetland Wool Week talks have become a key part of the programme. A particular favourite was Hazel Tindall's illustrated talk 'Knitting in Shetland in the 1960s' which was based on the diary entries of her mother, Chrissie Sandison.  One person commented: "Hazel's talk was amazing. The knowledge with which she speaks about things is unparalleled and this talk was moving, inspiring and thoughtful".
From chatting with attendees and looking through the feedback it would appear that people took onboard some of our advice and chose to take a slightly slower pace throughout the week, making sure that their schedules contained enough gaps to allow plenty of time to travel out of Lerwick and make the journey to the other islands, soaking up the scenery, community museums, hospitality and events. 
The crofting tours were, as ever, extremely popular. Chris Dyer's Garths croft in Bressay and Ronnie Eunson's Uradale Farm tours were fully booked and proved a memorable experience for many. "This tour was a highlight of Wool Week". "Impossible to improve on the friendliness of the sheep or the enthusiasm of the tutor."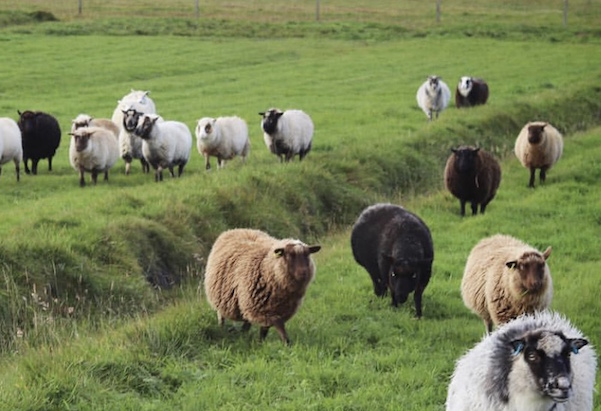 Community halls embraced the occasion too and hosted drop ins and exhibitions with many giving knitting and lace demonstrations. The obligatory teas were also big on the agenda!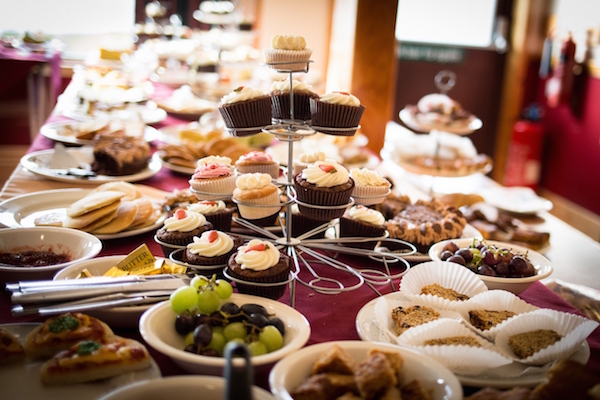 No visit to Shetland Wool Week is complete without a visit to Shetland's only commercial woollen mill, Jamieson's of Shetland in Sandness, with a behind the scenes tour, as well as a chance to see, feel and buy their wonderful yarns and tweed.
Jamieson and Smith in Lerwick is a bucket list destination too, and they opened their shop doors every day, as well as running a series of workshops and talks, including Oliver Henry's Shetland sheep fleece sorting demonstrations.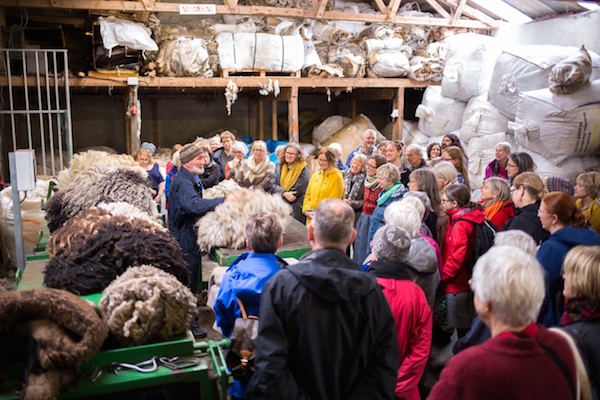 The Shetland Wool Week Makers' Market was a highlight with a range of Shetland wool-related items, many of which are only available to buy during the week. We moved the venue to the Anderson High School which offered an airy, relaxed space, and the school put on mouthwatering refreshments too.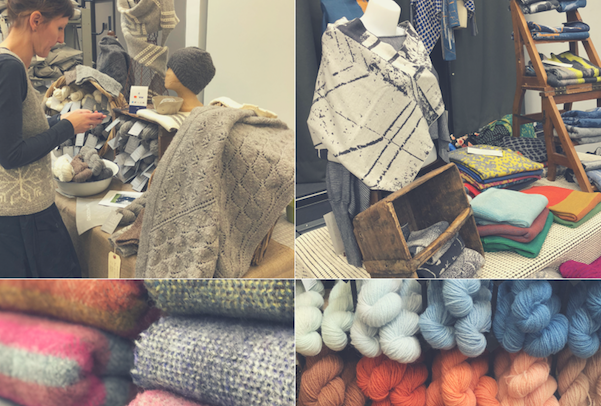 We were delighted to offer an extended range of evening events, which included a 'Sound of Shetland' evening, which gave a wonderful insight into Shetland's musical history. There was also a 'spree' for those with enough energy to take part in traditional Shetland dancing.  And Jamieson and Smith held a brilliant 'Final Ooray' at Gremista Farm (which is owned by a member of the Flock Book Society) with fiddlers, food and sheep.
We loved every minute of Shetland Wool Week and hope you did too, whether you attended or were able to view it through following others' virtual journeys, blogs and social media feeds. Thank you to each and every one of you for joining us.
Photographic highlights can be found on our Instagram page. Promote Shetland also produced a short film which can be viewed here.
Next year marks our tenth Shetland Wool Week so we're currently busy working away on ideas on how to celebrate 10 incredible years. We hope you'll be able to join us!
Makers' Market – 29 September
Tuesday, September 25, 2018
SAVE THE DATE: SWW Makers' Market, Sat 29 September
11.00am – 4.00pm at the new Anderson High School
This is always a treat on the last Saturday. It will take place in the new venue, the Anderson High School. There will be around 30 stalls including: Read More
We're on the countdown!
Friday, September 21, 2018
We're really on the countdown now … literally days from launching the ninth Shetland Wool Week! We can't wait to welcome you all to Shetland from places near and far.
For those of you unable to attend we hope that you'll enjoy our updates and can one day add our festival to your calendar. Read More
SWW 2019 dates announced!
Tuesday, September 11, 2018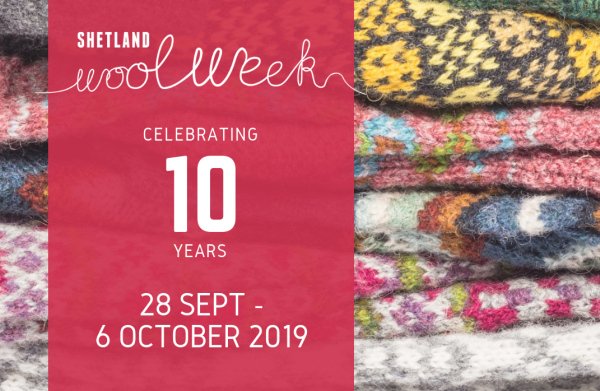 It's perhaps a little early to be announcing next year's dates when we haven't even had this year's Shetland Wool Week, but so many of you have been asking, and we appreciate that it takes a little bit of extra planning to organise a trip to Shetland. So… the dates for Shetland Wool Week 2019, which will also be our 10 Year Anniversary, are: 28 September – 6 October 2019. Add it your diaries, tell all your friends, and we hope you can join us to celebrate our tenth year of Shetland Wool Week!
And now back to this year. Read More
SWW Annual Volume Four: Available to pre-order!
Thursday, August 30, 2018
The long wait is over and we're delighted to announce that the Shetland Wool Week Annual Volume Four (2018) is now available to pre order!
Last chance to sign up for SWW 2018 membership
Monday, July 23, 2018
This is more of a reminder than a newsletter, just to update you on the SWW Premium Membership for 2018.
Back in March we launched our annual SWW membership, primarily as a way for people to support the future of the event, but also to give everyone the opportunity to receive an exclusive range of goodies.
Summer's here…
Friday, June 29, 2018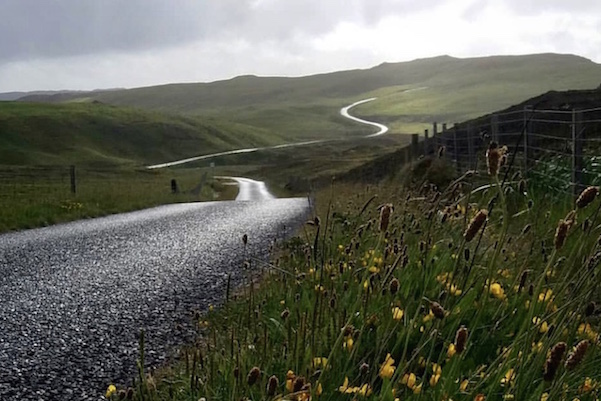 Now that the longest day has passed, it is officially summer! Bring it on we say. We can't get enough of the long Shetland days and all the freedom and opportunities that the extra light bring. Until around mid-July we'll enjoy the 'simmer dim' (summer twilight) when the sun only disappears for a few hours, bringing us almost 19 hours of sunshine. Those extra hours of daylight signal a season of opportunity and seemingly limitless options – whether that means exploring Shetland's great outdoors; grabbing the chance to do more with family and friends; or to relish the time to consider and pursue new creative projects. Read More
SWW Ticket Sales Information
Thursday, May 17, 2018
We're on the countdown to the Shetland Wool Week 2018 programme official launch date and the opening of ticket sales.
SWW 2018 Programme Update
Tuesday, May 1, 2018
As always, May signals the launch of the Shetland Wool Week programme.
Tickets will go on sale on Saturday 19 May, 10.00am BST.