Makers' Market – 29 September
Tuesday, September 25, 2018
SAVE THE DATE: SWW Makers' Market, Sat 29 September
11.00am – 4.00pm at the new Anderson High School
This is always a treat on the last Saturday. It will take place in the new venue, the Anderson High School. There will be around 30 stalls including:
Donna Smith Designs: Langsoond yarn and knitting patterns by Donna Smith
Sheltie Knitters
Pink Fish Shetland: wooden brooches handpainted with Knitwear/Fair Isle inspired designs, also free standing pieces and mini wall art
Sarah Kay Arts: handmade buttons
Foula Wool: wool from Foula
Drummie Bee: machine knitted snoods/scarves and accessories
Patricia Doull: hand knitted items
Shana: cushions, handbags and accessories, all made with 100% Shetland wool using original fair Isle designs
Terri Laura: knits, kits, patterns and greetings cards
Fair Isle Textile Workshop: Fair Isle homegrown yarns and wool products
The Salvation Army and Gogo Olive: knitted toys, keyrings and cards produced by Gogo Olive, a knitting project for Zimbabwe
Shetland by Sheila Hankin: tweed-covered cushions, scarves, brooches, note books and diaries
Helen Robertson: hand crafted unique jewellery inspired by Shetland's textile heritage
Shetland Tekstiler: designer scarves, cowls and blankets
Niela Nell: alternative knitwear in striking colours and distinctive textures
Nan Smith: handknitted items
TJ Frog: Dorset buttons, brooches, earrings, kits, wool, project and needle bags using bespoke designed fabric
Sheltie Knitters: Fair Isle pattern cowls and snoods
Avril Thomson Smith: Shetland paintings, limited edition printed and woollen brooches
Morwenna Garrick Textile Design: bright and contemporary handwoven products created from pure Shetland wool
Anna Vasko: naturally dyed wool from Finland
Anderson & Co: and their newly launched Shetland Sheep book
The Shetland Tannery: hand finished sheepskins consisting of pure Shetland and mixed breeds. Hand finished sheepskin mittens with a Shetland embellishment
Wingham Wool Work: wool for spinning, felting, blending and weaving
Peerie Oorick: unique needle felted creations made using 100% Shetland wool
Spindrift Crafts: naturally dyed wool
Shetland Handspun: handspun yarns, handknit garments, patterns
Silvereye Crafts: Shetland tweed products
Mirrie Dancers Chocolate: including a bespoke chocolate based on the Merrie Dancers Toorie pattern
Susan Crawford: The Vintage Shetland Book project book
Sallie Ead Antique Textiles: antique craftworkers smocks and aprons using natural dyes and materials
There will also be coffee, cake, soup and bannocks available to buy from the Anderson High School Pupil Council.
We're on the countdown!
Friday, September 21, 2018
We're really on the countdown now … literally days from launching the ninth Shetland Wool Week! We can't wait to welcome you all to Shetland from places near and far.
For those of you unable to attend we hope that you'll enjoy our updates and can one day add our festival to your calendar.
The following information is some orientation and handy hints:
The Hub located at the Shetland Museum and Archives, Lerwick
We'll be open throughout Shetland Wool Week from 10am on Saturday.
This is the place to come to collect any pre-ordered SWW Annuals or SWW Premium Memberships. If you're already signed up for your events, there is no other formal registration required  – just come along to the Hub to meet other Wool Weekers.
Be sure to drop by at some point, to mark where you've come from on the SWW map, check out the noticeboard for updates on transport and ticket availability, and enjoy a cosy space to socialise, knit and chat, whilst taking in the many exhibitions throughout the museum. There will be coffee available too so remember to bring your reuseable coffee cups too.
SWW Photo booth
We really want to capture and share all your magnificent 'made by me' items.
Make sure you share your SWW wardrobe with us by taking a photo and uploading it to social media using #swwmadebyme
There will be a small photo booth area at the Hub where you can do this too!
SWW merchandise
Our limited edition SWW 2018 merchandise will also be on sale in the Museum from a separate mini SWW shop in the foyer. All will be revealed soon, but we really hope you like it. We've collaborated with local artist Gilly Bridle who has created a stunning piece of art for us which has a nod towards the Merrie Dancers hat pattern by patron Elizabeth Johnston.
There will be a range of items available so hopefully you will find something you like to add to your SWW collection.
We'll share photos on social media too, so keep a look out there.
Yarn shops
There are a number of knitwear shops in Lerwick where you'll be able to pick up wool and other accessories. Keep an eye on the Jamieson's and Jamieson and Smith facebook pages for their SWW opening times.
Another handy website is www.lerwicktowncentre.co.uk with details on extended opening times for Lerwick shops and eateries.
Hay's Dock Café Restaurant opening times throughout SWW
The Hay's Dock Café Restaurant is located in the Shetland Museum and Archives.
Open every day for coffee and cake from 10.00 – 12 noon
Lunch every day 12.00 noon – 16.00Early bird evening meals with a special SWW menu
Sat 22 September and Thursday 27th – Saturday 29th September
17.00 – 20.00
Booking is highly recommended Tel: 01595 741569
Shetland Wool Week Welcome, Sunday 23 September
Anderson High School, 7.00 – 8.30pm
 This year's welcome will be a more relaxed evening with music from Hjaltibonhoga, a few short welcoming speeches, followed by a chance to look at sponsors' displays, enjoy a glass of wine, a small chocolate gift from Mirrie Dancers, and  a chance to mingle. Many of our tutors will be there too so be sure to say hello.
We're also pleased to welcome ex-SWW patron Felicity Ford who will be holding a trunk show. Her designs have inspired the Anderson High School's Maakin and Yakkin to make some bunting of their own, which will be on display.
There will be a chance too to speak to find out more about the Scottish Design Relay and how Shetland has contributed to the national V&A Dundee Project.
Remember to bring your SWW hats for the photos!
Please note, there will be seating for about half of our guests during the speeches and for the remainder it is standing only. Doors will open from 6.30pm and we advise that you do not turn up too early as you will be outside.
Map – we'll have maps at the Hub if you're not sure where to go. It's the brand-spanking new Anderson High School near the Clickimin Leisure Centre (NOT the old AHS which is at the south end of Lerwick). There is parking at the school or you can park at the Clickimin and walk across (pedestrian access only) to the school.
Tickets
Please bring your tickets to the opening and to your classes (either printed or on your phones). We will have a list of names but it will speed things up considerably if you can wave a ticket at us.
There are still a number of tickets left – check out the Little Box Office for availability.
Ferry and bus timetables during SWW
Check your journey times in case there have been changes to the timetable.
Ferry timetables can be found here
Bus timetables can be found here
We will also have timetables for you to look at in the Hub.
We'll continue to post information via social media throughout the week so keep an eye on that.
We hope you enjoy your experience in Shetland. Bring a notebook for all the friends and contacts you are going to make, enjoy the atmosphere and community of the islands. And remember your Merrie Dancers Toorie too!
SWW 2019 dates announced!
Tuesday, September 11, 2018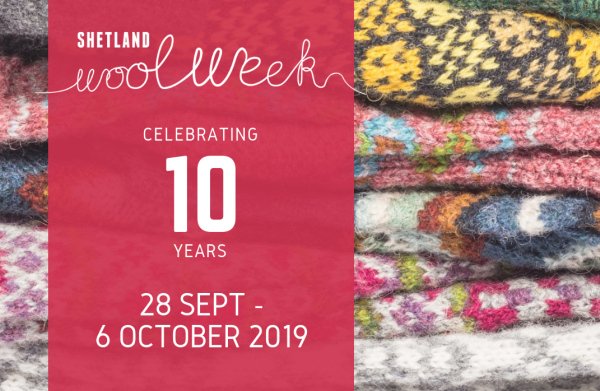 It's perhaps a little early to be announcing next year's dates when we haven't even had this year's Shetland Wool Week, but so many of you have been asking, and we appreciate that it takes a little bit of extra planning to organise a trip to Shetland. So… the dates for Shetland Wool Week 2019, which will also be our 10 Year Anniversary, are: 28 September – 6 October 2019. Add it your diaries, tell all your friends, and we hope you can join us to celebrate our tenth year of Shetland Wool Week!
And now back to this year.
SWW 2018 merchandise
We're delighted to announce that this year we have partnered up with the supremely talented Shetland-based artist Gilly B, who has created an original paper cut design just for us.  Some of you may already be familiar with her bold, colourful collages and fine art.
We love what Gilly has done for us. All will be revealed at Shetland Wool Week when we will present our exclusive range of limited edition SWW 2018 merchandise which features different images from her design. As always, the range will initially be on sale to those attending SWW and thereafter we will add the items to our online shop.
Shetland Museum and Archives is currently hosting a Gilly B exhibition which will be on display until the end of September. It's stunning! If you're in Shetland you'll be able to enjoy (as well as buy) her beautiful fine art paintings, dramatic paper cuts featuring Shetland imagery, as well as a superb range of lampshades and cushions. They really are very special and very 'Shetland' (hint: perhaps consider bringing a larger suitcase…).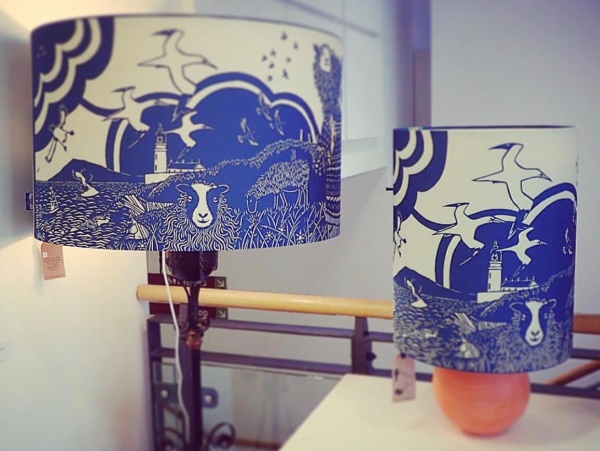 SWW Annual Volume 4
Remember the SWW Annual 2018 is available now to pre-order. Check out our social media (Facebook and Instagram) for sneak peeks at some of the garments featured.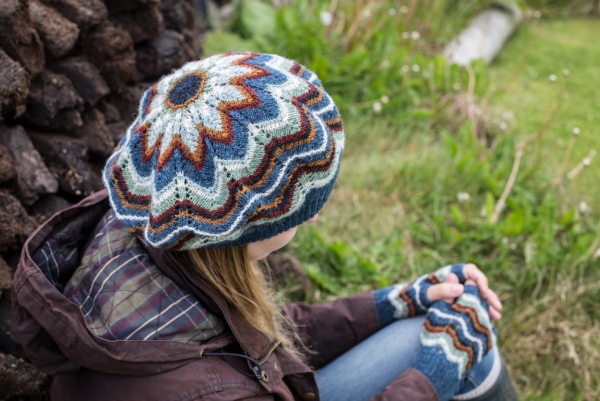 #swwmadebyme
We understand the huge efforts that many of you go to attend our 9-day event at 60 degrees north. Equally huge is deciding what to wear! In terms of the weather, frankly, you just need to be prepared for all weathers – so layers are essential, as well as a waterproof and shoes that are made for walking!
But of course, what we're really interested in is what knitwear you'll be wearing.  We would love to see what you've been working on – whether it's a hat, cowl or jumper. If you're on social media, upload a photo of your 'SWW wardrobe' and use the hashtag 'swwmadebyme' and we'll share as many as we can.
We'll be encouraging everyone to do this throughout the week and will have a special area at the Hub for photo-taking. And even if you aren't able to join us we'd love to see what you'd be wearing if you were!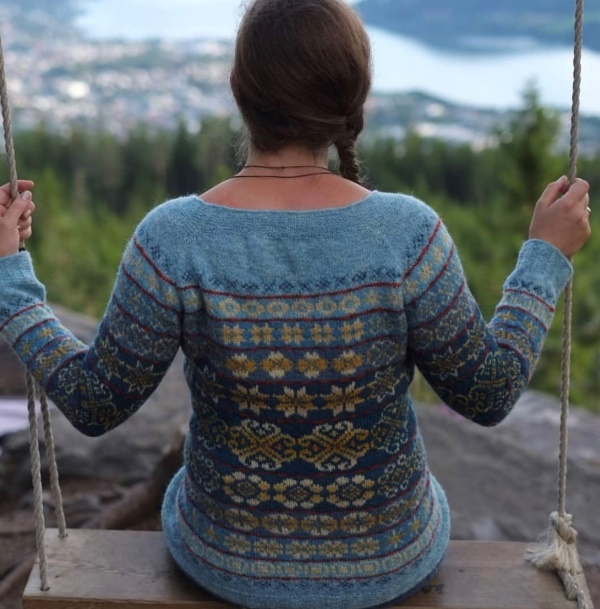 Thanks to Grete Sponga (@gretesp) for sharing this image of her SWW wardrobe: Tori Seierstad's Fair Isle inspired design 'Next Year in Lerwick'. Knitted in Jamieson's of Shetland yarn it's a bit of a show stopper. Can't wait to see it up close!
Changes to ferry and bus timetables during SWW
According to public transport we are now in the winter season and there have been some changes to the ferry and bus timetables. Whilst we try and keep the SWW website up-to-date, there is a chance that we will have missed some of the changes. Please do check ferry and bus timetables before travelling to avoid disappointment.
We will also have timetables for you to look at in the Hub. Two changes we are aware of are the bus times to Brae/Ollaberry and the ferries to Bressay on the Sunday, so this will affect you if you are travelling to the 'Another Happening' exhibition in Ollaberry or the Chris Dyer Tour of Bressay.
Colourbox Challenge
For now though, summer is hanging on by a thread. September is often a changeable month with beautiful shades of light. If you follow us on social media you'll have seen some of our summer agricultural show posts.
The Knitwear section is always popular, and the contributions certainly seem to be growing, which is great to see. One of the major draws is the 'Colourbox Challenge', which is sponsored by Jamieson and Smith. Eight colours are selected and the challenge is to create pieces of Fair Isle using at least five of the shades.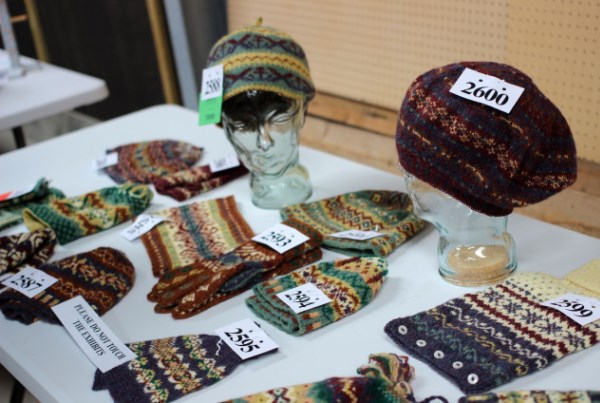 We asked Ella Gordon to explain to us how the J&S Colourbox Challenge came about: "The first year we did the Colourbox was in 2012. Every year since then we have chosen eight shades of 2ply Jumper weight (except in 2017 when we used the Heritage yarn) and the knitter must then use at least five of the shades in a garment or accessory.
The items are then entered into the Voe, Cunningsburgh, Walls (since 2016) and, from 2019, Unst Agricultural Shows. Depending on the number of entries they are then broken down into categories within the show programme. We go to the show and judge how well the colours have been put together.
Every year, just before the first show of the year (which is Voe), we choose the next year's colours. We do this so that the public can see the following year's colours and we always get a burst of folk coming right after the shows, eager to take part the next year.
The colours are chosen by myself (Ella) and Sandra at J&S, and as you can understand it gets trickier every year. Although people probably think we deliberately choose tricky palettes we do actually take a lot of time to choose them.  When you see the shades together they are definitely a 'palette' and almost have a theme. This is something we have developed over the years and I think we have become quite good at it. We try to keep the palettes quite unisex so they can be used for lots of different kinds of items so we tend to avoid having a very pink or blue palette – but of course within Fair Isle knitting the most surprising colours can be found within garments so if a certain colour really adds to the selection, we will use it.
The best thing about the Challenge is seeing how the skilled Shetland knitters use the same eight shades to create such a wide range of items. It pushes people to put together schemes they would perhaps not typically use, and discover shades which they may not usually go for. By having the Colourbox at a number of shows it also allows knitters from all over Shetland to take part. Walls and Unst are catchment areas shows which means you have to live in a certain distance from the show to enter, but Voe and Cunningsburgh now allow entries from the whole of Shetland – so although you get some crossover of entries there are always extra and different things to be seen.
There is a wide range of styles of items which are entered: every year there are a number of 'all over garments' (either jumpers or cardigans with an all over Fair Isle pattern) Yokes, sleeveless vests and then a huge range of accessories: hats, mitts, gloves, cowls and home accessories like cushions.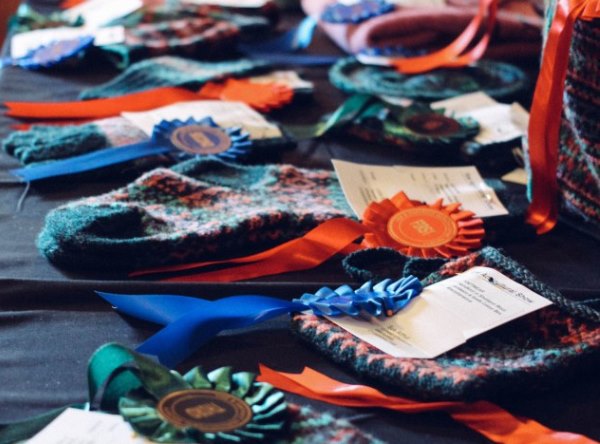 Since 2015 I have made sure to get lots of photos at the shows so we can do a blog about each one. This means there are a couple of years I don't have photos for but we are hoping to have an exhibition next year at Wool Week with examples from every years' Colourbox so I am really looking forward to working on that with the Whalsay ladies who helped us set up the Colourbox.
We are extremely proud of being involved with the Colourbox and it's one of our summer highlights to visit all the shows and see what people have made with our colours."
Colourbox Shades for each year
2ply Jumper Weight from Jamieson & Smith
2012: 1, 2, 54, 93, 96, fc34, fc45, fc55
2013: 1a, 28, 82, 132, 203, 1403, 9113, fc41
2014: 118, 125, 134, 1284, fc7, fc11, fc43, fc58
2015: 29, 34, 66, 121, 122, fc14, fc55, fc45
2016: 71, 80, 82, 118, 9097, 9144, fc22, fc39
2017: Shetland Heritage Year – indigo, peat, snaa white, madder, moss green, silver, auld gold and berry wine.
2018: 3, 53, 66, 72, 87, 366, fc37, fc56
2019: 5, 16, 32, 23, 91, fc44, fc46, fc47
We'll be sending out another newsletter before SWW starts with additional information for all those attending, so keep checking your emails.

SWW Annual Volume Four: Available to pre-order!
Thursday, August 30, 2018
The long wait is over and we're delighted to announce that the Shetland Wool Week Annual Volume Four (2018) is now available to pre order!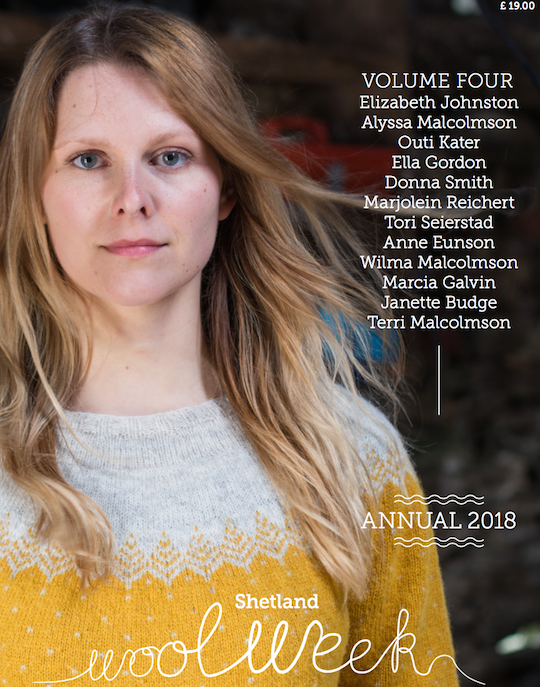 It's packed with exclusive patterns and fascinating essays, against a backdrop of glorious photography which captures Shetland's rich and varied crofting landscape.
There are 13 patterns, which include:
SWW 2018 Patron Elizabeth Johnston's Merrie Dancers Toorie
Alyssa Malcolmson's Tree Yoke Jumper
Outi Kater's Antidote Mittens
Ella Gordon's Einar Hat
Donna Smith's Foula Snood
Marjolein Reichert's Kliek Vest Cardigan
Tori Seierstad's Skalavag Mittens
Anne Eunson's Lunna Fingerless Mitts
Wilma Malcolmson's Atlantic Lace Hat and Fingerless Gloves
Marcia Galvin's Autumn Fingerless Mitts
Janette Budge's Clickimin Cowl
Terri Malcolmson's Banksflooer Mitts
Essays include Douglas Sinclair's insight into the lives of the women who worked at the Gutting during Lerwick's Herring Boom; Laurie Goodlad explores The Crofthouse Museum and uncovers what life was like in Shetland 150 years ago; Dorota Rychlik gives her personal account of rearing organic native Shetland sheep on the island of Vaila; an update on the Peerie Makkers Project; and Niela Nell Kalra shares her excitement about a creative project between young Shetland designers and the V&A Dundee.
Huge thanks to Alex Boak for the photography and part-time crofter and musician, Astryd Jamieson for modelling.
Priced at £19 it can be pre-ordered here.
Arrange to collect it at the Hub (located at Shetland Museum and Archives) during Shetland Wool Week or have it delivered to your home.
Last chance to sign up for SWW 2018 membership
Monday, July 23, 2018
This is more of a reminder than a newsletter, just to update you on the SWW Premium Membership for 2018.
Back in March we launched our annual SWW membership, primarily as a way for people to support the future of the event, but also to give everyone the opportunity to receive an exclusive range of goodies.
For those who follow us on social media, you'll have already seen the sneak peeks of the bag and brooch, but here they are again.
SWW Members' wooden brooch by Donna Smith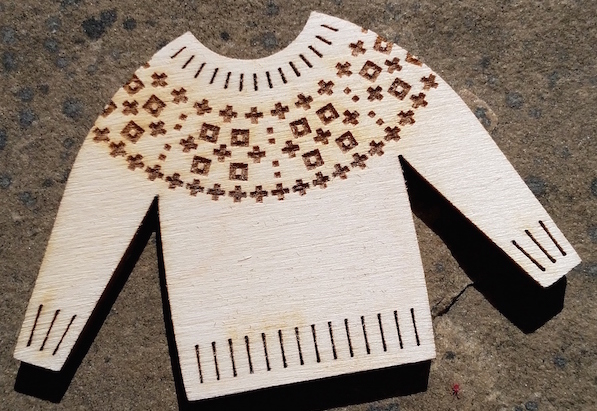 Designed exclusively for SWW by Donna, this wooden brooch of a Shetland jumper features elements from the SWW Merrie Dancers Toorie by this year's patron, Elizabeth Johnston (Shetland Handspun).
SWW Members' project bag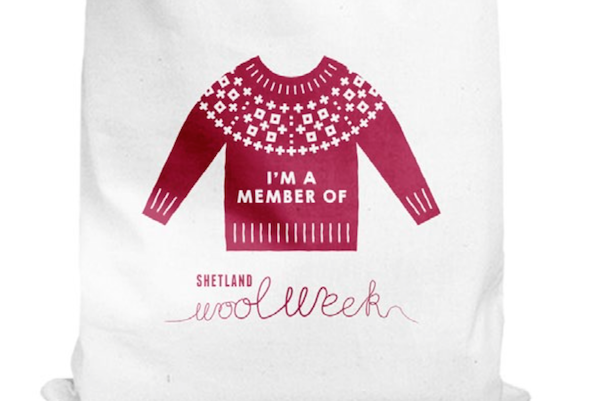 This striking drawstring project bag features a bold red Shetland jumper, also inspired by 2018's SWW hat pattern. It's nice and roomy – perfect for all your works in progress.
Small (60ml) bottle of Shetland Soap Co Wool Wash.
An extremely mild, luxurious wool wash that uses lavender essential oil. Ideal for Shetland knitwear.
Membership closes on Sunday 29 July.
We're putting in our final order at the start of next week so if you'd like to receive these gorgeous goodies, then visit the online shop for further details.
For everyone attending SWW this year, you'll be able to select the 'click and collect' option – so no need to pay for delivery and you can collect your items on arrival. For those unable to join us, but would like to support us from afar, we'll post your items to you, hopefully just before Shetland Wool Week starts.
SWW 2018 merchandise
Some of you have been asking about SWW merchandise for 2018.We are working away on a small range that will be available during Shetland Wool Week and, stock levels permitting, we'll also add them to the online shop.
Can't wait to share them with you at the end of September …
Summer's here…
Friday, June 29, 2018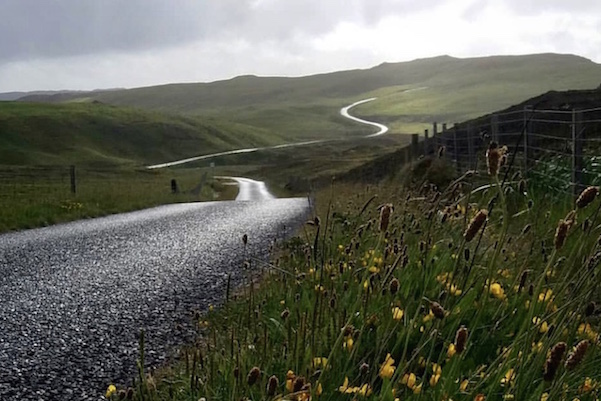 Now that the longest day has passed, it is officially summer! Bring it on we say. We can't get enough of the long Shetland days and all the freedom and opportunities that the extra light bring. Until around mid-July we'll enjoy the 'simmer dim' (summer twilight) when the sun only disappears for a few hours, bringing us almost 19 hours of sunshine. Those extra hours of daylight signal a season of opportunity and seemingly limitless options – whether that means exploring Shetland's great outdoors; grabbing the chance to do more with family and friends; or to relish the time to consider and pursue new creative projects. Read More
SWW Ticket Sales Information
Thursday, May 17, 2018
We're on the countdown to the Shetland Wool Week 2018 programme official launch date and the opening of ticket sales.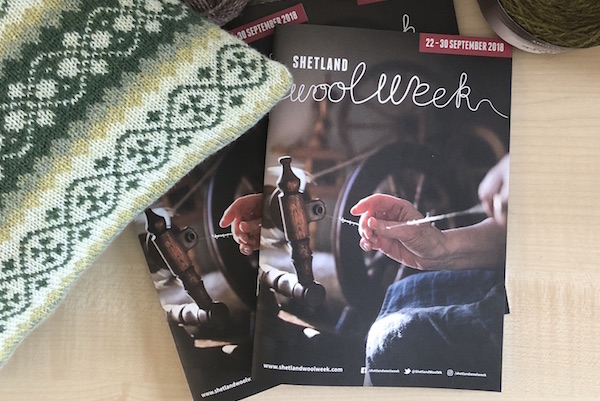 The Little Box Office opens on Sat 19 May at 10.00am (BST). The website can be found at www.thelittleboxoffice.com/shetlandwoolweek
Please DO NOT access the site between 9.55am – 10.00am BST on Saturday.
This is for two important reasons:
There will be nothing to see or buy
It will cause you issues when trying to see the events and buy tickets after 10.00am BST.
Leave it for a little while and go to the site after 10.00am.
SWW 2018 Programme Update
Tuesday, May 1, 2018
As always, May signals the launch of the Shetland Wool Week programme.
Tickets will go on sale on Saturday 19 May, 10.00am BST.
For all those who have signed up as members we will be emailing you the programme as a PDF file on Wednesday 9 May.
A contact telephone number will be issued closer to the launch date, in case anyone experiences technical problems on May 19th.
SWW 2018 membership
There is still time to sign up for SWW membership, which along with a host of goodies includes advance access to the programme allowing you the chance to plan your events of choice before the tickets go live.
We kindly ask that you do not share your advance copy of the programme with non-members.
Details on Premium Membership or Standard Membership can be found here.
Some highlights of the programme:
The programme is looking really great this year!
We're delighted to see the return of many familiar faces and organisations. There are too many to list them all but they include Donna Smith, Hazel Tindall, Terri Malcolmson, Joanna Hunter, Wilma Malcolmson, Rachel Hunter, Janette Budge, Deborah Gray, Niela Kalra, Mike Finnie, Shetland College Textiles, Shetland Organics, Ronnie Eunson, Oliver Henry, Helen Robertson and Linda Shearer.
Shetland Wool Week primarily works with tutors from Shetland, but we have visiting tutors joining us too, including Beth Brown Reinsel; Sally Melville; Tania Ashton Jones; Anna Vasko and Frankie Owens.
We've added more weaving and spinning classes, with patron Elizabeth Johnston running two additional spinning courses designed especially for Shetland Wool Week.
As well as tours to Unst, South Mainland, Bressay, Uradale, Whalsay, Sandness Mill, North Mainland and a Walking Tour of Lerwick, there are vibrant talks and social events lined up too, plus a host of free drop-ins and exhibitions, as well as the Makers' Market and Flock Book sale.
Slow down!
With over 300 events from morning 'til night, there should be plenty for all.
Slow down, soak up the atmosphere, mix up your itinerary with a variety of classes, tours and exhibitions, and leave time to travel around the islands and appreciate all that Shetland has to offer. As well as learning new skills, Shetland Wool Week is also about meeting up with old friends and making new ones along the way.
We hope you enjoy the programme when it comes.
Love Shetland Wool Week – Become a 2018 Member
Friday, March 30, 2018
 Annual Shetland Wool Week 2018 membership is now live!
This year we are introducing a few changes to our membership with the focus on benefits to you, as well as supporting the future of Shetland Wool Week.
Shetland Wool Week depends on its many supporters in everything it does. Your generosity is important to us and provides us with the life blood to continue delivering a varied and inspiring event, as well as helping to preserve Shetland's textile heritage and its rural farming community for future generations to enjoy.
Introducing the Merrie Dancers Toorie
Thursday, March 15, 2018

We are thrilled to announce this year's Shetland Wool Week patron as Shetland knitwear designer and handspinner, Elizabeth Johnston.
Read More