The simple things
Thursday, May 21, 2020
By our reckoning Shetland is now nearing week 10 of lockdown, but frankly we're not even sure what day it is. How quickly the world changes, halts and everything we 'knew' is turned on its head.
Each week brings new announcements, but nothing is totally clear and staying home seems to be the new norm for a good while yet.
While the pace of life may have slowed, many of us find ourselves juggling more than ever. We have become unofficial IT help desks to our children, teachers, cooks for every meal and snack of the day, cleaners, workers, amateur pet groomers and hairdresser. Living day to day, rather than planning for the future, it's sometimes hard to find a lift in the mundanity of lockdown, so we take the simple wins when we can – a fresh coffee, a book recommendation from a friend, appreciating that we've been hoarding all that yarn for a reason, and the reassurance of nature's natural rhythm. We give thanks for our health, and think of those who are less fortunate, as we all journey on this emotional corona-coaster.
Usually at this time of year the SWW programme would have been launched and we would have seen a flurry of ticket sales, enquiries, extreme adrenalin rush and euphoria. Instead our SWW calendar is full of ghosts, but we are optimistic that all the hard work will not be lost and next year's event will be one to really look forward to.
Thank you
We wanted to start by saying a big thank you – the response we've had from you all has been wonderful  and really gives us a boost. So many of you have been in touch telling us what you're up to, sharing your knitting projects, including the #katieskep, or simply to vocalise your support. We've had some very generous donations to our Shetland Amenity Trust Local Giving page too, and for that we are very grateful. Your support means everything to us and will help us sustain this wonderful event and community into the future.
Due to the current situation we have an even smaller team than usual here at the Trust but we are working away on ideas that we can hopefully share with you later in the year.
However, we are delighted to let you know that we are planning for the Shetland Wool Week Annual 2020 to go ahead. Of course, the logistics of such a project under the current circumstances are far from straightforward, but where there's a will there's hopefully a way. If all goes to plan we'll be able to give you an update later in the summer, so watch this space!
In the meantime there are copies of the Annuals from 2017, 2018, 2019 available to buy.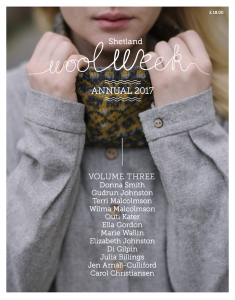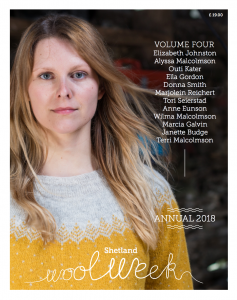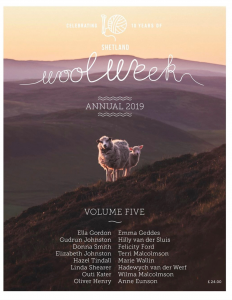 Spring in Shetland
Spring is firmly here which certainly lifts the spirits. Lambing is underway and we have been enjoying spotting the lambs on our daily walks as well as vicariously through various social media feeds. For lambing cuteness overload, check out the Instagram accounts for @garthscroftbressay, @barkland_croft in Fair Isle, @UradaleYarns, @janettebudge and Oliver Henry's @ooieollie.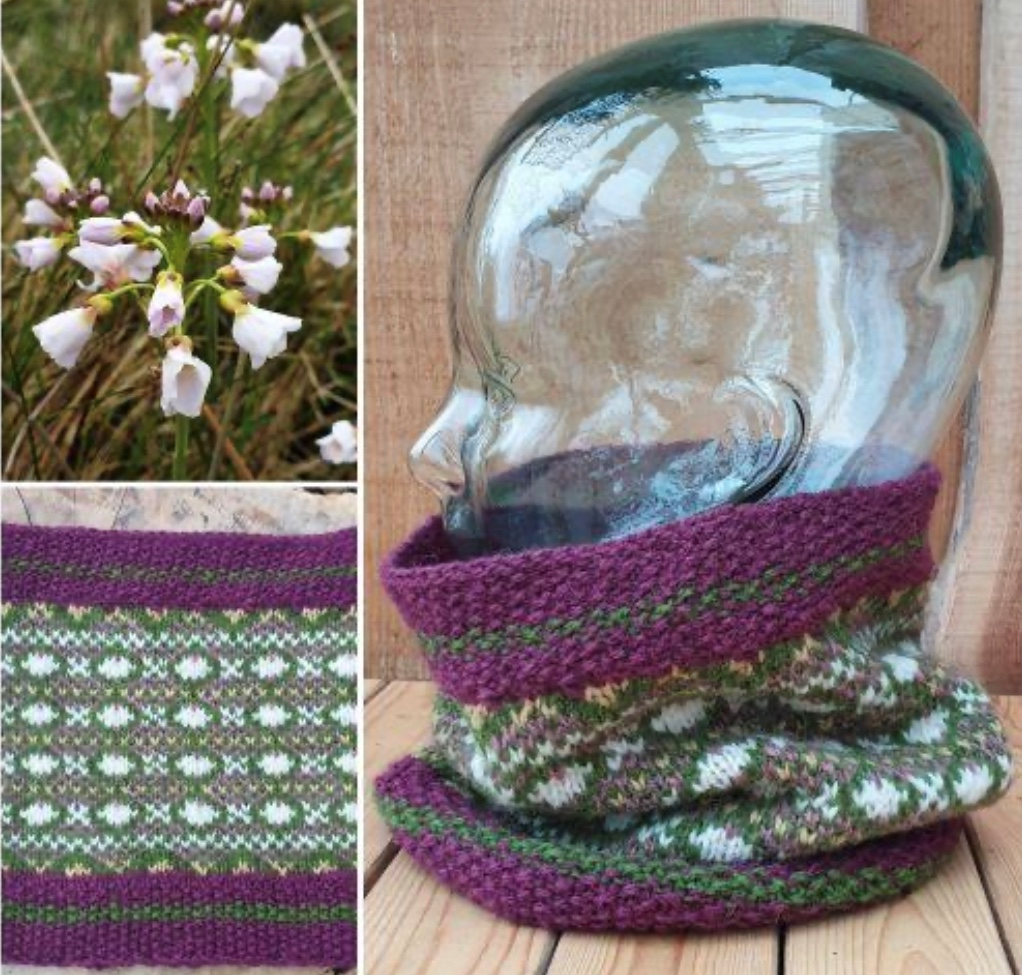 Wildflowers are coming through too, and whilst many of us are currently unable to access coasts and cliffs there's welcome signs of colour along roadside verges and pathways. Check out Shetland Amenity Trust's blog post on Shetland's wild flowers for what to look out for this spring. Recently Uradale Yarns launched a beautiful kit for their 'Fairy Cowl', the design was inspired by the Cuckoo Flower or Lady's Smock, which is just coming into flower.

Shetland Lace: Lace Veils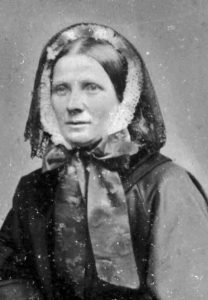 We share here the latest instalment from Carol Christiansen's lace blog.
This month the focus is face coverings – and lace veils, which seem particularly apt right now.
Carol writes about the Victorian lace face veils, for women and infants, and how they formed an important product in the Shetland lace industry during the 19th century.
Catching up with friends
We're missing all the social contact with our friends in the Shetland textiles community. We caught up with a few of them to ask them for their thoughts on the current situation.
Wilma Malcolmson, knitwear designer, SWW patron 2020 and tutor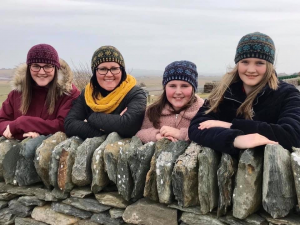 During this period of lockdown what do you miss most?
I miss my family. Seeing them at a distance is always something, but it is just not the same as having them round the table for a yarn. I also miss my friends, loyal knitters and all of the people who visit my shop. I am missing hearing their stories, where they come from, and what brought them to Shetland. I also miss being free to travel.
What woolly project are you working on right now?
I never struggle for motivation! I am currently putting the finishing touches to a new piece I have designed for an article in a Swedish magazine. I am also really enjoying the daily appearance of another Katie's Kep – the variety of colours people are putting together is wonderful!
A more unusual woolly project I have been asked to complete is to write an article for a national sheep magazine. My father would find that highly amusing as I showed very little interest in the practical sheep world when I was a child. So there is always something to keep me occupied.
Do you want to go back to the old normal?
I don't think it will be a question of going back to the old normal. Things have changed and we just have to get on with it. I believe you should 'count your blessings' and not focus on what you can't do. I hope we will all make more time for family and friends when the time comes and continue to enjoy the simple pleasures in life.
Helen Robertson, textiles designer, tutor and jewellery maker.
During this period of lockdown what do you miss most?
The thing I miss the most is visitors, both near and far. My favourite thing is to have friends and family along. I love when our kitchen table is surrounded with folk. I am very grateful to have all four of our children home at the moment as they fill the house with laughter. I am especially grateful for the extra time this has given us together as a family before the eldest leaves for Edinburgh University in the Autumn.

I will really miss the Wool Week visitors as I always feel as if I've been on a tour of the world after meeting everybody. I am very much missing running my Speedcrafting, Textile and Arts in Care workshops as they give me a real sense of community and connection and I enjoy them immensely.

Are you working on any woolly projects right now?
I have been trying out Kate Davies Milarrochy Tweed yarn using my Fiss Knit patterns and I've designed and made a fine hat.

With my new interest in gardening I am also designing and knitting a wire planter. Even with my new-found enthusiasm, I think I'll always be more of a knitter than a gardener!

I have so many finished and nearly finished patterns dating back 25 years so I'm delighted to have finally plucked up courage to ask for test knitters and to have sent out some patterns for test knitting. Home schooling does mean my designing and computer time is limited in new but enjoyable ways!

Do you want to go back to the old normal?
At the moment, this feels like a Pause and chance to sort and regroup. On a personal level I have enjoyed less driving and not being in so much of a rush. I'm enjoying the nesting that seems to be occurring with more gardening, baking and decorating. I am also delighted to see Vogue Knitting Live classes being offered online as it increases accessibility across the knitting community.

On a national level I hope that we finally realise the value of our true essential workers and that they are paid accordingly. I would love to see the end of Zero Hours contracts as I think if someone is insecure, then we are all insecure. On an international level I really hope that there is more cooperation between countries and a greater sense of common responsibility for fairer distribution of wealth.
Elizabeth Johnston, knitwear designer, spinner and tutor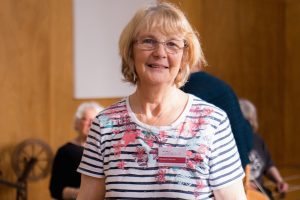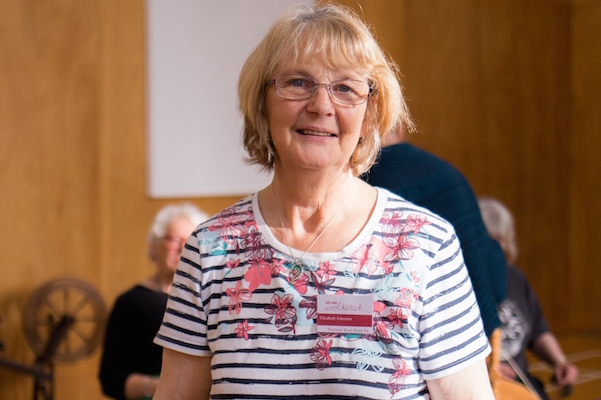 During this period of lockdown what do you miss the most?
I am missing seeing the grandchildren and cuddles from them, the small ones and the not so small, but I am also missing a teaching tour that was planned for April/May.
Are you working on any woolly projects right now?
Since the Wool Week Kep was launched, and for about the next six weeks, I will be spinning and dyeing yarn for kits for Katie's Kep. I had 150 order enquiries in three days so stopped taking orders after that.
Do you want to go back to the old normal?
The old normal would be good but with a cleaner, greener environment. Much of the world is seeing less pollution and smog right now and we need that to continue.
Chris Dyer, archaeologist and crofter at Garths Croft, Bressay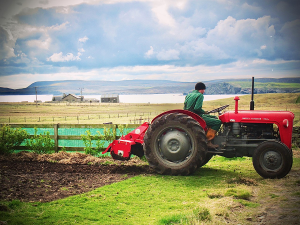 During this period of lockdown what do you miss most?
We are lucky in Bressay that we have superb history and nature on our doorstep for daily exercise walks. However, I miss visiting the nearby National Nature Reserve of Noss; the seabird colonies; archaeological sites … and cups of tea! The uninhabited island is staffed by two seasonal wardens who, between May and August, transport you by boat across the narrow stretch of water  –  unfortunately closed this year.
Are you working on any wool-related projects right now?
Late April/May is lambing so that has been the principal woolly project. The ewes go through so much hardship and tough weather during a Shetland winter that I always feel duty bound to do as much as I can to ensure a smooth lambing. This year we have been fortunate to have had lots of twins and a beautiful array of natural Shetland colouring and markings.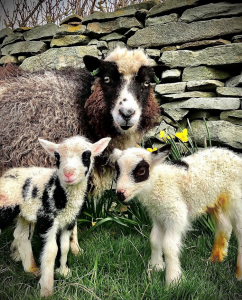 I have a sow in the maternity 'suite' and have also been building a traditional drystone enclosure to enlarge the garden and establish trees whilst planting fruit and vegetables – it's a busy time!
Do you want to go back to the old normal?
I sincerely hope to welcome visitors to the croft and indeed Shetland has so much to offer in terms of natural, textile and cultural heritage – when it is safe to do so. This time has given us a period of reflection and I feel has encouraged us to truly value our mental and physical health and our friends and family.
Donna Smith,  knitwear designer, tutor, and producer of naturally dyed Langsoond Yarn.
During this period of lockdown what are you missing most?
I really like being at home, and only go 'out to work' two days a week, but I am missing meeting up with friends and going for coffee or lunch at one of the Lerwick cafes. I also miss not being able to drive somewhere else in Shetland and go for a long walk.
Are you working on any woolly projects right now?
I found it hard to get motivated in the beginning and really hard to concentrate on anything. As it became likely that there would be few or no tours or visitors this year, I have had to adapt to a different way of working as I rely heavily on the tours for my income. I have been trying to concentrate on some new patterns, I have almost finished working on a new stole and scarf pattern which should be released soon and I will have some other things available within the next few months.I have also been dyeing Langsoond yarn with plant dyes; I have become fascinated at the colours you can achieve from plants and how they all blend together although they have been dyed with different materials. I have been busy getting the yarn ready to be sold online and am hoping they will be available this coming weekend.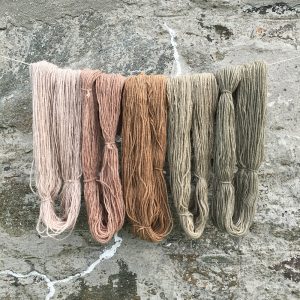 Do you want to go back to the old normal?
I have enjoyed being at home more, before there always seemed some place to go, somewhere to rush to. I would like to continue with that more. I have also been much more aware of how much I spend and have been questioning whether or not I need something before I buy it. As well as that I am thinking about where my food comes from and have been spending time planting vegetables and creating no dig beds for the seedlings. There is a large yard here on the croft that was used for growing all the food for the family. I have cultivated it before but had left it to grow over a few years ago. I always have a dream of being more self sufficient and this time has really made me look at whether or not I can use what I already have. In fact, I have just written a blog post about what I produced from a bag of dandelions. That's certainly a mindset I want to keep.
Janette Budge, Shetland knitting designer and tutor
During this period of lockdown what are you missing most?
Like many I'm sure, my family, particularly visiting my parents. They have lived in the same house all my life while I was growing up and beyond. The rural area they live is so beautiful with a long voe surrounded by hills, especially with a sunset. It is these views, these people but the whole experience of food, chatter and a visit next door to my brother his wife and young family.  So that will be my first trip when lockdown eases.
Are you working on any woolly projects right now?
Yes many, often at the same time. I've knitted my second pair of socks, ever! A Norwegian hap, 'Katie's Kep', a DK beanie I'm designing, a pattern commission and lately a rainbow cowl for a strainer post at the end of our road.  Last, but not least, I finished a lamb jacket I started 2 years ago! It was inspired by Outi Kater's dog jacket.
I often found it hard to design knits at the start of lockdown.  It was too difficult for my head to make choices, so I enjoyed knitting a couple of things from Norwegian designers I know and following a pattern, which is something I rarely do.  As the threat of the virus decreases my designing mojo has returned again.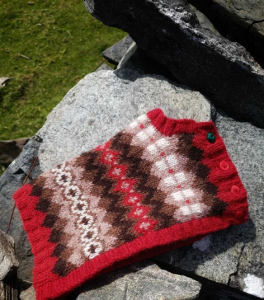 Do you want to go back to the old normal?
Not exactly, there is much that is the same as before, working from home, cooking etc.  But I have really enjoyed the time and space to watch, notice and enjoy the detail of the changes in nature. Spring is such a great time to witness the changes.  A new roadside flower here, another stalk appearing on the rhubarb there and listening to a bird song you haven't heard in months. It has brought me both pleasure and peace through an uncertain time.
RECIPE: Treacle Bannocks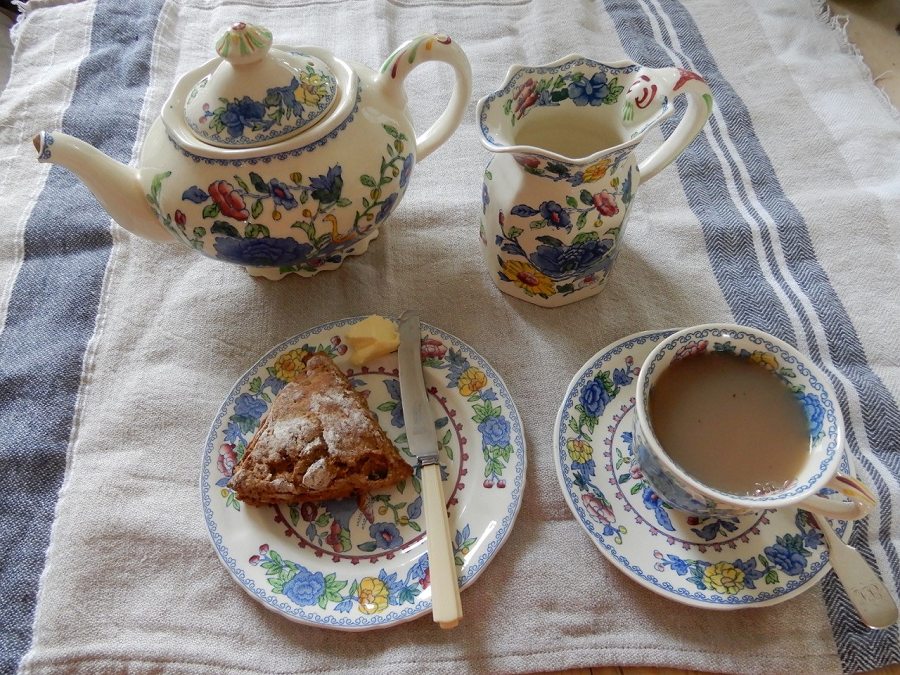 No Shetland Wool Week is complete without the obligatory teas and homebakes. Bannocks in particular are a classic. Typically, you might eat them with soup, but we've heard that Wilma Malcolmson makes treacle bannocks, which are a bit legendary – and she serves them to a lot of her visitors. When Marian Armitage of Taste of Shetland wrote her book 'Shetland Food & Cooking' she included an updated version of the recipe – making it more fruity, treacly and spicy. We're delighted that Marian has shared it with us. Enjoy.
Ingredients:
500g self-raising flour
2 level teaspoons baking powder
4 level teaspoons spice: ideally, ground cloves, nutmeg, cinnamon, mixed spice
50g butter
150g raisins
1 egg
½ pint (10g/fl.oz) milk
1 level tablespoon (25g) sugar
100g treacle (about 4 dessert spoons)
Method: 
Preheat the oven to 220°C.
1. In a small bowl, lightly beat the egg with about ¾ of the milk.
2. Sieve the flour, baking powder, spices and sugar into a large mixing bowl and rub in the butter. Add the raisins.
3. Make a well in the centre and add the treacle and egg/milk mixture and mix with a knife.
4. Add more milk to make a soft consistency.
5. Roll out lightly to about 2 cm thick.
6. Cut into triangles and bake in a hot oven for 15 minutes.
7. Cool under a tea towel.
8. Eat warm spread with Shetland butter.
*NOTE* This recipe freezes well too so are perfect to be made ahead of time.
If you're interested in Shetland ingredients and produce give Taste of Shetland a follow on their facebook and instagram pages. And if you make this bannock recipe they'd love to see your results.
'My corona circuit'
As we're currently limited to walks within short distances of our homes, we thought you might enjoy virtually experiencing someone else's. We invited Mike Finnie, artist and illustrator of Red Houss Shetland, who lives on the isle of Burra, to share his daily walk with us.
My (almost) daily covid walk starts from my house and I don't even need to touch tarmac if I cross the fence into my neighbours' field. I stop next door, to ask if Lily wants to go a walk – she always does.  Lily is a 12ish year old sheepdog. I have to say this is not my 'must do' walk on Burra but the Kettlaness peninsula walk would be a 10 mile round trip from home and I don't think my paws or Lily's would be up for that on a daily basis.

So we set off round the coastline and cross the Ayre Dyke (a pebble beach) which takes us onto a peninsula where the real part of the walk begins. We had a bad start on day one – we headed down the rough track on the west side of the peninsula and returned up the east side. This is totally against the convention that Shetlanders will always go sungaits (with the sun). To do the opposite brings bad luck, but we survived.

Having established our normal route, partly determined by Lily and based on the locations of rabbit burrows, we head uphill to the highest point of the peninsula. That is now the traditional stop for the first piece of a doggy chew. I sit on the boulder on top of the hill while Lily chews. From that point there's a 360 degree view with the spine of hills on the south mainland to our east and Fitful Head and sometimes Fair Isle to the south.  Fair Isle is 36 miles away so weather determines if it can be seen or not.  To the west lies the spectacular profile of Foula on the western horizon. It was here, on one of the earlier walks that we sat and watched the sunset. It was the first and only time that I have seen the 'green flash' when the last of the sun dips below the horizon.

Onwards and downwards we go towards the line of small beaches below cliffs.  But before that there is the place where the otter lives. Lily has a thing about otters in a friendly way. In an earlier encounter with a sleeping otter she licked his face. He ran away bemused. We've only seen the otter once when we have been walking but Lily can tell me that he or she is always around. Only one of the tiny beaches is easily accessible and we sometimes stop there but Lily's interest in sand and pebbles is less than mine so we usually move on.

The east side of the peninsula is slightly more sheltered than the west and this is where we started to see the first of the wild flowers appearing, first some scurvy grass – don't get excited, it's quite a dull thing. Then violets started to appear, incredibly tiny, as most plants are on the windblasted peninsula. After that new flowers appear almost daily, including the primroses which cover an inaccessible grass covered slope on the east side.  A bit south of the primroses there's a geo with a cave where men hid to avoid capture in the days of the press gangs. I'm told it's there but I'd need to be on a boat to see it.

Continuing south we reach the cliffs stacks and caves at the southern tip of the island. We continue around the clifftops with me trying to keep Lily away from the edges where there are more rabbit burrows.  Looking south we are close to the island of South Havera with the distinctive tower of a windmill on the highest point.  Havera is my favourite Shetland Island, unoccupied since the 1920s, the ruins of the cluster of houses remain on the cliff edge.

Heading north again, up the west coast new flowers appear, moss campion first followed by sea pinks, their buds just about ready to burst open.  The west side is lower with a rocky shoreline and is more accessible than the east so I keep my eye open for interesting things washed up on the rocks. I've carried home a few buoys and floats as well as sea urchin shells and interesting stones. We arrive at Symbister, the ruins of three crofthouses on a patch of good green grazing land – an ancient site with three burnt mounds. One is certainly a big burnt mound, of the other two marked on the Ordnance Survey map one is a gentle green hump and the third is a stony hummock.

Sometimes we take a more direct route to Symbister. We head over the centre of the headland, which in the earlier days was were black backed gulls congregated. Later as bird migration got going two pairs of bonxies (Great Skuas) and a few days later a pair of Scooty Allens (Arctic Skuas) arrived. At Symbister there is a houb (a muddy shallow inlet) sheltered by a pebble beach. But we don't go there with Lily as it's the nesting site of many seabirds, including tirricks (Arctic Terns). These amazing birds arrive in the first week of May having flown from Antarctica. Folk hereabouts look for the tirricks arrival with some excitement. Just don't go too close as they have a habit of dive bombing you and their beaks are sharp! Likewise the formidable bonxies which fly towards you at head height.

The walk back from here joins the old track from Symbister, a fine dry walk if you avoid a few muddy patches.  Now both myself and Lily know every part of the route like the back of our hand. I reckon that we've done the same walk about 40 times since lockdown started on the 24th of March. The walk is about five miles if you include a few detours to see something interesting. In that time we've only seen a group of four other people walking together on part of the route and one man on a quad who was repairing fences.  We didn't walk on the snowy day in May and we missed out a few a rainy days. Lily hasn't much concept of lockdown so I think the Houssness walks will have to continue when restrictions are eased – but I might sneak away to Kettlaness on my own.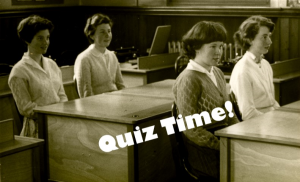 And finally we thought we'd include a short textiles quiz that we've put together to test your knowledge of Shetland textiles. We're sure you'll get top marks, but if you don't, you'll have learnt something new! If it's popular, let us know and we'll do more..
You can find it here
Yarn Shops
Remember many of our Shetland yarn shops are still contactable online. Due to the exceptional circumstances there may be delays in deliveries, but please show your support by considering them for your wool purchases.
Terri Malcolmson is running a series of online classes. She has several lined up for next week covering Swatching; Design a Crown and All About Mitts. Take a look at her website to find out more. Hazel Tindall is offering 50% discount on two instructional downloads until the end of the month.
We know that other SWW tutors are starting to plan online tutorials and we'll share this information with you as soon as we have it.
On that note, we wish you all well. Stay kind, stay healthy and stay in touch.
Shetland Wool Week 2020 cancelled
Monday, April 13, 2020
It is with great regret that we announce the news that Shetland Wool Week will not be going ahead this year as planned as a result of the ongoing situation with Covid-19.
A huge amount of work has already gone into preparing for the event and we had hoped to be launching membership this month and ticket sales in May.  We had planned to take a decision on whether or not to go ahead with the event in June but unfortunately the situation has evolved rapidly both here in Shetland and around the world.  Having reviewed the situation, the potential impacts on all stages of our preparation and delivery of the event, and the potential impact on all those involved we have taken the difficult decision to cancel.
We know that this will be a great disappointment to many and for this we are sincerely sorry, however, we know that it is the only responsible thing for us to do at this time.
Many of our loyal Wool Week family will already have booked travel and accommodation for the event and we hope that you will be able to receive a refund or to rebook travel for another time.  If you have a booking with a local business we hope that you may be able to move it to a future date as we hope to welcome you back to our beautiful islands soon.
We do plan to keep in touch over the coming year and to bring a little bit of Shetland Wool Week to you virtually where we can.  Watch this space and our social media for news and updates.
Shetland Wool Week is run by a small charity, the Shetland Amenity Trust, and like so many others we are facing challenging and uncertain times. We have already invested a huge amount of time and money in preparing for the 2020 event – work which began in August of last year. We announced Wilma Malcolmson as our Patron last month and launched her beautiful free hat pattern 'Katie's Kep' which has already been downloaded over 27,000 times.  Many of you have been kind enough to express your support for us and have made a donation to the charity to help us through these difficult times.  If you would be willing to make a donation in support of the event – no matter how small – all support is gratefully received and will help us to secure the future of an event which is so important to Shetland and its visitors.
Shetland Wool Week 2021
We are already casting our gaze towards Wool Week in 2021 and we are delighted to announce that our Patron for 2020, Wilma Malcolmson, has agreed to stay on as Patron for 2021.  We have already seen so many wonderful photos of your 'Katie's Keps' that we can't wait to see them all together in person next year. If you haven't done so already, you can join the Katie's Kep Knit Along facebook page – and share your progress!
We will announce the dates for Shetland Wool Week 2021 this September and look forward to welcoming you all to Shetland once this difficult time has hopefully passed.
Thank you for bearing with us during this challenging time. We hope you and your loved ones are staying safe and well and we will be in touch soon.  More than anything though, we are looking forward to coming back together as soon as we can to celebrate our amazing community.
The Wool Week Team
Shetland Wool Week 2020 Patron and Hat Pattern launched!
Friday, March 27, 2020
The Shetland Wool Week Patron has been named today as Shetland knitwear designer, Wilma Malcolmson, who is internationally renowned for her skilfully blended Fair Isle knitwear.

The much-anticipated annual hat pattern, which is now synonymous with the launch of the patron has also been released. This year's official hat, designed by Wilma, is called 'Katie's Kep' and is available to download for free here.
Wilma is a key player in the local knitting community, a Wool Week and ShetlandPeerieMakker tutor, and is also one of Shetland's most influential and innovative designers. Wilma has lived in Shetland all her life, and like many others who grew up on the islands, has knitted from childhood. She established her business, Shetland Designer, in 1982 and during that time she has seen her creations reach all four corners of the world.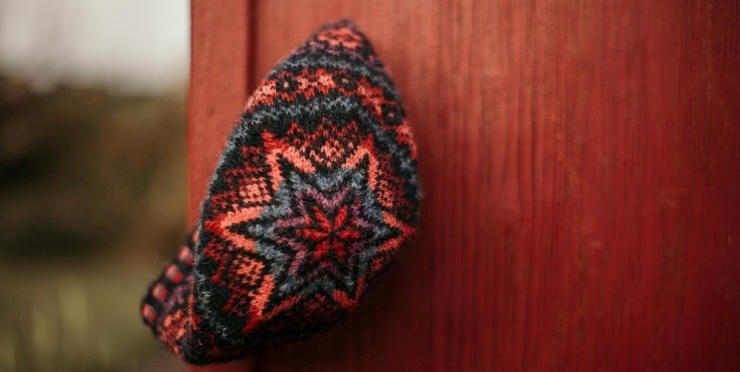 Wilma said, "I am touched and honoured to be this year's patron. Wool Week is a wonderful event that helps to bring people, not just knitters, from all around the world together. To me, the festival represents a time of friendship, of learning from each other and an appreciation of our islands and way of life as it celebrates old and new by putting traditional patterns and techniques on equal terms with new, innovative ones. The hat is the common bond for us all and I am delighted to have been asked to design it and become part of the Wool Week story.

"My hat 'Katie's Kep' is named after my mother Katie. It includes the patterns that she taught me when I was a peerie lass because they were her favourites. She belonged to that large group of professional knitters, without whom our Shetland colour work and lace heritage might not have been as alive and vibrant as it is today. This is my tribute to all the known and unknown designer artists of Shetland throughout the centuries."

Speaking of her love of knitting, Wilma added: "My mother instilled in me an interest in patterns and colours, from her I learned the importance of contrast and 'blending'. Colour inspiration is all around us in Shetland – you only need to look at the rugged landscape, seashores the ever-changing skies to find shades that work together."
Wilma has created four very different colourways for the hat using yarn from Jamieson's of Shetland, Jamieson and Smith, Uradale Yarns and Shetland Handspun. Each company has prepared yarn kits and are available to take back orders online, but currently are unable to guarantee any delivery dates. Check their websites for updates. In the meantime, it's probably a good to try and use up some of your Shetland stash!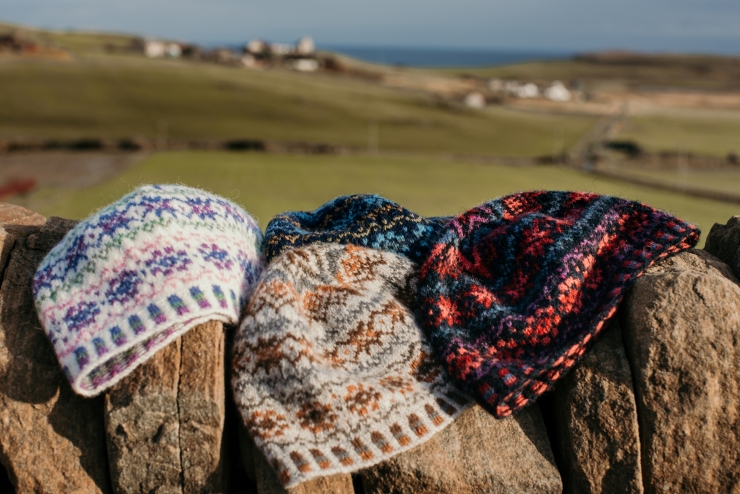 From left: Jamieson and Smith; Shetland Handspun; Uradale Yarns (blue version); Jamieson's of Shetland
We caught up with this year's patron Wilma Malcolmson to find out more:
Congratulations on becoming this year's Shetland Wool Week patron in what is Wool Week's 11th year. What does being patron mean to you?
Wool week is a wonderful event that helps to bring people, not just knitters from all around the world together. It is an event we look forward to. I am touched and honoured to be patron of SWW 2020.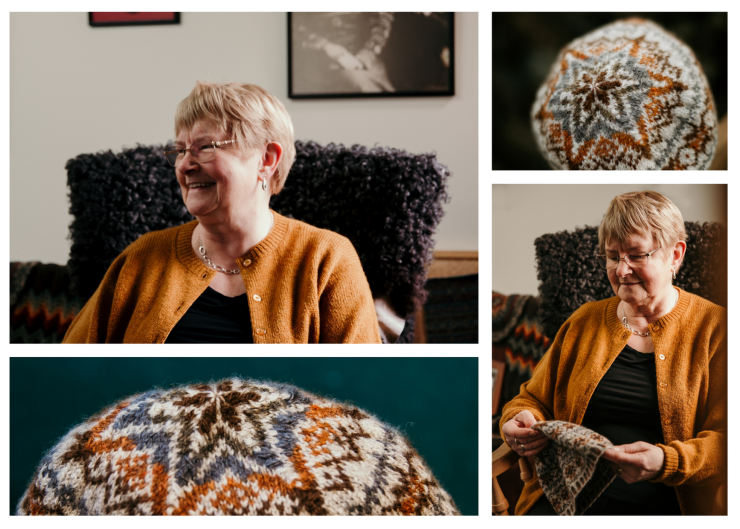 Tell us about your beautiful hat, Katie's Kep. Where did you start when planning this design? Talk us through the inspiration behind it.
Like many girls of my generation I was taught to knit by my mother, Katie. She was an amazing woman who was resourceful, patient and always ready with some wise words to make a tricky situation easier. I thought I could use two of her favourite patterns to create a traditional kep as a tribute to her and all the other knitters who were so willing to help us learn. I grew up on a Shetland croft at a time when electricity and running water were still to appear! Katie's Kep is reminiscent of times when folk enjoyed knitting by the light of peat fires and tilly lamps, chatting about the news of the day and where they could sell their knitting. There was also tea, home bakes and laughter.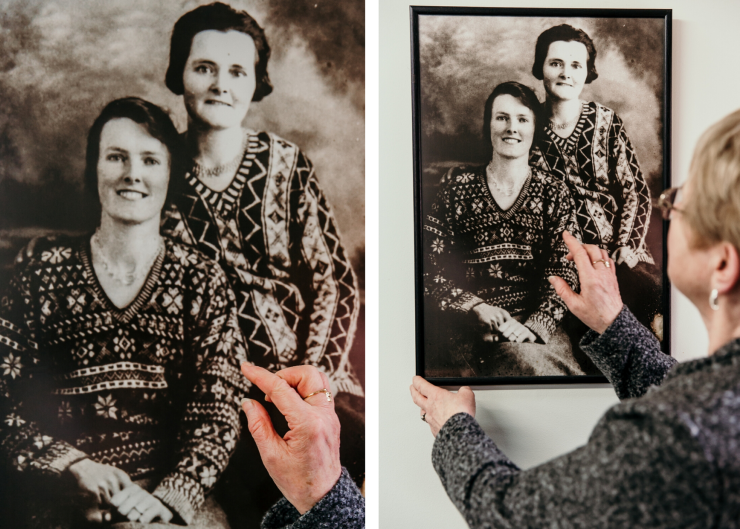 Is it an easy knit?
Katie's Kep is achievable for beginners, as with all traditional Fair Isle we are only ever knitting with two colours in a single row. The Kep uses five colours altogether, using one as a background colour throughout.
How did you come up with such different colourways?
I wanted to celebrate the wonderful range of yarns available in Shetland. I enjoyed designing different combinations of colour from each of the manufacturer's palette. Choosing colours are my favourite part of the design process.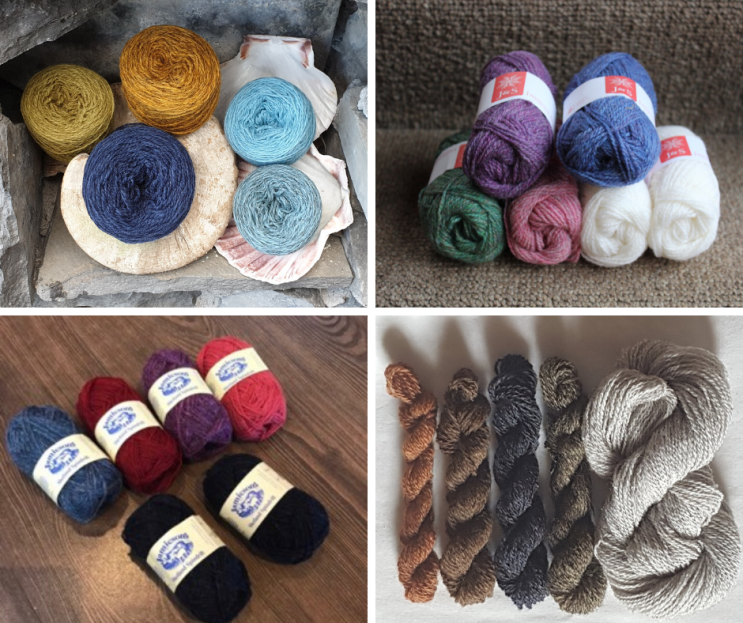 You've been involved with Shetland Wool Week for many years. What does the event mean to you?
Shetland Wool Week is an important date on the calendar for knitters the whole world over. It is a time of friendship, learning from each other and appreciation of our islands and way of life as it celebrates old and new by putting traditional patterns and techniques on equal terms with new, innovative ones. The hat is the common bond for us all and it is great to see everyone's take on the same pattern.
You're renowned for your love of pattern and colour. Where do you think that has come from? Do you think colour blending is instinctive or is it something that can be taught?
I have always enjoyed designing traditional patterns in interesting colours. I noticed the way nature can inspire us. The colour of the heather on the hill, the lichen on the stone dyke or seaweed on the beach have all influenced my designs. Again, my mother's influence was there in the early days as I would watch and learn as she produced beautiful patterns with the limited range available to her at that time.
Maybe colour blending in instinctive, but I believe with a few basic rules it can be learned. Much patience is required, and it is essential to knit swatches and we need to remember knitting swatches are not a waste of time. You must be satisfied with how the colours interact and patterns balance with each other. They are valuable for future reference.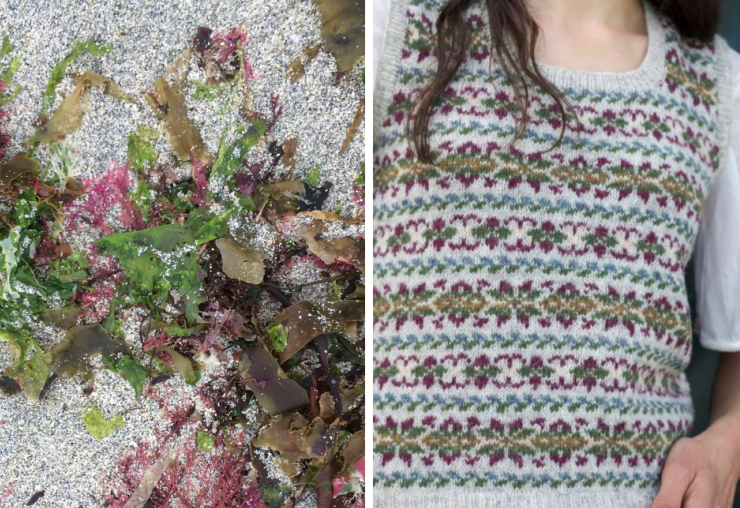 You come from a family of knitters, but when did you learn knitting?
As I mentioned earlier, knitting was an essential part of our life and not a hobby. It was going on around me the whole time and no doubt I sat and watched my mother, sister, aunts as they knitted but I do not actually remember 'learning' as such. Similarly, it is hard to remember when we learnt to read or tell the time!
However my mother never tired of reminding me of how , as a toddler, I used to sit in the deep croft house window and play with her 'cloos' (balls of yarn) when she popped out to feed the hens or hang out washing!
We had knitting in school where we were taught different stitches and textures which would not have been used at home.
When I met my future husband's family, I was introduced to machine knitting which was all around us by the 1960s. By the 1970s we had progressed to machines capable of knitting lace and Fair Isle. Knitting Fair Isle patterns by machine has played a huge part in my designing and production.
You started your knitwear design business in 1982, 39 years ago, designing and handknitting colourwork jumpers. Can you explain how that came about and how your business and designs have evolved?
In 1982 I went to a Trade Show in Aviemore along with three other local designers. We were all involved in knitting both by hand and machine. We put together a collection for display resulting in wholesale business. I found this was the route I would follow.
A new collection had to be put together each year according to colour predictions for the coming season. Many local knitters have supported and helped me over the years. Many colourways designed in those days have become some of my timeless pieces.
It gives me a huge sense of pride to know that my designs and products have reached the four corners of the world. The international links grew and gave me the opportunity to visit Tokyo to demonstrate hand knitting in a department store. I attended Vogue Knitting Live in New York and more recently I have been teaching in Norway and Sweden at similar wool festivals.
The emergence of the internet has made sharing and selling designs and products much more available to everyone at home. The knitwear community is now worldwide rather than only being able to share your ideas and products with people who live nearby. I often wonder what my mother and her friend would think of being able to knit with friends on Instagram or FaceTime.
What's your basic design process?
I aim to design garments which are comfortable to wear. Fit must be planned first, much time, effort and expense are invested in a knitted garment, so you expect to wear it for a very long time. Shaping is determined by the measurements required. In patterned garments the size of the motif needs to be considered. When planning several garments of the same style it is best to knit individual samples of each.
Next, I consider motif and colour, starting with the main colour. I begin by making swatches by machine, focusing on colour blending and accent colours. Sometimes I am satisfied with the result quite quickly but many a long swatch has been knitted before a successful colourway emerges!
For example, when I designed the sweaters and cardigans worn by the staff at the Shetland Museum and Archives, I worked closely with Shetland Amenity Trust to produce items that complimented their brand.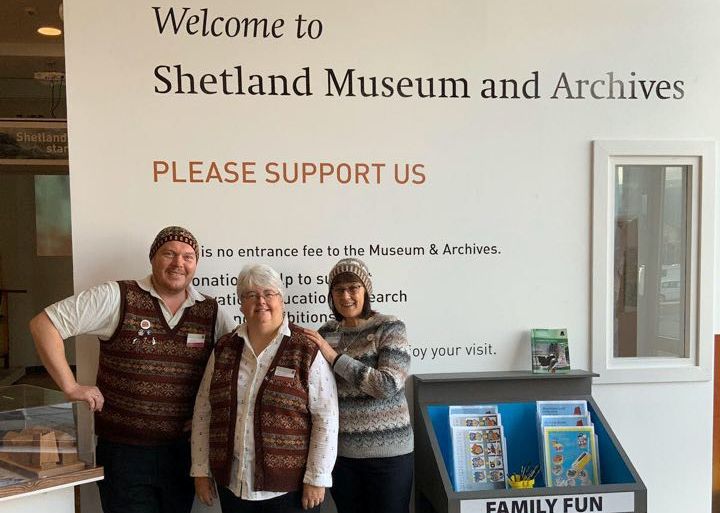 Apart from the Kep, what's your favourite design so far?
I have difficulty choosing a favourite as I spend enough time in the design process to ensure that I approve of each result.
One of my favourites is the 'Hairst' colourway which is based on the Shetland landscape. I feel it is one that connects with and celebrates the natural golden tones that I associate with the Shetland Harvest.
All of your designs are made using Shetland wool. What are the merits of Shetland wool to you?
First and foremost, Shetland wool is easily available to me as Shetland has a plentiful supply of high-quality yarn. It is warm, light to wear and sometimes when I see a sheep on the hill in the depths of a Shetland winter, I think to myself, she knows best!
So many colours of yarn are available to us both in natural shades and dyed mixes that blend well together. We make some of the sweaters worn by Jimmy Perez in the 'Shetland' series. The colours used are natural earthy shades that reflect the atmospheric and tone of the programme.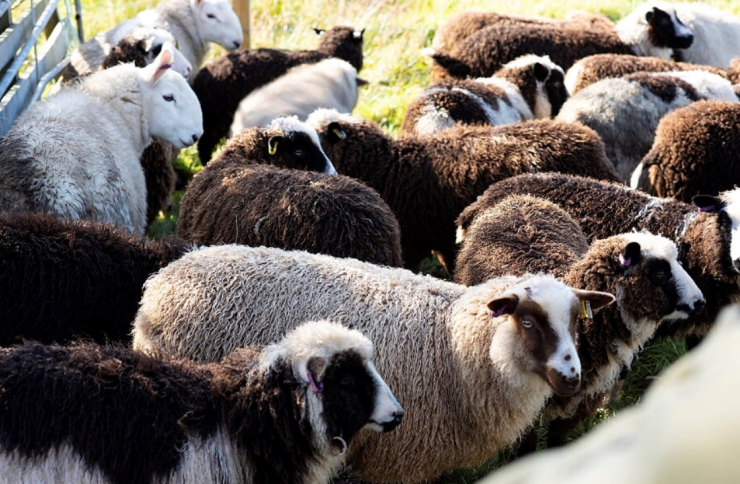 We've loved collaborating with you on the Shetland Wool Week Annual over the years, and always look forward to receiving your designs. We know that they will be beautiful, timeless and wearable, but we also love hearing about the inspiration behind each garment which often goes beyond your immediate surroundings. For example, your Vermeer cushion in 2017 took inspiration from Johannes Vermeer's painting 'The Milkmaid'. Do you need a sense of travel in order to fuel your mind to generate new ideas and designs?
While on a trip to Amsterdam with the first-year art and textile students from the Shetland College we visited many beautiful places relating to their courses. I bought a card showing "The Milkmaid". This was a painting I had always admired, and I thought the colours would be challenging for me. This sparked a memory of one of my designs from the 1970s which I thought was vaguely like Dutch tiles. 'Vermeer' cushion was the result. The mixing of scenes and patterns can happen unexpectedly at home or when travelling.
I am very lucky in that I am able to travel both with my family and through my business. That does continue to offer new experiences, new sights and of course, new colours!
I firmly believe that the view from our own windows is changeable and inspiring wherever we live. This is especially true and important to remember during current times when travel and movement within our own communities is being restricted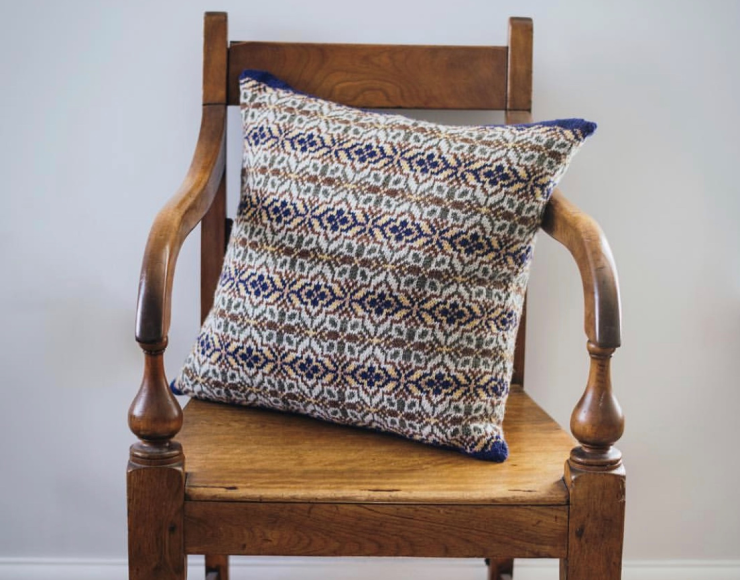 You run knitting workshops throughout the year, both in Shetland and overseas. What do you enjoy most about that experience?
The most enjoyable moment in the workshop is when a knitter produces a sample piece that they really like. Sometimes it is a surprise seeing an unusual colour or perhaps one that you would not have chosen, blending or highlighting a motif. Workshops bring together like-minded people and many lasting friendships are made.
Your studio is a bit of a mecca for knitters, especially the Fair Isle 'colour swatch wall'. How important is your studio to you and how do you use it?
My studio is where we work and laugh. It was designed by my late husband Leonard and is a special building. Knitters can never have enough space, so visitors are surrounded by finished items, work in progress, yarn everywhere, examples of inspiration, knitting machines and jumper boards.
It can be a busy and active place but it is also my space where I can lose myself for hours creating and adapting ideas and designs, almost regardless of the time of day!
The 'Fair Isle swatch' wall is an attraction where many a photograph has been taken.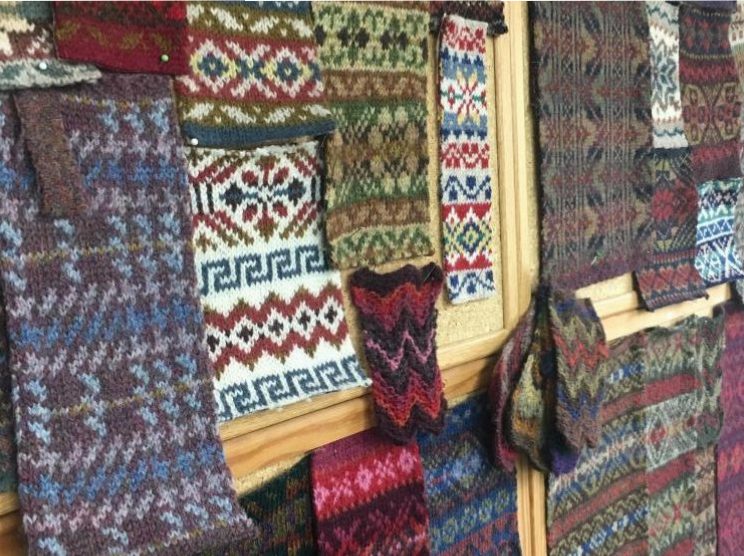 You're involved with the ShetlandPeerieMakkers as a tutor, what does it mean to you working with the next generation of knitters?
Peerie Makkers are the future. The group is held during lunch time so only the children who want to learn attend. Some are learning things that their parents don't know or are not able to help with at home, so we make sure to teach them the stitches they need to know then move on to completing samples of lace and Fair Isle. They can then move on to making their own projects.
The ShetlandPeerieMakkers group is also inter-generational as many of the helpers are grandparents in the community. It is great to spend time in a room of people of all ages, knitting, laughing and becoming friends.
I am lucky to have a very supportive family. My daughter and now some of my granddaughters are enjoying knitting Fair Isle and it gives me a great deal of pleasure and pride to see them enjoying something that has been such a huge part of my life. Their interest and involvement help to keep me up to date on current trends and colours.
What is the best bit of advice you would give to a young designer?
I would tell any young designer just to keep going and have confidence in your own ideas. Carefully develop your designs and have patience to try, try and try again as you find your own style. Knitwear design needs to keep evolving.
I am especially proud of my grand-daughter, Terri Malcolmson, who has created her own business and line of designs with only a little help from Granny! She has already travelled as far as India to share her knowledge, learn new things and find new inspirations as all designers need to do
What are you looking forward to the most as this year's Shetland Wool Week Patron?
At the moment this year is bringing a lot of uncertainty about some of the plans we have made so far. I have confidence that the Shetland Wool Week team will help us make the most of whatever happens later in the year. Every wool week I look forward to catching up with old friends, visitors, meeting new people, hearing what they have been making and doing, as well as having new experiences. This year, no matter what happens, it will certainly be a new experience for us all. Whether it is remotely or in person, I am looking forward to keeping in touch and carrying out my duties as this year's Wool Week patron.
*******
SWW KAL
A special facebook SWWKAL (Knit-A-Long) has also been launched for Katie's Kep and we'd love to see your progress. Remember to share your completed keps on social media too using #katieskep or #shetlandwoolweek2020 and we'll post them to our Shetland Wool Week pages.
SWW 2020
The eleventh Shetland Wool Week is due to take place from 26 September and already a huge amount of effort has gone into preparing for the event. However, in light of the coronavirus pandemic, the event remains under review. The organisers will continue to monitor the situation and hope to make an announcement in June on the future of this year's festival. All our fingers are crossed!
And finally, we are asking this year if you might be willing to make a voluntary donation in support of the event. Shetland Wool Week is run by a small charity and like so many others we are facing challenging and uncertain times. We have already invested a huge amount of time and money in preparing for the 2020 event – work which began in August of last year. Any support – large or small – is gratefully received and will help us to secure the future of an event which is so important to Shetland and its visitors.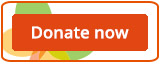 In the meantime, thank you for all your words of encouragement.
Stay safe, stay healthy and stay connected.
SWW 2020 update: March 17
Tuesday, March 17, 2020
17 March 2020
The Shetland Museum and Archives and the Shetland Amenity Trust's head offices at Garthspool, Lerwick have today closed to the public until further notice.
The closures have been made in response to yesterday's advice from the British Government urging the public to reduce travel, work from home where possible, and distance themselves socially in an effort to reduce the transmission of Coronavirus (Covid-19). Trust staff are being supported to work from home in the interim, whilst ensuring that buildings and sites continue to be cared for and essential duties and functions are performed.
Several of this year's events which are managed by the Shetland Amenity Trust are under review. Work continues on Shetland Wool Week in the hope that this major event in the Shetland calendar – which takes place in late September and early October and contributes over £2million to the local economy each year – will be able to go ahead. However, next week's celebratory launch event at the Museum and Archives has been cancelled. It had been planned to announce the Wool Week Patron and launch the hat pattern for 2020. The team at the Trust are now working on an alternative 'virtual' launch.
The SWW 2020 programme launch and ticket sales, which was planned for May, is also under review, and we will update you as soon as we have more information.
Mat Roberts, Chief Executive of the Shetland Amenity Trust said, "This has been an incredibly difficult decision in incredibly difficult circumstances. The advice and approach have been changing rapidly and we have been working hard in recent weeks to prepare for any eventuality. Closing our sites and possibly cancelling events will have significant implications for the local community, the local visitor economy and the Trust itself. The financial consequences, in particular, should not be underestimated. Our priority, however, must be to protect the public and our staff, in line with Government efforts to manage this global pandemic."
Stay safe everyone and thank you for your continued support.
That festive feeling …
Tuesday, December 17, 2019
Winter is officially here. We've been battered with seemingly relentless wind and rain for the last few weeks, as if the weather gods are saying slow down and cosy in.
On the days when we have ventured out the island is looking beautiful; both in terms of its natural scenery as well the festive sparkling lights adorning homes, fishing boats and offices which give a magical cheery light to the short, dark days.
'Da Street' comes into its own too during the festive season, the Christmas tree, gifted to us each year from Norway to commemorate the Shetland Bus operation taking pride of place at the Market Cross. The shops pull out all the stops too. This year Jamieson's of Shetland window display features inspired hand-knitted baubles which have been sent in from people from all over the world, and eventually they will be sold off with all money raised going to Shetland's MRI Scanner Appeal.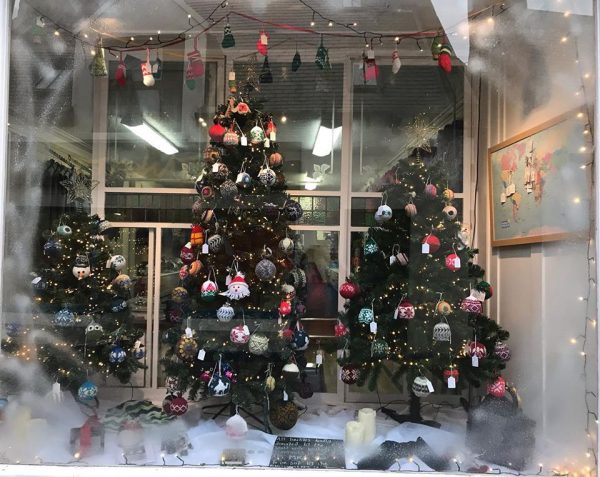 Staying in though has given us a chance to look back and reflect on what has been an amazing, busy and sociable year as we celebrated our tenth Shetland Wool Week.
We welcomed over 1000 people to the festival from near and far and, as always, were touched by the support for our fibre community, with people travelling across oceans to be here, to learn and share skills, make friendships, and lasting memories.
We had an inkling that this was going to be our biggest Wool Week yet, which is why so many people in Shetland rose to the challenge to put on our broadest range of events ever.
There are too many highlights to mention, so we will share some images here with more on the blog.
We were honoured that HRH Duke of Rothesay wrote the forward to our SWW Annual Volume 5 as well as recording us a special video message which we shared at the 'Welcome' in his capacity as Patron of Campaign for Wool. Shetland Wool Week is a result of the CfW initiative and we're delighted that we have been able to grow and develop over the years.
Most of our previous patrons were able to join us for the week too, which provided a rare photo opportunity at the SWW Welcome, as well as a chance to see them in 'their' SWW hats again!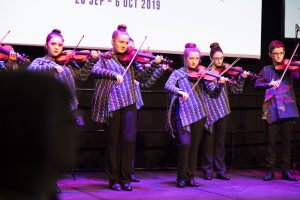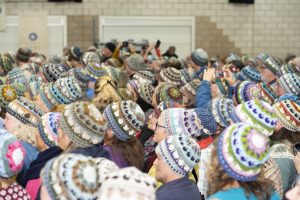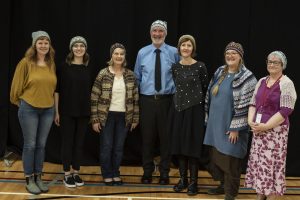 Huge thanks to this year's patron Oliver Henry, the man behind the Roadside Beanie too. It was the first time that we didn't choose a 'knitter' as patron, but it made absolute sense to us to bring the event back to its roots: Shetland sheep. 'Ooie Ollie', as is his social media moniker, has gone above and beyond in his duties, sharing his knowledge, countless stories, expertise, and thoughts and ideas on the Shetland wool industry. He gave talks, workshops, and interviews throughout the week to the point where he was practically voiceless. Oliver, we salute and thank you!
Please do follow his blog and Instagram which will most certainly give you your Shetland sheep fix.
As those who have attended Wool Week in the past know, it can be tricky to get your first choice in classes, as typically they and the venues are small. But sometimes it's the best laid plans that have a way of working out well, and the feedback suggests that people benefited from a varied programme, travelling all over the islands to experience a mix of classes, open studios, tours, talks and drop ins.
We were delighted that the trips to the islands of Foula and Fair Isle all went ahead, creating last memories to those and have made lasting memories. Some lovely feedback from the Foula trip: "Outstanding, highlight of the week!" and "Don't change anything about this wonderful opportunity!"
There were croft tours all day every day – taking people all over the islands – to see stunning locations, meet crofters, sheep dogs and the hardy Shetland Sheep that make it all possible.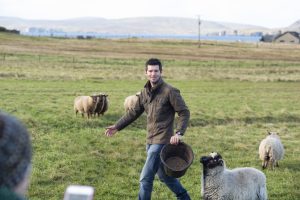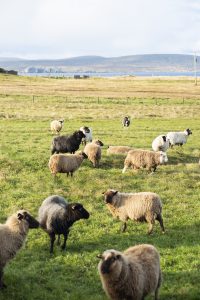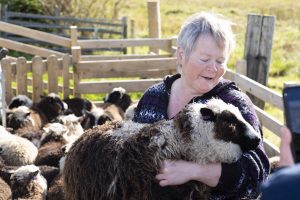 Classes encompassed all manner of subjects from Fair Isle knitting, to spinning, steeking, lace, dye, weaving and so much more. We're always keen to evolve and are grateful to our tutors for coming forward with new ideas – such as Helen Robertson's 'Gunnister Man's Gravit' class or Deborah's Gray's extremely popular and intriguingly titled 'Knitted Secrets, Illusions and Code' workshop. The art of Japanese origami in the form of knitting a furoshiki bag in Shetland wool was also a first time for us with tutor Chihiro Sato.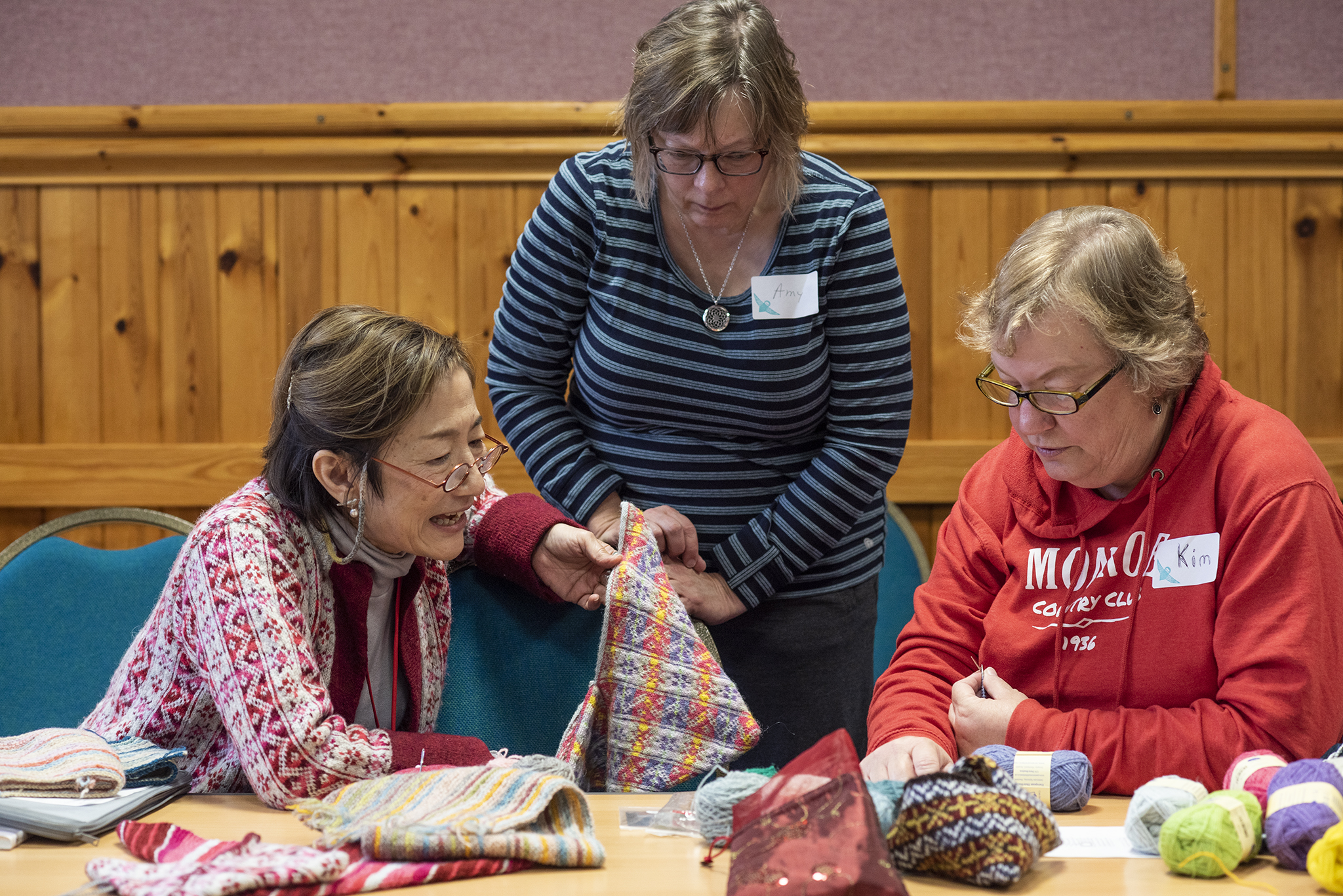 The Makers' Market was a highlight for all – with a wide choice of stalls as well as the ShetlandPeerieMakkers group who were there demonstrating their skills throughout the day. Many wonder why we only host this once at the end of the week and the answer is purely because most of the makers are also SWW tutors so are extremely pushed for time.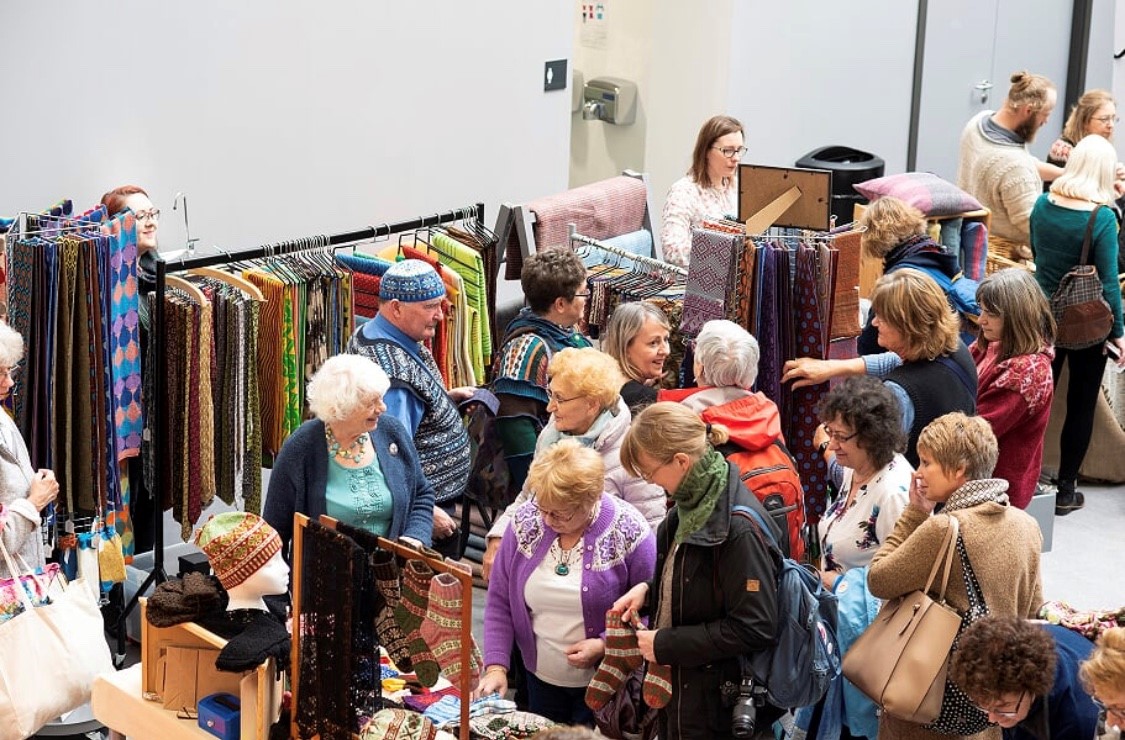 The 'Hub' located at the Shetland Museum and Archives was buzzing, always busy it was a cosy space for everyone to get on with their projects or ask questions, and at other times it was bustling with visiting musicians. We were delighted to host and support the MRI Makkers who came up with genius 'Harriet's Hat' pattern. Amanda Souter of Island Holistics was also there offering relaxing reflexology and hand massage – with all proceeds also going to the Shetland MRI Scanner Appeal.
There was an amazing silent auction of scarves too – thanks to Faye Hackers of Shetland College UHI,  who knitted up scarves inspired by ideas of various SWW supporters in the community.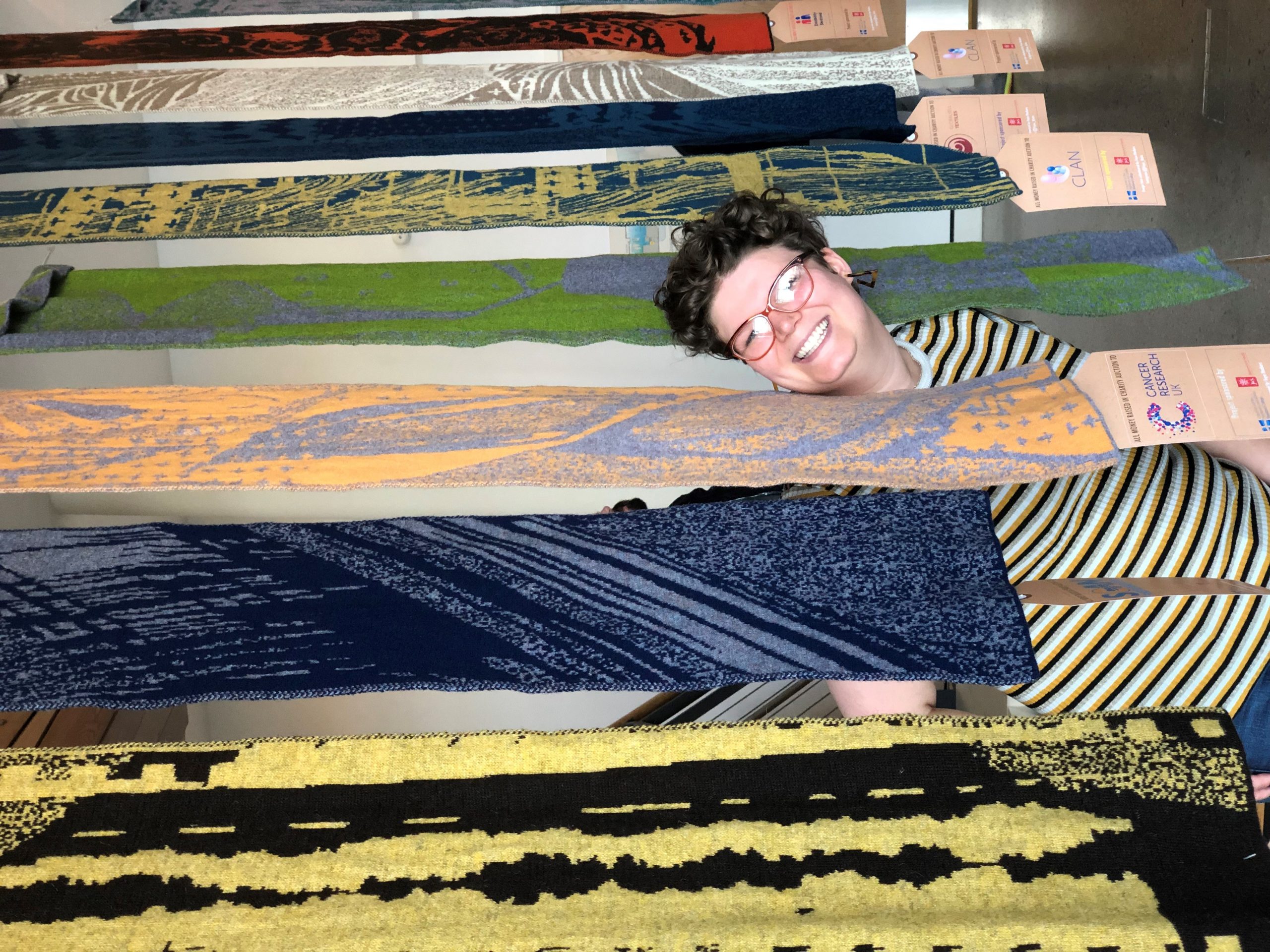 We had talks throughout the week including from author Esther Rutter who spoke about her new book 'The Golden Fleece' which gives a literary 'journey' through Britain's knitted history, including an insightful chapter on 'Haps, Shawls and New Arrivals' in Shetland.
We launched our first #swwfairislefriday, and it was wonderful to see locals and visitors decked out in their finest Fair Isle knitwear.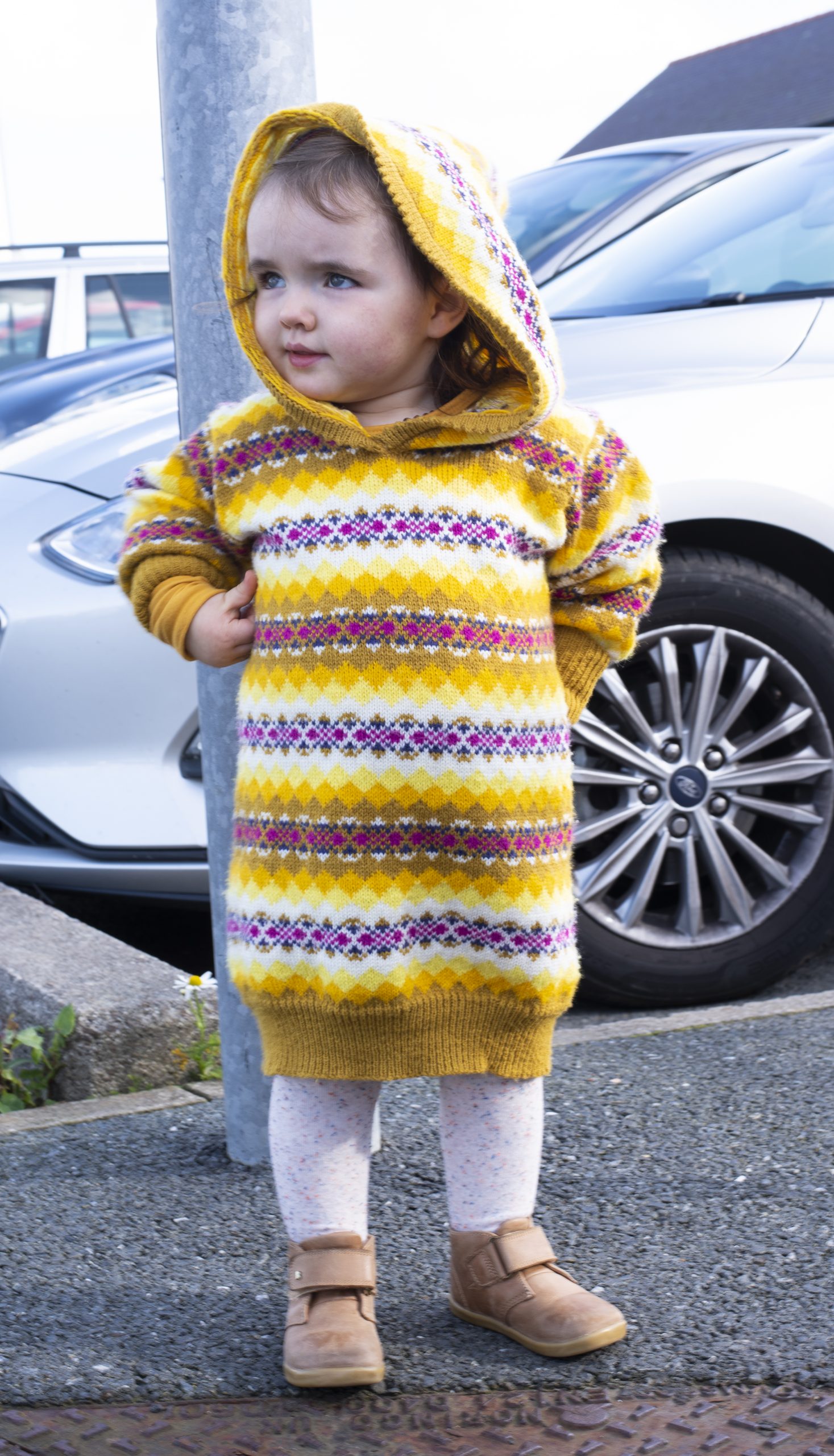 We were even joined at Hay's Dock by two Shetland ponies who squeezed themselves into their ganseys, again, all in aid of charity.
There were evening events aplenty with film and meal nights, quizzes, talks, 'sprees' (dances), and drop in maakin and yakkin or spinning groups, open studios… the list goes on.
Local community halls pushed the boat out, throwing open their doors with music, demonstrations, sales table, markets and our famous Shetland teas.
One social media user summed up her experience of SWW visit by saying:
"This has been a wondrous trip … I have loved every moment of being here. The nicest group of people I have ever met, live right here. Your hard work, dedication to fibre arts and hosting the event are superb."
Shetland Wool Week Annual
The Shetland Wool Week Annual Volume 5 has also been enthusiastically received. The 16 patterns were outstanding and captured the essence of Shetland Wool Week, all inspired by the scenery, the heritage and culture of the islands. Already we see that some of you have completed garments. Please do continue to share these with us or upload them to instagram using #shetlandwoolweekannual2019.
He's back  …
It's not woolly news, but we were thrilled to hear that BBC drama Shetland and  DI Perez will be returning to our screens for two more series. The film crew and cast will be up in Shetland for the next two summers, so if you happen to be here at the same time, who knows who you may be sharing a café with?
Amidst the murders, the scenery and mysterious plots we're hoping that there will be more woolly designs modelled by the cast. We'll let you know!
In the meantime you can find out about the real Shetland, the show's locations, the books by Ann Cleeves and more.
Shetland fine lace knitting
The latest blog on the Lace Assessment Project looks at blouses made in Shetland fine lace knitting.  They were popular in the 1920s and 1930s, a feminine yet bold garment for the time.  If you thought Shetland fine lace was all about shawls and stoles, you will be pleasantly surprised!  These newly donated objects to Shetland Museum's collection rival any of their knitted lace for pattern design and fineness of spinning.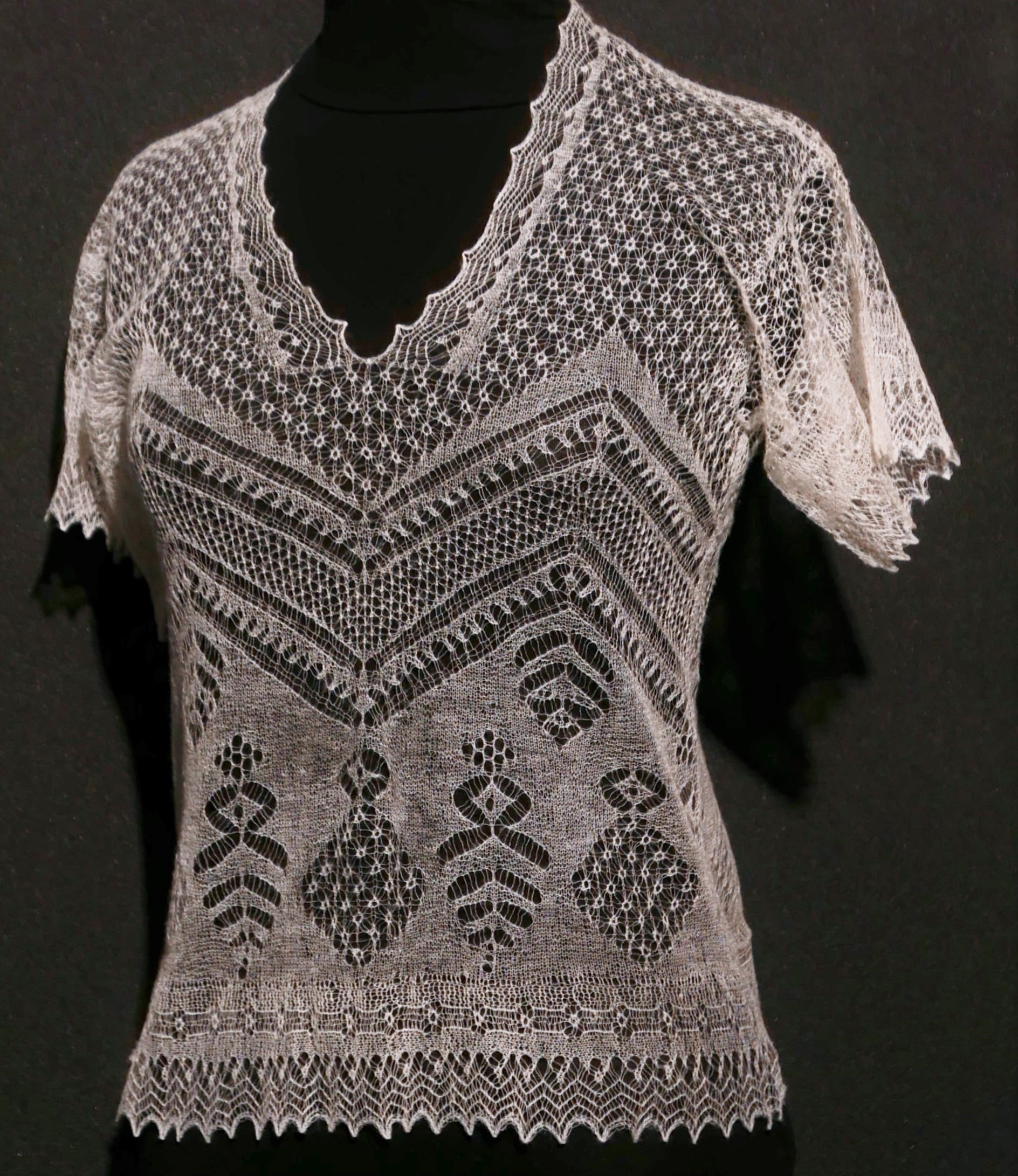 Fruity Knitting video podcasters Andrea and Andrew joined us during SWW where they interviewed several people, including Shetland museum textiles curator Dr Carol Christiansen and also Helen Robertson, with an episode on Shetland Lace. You can view it here (episode 89), as well as link to their other Shetland-related posts.
My Winter Warmer
And finally, as we head towards the shortest day of the year, we couldn't miss the opportunity talk more about woolly winter wonders.
We thought it would be interesting to catch up with various Shetland wool lovers and ask them what items comes out of hibernation that they return to year on year to keep them snug throughout the season.
Oliver Henry, SWW Patron and Man of Wool
My item of choice is my Roadside Allover which Sandra Manson designed and made for me earlier this year. It reminds me of the jumpers worn by Burra and Whalsay fishermen – my ancestors. It also reminds me of this year as patron as it was worn during EYF and SWW 2019. It may be a familiar sight to many of you.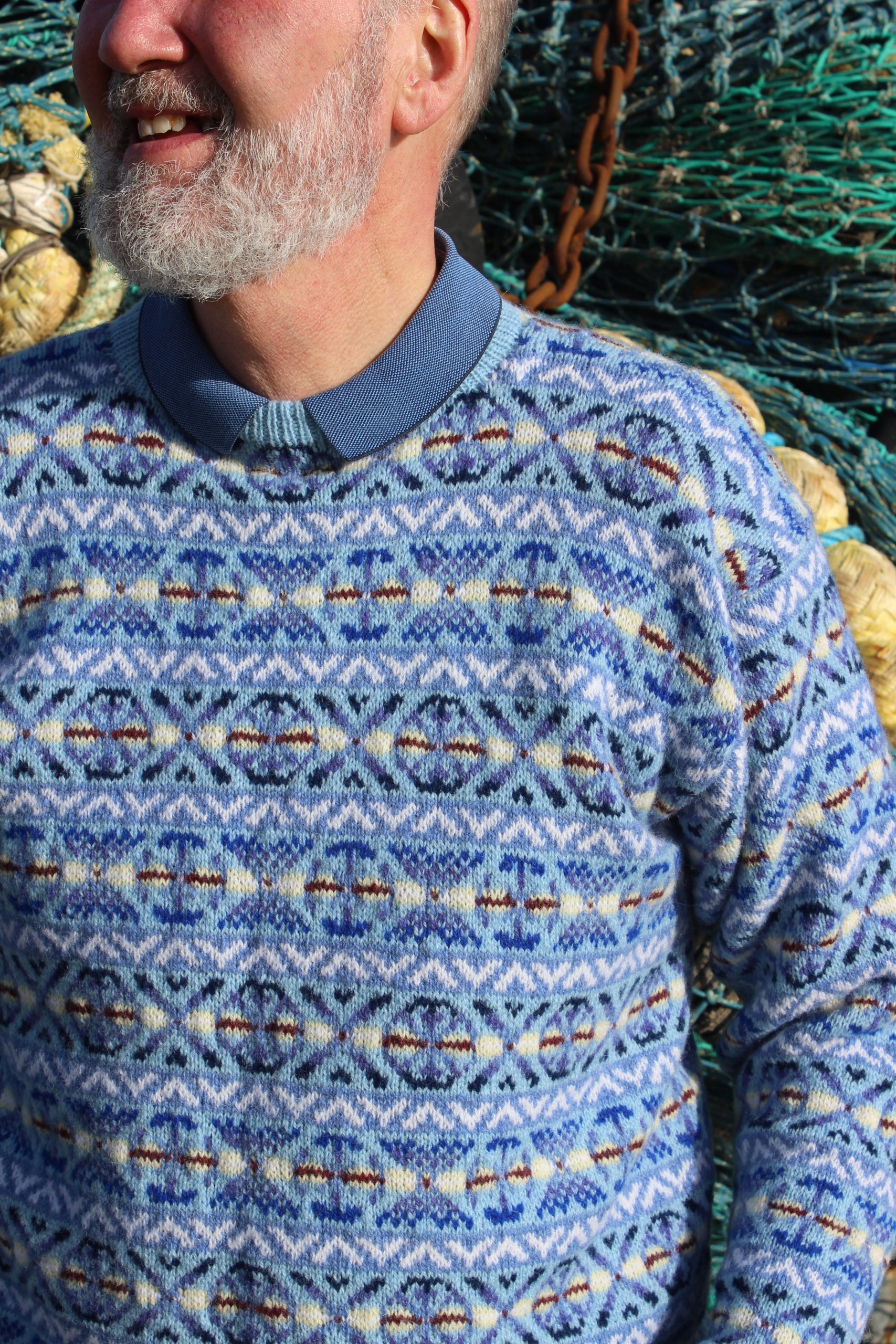 Anne Eunson, lace knitter and tutor
This was a knitting project a few years back; it's a design from Outi Kater which I adapted slightly. Knitted in Shetland yarn makes it the perfect cosy jumper for a cold winter's day.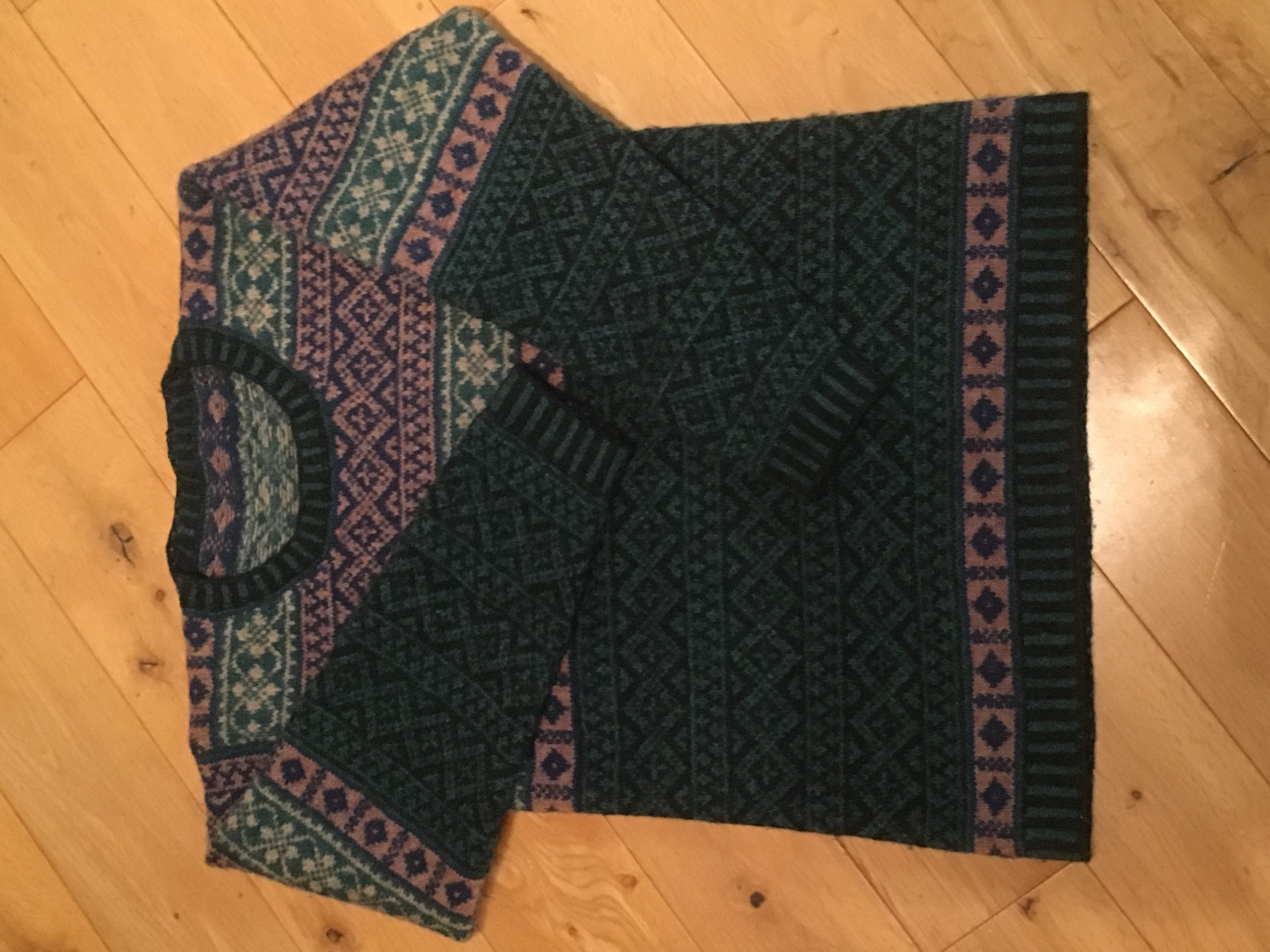 Donna Smith, Shetland knitwear designer and tutor
I have always loved scarves and shawls. I have several drawers full of them and very seldom go out without one. I feel if my neck is warm and I can stop the draughts blowing down my neck the rest of me is cosy. During the summer I tend to wear lighter scarves made of linen or cotton and as it get colder I reach for the woolier, larger ones. I have been wearing my Brough shawl a lot this winter: it is large, cosy shawl I designed last year and is knitted with my Langsoond yarn, a Shetland yarn in a double knit weight that is cosy but light to wear. It is an excellent defence to the bitter Shetland winds and I have also been known to wear it inside, draped over my shoulders on a particularly cold day.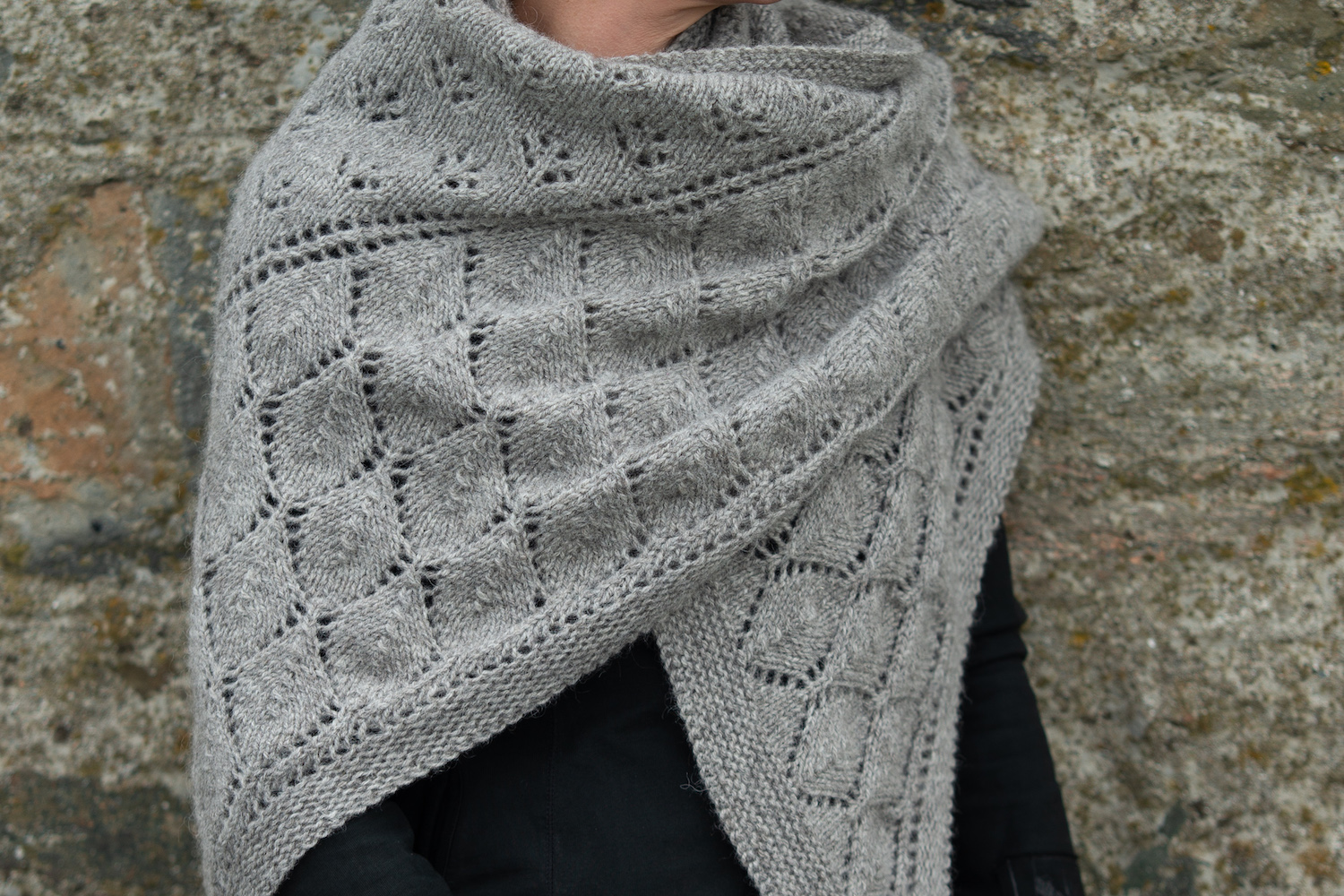 Janette Budge, Shetland knitwear designer and tutor
The inspiration for my winter warmer was to knit the ultimate warm winter hat to keep my head and, particularly my ears, warm on a wild and windy Shetland winter's day.  It needed to be longer than my other hats to be able to tuck my curls into, with a double layer to keep my ears warm and not have a draught blow through in stormy weather.
Using what yarn I had I reached for Jamieson's of Shetland DK.  In typical Shetland fashion, as I ran out of one colour I adapted the design to accommodate the new colour changes and added a bit of Fair Isle for my own knitting interest. It's in muted colours of grey, which is not something I'm known for! The crown has a form of twinned knitting to make it a denser, warmer knit that holds its structure well.  Is it the ultimate Shetland hat?  Only time will tell but it's working well for me so far!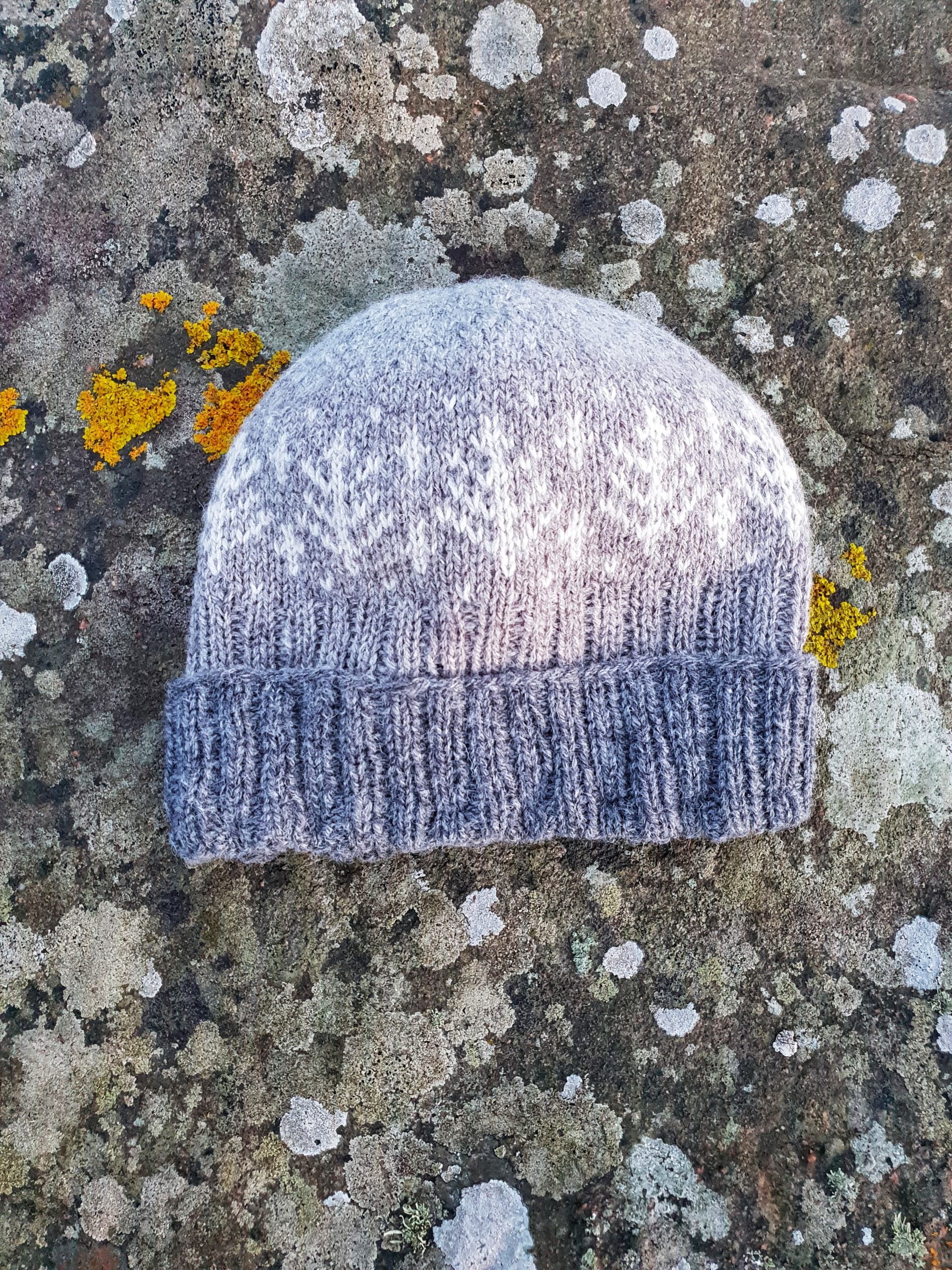 Chris Dyer, Garths Croft, Bressay
A couple of years ago, a good friend of mine, Elizabeth Edwards, gave me a call and asked if I could come and shear her small flock of Shetland sheep at Gunnista, at the north end of Bressay, looking out across the sea towards Whalsay and Nesting. I took my shearing equipment one Sunday morning in July and, in a few hours, had a bag of rolled fleeces ready for the Wool Brokers. Everything was packed back in the vehicle, ready for departure, when Elizabeth suggested a cup of coffee – always an excellent idea! As we sat around the kitchen table, she suggested a hand knitted Fair Isle jumper as a token of thanks for the shearing. What kindness! Elizabeth and I had great fun designing the jumper; the vertical patterning and selection of natural colours. It's my favourite Winter Knit although I enjoy wearing the garment during Shetland Wool Week too, and telling the tale of friendship, community and wool to those visiting Garths Croft, Bressay.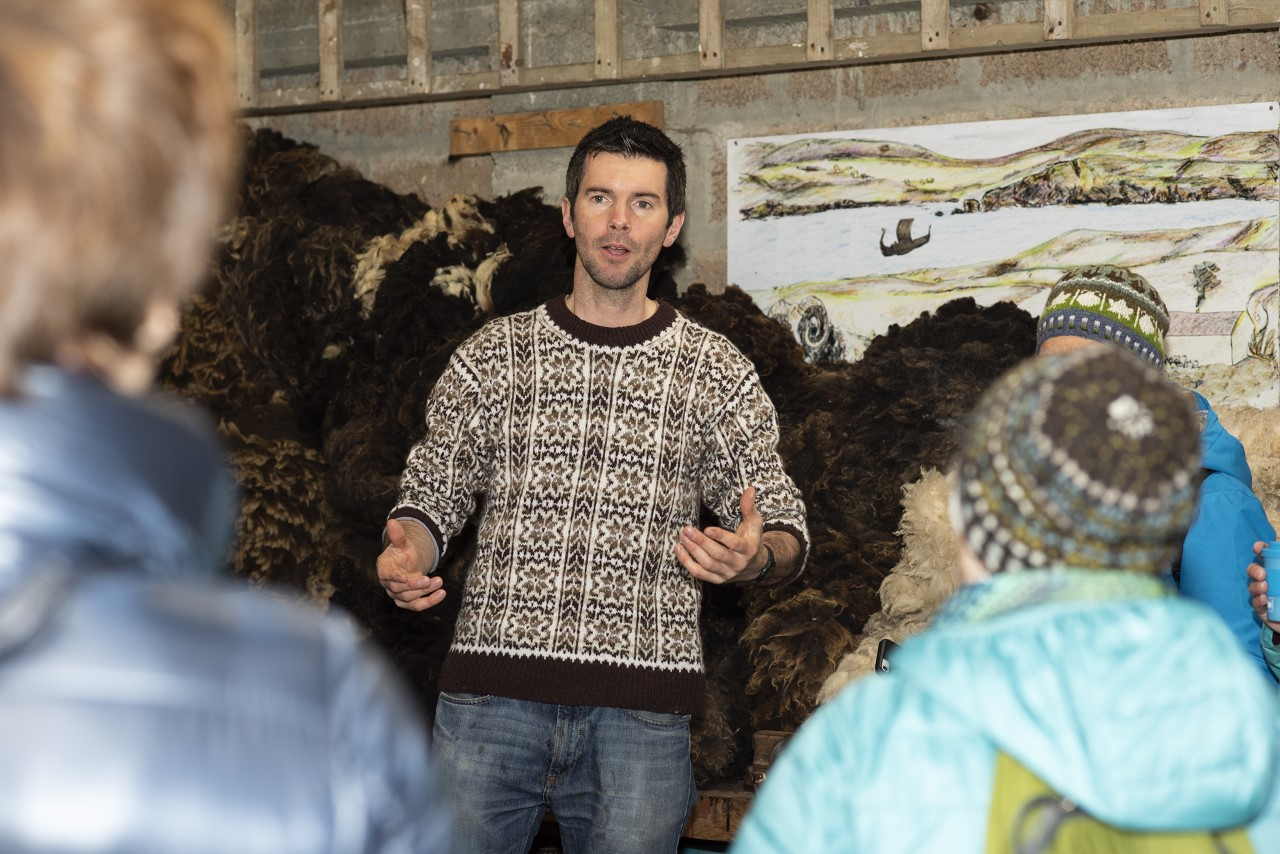 Andy Ross, weaver, classical singer and owner of GlobalYell Textiles
This is my favourite jumper. I trained as a classical singer and when I moved up to Yell I commissioned this from Shetland Collection designer, Doreen Brown. That was way back in the very early 2000s. It always attracts attention whenever it goes on an outing!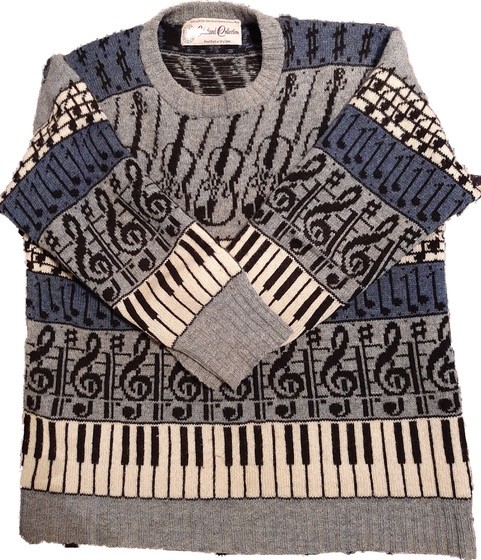 Hazel Tindall, Shetland knitwear designer and tutor
This jumper was knitted about 25 years ago from a mail order company's sale. The colour was not my choice, dyeing didn't work and no-one else in the family would wear the colour. Using my favourite go-to knitting book A Treasury of Knitting Patterns by Barbara G. Walker, I designed and knitted the jumper for myself, and it still fits – but that's maybe due to the flexibility of the ribbing! I take it out each winter to brighten the dark days. Once the days lengthen again it's washed and stored for another year.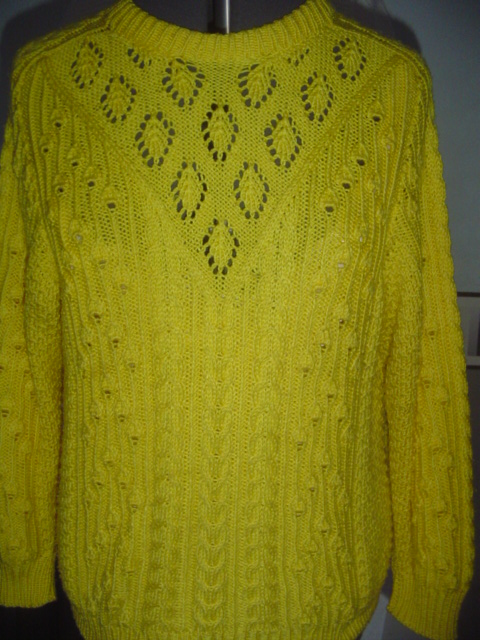 Terri Laura, Shetland knitwear designer and tutor
My winter warmer is definitely my Moss Cardigan. From September to March it lives on the back of a chair rather than being properly put away. You may even have seen me with it over Wool Week when the days started to get colder. It's perfect for around the house as well as going out. I love the oversized fit, meaning it can be one of many layers at this time of year. It was also the first cardigan I ever made, with Granny Wilma and Irene's help, in the Shetland Designer workshop where I sat at my machine and put it together. The excitement when that last button was sewn on is such a great memory for me, I threw the cardigan on right away and even now it's never too far away.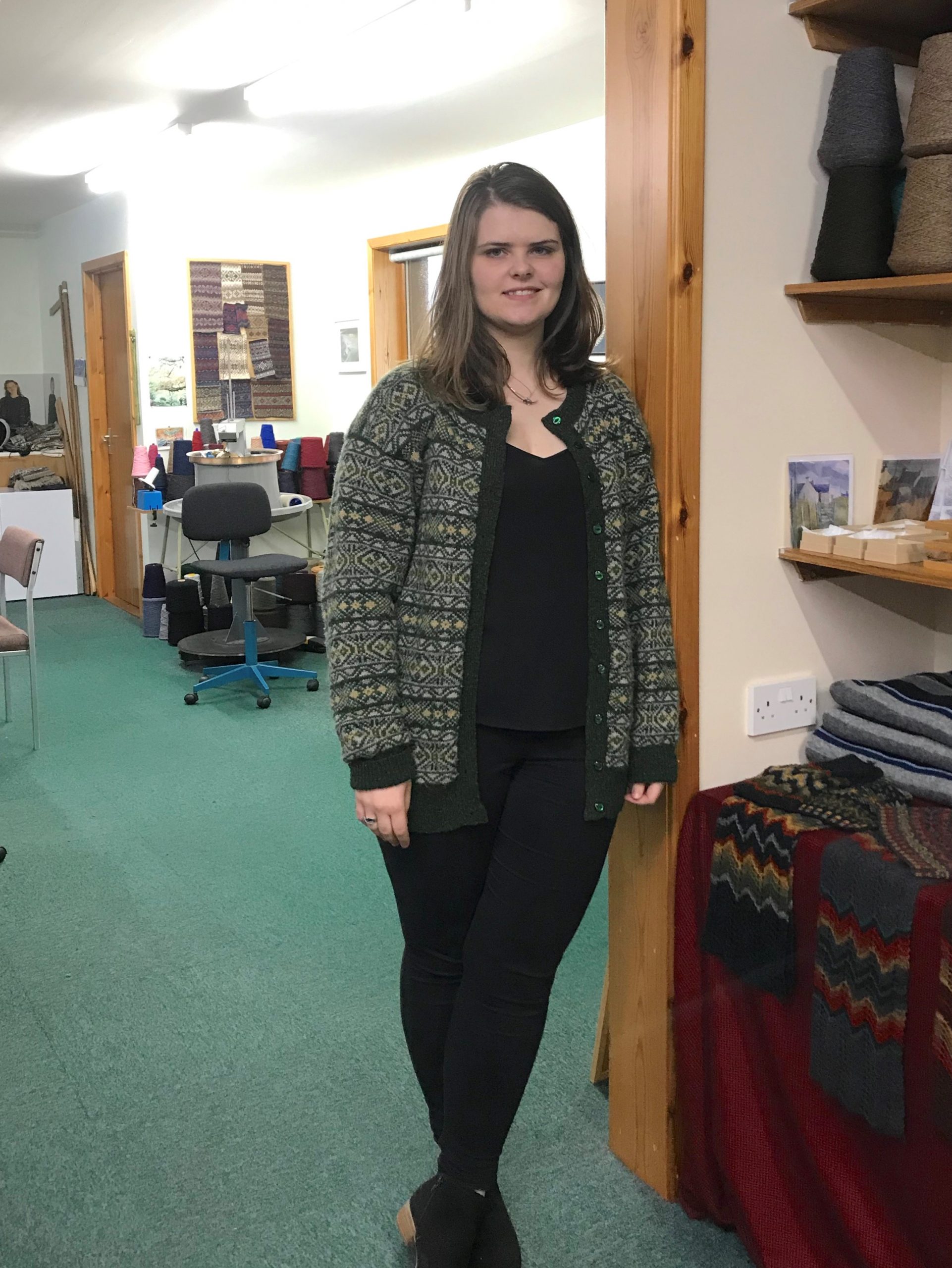 Carol Christiansen, curator of textiles at Shetland Museum and Archives, spinner, dyer, knitter and fibre lover
I find myself migrating close to my shawls at this time of year. I like a triangular shawl and Donna Smith's Houlland design from Kate Davies' Book of Haps was ideal. I took the project on a hiking holiday in Germany and realised I had only packed the pages of the pattern I had already completed!  I quickly messaged my friend Deborah, who had knitted another shawl from Kate's book, and within minutes I had the pages I needed. At the Estonian Craft Fair in Tallinn a few weeks ago, I bought a hand-forged copper brooch from a local silversmith, who was learning the craft from her father. It goes beautifully with the Jamieson of Shetland's Spindrift in Peacock, a colour I can't seem to live without.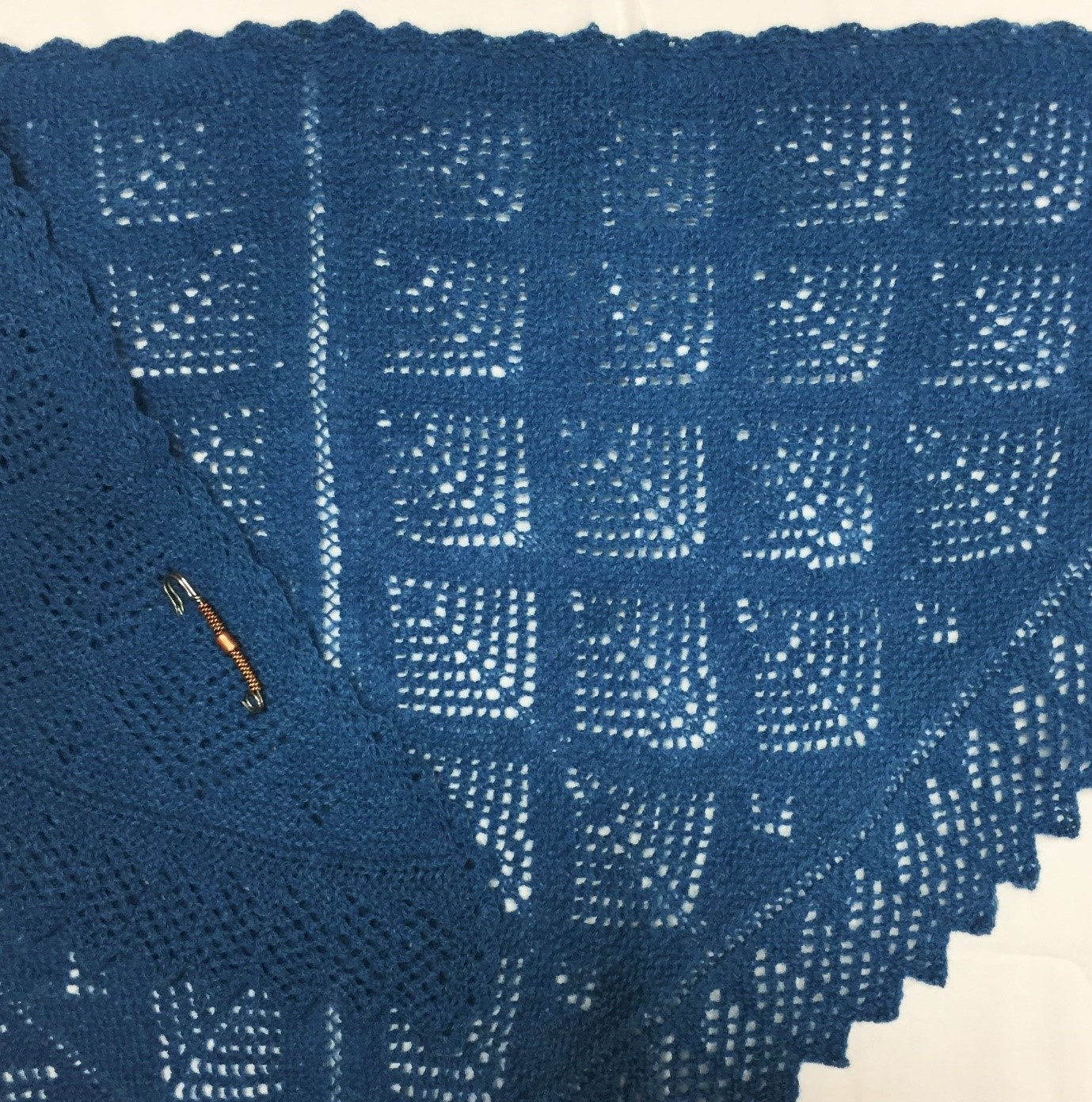 And on that note, we would like to wish you all good will and seasonal cheer and we look forward to sharing our plans for 2020 with you in the New Year.
Best wishes from the SWW Team.
Countdown to Shetland Wool Week 2019!
Thursday, September 26, 2019
We're just days away from celebrating our tenth Shetland Wool Week – which will be our biggest one yet.
The event has gained incredible momentum over the years. What began with just a handful of events in 2010 as an initial response to the newly launched Campaign for Wool, an initiative of HRH the Prince of Wales to help promote sheep farming and wool, into what is now a significant date in the international fibre calendar is something we are very proud of.
We love this picture by Jamieson & Smith that visually shows how much the event has grown (there was no programme in 2010!). Read the J&S blog to find out more about SWW over the years.
We are grateful to each and every one who has supported us – patrons, industry, tutors, volunteers, the Shetland community – and all our wonderful supporters. So, thank you – to those who have followed us from afar and perhaps never visited Shetland, to those who have been returning year on year. We love our SWW woolly community!
For those joining us at the end of the week, here is some useful information:
The Hub
The SWW Hub is located in the Shetland Museum and Archives, Lerwick and will be open daily from 10.00am – 7.00pm (5.00pm on Sundays).
There is no need to register for your classes, but come along and collect your premium membership (travel cup, candle and project bag), and any pre-ordered annuals and hat illustrations if you chose the 'Click and Collect' option.
For those not attending we will be posting out memberships, illustration prints and annuals from the 30th September.
The Hub is also the place to catch up, find out what tickets are still available, check out the noticeboard to find out the latest news and perhaps arrange transport – or just enjoy a cuppa, a natter and a knit.
This year representatives from the Shetland Visitor Information Centre will be joining us and they will be able to answer any queries relating to eating out, transport, taxis and general Shetland information.
The Shetland Museum is a must visit at any time of year, the permanent textiles collection is outstanding, and there are also some special exhibitions to coincide with Shetland Wool Week, including: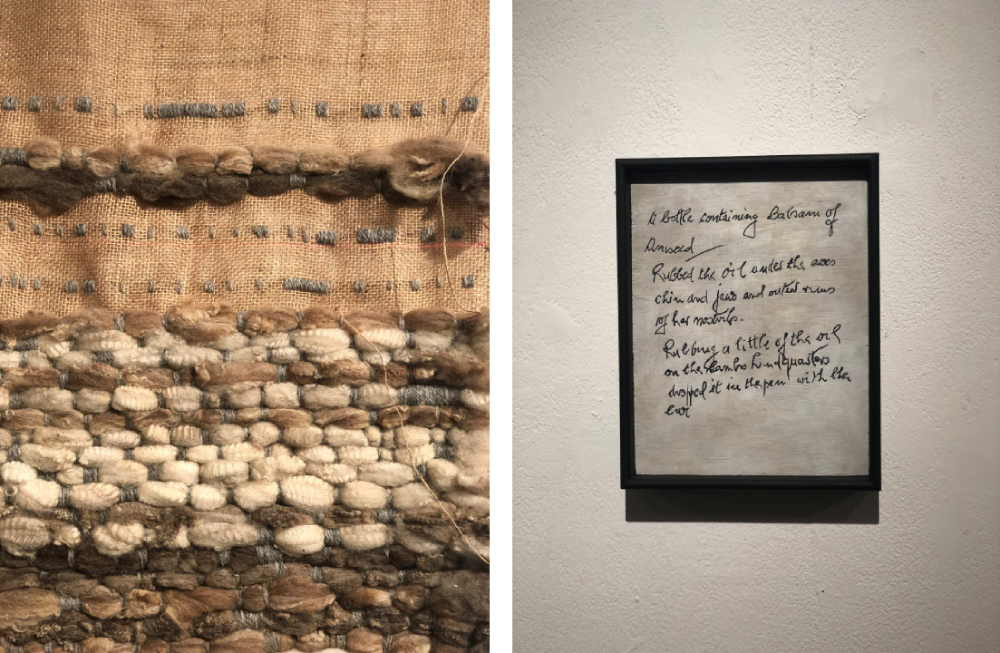 Vivian Ross Smith: Paes-Wisp
Susan Pearson: Reconsider Wool: The Laird's Witch
Nottingham-Shetland Knitted Lace Research Project
Deborah Gray: Of the Land: Icelandic Wool
Diana Warmels-Edes: Lace Knitting from the Sea
We'll also be displaying all the items from this year's beautiful Shetland Wool Week Annual, Volume 5 before we (reluctantly) return them to their designers. Come along and take a closer look at all the garments.
Photo booth:
We will have a photo booth, inspired by an old Shetland croft house – come and take your photo throughout the week and upload your image to #swwmadebyme2019
Noticeboard:
Check out the noticeboard for daily updates.
The MRI Makkers will be joining us on some of the days too – where you can talk to some of the volunteers and find out all about their work to raise funds for the Shetland MRI Scanner Appeal.
Holistic Therapy
We're also thrilled to welcome Amanda Souter from Island Holistic Therapy from Monday – Friday, who will be offering 10 minute holistic treatments in Thai Hand Massage; Indian Head and Neck Massage; Reflexology. We thought you might need a bit of a treat after all that knitting, spinning and weaving.
Amanda has very generously offered to donate all money raised to the MRI Scanner Appeal.
Bookings will be taken at the Hub information desk 24 hours in advance and we suggest a £5 donation per treatment. Come and chat to us and find out more.
SWW Merchandise
As always we will launch our new range of SWW merchandise at the start of SWW. This year we have collaborated with illustrator Cathryn Worrell, who has designed a super cute Shetland sheep which includes a nod towards our tenth event. It's fun, it's colourful, it's part of our celebration!
Depending on stock levels we will add merchandise to the online shop after Shetland Wool Week.
SWW Welcome, Sunday 29th September
We look forward to welcoming many of you to the 'SWW Welcome' at the Clickimin Leisure Centre Main Hall. Entrance is via the Main Door.
Doors open at 6.30pm for a 7.00pm start.
We have some fun things lined up with a welcome Shetland Reel Gin cocktail or Lerwick Brewery Beer and Mirrie Dancers chocolate. It will be a relaxed, celebratory event and there will be a chance to visit the SWW Sponsors' display tables as well as buy gin, beer and chocolate! Remember to bring your SWW hat for the official photograph!
Sadly there is not room for everyone, but the event will be recorded by Promote Shetland so there will be a chance to watch it later on.
Highlights of the week
There are so many drop-ins and free events taking places all over Shetland throughout the week. Check out the programme for details. Highlights include:
Shetland Flock Book Show and Sale, Shetland Rural Centre, Lerwick
Saturday 28th – All Day
Bigton Hall: Loops and Lunches Exhibition
Tuesday – Friday (see the programme for details)
Knitwear exhibition, teas and lunches
Exhibition of Bressay Knitwear
Sat 28 Sept – Sun 6 Oct
Knitwear, textiles, art and crafts for sale
Drop in Knitting, Spinning and Wheel Clinic, Hoswick Visitor's Centre
Tuesday & Thursday (see programme for details)
An Evening with Islesburgh Spinners and Knitters, Islesburgh, Lerwick
Tuesday 19.00 – 21.30
Walls Regatta Club: Café, Knitwear and Fleeces
Tuesday – Thursday 11.00 – 16.00
Meet local knitters, buy knitwear, tweed gifts, local raw fleeces, traditional Shetland slipper knitting patterns.
Tak Your Sock Night, Anderson High School, Lerwick
Wednesday 18.30 – 20.30
More than a Happening, Ollaberry Hall
Saturday – Wednesday
Ulsta Craft Fair (Yell)
Tuesday & Wednesday 09.00 – 18.00
Unst Heritage Centre Open Day
Wednesday 11.00 – 15.00
Meet local knitters and see knitting displays including fine lace knitting.
Whalsay Welcomes Wool Week
Friday 12.30 – 19.00
Have a Go! Unst Heritage Centre
Friday 14.00 – 16.00
Drop in session with the Unst Knitting and Spinning Group
Shetland Flock Book 2019 and Fine Fleece Prizegiving Supper and Dance with Vi-Spring
Saturday 5 19.00 – 23.30, Tingwall Hall
Round off your Wool Week and enjoy a social evening with traditional Shetland fiddle music, Shetland dancing and a light supper.
SGSWDK Sunday Teas, Exhibition and Demonstrations: Brae Hall
Sunday 6 October, 14.00 – 17.00
Knitters exhibitions, demonstrations, Sunday teas and traditional music
Sumburgh Head Nature Reserve, which is owned and operated by the Shetland Amenity Trust will be open throughout SWW. As well as boasting one of the best views in Shetland, there is also 'Katja's Cakes' Café, serving delicious coffee and cakes. We highly recommend the mandarin gateaux!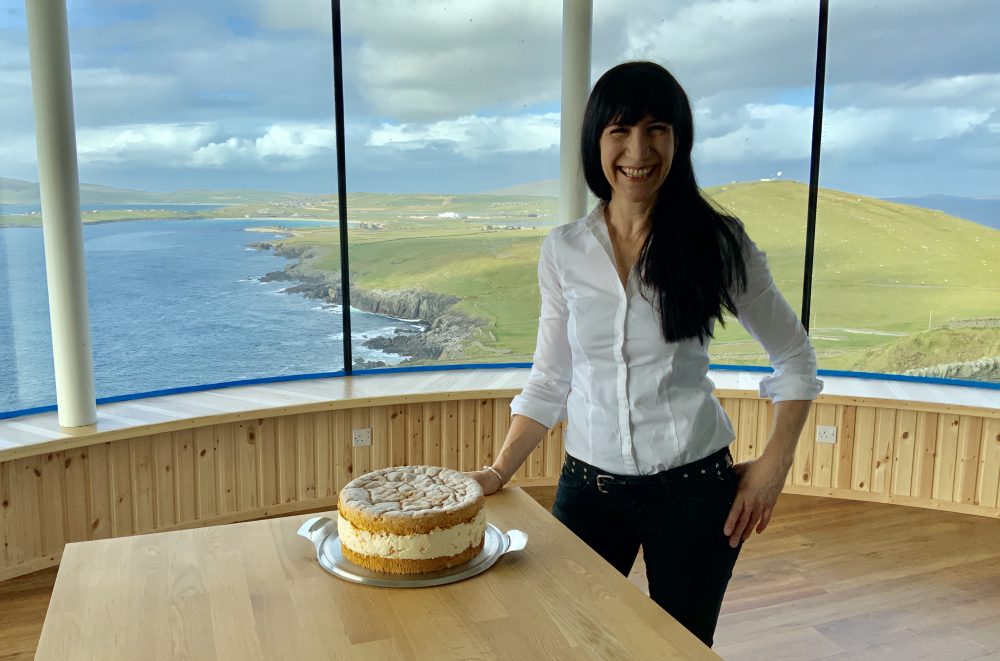 #swwfairislefriday
During Wool Week we will be launching 'Shetland Wool Week Fair Isle Friday' on Friday 4 October.  This is something that already takes place informally but we are keen to make a real splash with it this year – and the aim is to make it an annual event and to raise the profile of this unique design and of Shetland's textile heritage.
Whether you're in Shetland or elsewhere, wear some Fair Isle and upload it to instagram using the hashtag #swwfairislefriday. Or email your photos to us at info@shetlandwoolweek.co.uk
Spread the word!
We will be joined on Friday 4th by 'Fivla' and 'Vitamin', two Shetland ponies from Thordale stud who will be wearing their finest Fair Isle and ready to strike a pose at Hay's Dock, next to Shetland Museum.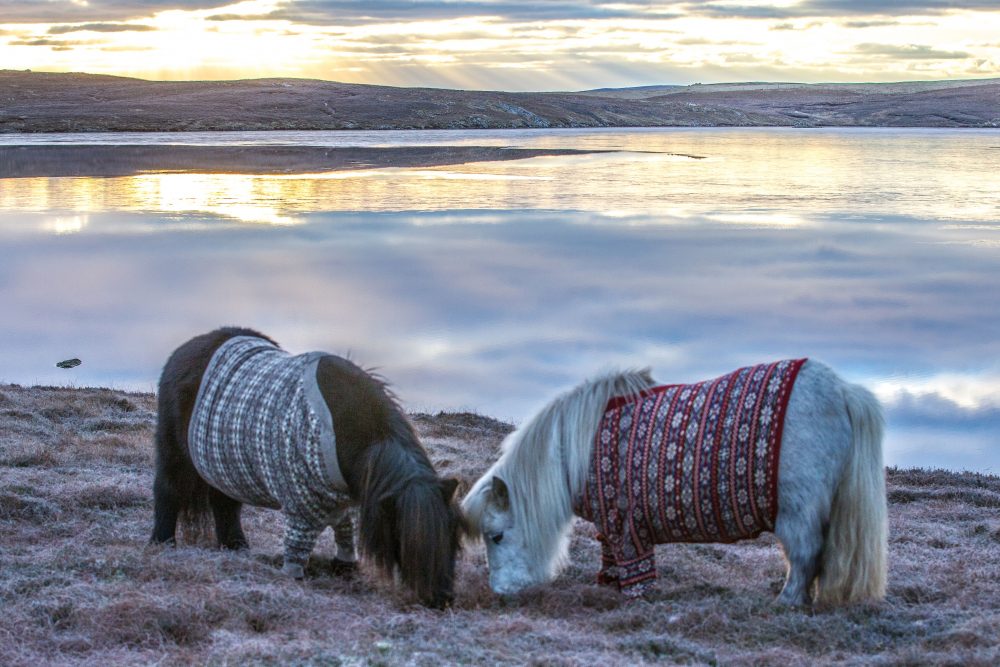 SWW Makers' Market
Saturday 5 October, Anderson High School, Lerwick, 11.00 – 16.00
This will be a great chance to meet local makers (and a few visiting ones too!) and purchase beautiful Shetland wool pieces, many not available in shops.
The Anderson High School will also be providing soups, cakes and coffee – so come and enjoy a few hours with us!
And away from SWW, there is a wonderful project that has just been completed at the Shetland Museum:
Three Kirks Project
Shetland Museum has been working on a project to uncover the mystery of 'the three kirks'.
The team have discovered that three ancient church sites in Shetland were built from stone that does in fact originate from Orkney. Legend has it that these kirks were gifted to Shetland by three Norwegian sisters and have a key role to play in the Orkneyinga saga.
There is currently an exhibition at the Shetland Museum which highlights important research recently undertaken by Curator Jenny Murray in a joint project with local geologist Allen Fraser. They have used science to prove that red sandstone built into the local three kirks was brought here from Orkney quarries, around the same time as the cathedral was being built by Earl Rognvald to house the relics of his uncle, Saint Magnus.
The exhibition includes church furniture made of red Orcadian sandstone, including a piscina on loan from Papil in Burra, and a small portable alter from Eshaness. There is also a very special loan from Kirkwall cathedral which has never been in Shetland before. A beautiful hand-woven altar cloth inspired by the research and made by The Shetland Tweed Company using local wool kindly sponsored by Jamieson's of Shetland, adds another colourful dimension to this unique exhibition. Here Andy Ross explains his involvement with this exciting textiles project:
Remembering Saint Magnus by Andy Ross
A few months ago, I was asked if we, at The Shetland Tweed Company, would be interested in working with the Shetland Museum on an intriguing project about three 12th century towered churches in Shetland, associated with the cult of Saint Magnus. I went down to Lerwick and met with Jenny Murray (Curator of Collections) and John Hunter (Exhibitions Officer) for a wide-ranging discussion about how to commemorate the building of these churches and the saint. Recent research by Jenny and local geologist, Allen Fraser, has shown that Orkney red sandstone, used to build the three church towers, was quarried in Orkney and brought to Shetland, most likely at the same time as St Magnus cathedral in Kirkwall, Orkney was being built. See their project blog here:
Jenny, John and I went on a visit to various Shetland places to see the sandstone in situ, and I was struck by how the red of the alien geology glows in amongst the more muted local rock.
Jenny suggested the idea of an altar cloth, which would be shown in the Museum as part of a display to celebrate the findings of their research. I spent a few weeks, pondering and trying out different ideas, before hitting on one which I thought might work well, either as an altar cloth or as a wall hanging.
By using the colours of the rock, a spectrum became gradually apparent. The way we work in the studio is first by arranging cones of yarn in various permutations, shifting them around as the inherent qualities of the colour become clearer. Some colours work well against others, bringing out the brightness of the yarns, some do not but blend well and create a different effect. I wanted the inner section of the cloth to glow, partly because it is an interesting effect but also because I wanted to create a haloed cross in the centre of the fabric. Having been brought up as Anglican and been active in the church when I was young, so I am familiar with ecclesiastical garments, vestments and fabrics, and some of my favourite artists have been the Mid-Century designers who created materials for places like Coventry Cathedral. All these were things that influenced the final piece.
Many samples later and after countless discussions with Jenny (thank you for all the time!) I wove the length of the altar cloth in one afternoon.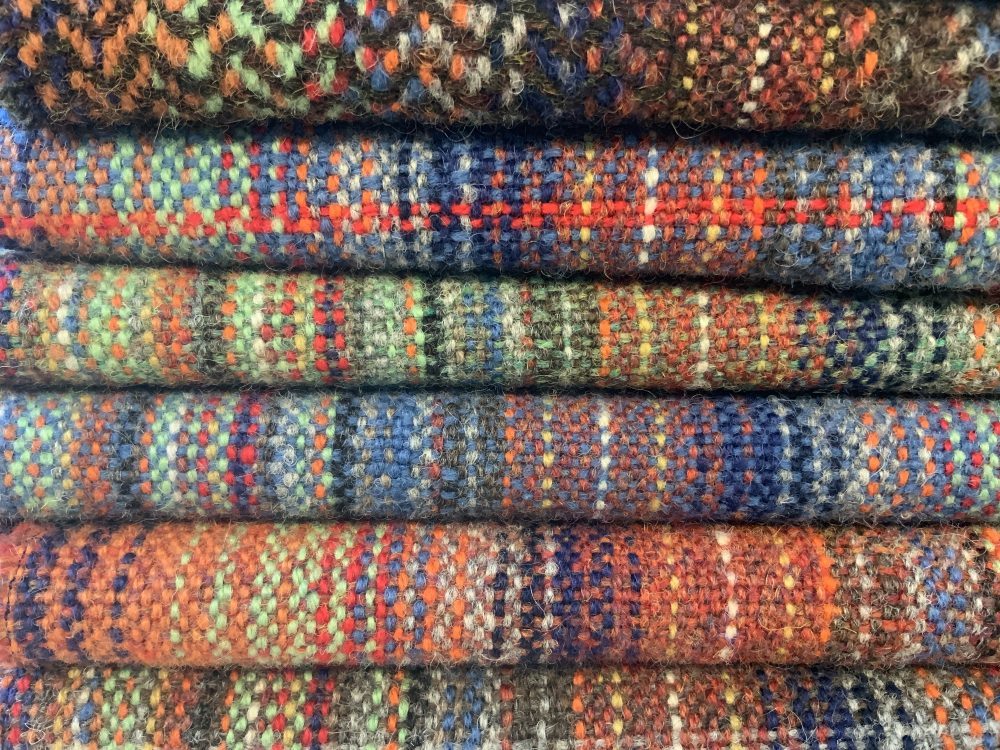 It has been a fascinating project, one which will continue for a little while yet. There are scarves in the same colours as the altar cloth, and next year we are planning a Limited Edition of blankets – thirteen of them for the thirteen disciples. I am very proud to have been part of this project and even more proud that the altar cloth is now a permanent part of the Shetland Museum textile collection; a Nationally Recognised archive.
Thank you for asking me to be part of this. It has been a great honour, not to mention a lot of fun!
Shetland Museum and Archives would like to thank Jamieson's of Shetland for sponsoring the altar cloth, providing us with the lovely Shetland wool used in its creation.
Look forward to seeing many of you very soon. We'll share regular updates through social media throughout the week!
Safe travels,
Best wishes from the Shetland Wool Week team
Get involved in SWW Fair Isle Friday (4th October)
Wednesday, September 25, 2019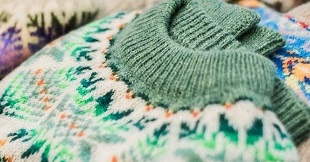 Organisers of Shetland Wool Week are calling on as many people as possible to get involved in 'Fair Isle Friday' as part of the Wool Week 10 year celebrations next week.
On Friday 4 October, Shetland Wool Week will be launching 'Shetland Wool Week Fair Isle Friday'. The aim is for this to be an annual event celebrating and raising the profile of Fair Isle design and Shetland's textile heritage by encouraging people to 'wear and share' their Fair Isle and to decorate their workplaces, schools and businesses with the distinctive pattern.
Competition: Your Wool Week Stories
Wednesday, August 21, 2019
Shetland Wool Week celebrates its tenth year this Autumn and with more people than ever booked on classes, tours and activities it is set to be the biggest and best yet.  As part of the celebrations the Wool Week team are collecting stories from the people who have been part of Wool Week over the years – from participants to patrons, tutors to tea makers, communities to crofters.
Summer update and new classes announced
Wednesday, July 10, 2019
A warm and woolly welcome to July! It seems hard to believe that we've reached summer. The weather in Shetland remains predictably unpredictable and sometimes it's felt closer to autumn; but the schools finished last week, the summer holidays are here, and we're looking forward to freeing up some time to soak up Shetland's long summer days and get outdoors and explore. We're just not ready to put our woollens away quite yet.
In this bumper newsletter we're announcing additional events and classes during Shetland Wool Week; final orders for the SWW 2019 Membership, an update on the MRI Maakers Appeal and #harrietshat, as well as an interview with local Whalsay knitter, Linda Shearer.
Additional SWW tickets
Tickets will be released via the Shetland Wool Week Little Box Office on Tuesday 18 July at 14.00 (BST).
TALKS
A Journey with Shetland Oo with SWW Patron Oliver Henry
(Balcony seating)
There are an additional 50 spaces available for Shetland Wool Week Patron Oliver Henry's Monday night talk. Get an insight into his work, collaborations and projects that have spanned 50 years in 'Shetland Oo'.
Date: Monday 30 September, 7.30 – 9.00pm
Location: Mareel Auditorium (Balcony seating)
Price: £6.00
TOURS
Westside Tour: Ponies, Sheep, Shetland Sheepdogs and Art Gallery
Enjoy a guided scenic tour of the westside and visit Marion at Tresta, with the family's ponies, sheep and Shetland sheepdogs.
Date: Friday 4 October,  09.30am – 12.30pm
Location: Pick up from Shetland Museum & Archives Car Park, Lerwick
Price: £48.00
Tour Around a Bressay Island Croft with Chris Dyer
Morning tours with lunch
Late Afternoon Tour (without lunch)
Take a 5-minute ferry trip to the isle of Bressay and join local crofter Chris Dyer on an exclusive walk through the agricultural year in Shetland. Chris will be putting on three extra tours on Thursday 3 October as well as increasing his capacity for all the other days. That's an additional 132 spaces!
All transport is included. Just turn up at the Lerwick to Bressay Ferry terminal and Chris will take care of the rest.
The two morning tours include lunch but the afternoon one does not, which is reflected in the price.
Dates: Saturday 28th September – Sunday 6th October
Classes:
Fancy trying something different? Join local glass artist Cheryl Jamieson for a chance to make Fair Isle patterns in glass. You will make either one large hanger, or two small ones, using sample patterns or bring your own.
Date: Monday 30 September, 10.00 – 13.00
Location: Lerwick Boating Club
Cost: £85.00
Shawl Pin Whittle Workshop
Cecil Tait of Paparwark will show how to hand-make a beautiful, simple timber shawl pin brooch using knives and chisels. Unlock your inner whittler! Participants will design and make a wooden shawl pin in decorative timber to take away with them.
Date: Wednesday 2 October, 14.00 – 16.45
Location: Bigton Community Hall, Bigton
Cost: £45.00
Dorset Buttons with Tania Ashton Jones
Learn how to make buttons from your leftover ends of wool to embellish and add a personal touch to your handknits. Using Shetland wool, start with the famous Crosswheel design and explore stitch variations to design your own.
Date: Wednesday 2 October
Time: 10.00am – 1.00pm
Location: Shetland Museum and Archives, Hay's Dock, Lerwick
Cost: £50.00
Beginners' Fair Isle with Janette Budge
If you're new to Fair Isle or stranded knitting, this three hour class with Janette Budge is for you. Janette will guide you through how to attach new colours, how to carry your yarn at the back, achieve an even tension and tips on how colour choice and pattern.
Date: Thursday 3 October, 14.00 – 17.00
Location: Shetland Museum and Archives, Hay's Dock, Lerwick
Cost: £50.00
Open Studios
Bressay
Open Studio and Sale: RAM Knitwear
Hop on over to R.A.M. Knitwear design studio in the old Bressay School on the island of Bressay and view machines a plenty as well as numerous woolly wonders for sale.
Date: Saturday 28 September – Sunday 6 October, 12.00- 16.00.
Location: Bressay School, Bressay
Cost: FREE
Yell
Date: Saturday 28 September – Sunday 5 October, 11am – 5.00pm (Sundays 2.00 – 5.00pm)
Location: GlobalYell, 4 Sellafirth Business Park, Yell
Cost: Free
Open studios at GlobalYell, weaving centre. Try your hand at a loom or look through the reference collection and library.
Westside
Morwenna Garrick Open Weave Studio
Date: Wednesday 2 October & Friday 4 October, 10.00 – 17.00
Location: Morwenna Garrick Studio, Melby, Sandness
Cost: Free
Head out to Sandness on the west side of Shetland to visit Morwenna in her little weave studio. You will find a colourful and contemporary range of scarves, 100% Shetland Wool blankets, cushions and more, which will be available to purchase.
Bigton Events
A Crofter's Life in Shetland: Film Night and Meal
Date: Friday, 4 October, 6.00 – 9.15pm
Location: Bigton Hall, Bigton
Cost: £35.00 (without transport)
20 additional spaces have been made available for this film night and meal. Enjoy a hearty two-course meal with a choice of local beef or lamb from Bigton Farm. The meal will be followed by the Jenny Gilbertson film 'A Crofter's Life in Shetland' (1931) and a Q&A session with her daughter Ann Black.
The following classes and events also still have spaces available:
Plying Techniques with Asita Krebs
Contemporary Fair Isle Textiles Printing Workshop
Quotidian Colourwork with Felicity Ford
Collaborative, Commemorative Colourwork with Felicity Ford
Knitsonik Bunting: Shetland Edition with Felicity Ford
Shetland Knitting Belt and Raepin String
Branding for Creative Businesses with Gail Turpin Designs
Talk: The Wayward Path of a Lawyer Turned Knitwear Designer with Niela Kalra
Evening Talk: Behind the Scenes of the UK Knitting and Crochet Guild
Evening Talk: Shetland Designers Inspirations and Collection Launch
Last chance to buy Shetland Wool Week 2019 Membership
Thanks so much for all your support with this year's SWW membership.
Here's a sneak peek at the goodies on offer, which are exclusive to Shetland Wool Week 2019 Members.
We've picked up on Oliver Henry's Roadside Beanie design and the glorious sheep, and chosen a bold blue to brighten up your day and reflect the colours of Shetland seas and fishing boats – both of which feature in the Roadside Beanie design. Also, the 10 sheep on the bag represent 10 years of SWW.
Ecoffee Cup: 8oz/250ml coffee cup

Project Bag: Medium sized cotton project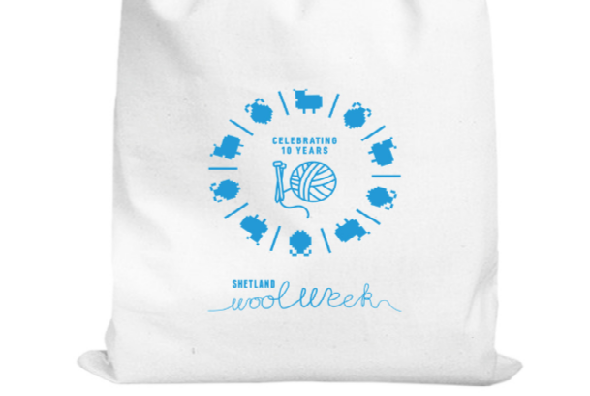 Candle: Rocksalt and Driftwood Mella Handmade Candle
The deadline for final orders for premium membership is Sunday 14 July.
Cost: £26
Please note, you can either select 'Click and Collect' and pick up your items on arrival at Shetland Wool Week, or chose the postage option. We will not be mailing out gift items until Shetland Wool Week.
Shetland MRI Scanner Appeal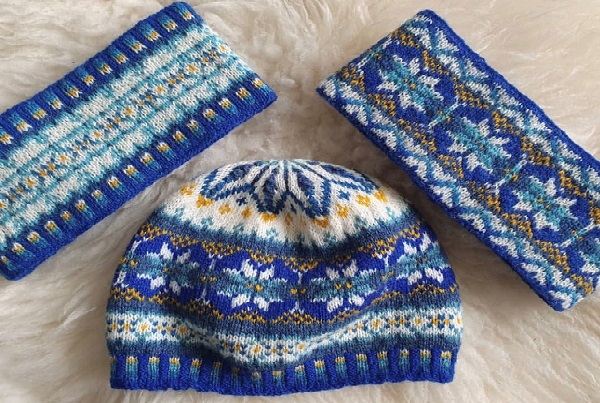 If you follow us on social media you'll see that we've been supporting the fabulous initiative by the MRI Maakers, which is focusing on their love of knitting to raise money for the Shetland MRI Scanner Appeal, which has a target of £1.65 million.
They have designed a Fair Isle hat pattern, 'Harriet's Hat' which is inspired by the colours  on the Shetland MRI Scanner logo. Copies of the pattern are available to buy for £4 (either as a PDF or a hard copy) and all proceeds go to the Appeal.
Jamieson's of Shetland  and Jamieson and Smith are also selling a kit containing all of the wool shades required along with a hard copy of the hat pattern.
If you would like to find out more or support the appeal by buying the pattern, visit their online shop.
We're looking into how we can link up with appeal during SWW, so watch this space for updates.
There have already been a number of generous donations to the appeal including international knitwear designer Marie Wallin who will be donating £1 from the sale of every copy of her new book 'Meadow' which will be launched during the autumn.
Latest Shetland Lace blog post
The latest blog 'Ready, Set, Click' on the Shetland Lace Assessment project is up. Find out about the trials and intricacies of preparing for and photographing such a broad range of lace knitwear.
My Day in Stitches: Linda Shearer
This month we spoke to Linda Shearer, who is Chairperson of the Shetland Guild of Spinners, Knitters, Weavers and Dyers.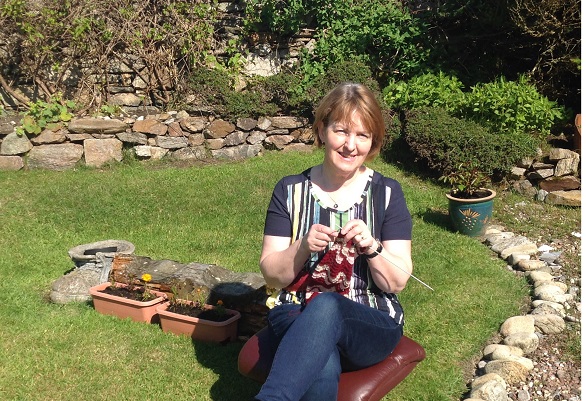 Linda was born and brought up in Whalsay and still lives there. Both her parents are from Whalsay, her dad was a fisherman all his life, and while Linda was small her mum knitted to help supplement the family income. Linda's mum taught her to knit at an early age, and she remembers knitting baby bootees and doll's clothes to start off with and then more intricate Fair Isle items with a nine-row pattern, some of which were sold alongside her mum's.  Linda knitted her first Fair Isle gansey when she was just 14, and she remembers it distinctly with its pink and white colours.
Now married, with five grown up adult children including twins, she has two young granddaughters. None of her children are knitters, but her three-year-old grandaughter is showing some interest, and already has her little bit of knitting! Following early retirement from her job as a Learning Support Worker and Early Years Assistant last summer, Linda is finding the time to concentrate more on knitting related work and being a granny.  She also tutors through Adult Learning, Shetland, and during Wool Week.
Why do you knit?
I love knitting and can't imagine not being able to do it – I knit mainly for pleasure, but sell a lot of what I make. I also knit for my family, especially the grandchildren.  I like entering competitions too, like the County Shows
Where and when do you usually knit?
Most of my knitting is done at home – I sometimes take up a whole sofa much to my family's despair!  However, I will take my knitting anywhere – if it's a calm crossing on the Whalsay ferry, I will knit.  We have a knitting group which meets each Friday afternoon through the winter at the Whalsay Heritage & Community Centre – that's always fun, and we help each other.  It is also a good opportunity for the PeerieMakkers to join us too
How does your perfect day shape up?
Perfect day – would be a lovely sunny summer's day in Shetland. There are lots of interesting places to see right on our doorstep. If I was going to the mainland of Shetland, of course I would bring my knitting with me and knit on the ferry from Whalsay. The west side of Shetland is quite beautiful; myself and a friend went there a couple of summers ago – we stopped off at Bonhoga in Weisdale and had coffee and cake, then we went right out west to the Gairdins of Sand. I had never been before and was blown away with how pretty it was
What's on your needles right now?
I think I have three projects on the needles at the moment – I began a large Shetland lace shawl a while ago, but had to lay it aside to get on with other things – I think it will probably take me a while to complete. I am also knitting a child's Fair Isle cardigan in bright colours.  I think I'm on the second sleeve so not too far to go. However, I have put that aside too so I can concentrate on Wool Week preparations. I tend to leave things for the last minute, but this year I have decided to be on the ball!  I am tutoring two classes this year, one on beginners Shetland lace, and one on Fair Isle tams.
What's been your most challenging knitwear project to date?
The most challenging knitwear project to date for me is probably the Curlew hat I designed for the RSPB.  It took a few patterns and hats before I was pleased with the outcome.  Also, as I am still a novice at writing patterns, that part took a while
What inspires you?
Inspiration is a question knitters get asked a lot – I find it quite difficult to answer.  However, I feel most of my ideas come from other Fair Isle designed garments.  I often find myself staring at people wearing Fair Isle and thinking "Yes those colours blend well, or I like the way that pattern is done." At the last count, I think I have 58 knitting books, so sometimes I have a look among them for motivation.   I do sometimes look at the Shetland landscape and sea and get some inspiration from those too, I especially love the colours of the heathers when they are in bloom
Neutrals of colour?
I do like the natural colours, but I seem to mainly use colour in my knitting. I like blues, purples and reds best.
Do you get involved in local events or community groups?
I do get involved in local and community events. During 2016 and 2017 I joined two other keen Fair Isle knitters and we set up a huge Fair Isle knitting display in our Heritage & Community Centre in Whalsay. We called it 'Fair Isle Knitting through the Decades'.  It was very successful and generated a lot of interest and revenue for the heritage centre.
I have been a steward in the knitting section at the Voe Show for many years now.  I really like being part of the team – I especially like the annual colourbox challenge, which involves knitting garments using eight chosen colours from Jamieson & Smith.  Some years the colours are not easy to work with, but then it wouldn't be a challenge if they were.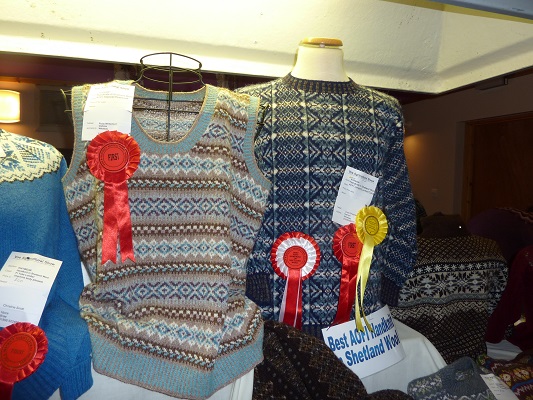 I often volunteer with the Whalsay PeerieMakkers which is so worthwhile.  It is really good to see the interest these young ones have, and I feel it is so important to help and encourage them.  We must keep our heritage alive.
I have been chairperson of Shetland Guild of Spinners, Knitters, Dyers and Weavers for 3 years now.  Our group meets once a month, except for January and August, and we share ideas, have speakers, demonstrators etc.  Something that has become an annual event is inviting the PeerieMakkers to join us for one of our month's meetings.  At the moment we are supporting the Shetland PeerieMakkers crowdfunding project by knitting headbands as a gift to people who donate large sums of money which will help set up even more groups.
As well as tutoring during Wool Week, I also offer knitting classes through Adult Learning, Shetland.  I have been doing that since 2012.
Favourite Shetland dialect word and why?
One of my favourite Shetland dialect words is 'stramash' which means commotion or turmoil.  I often find myself in a stramash when I am trying to sort out yarn – boxes and bags are everywhere!
What's your favourite thing about Shetland?
My favourite thing about Shetland is it's a safe, friendly and beautiful place.  You are never far from the sea, the air is clean and if I'm away on holiday for a week or two, I always look forward to coming home again.
Thank You!
Saturday, May 18, 2019
We would like to say a massive thank you to everyone for their support and patience today, Saturday 18 May. We experienced over double the number of bookings compared to last year.
Whilst we appreciate that not everyone was able to get their first choice, it would appear that the majority have been able to book a wide range of events.
Our phone line is now closed but please do get in touch with us by email if you have any outstanding concerns.
Thank you and we look forward to welcoming you in September.
A free (excluding P&P) printed copy of the programme can be ordered here .
Shetland Wool Week 2019 Programme Launched
Thursday, May 9, 2019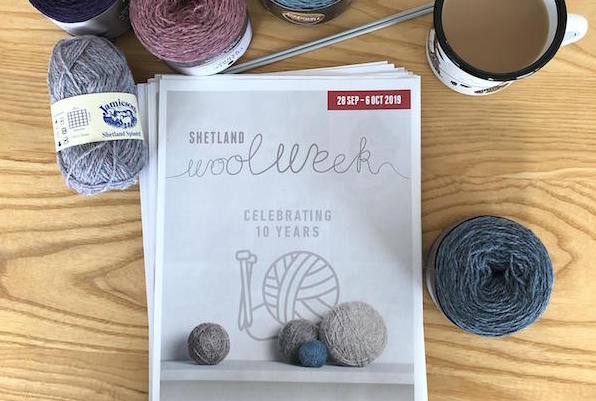 It's May, the sun is finally putting in an appearance – and it's nearly launch time for the Shetland Wool Week programme!
Tickets will go on sale on Saturday 18 May at 10.00am BST.
We will email you again next week with a handy 'How to' guide for booking tickets through the Little Box Office.
For all those who have signed up as SWW members an advance copy of the programme was emailed to you today (Thursday), so please check your inboxes.
SWW 2019 membership
There is still time to sign up for SWW membership, which along with a host of goodies includes advance access to the programme allowing you the chance to plan your schedules before the tickets go live.
Details on Premium Membership or Standard Membership can be found here.
Some highlights of this year's programme
It's the tenth year for Shetland Wool Week so we've pulled out all the stops to deliver a really full programme. We've been overwhelmed by the enthusiasm and community support and it's safe to say that pretty much all areas of the islands are hosting events.
We're delighted to see the return of many familiar faces and organisations. There are too many to list them all but there will be classes covering Fair Isle, lace knitting, crochet, weaving, spinning, felt, dye, machine knitting, brioche, double knitting, as well as many practical, problem-solving, creative and design led classes too.
We're excited to be putting on a special marketing and branding workshop for those who have, or aspire to have a creative business.  A fantastic chance to get practical advice in a small group from experts at Gail Turpin Designs.
Tours
The tours are always in demand and we're delighted to have increased our offering here too. We have croft tours taking place every day, and, for the first time, the Shetland Flock Book Society will host two tours, taking in stunning locations at Vementry and Lunna. Shetland's two most remote islands, Foula and Fair Isle will also be offering day trips: a real opportunity not to be missed. There are also guided tours to Unst, Yell, Whalsay, and North, South and West mainland, as well as walking tours at the stunning St Ninian's Isle and Lerwick.
Drop-in events and exhibitions are taking place throughout the islands, offering you a real insight into the skills and textiles heritage of our isles. As always, there will be wonderful 'teas' on offer too!
Talks
We've introduced a series of shorter lunchtime talks as well as the popular evening ones. Highlights include SWW Patron Oliver Henry's talk; an insight into Shetland Lace with Dr Carol Christiansen; and a 'Behind the Scenes' of the UK's Knitting and Crochet Guild Collection.
Social events will continue into the evening with a knitting quiz night, film and dinner night, dances, sprees and traditional music all planned.
And if that's not enough, there's a host of free drop-ins, exhibitions and open studios, as well as the Makers' Market and Flock Book sale. Shetland Amenity Trust sites will be open too – giving you or your partners the chance to take in Sumburgh Head Lighthouse, Old Scatness Broch and Iron Age Village, and the Shetland Crofthouse Museum. Heck, we've even included puffins in October (albeit in the form of a knitting workshop…)
Slow down!
With over 400 events from morning 'til night, there should be plenty for all.
Slow down, soak up the atmosphere, mix up your itinerary with a variety of classes, tours and exhibitions, and leave time to travel around the islands and appreciate all that Shetland has to offer. As well as learning new skills, Shetland Wool Week is also about meeting up with and making lifelong friends.
We hope you enjoy selecting your events!
Tickets go live on Sat 18 May
Monday, April 29, 2019
This is just a quick update to let you know that tickets to Shetland Wool Week 2019 will go on sale on Saturday 18 May at 10.00am (BST)
We will send through more details on how to access the programme in another newsletter so keep an eye on your emails.
For all members we will email the advanced copy of the programme to you by Friday 10 May, giving you a week to get planning! It's a big programme, so you may find it easier to print it all out and plan your schedules.
If you're not yet a member and would like to see the programme before tickets go live visit our online shop for more details.
Ooie Ollie Blog
If you're on social media you'll have seen that this year's SWW Patron Oliver Henry has launched his new blog page.
Visit his blog to follow his 'Life with Shetland Wool'.
He has been posting regularly, giving fascinating insights into how his career with Shetland wool started. We're looking forward to reading his posts over the next few months.
Can you help with a Shetland Museum and Archives Research Project?
In 2013 Shetland Museum was awarded national recognition for its Textile Collection, in demand by designers, makers, historians, and the general public as a source of inspiration, enjoyment and craft development and learning. As yet, the collection remains publicly inaccessible in digital formats, despite proven public interest. Shetland Museum is currently carrying out an assessment of its knitted lace collection. It comprises 200 catalogued garments in the existing collection and an additional 250 uncatalogued pieces from the recent donations of two private collections. Ahead of digitisation, and using the knitted lace collection at Shetland Museum and Archives as a focal point, this research project is undertaking an investigation to understand the most appropriate approach to digitisation for Shetland Museum and Archives Textile Collection.
The initial research will be carried out through a questionnaire and Shetland Museum would like to ask you to contribute to the research. If you would like to participate, please visit the project page where you can read the Participant Agreement form and Privacy Notice to understand your rights as a participant, and then fill in our online questionnaire. We would love to hear your views and any follow up comments you may have.
If you are happy to help, please note that your participation is voluntary. If you decide you do not want to complete the survey, you are able to withdraw by closing your browser and the data will not be collected. Your responses will be anonymous and cannot be traced to you individually. Participants will be only identified by a unique code or standardised description (for example museum worker, academic researcher, designer, etc). The results of this research will inform and shape the future direction of collection digitisation for Shetland Museum and Archives. The data will be used to produce reports and academic publications and presentations.
If you would like further information about the project, please email Roslyn Chapman
Seasons of the Shetland Crofter Competition
Jamieson and Smith have recently launched a new competition to celebrate the work of the Shetland Crofter by collating a selection of photos, stories and videos to promote the crofting industry.
They would like to see what you believe defines the Shetland Crofter throughout the seasons and ask that all entries depict scenes or memories from a specific season.
The competition is aimed at anyone with a crofting connection in Shetland.
Entries do not have to be current; you can draw inspiration from the past, dig out old family photographs or videos or take new ones!
There are some fantastic prizes including a Vispring Real Shetland Wool bed and a weekend stay at the Sumburgh Head Lighthouse. The winning entries will be published in a new J&S book that will be launched at the Shetland Wool Week Opening.
Deadline for entries is 21 July.
Further information can be found here.
SWW Membership 2019 now live!
Friday, March 29, 2019
We are delighted to announce that membership for Shetland Wool Week 2019 is now live!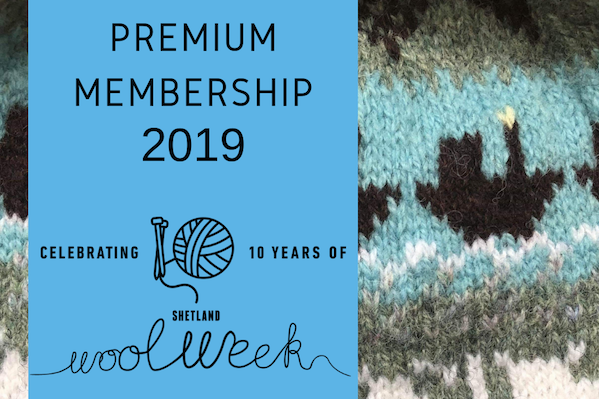 Shetland Wool Week depends on its many supporters in everything it does. Your generosity is important to us and provides us with the life blood to continue delivering a varied and inspiring event, as well as helping to preserve Shetland's textile heritage and its rural crofting community for future generations to enjoy.
Following on from last year's success, we would like to continue to offer two types of membership, with the focus on benefits to you as well as helping to support the future of Shetland Wool Week.
Ecoffee Cup
Choose to reuse with our bespoke Ecoffee Cup featuring a design inspired by SWW Patron, Oliver Henry's Roadside Beanie. Perfect to take to your SWW classes or on any of your travels, this 8oz/250ml compact sized cup is made with natural fibre, corn starch and resin. It's BPA, BPS and is phthalate free. The lid and sleeve are made with matte, food grade silicon which is latex free and designed especially for hot liquid. It has a re-sealable 'no drip' lid. Think SWW classes, tours around the islands, the Hub …
'Rocksalt and Driftwood' Mella Handmade Candle
Peerie (little) soy wax candle which is made on the island of Unst, Shetland. Presented in a cute, reusable aluminium travel tin with lid, this 100g candle will burn for around 20 hours. The fresh and clean scent 'Rocksalt and Driftwood' has been created exclusively for Shetland Wool Week members.
Shetland Wool Week members' medium sized drawstring project bag featuring a design inspired by the Roadside Beanie.
Advance notice of the SWW programme by email a week before tickets go on sale
Supporter of Shetland Wool Week
The cup, candle and project bag are exclusive to Shetland Wool Week members and cannot be bought elsewhere.
**Please note, all gift items will not be available until Shetland Wool Week starts on 28 September. There is the option to either collect them in person from The Shetland Wool Week Hub, or, if you are not attending the event, pay for post & package and your items will be shipped at the end of September. If your online order contains other SWW merchandise which requires shipping your entire order will not be processed until the Premium Membership gift items are available.
 **If you urgently require your other items, please place a separate order**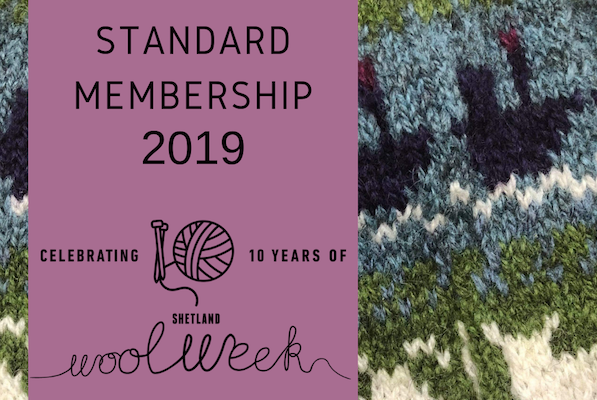 Advance notice of the SWW programme by email a week before tickets go on sale
Supporter of Shetland Wool Week
 FAQs
We've put together some answers to a few anticipated questions. Please take a moment to read the following information through:
Is this a rolling membership subscription?
No, this is an annual membership, so if you were previously a Shetland Wool Week member, you will need to sign up again for 2019.
Will there be SWW merchandise this year? Yes, we are planning a range of SWW merchandise, which will be available from the start of Shetland Wool Week. The items will be completely different from those offered as part of the SWW Premium Membership.
Do I need to be a member of SWW to attend the festival?
No, you do not need to be a member. Anyone can attend and buy tickets to Shetland Wool Week events.
Tickets will go on sale to everyone at the same time regardless of whether you are a member or not. However, members will receive advance notice of the programme by email which will give them the opportunity to schedule which classes they would like to attend in advance. Tickets do tend to sell very quickly so it is definitely an advantage to prepare a wish-list of classes before the box office goes live.
When will tickets go on sale?
The Shetland Wool Week Box office will go live on Saturday 18 May in the morning.
Further details will be released in April.
When will the SWW Annual be launched?
This will be published in time for Shetland Wool Week with pre-orders from early September. Please note it is not part of the SWW membership.
We hope you enjoy the goodies and thank you for supporting Shetland Wool Week.
Best wishes from the Shetland Wool Week team.
Introducing the Roadside Beanie and SWW Patron Oliver Henry
Wednesday, March 20, 2019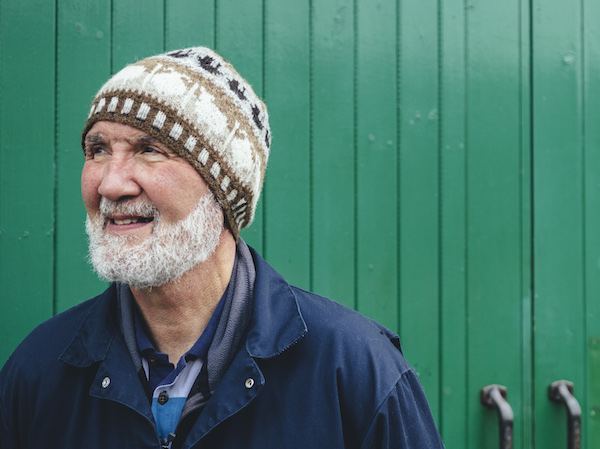 We are delighted to announce that 'Man of Wool', Oliver Henry is this year' Shetland Wool Week Patron, and his hat design is called 'The Roadside Beanie'.
The inspiration for the hat came from elements of Oliver's life, from which he drew sketches and illustrations. These were then interpreted into a design and pattern by his colleague Sandra Manson.
Oliver has worked with Shetland wool for 52 years: he has judged, graded, sorted, worn, promoted, researched and been inspired by Shetland wool in his work at Jamieson and Smith, also known as 'The Shetland Wool Brokers'.
Oliver explained the inspiration behind the hat design: "My Roadside beanie features two common roadside sights in Shetland: Shetland sheep and fishing boats. Both of them have loomed large in my life as a Shetlander."
Oliver has worked with sheep and wool for over fifty years, so it was clear to him that they would be part of his design story. Fishing has also played a big role in his life, especially growing up on the family croft at 'Roadside', in the busy fishing community of Hamnavoe on Burra Isle. Oliver's father and brothers had their own fishing boat and fishing was their livelihood.  Unfortunately Oliver suffered from seasickness and could not carry on the family tradition of fisherman crofter, so  turned to Shetland wool for his work and inspiration.
Oliver said, "I chose the beanie shape for practical reasons: it keeps my ears warm while walking my dog here in Shetland!  The world of knitwear design is a bit of a departure from my usual field of expertise, but it's been fun working on the idea and seeing it developed through to a final pattern by Sandra Manson. We've chosen four different colourways this year using yarn from Jamieson and Smith; Jamieson's of Shetland; Uradale Farm and Foula Wool."
Shetland Wool Week is honoured to have Oliver as this year's patron. His passion and expertise for Shetland wool is infectious and he is a massive ambassador for Shetland wool and its people.  He was also one of the original founders of Shetland Wool Week, which has now grown and established itself as one of Shetland's most successful events. As we'll be celebrating our tenth Shetland Wool Week it made sense for us to bring it back to its original roots and this has been reflected in the choice of patron.
Download your copy of the hat pattern
The Roadside Beanie  pattern can be downloaded for free here or come along to our stand at EYF and pick up a printed copy. Oliver will be there too ready to answer any wool related questions, so drop by and say hello.
The pattern will also be available from the Shetland Museum and Archives shop and textile outlets in Shetland.
Knit the hat in any of the suggested colour variations, or come up with your own colour scheme, and wear it to Shetland Wool Week 2019 – identify your fellow Wool Weekers and compare hats throughout the week and at the official SWW 2019 photograph!
Remember to share your creations and experiences with us by tagging your photos with #roadsidebeanie or #shetlandwoolweek2019 or #happybirthdaysww
Seasons of the Shetland Crofter Competition!
Tuesday, March 5, 2019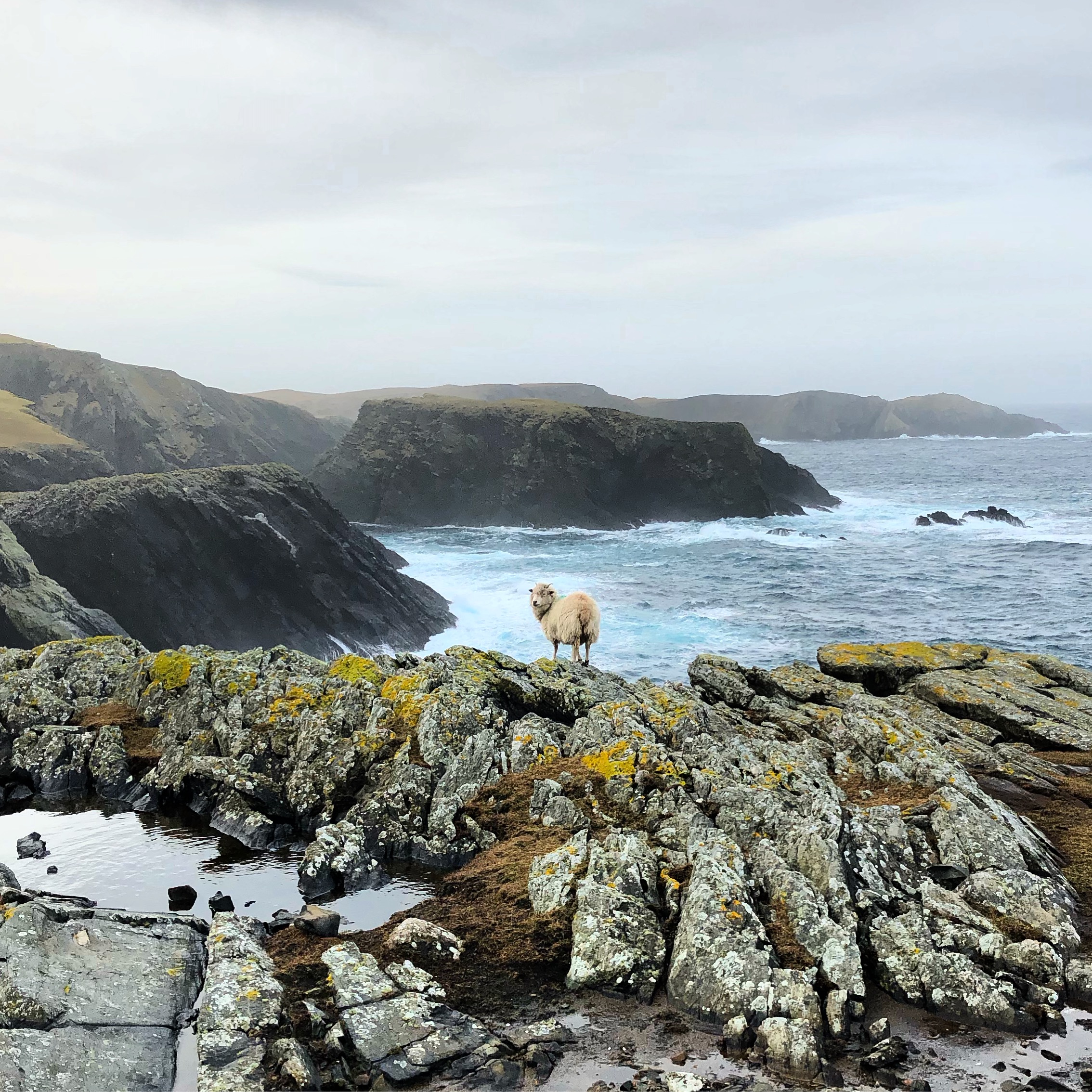 Today Jamieson and Smith have launched their 'Seasons of the Shetland Crofter Competition'. They are looking for photographs or stories that capture life as a crofter in Shetland.
The top prize is a Vispring Shetland Wool bed and second prize is a two-night stay at Sumburgh Head Lighthouse, as well as a host of runner up prizes.
The winning entries will be published in a book which will be launched at this year's Shetland Wool Week's opening event on Sunday 29 September.
The images can show crofting life in Shetland as it is today, or delve into your photo albums and see if there's something there from your family history.
Full details on how to enter the competition can be found on the J&S website.
Shetland Winter
Wednesday, December 19, 2018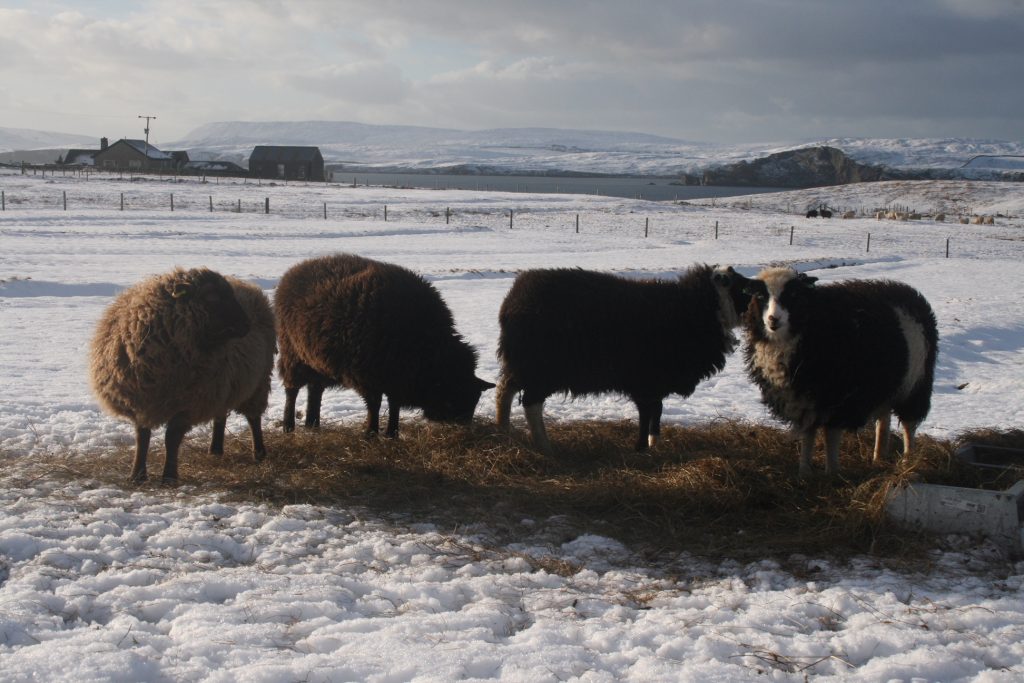 It's literally days before Christmas and we're getting in the festive spirit. Amid the flurry of school concerts, social events, last minute work deadlines and a few glasses of mulled wine along the way, we're edging towards the holidays. We've been battling against Storm Deidre over the weekend, and the days in Shetland have been dark and short. Sometimes it's hard to find the motivation to get going and the worry of a glitter topped Christmas seems unattainable. But we are not chasing perfection, and instead see this as a time to tie up loose ends, reassess and look forward to those moments connecting with friends and family.
The great outdoors beckons, too, and while the wild winds can make getting outside a challenge, the weather also throws up magnificent seas and views that invigorate. After a blustery walk there is always the added incentive to get back home, cosy up with woollen projects, and begin on plans for future ideas and trips.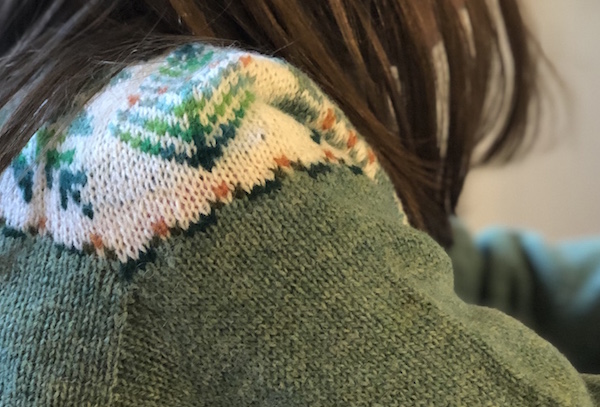 We are all for celebrating Christmas, fun, and laughter, but, like many, are choosing to reject the throwaway culture that often surrounds the season. We loved reading Hazel Tindall's blog and her views on Christmas Jumper Day and fully support the alternative idea of a 'favourite jumper' that can be wornthroughout the year. A #lifetimegoal was achieved recently when Victoria managed to snap up one of Ella Gordon's precious jumpers from her Vintage Collection. We've been eyeing it up for years and were drawn to the brilliant greens and tree of life pattern. It's a little small, so has been gifted to a young lover of Fair Isle, and has already been worn, admired and been a talking point in the classroom. Who needs sequins and a light up Rudolph nose after all?

This has also been the season to celebrate the many talents of others living in Shetland. Back in November, straight after Shetland Wool Week, we enjoyed the Shetland Arts and Craft Fair.What an inspiring weekend admiring the work of talented makers, many of whom have other jobs, families and commitments that all have to be juggled. A visit to the newly opened V&A Dundee was also a highlight (and a great place to visit if you are heading for the ferry at Aberdeen). Set on the River Tay, the impressive architecture presents endless photographic opportunities. Inside it was wonderful to see Shetland's contribution to the Scottish Design Relay as well as the display of Fair Isle patterned knitwear and a lace shawl in the Scottish Design exhibition, which features around 300 exhibits.
Shetland Wool Week received some great coverage in the press this year too. The New York Times featured the isles and the festival on the front page of their Travel section. Juliet Bernard visited Shetland Wool Week and wrote about her experiences in The Knitter (Issue 132), saying "It is so hard to capture the whole experience in a few words, but the welcome we received from Shetlanders was so incredibly warm. They were more than happy to share their skills in an informal and generous way, which completely bowled me over. I learned so much, both in and outside of the workshops." There is also a brilliant feature on Wilma, Terri Laura and Alyssa Malcolmson.
Fruity Knitting also joined us and over the past months have shared some fantastic podcastsbased on their time here, where they caught up with various tutors and personalities from Shetland's textile and crofting community.
Lace Project Begins
There have been exciting developments at Shetland Museum as they have begun their Lace Assessment Project. The 400+ knitted lace objects are part of the Museum's large Textile Collection, awarded the status of a collection of national significance in 2013. The project is being generously funded by Museums Galleries Scotland's Recognition Fund. The two-year study will review, assess condition and design, and digitally photograph each piece in the collection, from simple scarves to a black cocktail dress. Designs of a unique character are being selected for charting and samples will be knitted,to be used as a handling collection for researchers. The individual motifs chosen for charting will be compiled in a publication at the end of the project. The Museum team will keep you abreast of progress, special discoveries, and stories about knitted lace on the project blog. It's a fascinating project and we hope you'll be keen to follow developments.
The Lace Assessment Project developed as the obvious successor to in-depth research on the Shetland lace industry by Roslyn Chapman, School of Humanities, University of Glasgow, in partnership with Shetland Museum and Archives. Dr Chapman's PhD thesis is now available online, check our Lace Project blog for further information and download link.
My Day in Stitches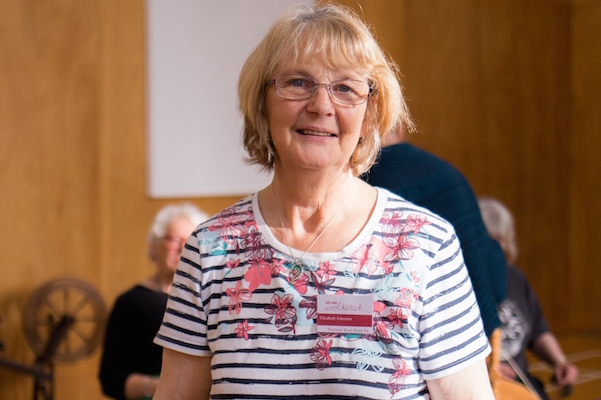 This month we caught up with Shetland WoolWeek 2018 Patron, Elizabeth Johnston to find out more about her work. Born in Shetland to a Shetland family, she has always lived here and can't imagine being anywhere else. Her mother's family is from Cunningsburgh and her father's from Sound, which is on the outskirts of Lerwick. She grew up in Lerwick butspent many weekends and holidays working with croft work at both Cunningsburghand Sound. She worked in finance, but knitting was always work as well. She hand knitted as a teenager, mostly Fair Isle yokes, and she later did machine knitting and finishing. Knitting was always a good second job. Now hand spinning ,hand knitting and natural dyeing, and teaching these skills as well as weaving is her main and only job.
Why do you knit/spin/dye/weave?
The answer to that question is – I have no idea. I have always knitted, and I think to begin with I just wanted to do what the adults were doing, and in the evenings that was knitting. As children we learned to knit garments. The first I knitted were children's mittens, and whenI could knit them well enough, I sold them. Having earnings from knitting was an incentive to knit more. I saw spinning as a child and always wanted to try. When I did start spinning I was just hooked, it is very addictive. Dyeing was just an extension of that, and the colours from natural dyeing are so easy to work with. Weaving for me is on the warp-weighted loom, and that came from an interest in Shetland's long and continuous textile history, with much of that being weaving on the old loom and with spindle spun yarns.
Where and when do you usually spin/knit?
All day, every day, anywhere, anytime…it is full time work for me. But maybe not on Sundays.
How does your perfect day shape up?
A typical day for me starts with preparing fleece for spinning. What needs to be done will depend on whether I am starting to usea fleece or if I am part way through spinning a fleece. Fleece need to be skirted, graded, teased, then carded. After a couple of hours of fleece preparation I should be ready to spin for the rest of the day. I have to take a break through the day to check and answer emails and check social media, but otherwise I would spin through the afternoon. Knitting is more of an evening job, and the perfect knit would be a hap which I can knit easily whether a visitor stops by or I watch agood film on TV.
What are you working on right now?
Winter time is when I get most of my spinning done, so right now I am spinning to get stock levels up. It is, however, good for the soul as well as the body to have some knitting to do as well, for a bit of variety. And as we all know there has to be more than one knitting project on the needles. I have just finished an allover waistcoat, a commission in my handspun yarns. Then there is a shawl which I have been working on slowly for a few months, and writing the pattern as I knit. The pattern is copied from a shawl which was knitted about 70-80 years ago so the pattern will have a little story with it. I have a Fair Isle throw almost finished, a sample for one of the colourways of my Fitful Head cushion and throw pattern. And, as it is December, I am knitting a few slouchy toories for grandchildren for Christmas presents. I might write the pattern for those for next year. They are knitted in one colour but with a 2-coloured rib where you can play with colour. I am also working on an idea for a different style of shawl, which will perhaps have a jumper or waistcoat to match. If the design works I will write the pattern and perhaps have it ready for Edinburgh Yarn Festival in March.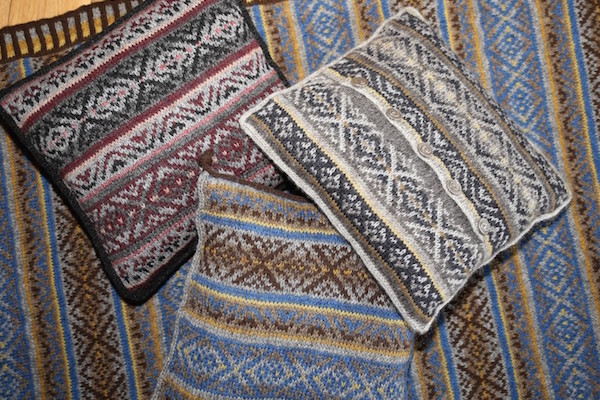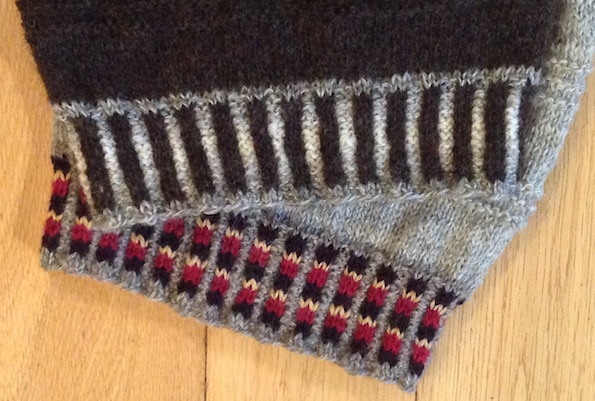 What has been your most challenging knitwear/spinning/dye/weave project to date?
… that has to be my Lunklet Jacket! The first one was a very satisfying knit. The problems started after having it at EYF in 2016. I displayed it as a sample of my handspun lace yarns, where we were repeatedly asked for the pattern. My sisterwas with me on the stand and her response to being asked was– no, sorry, it is in her head, – and that was how it was knitted, straight out of my head. That is how we design and knit. So I changed that response to – no, but the pattern will be here next year. I did not think of the difficulties of writing the pattern as I had knitted it, as a complete garment with no seams, and writing for different sizes. Of course I did have a year to figure it out, but then I did not start working on it till January the next year. That meant that the pressure was on to complete it. It took time but I completed the task and the pattern has been very successful.
What inspires you?
Now that is a hard one. Mostly I am spinning,and spinning natural coloured Shetland fleece. When choosing fleece I am looking for soft fleece in a range of greys and browns. Often a fleece will just say I have to take it – it is just the look of the fleece. From those spun yarns I will choose some as base colours to over-dye with natural dyes to get a range of colours which will shade. Inspiration should be involved with choosing colours for Fair Isle and Lace garments, but it is really just those colours that are my inspiration, if I could call it that. I will see two colours that appeal to me, that look good together, and to that first two colours I will add more to give a 'mood' to a colour scheme. Very occasionally I will have something that does inspire a design, as with the Shoormal Neck Shawl pattern. In that it was a beautifully coloured high tide line on the beach, the line that we call -shoormal.
Neutrals or colour?
I don't think of neutrals. I would think naturals (which are all those greys and browns in our fleece) and colours. For me it has to be natural fleece colours – and blue – you almost can't get a better colour than blue. In the past we did have a natural blue fleece, called 'blaegit', which translates to 'blue'.
What has being SWW Patron meant to you?
It was a privilege to be asked to be Patron, and perhaps a bit daunting to be the face of Shetland Wool Week for a year. A photo of my hand spinning were on the front of the catalogue and there was a photo of me with a message inside as well.That and the hat pattern made me quite visible – something I don't think I ever am (but apparently I am wrong!). I did enjoy talking to visitors during Wool Week and seeing all the hats that were knitted, seeing the different colours people had used, and quite a few in my handspun yarns. There are still hats being knitted with photos regularly coming up on social media.
Favourite Shetland dialect word and why?
Oh, there are so many good Shetland words, it is such a descriptive dialect. If I stay with spinning then I could choose 'hesp tree' which is a niddy noddy, or 'sweerie box' a lazy kate, but my most favourite word would have to be 'hentilagets'. As a child we were sent out to gather hentilagets. Some are now gathered by visitors to Shetland and there are always some Wool Weekers who come in to my classes with a pocket full of hentilagets to ask if they can use them. So what are hentilagets? 'hent' means to pick up or gather, and a 'lag' is a tuft of fleece. As Shetland sheep are a primitive breed they shed naturally and many will therefore loose some tufts of fleece before they are sheared which we can then pick up– those are 'hentilagets'.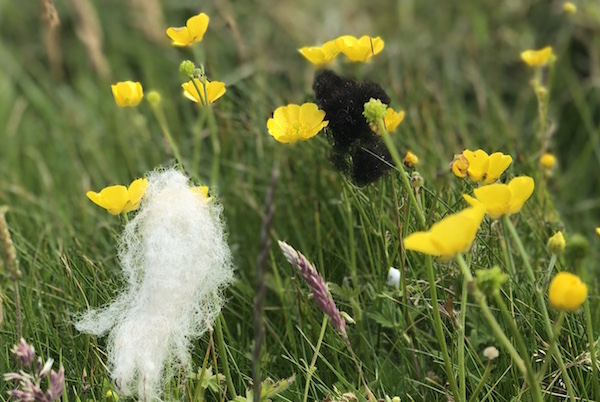 What's your favourite thing about Shetland?
That has to bethe sea, it is a constant, it is always there and almost always in sight. It is the sea combined with the landscape, the green fields and the rocky heather hills, the skerries, voes and geos, which make the magic in the atmosphere we see in the changing weathers. An extra bonus is to watch baby ducks feeding with their mother in the ebb stones on the beach, or watch a seal chase a small fish in the shallows of a sandy beach, and all from your bedroom window.
#Wovember
And on a final note, we were inspired by the responses to #Wovember in November, a collective appreciation of wool, celebrating its unique qualities in stories and pictures. It was touching to read various posts on instagram and hear just how passionate people are about wooland what it means to them on a personal level. What particularly resonated were the comments that said that wool signifies so much more to them than its physical form, and how it brings joy, comfort and calm. Some talked of how wool means connections to people through shared experiences, and is a way to show love and care. To others, wool brought hope and possibility. In our minds, pretty much the perfect Christmas message.
Stay warm this winter.
Woolly round up 2018
Thursday, November 15, 2018
Hello, and a warm and cosy welcome! We can't believe that we're hurtling through November already and Shetland Wool Week 2018 took place over a month ago. It feels strange that after a year of planning, it is now over, and we're beginning to think about the next one.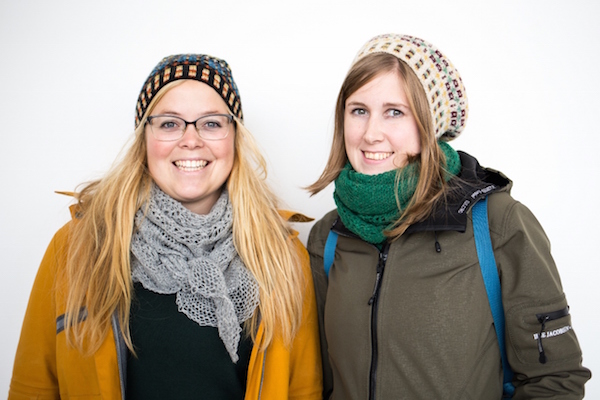 But in true autumn mode, which is surely a time to slow down a little and reflect, we wanted to look back on what was another inspirational, sociable and creative festival.
This year we welcomed almost 700 people to Shetland from near and far to take part in our ninth Shetland Wool Week. What an incredible experience it was, and we enjoyed seeing new and familiar faces. Many had taken time off their work and travelled from all corners of the world including Australia, Alaska, Hawaii and Israel. It is truly staggering when you reflect on the distances involved.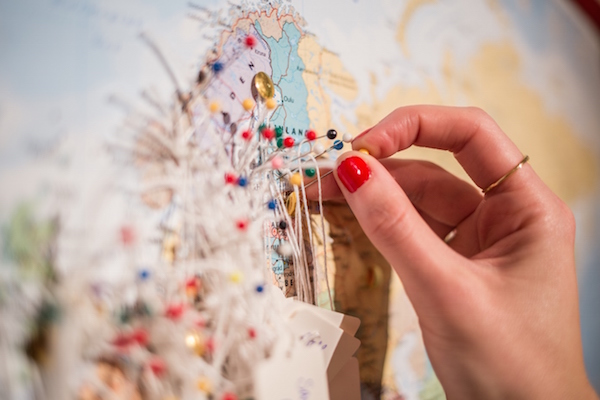 For those of you familiar with SWW one of the major draws is the destination. For such a tiny place, we like to think our archipelago packs a memorable punch.
As the event has grown, and more of the local community has become involved, we really aim to make sure that there are wooly-related events throughout the islands. This year was no exception with workshops, classes, drop ins, teas and tours taking place from north to south, east to west.
We have noticed that many visitors are now coming for longer, seeing it as an opportunity to learn new skills, holiday with friends, make new friends, travel, socialise, knit, spin, weave and make memories. In fact, SWW has been described by some as a 'life affirming' experience.
As ever during SWW there was a great buzz to the place. Visitors arrived throughout the week and on different days according to their schedules. We loved welcoming everyone to the cosy Hub at the Shetland Museum and Archives –  where people collected their membership bags, browsed the museum collections and displays and had the chance to familiarise themselves with the event. For first time visitors to Shetland it can be a little overwhelming to understand how things 'work' in Shetland. The Hub is the perfect place to speak to others and get questions or concerns answered.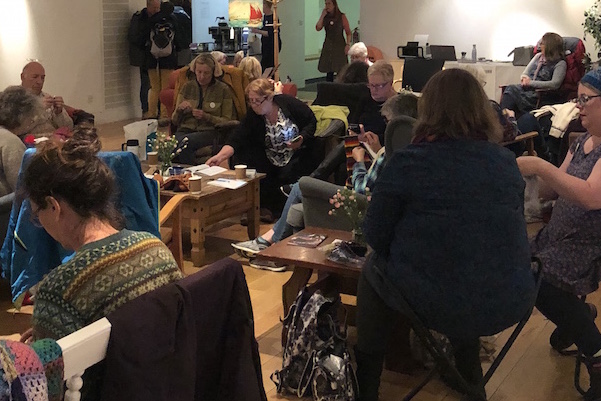 This year we decided to kick off the event with a more informal 'Welcome' than in previous years. It took place in the brand new Anderson High School.  What a colourful sight it was to see so many Merrie Dancers Toories! After music by the talented Shetland fiddle group, Hjaltibonhoga, there were short speeches, including one from SWW patron Elizabeth Johnston. Everyone then got a chance to mingle, catch up with old friends, put faces to Instagram names, meet tutors, and enjoy a glass of wine and chocolate from Mirrie Dancers Chocolatiers. The sponsors were there with their teams and had put together small display tables too. Overall it was a lovely sociable event – and also a great place to people watch and admire all the amazing knitted garments – almost a mini fashion show in itself! So much skill and talent from all over the world under one roof.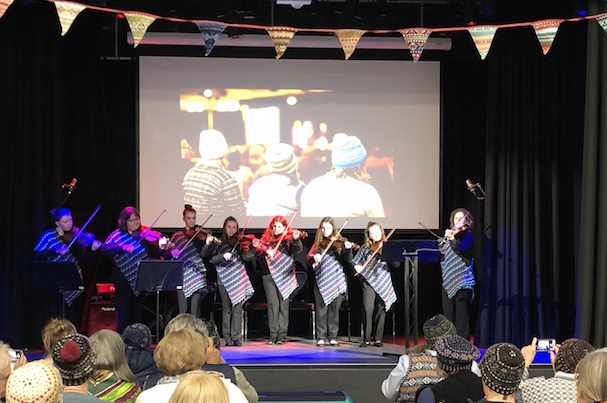 Anyone familiar with the programme will know that workshops run for the nine days of the festival, and whilst we recognise that it is sometimes difficult to get hold of tickets due to the small class sizes, we hope that the breadth of events offered encouraged people to perhaps try something new. There was a diverse line up of events which included hand knitting, machine knitting, Fair Isle and lace knitting, weaving, spinning, felting, crochet, colourwork, dyeing, silver making, design, tours and talks as well as a host of free exhibitions, open studios, demonstrations and drop-in events.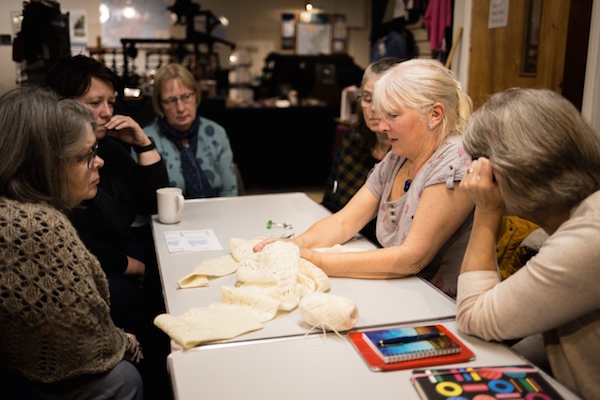 With a slew of over 300 events it is almost impossible to choose highlights. But we are so grateful to our tutors for putting on such a broad range of classes and generously sharing their expertise and passing on valuable knowledge and skills. Many go the extra mile and share their personal history and bring a range of homebaked goodies to class too. We even heard of one tutor taking home a visitor's much loved but damaged vintage Fair Isle jumper and fixing it overnight. We don't think you can put a price on experiences like that.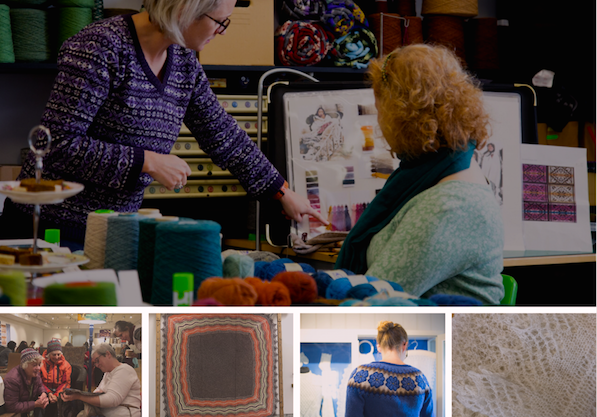 Our visiting tutors were very welcome too, and included Anna Vasko travelling from Finland who ran a series of natural dye classes; Dorset Button Making with Tania Ashton Jones; Thrummed Mittens with Helene Driesen, Peruvian Knitting with Frankie Owens and a range of classes from Beth Brown Reinsel; Sally Melville, Susanne Schmid, Marjolein Reichert; Tori Seierstad and Amy Detjen.
Patron Elizabeth Johnson, who seems to have one of the busiest diaries we know, managed to deliver an enormous range of events and activities. As well as giving two talks throughout the week, overseeing the Hoswick Wool Week events, she also ran her own classes in spinning, knitting, lace and natural dyeing. We don't know how she stays so calm!
The Shetland Wool Week talks have become a key part of the programme. A particular favourite was Hazel Tindall's illustrated talk 'Knitting in Shetland in the 1960s' which was based on the diary entries of her mother, Chrissie Sandison.  One person commented: "Hazel's talk was amazing. The knowledge with which she speaks about things is unparalleled and this talk was moving, inspiring and thoughtful".
From chatting with attendees and looking through the feedback it would appear that people took onboard some of our advice and chose to take a slightly slower pace throughout the week, making sure that their schedules contained enough gaps to allow plenty of time to travel out of Lerwick and make the journey to the other islands, soaking up the scenery, community museums, hospitality and events. 
The crofting tours were, as ever, extremely popular. Chris Dyer's Garths croft in Bressay and Ronnie Eunson's Uradale Farm tours were fully booked and proved a memorable experience for many. "This tour was a highlight of Wool Week". "Impossible to improve on the friendliness of the sheep or the enthusiasm of the tutor."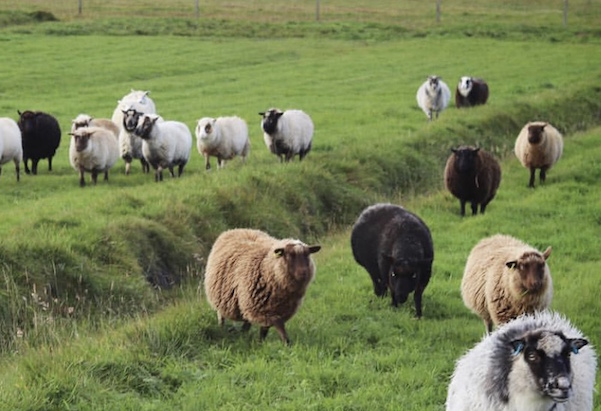 Community halls embraced the occasion too and hosted drop ins and exhibitions with many giving knitting and lace demonstrations. The obligatory teas were also big on the agenda!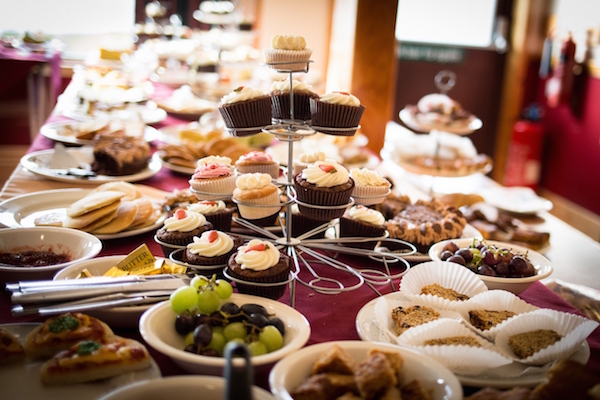 No visit to Shetland Wool Week is complete without a visit to Shetland's only commercial woollen mill, Jamieson's of Shetland in Sandness, with a behind the scenes tour, as well as a chance to see, feel and buy their wonderful yarns and tweed.
Jamieson and Smith in Lerwick is a bucket list destination too, and they opened their shop doors every day, as well as running a series of workshops and talks, including Oliver Henry's Shetland sheep fleece sorting demonstrations.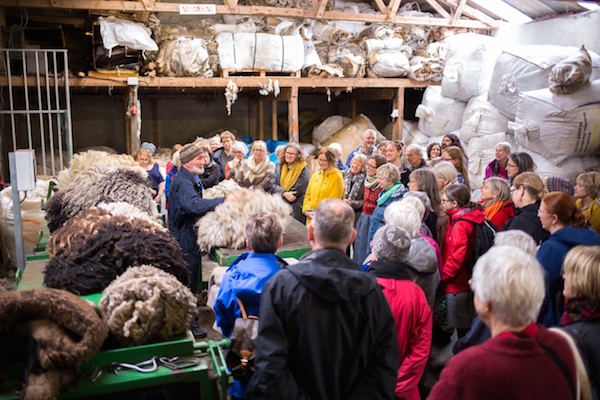 The Shetland Wool Week Makers' Market was a highlight with a range of Shetland wool-related items, many of which are only available to buy during the week. We moved the venue to the Anderson High School which offered an airy, relaxed space, and the school put on mouthwatering refreshments too.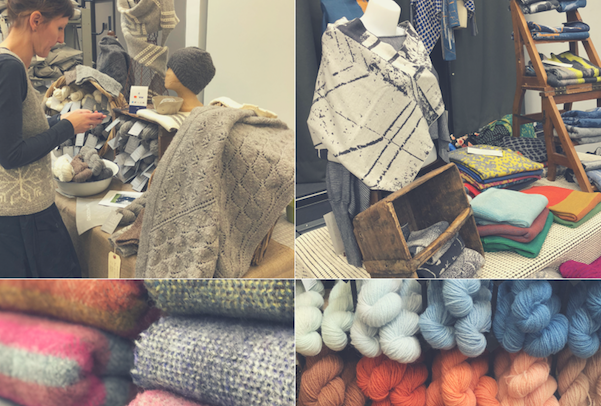 We were delighted to offer an extended range of evening events, which included a 'Sound of Shetland' evening, which gave a wonderful insight into Shetland's musical history. There was also a 'spree' for those with enough energy to take part in traditional Shetland dancing.  And Jamieson and Smith held a brilliant 'Final Ooray' at Gremista Farm (which is owned by a member of the Flock Book Society) with fiddlers, food and sheep.
We loved every minute of Shetland Wool Week and hope you did too, whether you attended or were able to view it through following others' virtual journeys, blogs and social media feeds. Thank you to each and every one of you for joining us.
Photographic highlights can be found on our Instagram page. Promote Shetland also produced a short film which can be viewed here.
Next year marks our tenth Shetland Wool Week so we're currently busy working away on ideas on how to celebrate 10 incredible years. We hope you'll be able to join us!
Makers' Market – 29 September
Tuesday, September 25, 2018
SAVE THE DATE: SWW Makers' Market, Sat 29 September
11.00am – 4.00pm at the new Anderson High School
This is always a treat on the last Saturday. It will take place in the new venue, the Anderson High School. There will be around 30 stalls including: Read More
We're on the countdown!
Friday, September 21, 2018
We're really on the countdown now … literally days from launching the ninth Shetland Wool Week! We can't wait to welcome you all to Shetland from places near and far.
For those of you unable to attend we hope that you'll enjoy our updates and can one day add our festival to your calendar. Read More
SWW 2019 dates announced!
Tuesday, September 11, 2018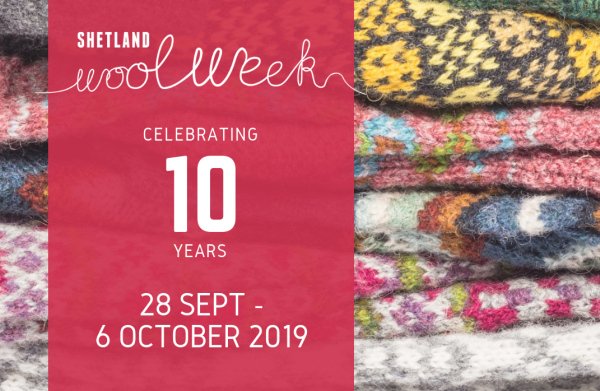 It's perhaps a little early to be announcing next year's dates when we haven't even had this year's Shetland Wool Week, but so many of you have been asking, and we appreciate that it takes a little bit of extra planning to organise a trip to Shetland. So… the dates for Shetland Wool Week 2019, which will also be our 10 Year Anniversary, are: 28 September – 6 October 2019. Add it your diaries, tell all your friends, and we hope you can join us to celebrate our tenth year of Shetland Wool Week!
And now back to this year. Read More
SWW Annual Volume Four: Available to pre-order!
Thursday, August 30, 2018
The long wait is over and we're delighted to announce that the Shetland Wool Week Annual Volume Four (2018) is now available to pre order!
Last chance to sign up for SWW 2018 membership
Monday, July 23, 2018
This is more of a reminder than a newsletter, just to update you on the SWW Premium Membership for 2018.
Back in March we launched our annual SWW membership, primarily as a way for people to support the future of the event, but also to give everyone the opportunity to receive an exclusive range of goodies.
Summer's here…
Friday, June 29, 2018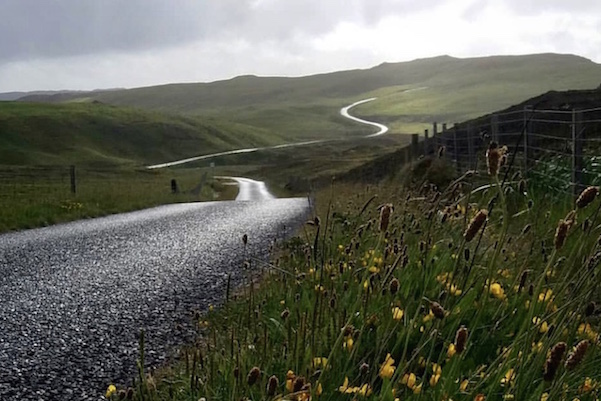 Now that the longest day has passed, it is officially summer! Bring it on we say. We can't get enough of the long Shetland days and all the freedom and opportunities that the extra light bring. Until around mid-July we'll enjoy the 'simmer dim' (summer twilight) when the sun only disappears for a few hours, bringing us almost 19 hours of sunshine. Those extra hours of daylight signal a season of opportunity and seemingly limitless options – whether that means exploring Shetland's great outdoors; grabbing the chance to do more with family and friends; or to relish the time to consider and pursue new creative projects. Read More
SWW Ticket Sales Information
Thursday, May 17, 2018
We're on the countdown to the Shetland Wool Week 2018 programme official launch date and the opening of ticket sales.
SWW 2018 Programme Update
Tuesday, May 1, 2018
As always, May signals the launch of the Shetland Wool Week programme.
Tickets will go on sale on Saturday 19 May, 10.00am BST.
Love Shetland Wool Week – Become a 2018 Member
Friday, March 30, 2018
 Annual Shetland Wool Week 2018 membership is now live!
This year we are introducing a few changes to our membership with the focus on benefits to you, as well as supporting the future of Shetland Wool Week.
Shetland Wool Week depends on its many supporters in everything it does. Your generosity is important to us and provides us with the life blood to continue delivering a varied and inspiring event, as well as helping to preserve Shetland's textile heritage and its rural farming community for future generations to enjoy.
Introducing the Merrie Dancers Toorie
Thursday, March 15, 2018

We are thrilled to announce this year's Shetland Wool Week patron as Shetland knitwear designer and handspinner, Elizabeth Johnston.
Read More
March update
Wednesday, March 7, 2018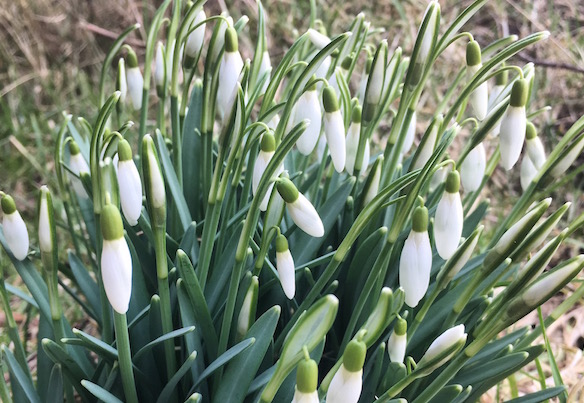 It's March and we are definitely still in the throes of winter here in Shetland. Despite enjoying a handful of brighter, warmer days which teased us with hints of spring, the 'Beast from the East' has caught up with us and the rest of the UK. Read More
Christmas festivities
Wednesday, December 20, 2017
We're now in the final week before Christmas and, as always, it's hectic with too many things to fit in – last minute work commitments, last minute shopping, pressures to get the house organized and the fridge well-stocked. Island life also throws into the mix the extra worry factor of bad weather and whether transport connections will run smoothly, or the supermarket and parcel deliveries will make it in time.
It is a crazy time of year, but there is no hiding from the fact that we love it! We enjoy the traditions, the food, the glitter and sparkle – and the chance to be 'off' and spend time doing all the things we love most, whether that's cosying up by the fire, knitting, visiting friends and family, or making the most of the wonderful Shetland scenery.
We caught up with some of our Shetland Wool Week tutors to find out what the festive period means for them. 
SWW 2017 round up
Monday, November 6, 2017
We can't believe it's a month since Shetland Wool Week 2017 ended. What an amazing, inspiring, creative and wonderful nine days it was! We're still buzzing.
Having had a break to recover from the adrenalin surge it's lovely to be able to look back at the photographs, swap stories, read your social media feeds and all your comments.
As always, we are staggered by how far people will travel for SWW, and this year was no exception. The visitors' map, where everyone is invited to pin where they travelled from was a great indicator, with marks on Australia, Canada, the East and West coasts of USA, Scandinavia, Europe, Israel and the UK.
SWW Annual Volume 3 (2017) launched
Saturday, September 16, 2017
At last, the wait is over and the SWW Annual Vol III (2017) is now available to pre-order.
This year it's bigger than ever with 12 exclusive patterns and six essays. As ever the photography is stunning and much of it was taken at Shetland's historic south end of Commercial Street in Lerwick.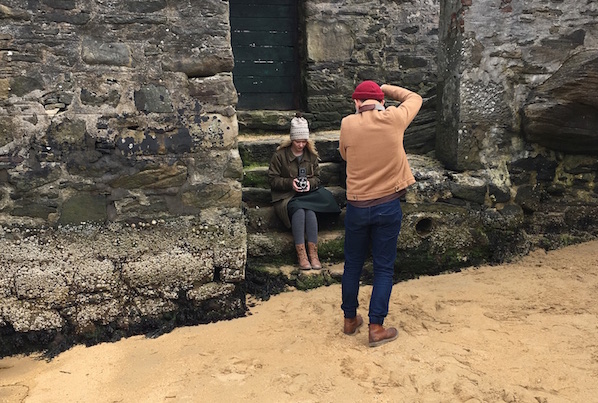 We're thrilled with how it has turned out and are in awe of the talents of all the contributors. Thanks also to Alex Mazurov for his incredible photography and Ruth Brownlee for the loan of her amazing SeaWinds house.
Summer agricultural shows
Thursday, August 24, 2017
Shetland Agricultural Shows
Summer in Shetland always means the fabulous agricultural shows. These offer so much to the community and visitors – and are also an opportunity to showcase livestock, knitwear, baking, horticulture, arts and crafts, stalls, kittens, ducks, dyed yellow sheep:  you name it, it's likely to be there!
Hazel Tindall visited all the big shows: in Voes, Cunningsburgh and Walls. Here are some of her highlights.
Swedish two-end knitting
Monday, July 17, 2017
Shetland Museum's Textile Curator Carol Christiansen tells us about knitting in the north of Sweden and the work of accomplished visiting SWW tutor Karin Kahnlund.
Last Saturday the Shetland Guild of Spinners, Weavers, Dyers and Knitters gathered at the Shetland Textile Museum for their monthly meeting.  We were treated to an interesting talk by Brita Hövenmark, STM's custodian, about knitting in the north of Sweden, including tvåändsstickning, or two-end knitting (sometimes called twined knitting).  Brita knows a lot about the knitting traditions from her homeland and is herself an accomplished designer and knitter of this technique.  She showed us gloves and mittens she had made, the fabric dense and warm.
SWW 2018 dates announced
Tuesday, July 11, 2017
We have exciting news! Shetland Wool Week dates for 2018 have been announced!
Due to the recent support and sponsorship from Loganair and our key longstanding sponsors, including Jamiesons of Shetland and J&S, SWW will definitely be going ahead next year. The dates are 22 – 30 September.
Mark your diaires!
Loganair supports SWW
Thursday, July 6, 2017
Shetland Amenity Trust is delighted to announce that Loganair, one of the Scottish regional airlines that service Shetland, has agreed to support Shetland Wool Week from 2018, securing the future of  a hugely successful festival which is crucial to the Shetland economy.
Loganair Managing Director Jonathan Hinkles told a meeting of the Shetland External Transport Forum the company was "proud to guarantee support for Shetland Wool Week in 2018 and beyond."
ADDITIONAL CLASSES FOR 2017
Thursday, June 29, 2017
As many of you will know from first-hand experience, we were overwhelmed by the response to ticket sales back in May. There are still some tickets available, but we have also teamed up with our fabulous tutors to put on a few more! Classes will go on sale on Wednesday 12 July at 1400 BST on the Little Box Office/Shetland Wool Week.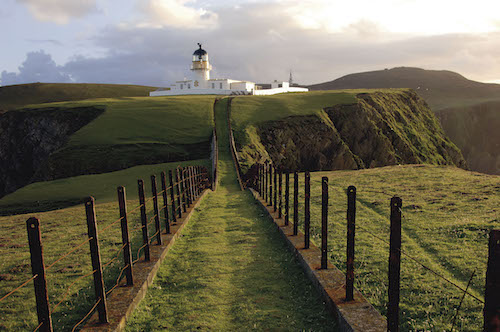 Fair Isle Experience – DRAW
We are delighted to announce that a second trip to Fair Isle during SWW has been organised! Rather than selling the tickets via the Box Office we will allocate them on a 'lottery' basis (* see details below).
The trip will take place on Friday 29 September and six lucky people will have the chance to take in Fair Isle's history and culture. Admire the views from the lighthouse, enjoy lunch and afternoon tea, and soak up the experts' knowledge on Fair Isle's knitting patterns and colours first hand. All transport included in the price.
Friday 29th September, 0830 – 1600
Spaces: 6
Cost: £200.00
NO BOX OFFICE
To enter: *As this is an extremely popular tour, we want to try and make it as fair as possible for everyone to be in with the chance of getting a ticket. If you would like to enter the competition simply email your name, address and contact telephone number to: info@shetlandwoolweek.co.uk
In the email subject heading put: 'Fair Isle Experience Draw'.
We will select six names at random and contact you separately to organise payment.
Deadline: Monday 10 July
Note: Please note that due to Fair Isle's unique geographical location this event can be cancelled at short notice in the case of adverse weather. This trip ends an hour earlier than the Monday tour due to changes in the flight timetable. However, the itinerary remains the same.
Visit an Organic Farm and Native Shetland Sheep
Two more tours to Ronnie and Sue Eunson's organic sheep farm have been added to the programme.
Look through fleeces in a wide range of natural colours, and chat about what farming/crofting in Shetland is really like.
Friday 29 September, 11.00 – 13.00 or 14.00 – 16.00
NEW CLASS
Try a Lace Sampler with Nan Smith
In this class you will knit a lace sampler. You'll have a chance to try various Shetland lace patterns, such as old shell, new shell, cockle shell, horseshoe, ring, fir cone, leaf, bead etc as well as garter stitch, stocking stitch and moss stitch.
Broaden your knowledge of the Shetland knitting dialect too as Nan will be referring to many Shetland 'makkin' words throughout. This class is aimed at all skill levels. 
Thursday 28 September, 1000 – 1700
ADDITIONAL CLASSES
Fair Isle Yoke Bag
Join Jeannie and Janette Budge and make your own Fair Isle-style pouch bag. An opportunity to practise blending colours, try a knitting belt and knit with two colours. This class is aimed at the intermediate level knitter.
Steeking with Barbara Cheyne
In this class you will knit in the round a small piece of work in two colours – part pattern and part steek. Appropriate for all levels.
Monday 25 September 1400 – 1700
Wednesday 27 September 1000 – 1300
Cockleshell Lace with Rachel Hunter
This class will introduce you to the Cockleshell lace pattern – a well-known and very recognizable pattern in the Shetland lace tradition.  It is appropriate for all skill levels.
Thursday 28 September, 1400 – 1700
From Lace to Chunky: Knitting Traditional Shetland Lace Patterns in Heavier Organic Yarns
This introductory class with Sheila Fowlie will show you how easy it is to knit lace, and how traditional Shetland lace patterns can be used with different weight wools. This is aimed at the intermediate level knitter.
Thursday 28 September, 1000 – 1300
Learn to Knit with Two Colours with Amy Detjen
Launch into two-colour knitting (Fair Isle, Norwegian, and Armenian) with an arsenal of tips for two colours (traditionally one in each hand). 
Friday 29 September, 1000 – 1300
Shetland Museum and Archives Textiles Tours
Join Shetland Museum & Archives Visitor Services Assistants for a tour of the Textile displays. The Textile Collection is Recognised as a collection of national significance.
ADDITIONAL SPACES!
Icelandic Button Band – Crochet a 'knitted' button band
Join Ingibjorg Sveinsdottir and Maja Siska in this class where you will learn about how to crochet a 'knitted' button band. It looks like it is knitted horizontally and it is a beautiful finish to any Fair Isle or Icelandic cardigan. This class is aimed at the intermediate level knitter. 
Tuesday 26 September, 1000 – 1300
Additional 8 spaces
Introduction to Fair Isle Yokes with Hazel Tindall
We're delighted to be able to offer a few more spaces to Hazel's popular Fair Isle yokes class. You'll learn how to knit a section of yoke to understand the shaping, follow a chart and use colours. This is an intermediate level class.
Friday 29 September, 1000 – 1300
Additional 6 spaces
 Remember, there are still spaces available on classes listed in the programme, so please take another look and book your spot.
Tickets still available to 2017 events
Wednesday, May 17, 2017
The Shetland Wool Week 2017 programme was launched yesterday and we had a record number of sales. Despite the initial technical glitch to the booking system, many people were able to book a range of events.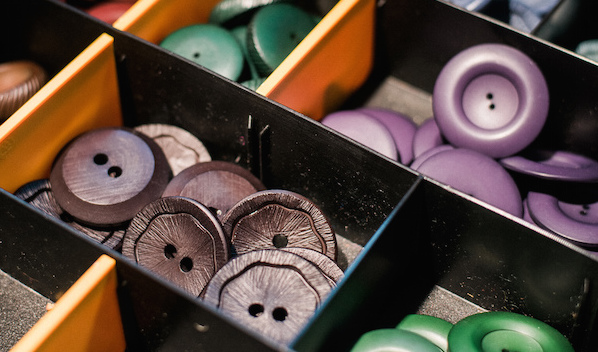 We are working with tutors to see if we can put on additional classes during Wool Week. We will confirm this in the next few weeks once we have allocated venues.
In the meantime, as of Wed 17 March, there are still over 1,000 bookable tickets left, including the following.
If you go to the search box at the top of the page with the name of your preferred class and choose 'Book Tickets' it will take you straight to the Little Box Office website.
'Shetland' Book Launch – A New Collection of Fair Isle by Marie Wallin
A Norwegian Challenge
A Shetland Photography Safari with Austin Taylor
Advanced Two-end Knitting in Colour with Karin Kahnlund
An Evening with the Ladies from Thingborg
Basic Brioche (one colour) with Nancy Marchant
Beginner's Drop Spindle Spinning with Deborah Gray
Beginning Double Knitting with Amy Detjen
Blending Colours of Shetland with Deborah Gray
Bressay Lighthouse Exhibition
British Fisherman's Knits with Julia Billings
Chunky Cable Masterclass with Di Gilpin
Crochet Class with Lizzie Simmons
Double Knitting – a Journey into the Reversible
Dressing Shetland Knitwear Accessories
Fae Ewe Tae You
Fair Isle and Lace Candle Holder with Linda Shearer
Fair Isle Charts for Beginners with Terri Malcolmson
Felt Your Own Bag
Felted Creatures
Felted Gloves (note this ends at 1600 and not 1400)
Felted Slippers
Felted Shetland Postcards
Felted Wool Vessels
Get Organised – Make a perpetual knitting workbook
In conversation with Di Gilpin and Marie Wallin
Introduction to Magic Loop Knitting
Knit a Picture
Knit Wire Earrings
Knit Your Own Bangle
Knit Your Own Wire Lampshade
Knitting from Lopi and Design of Classic Lopi Sweater
Knitting Texture
Knitting the Thumb Gusset
Make a Wooden Needle and Threading Hook
More is More
Nalbinding
Picture-perfect Knitting
Scandinavian Boundweave
Shetland Sheep, Food and Folk on the Croft
Spree for Cushla
Taat Chat at da Bod
The Dye Spell
The Importance of Plying
The Perfect Finish for Lace with Anne Eunson and Kathleen Anderson
The Perfect Picture (photography class)
The Warp Weighted Loom
Threads as Thick as Fishers Lines
Tuck into Your Own Brioche Cowl with Nancy Marchant
Unique Unst: Lace Knitting and Georgian Grandeur (email bookings@belmontunst.co.uk)
Up your game – improver's spinning
Wearable Felted Art
Weaving Stories at the Bressay Lighthouse
Wirds in Wirsit
Wool Labyrinths
Woolly Words Folded Book Origami
Tours:
North Mainland Tour
Central Shetland Tour
Tour to Unst
Tour to Yell
Visit an Organic Farm (Uradale Farm)
SWW 2017 Little Box Office Update
Monday, May 15, 2017
Just a reminder to all those planning to join us at this year's Shetland Wool Week that tickets will go on sale tomorrow, Tuesday 16 May at 1.00pm BST.
The website for the Little Box Office can be found here
A few of you have raised some questions on how the Little Box Office works, so hopefully the following information will help clarify things:
You do not have to be a SWW member in order to buy tickets, although those of you who paid for membership, will have had a preview of the programme for the past week.
The Little Box Office does not accept PayPal. In order to book tickets you will need to pay by credit or debit card (Visa, MasterCard or American Express).
You will be able to book 2 tickets at a time for smaller events, and for larger ones, such as talks and tours, 4 at a time. Once a ticket is selected and added to the basket, it is unavailable for any other customer to select for 60 minutes, to allow you to add other items and check-out without rushing.
There is absolutely no requirement to set up an account at The Little Box Office, and you will be able to purchase event tickets without doing so. However, if you do decide to set up an account, your contact details will be saved and you will be able to view your past orders.
Tickets are non-refundable (unless a class is cancelled).
Phone line
The quickest way for you to book tickets is directly online.
However, we will have a special number for anyone experiencing difficulties with the Little Box Office.   The number to call is 01595 980100
This will be available from:
Tuesday 16th May, 13.00 – 19.00 BST
Wednesday 17th May 09.00 – 17.00 BST
We must stress though that as we are a small team, your call will be placed in a queue.
It will be no quicker booking tickets by phone. If you have more general, less urgent enquiries, please email us at: info@shetlandwoolweek.co.uk
Printed copies of the programme
If you would like to order a printed copy of the programme you'll be able to do this from Tuesday through the SWW website. No rush here as there will be plenty of copies available.  Copies are free, although there will be a charge for postage and package.
And finally, please don't be disappointed tomorrow if you're unable to get hold of your first choice of tickets. There is plenty going on throughout Shetland Wool Week, so there really should be something for everybody.
Happy planning and booking and as always, thank you for your support.
Traditional Shetland patterns influence scarf design
Friday, May 5, 2017
Linda Shearer, member of the Shetland Guild of Spinners, Knitters, Weavers and Dyers, shares her latest project with us, which was inspired by two patterns from the book, A Shetlander's Fair Isle Graph Book – In Colour. She writes:
With the success of the book 'A Legacy of Shetland Lace' produced by the Shetland Guild of Spinners, Knitters, Weavers and Dyers in 2012, we decided to start work on another book – this time Fair Isle patterns using members' own designs.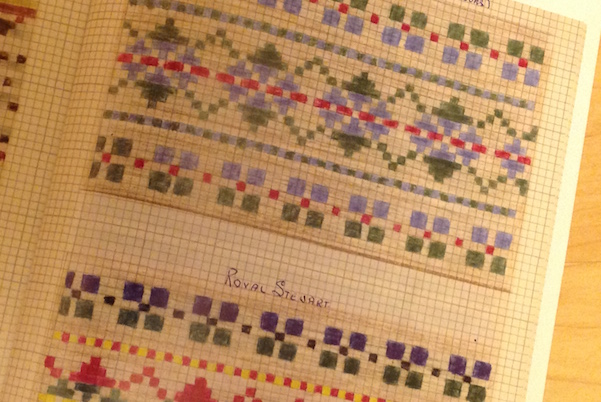 This prompted one of our members, Kathleen Anderson, to look out old graph books which had been given to her quite a few years ago by the son of the knitwear manager for Anderson & Co. where she previously worked.  Kathleen took the books along to a Guild meeting where most of us thought the books should be produced just as they were.  The Shetland Times published the books, into one volume, split into two parts.
After the Guild had the book published, I decided I would like to try knitting one of the coloured patterns from it.  I chose the two patterns, 'Hunting McIntyre' and 'Royal Stewart', thinking it would be fun to knit them both in a scarf.  I tried to choose colours as near to the graphed picture as possible.
The scarf is modelled by Linda's daughter, Emily.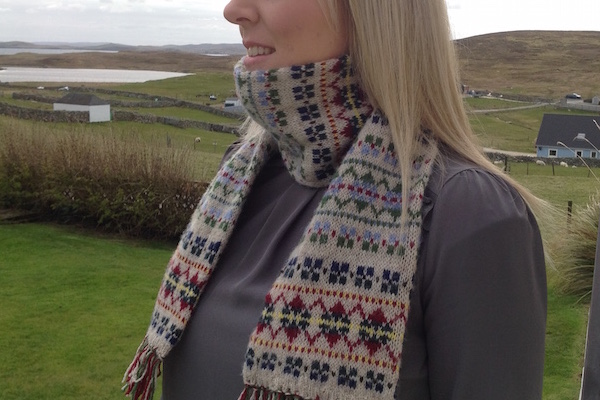 We are still in the process of producing our own book of members Fair Isle knitting patterns, and hope to have it completed in the next few months.
SWW 2017 Membership tickets announced
Thursday, April 6, 2017
*Membership Update* Please note that due to high demand, the Full Membership option which includes a ticket to the Opening Ceremony is now sold out.
You can still purchase standard membership which includes the official Shetland Wool Week bag and membership pack as well as early access to the programme a whole week before tickets go on sale.
A small number of additional Opening Ceremony tickets will be available when event tickets go on general sale on 16th May.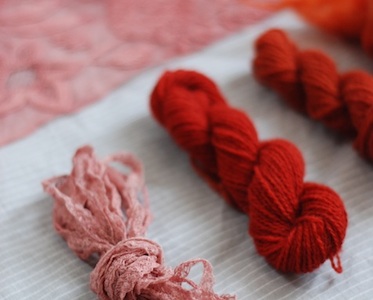 Full Membership £25 [SOLD OUT]
First look at the events programme one week before it is officially launched
An official 2017 SWW bag
A ticket to the Opening Ceremony (worth £15)
Official member badge
An automatic entry into our fantastic Shetland Wool Week Prize Draw for 2017
Standard Membership (no opening ceremony ticket) £15
First look at the events programme one week before it is officially launched
An official 2017 SWW bag
Official member badge
An automatic entry into our fantastic Shetland Wool Week Prize Draw for 2017
The real advantage of being a member is that you get a chance to have a good look through the programme in advance, which will be sent to you as a PDF by email on Monday 8 May. Bookings will go live on Tuesday 16 May at 1300 BST and this is when you can order tickets to all SWW events.
Shetland Wool Week is a nine-day festival, and this year there are over 300 events  from which to choose. Once tickets are announced many events sell out very quickly, so if there are specific classes, talks or tours that you want to sign up for, it is advisable to try and order them as soon as the Little Box Office goes live.
The Opening Ceremony will take place on Sunday 24th September from 1900 – 2100 at the Clickimin Leisure Complex, Lerwick. It's a fun evening with talks, Shetland entertainment and refreshments. It's also a great way to meet up with your fellow knitters and tutors for the week.
We have also added a handy 'Frequently Asked Questions' (FAQs) page to this website, which will hopefully answer some of your queries. Please let us know if we've missed anything by emailing: info@shetlandwoolweek.co.uk
We're really looking forward to sharing the programme with you in the coming weeks. We've got some fantastic events lined up, and, as ever, an array of talented and inspiring tutors. Watch this space for updates!
Introducing the Bousta Beanie at EYF
Thursday, March 23, 2017
Here's our woolly round up of Edinburgh Yarn Festival.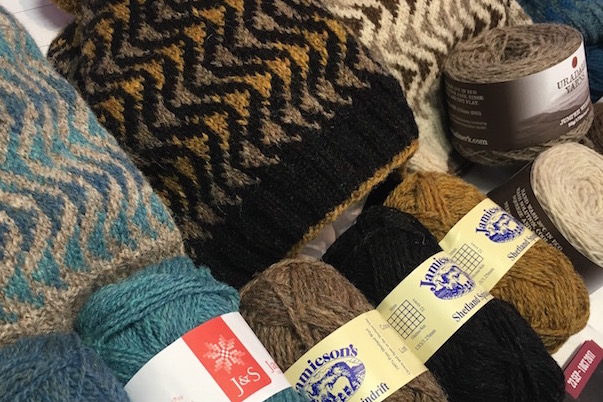 Anyone who has a love of yarn and textiles probably has a big red circle marked in their diary around the beginning of March – to highlight Edinburgh Yarn Festival – one of the biggest urban knitting festivals in the UK.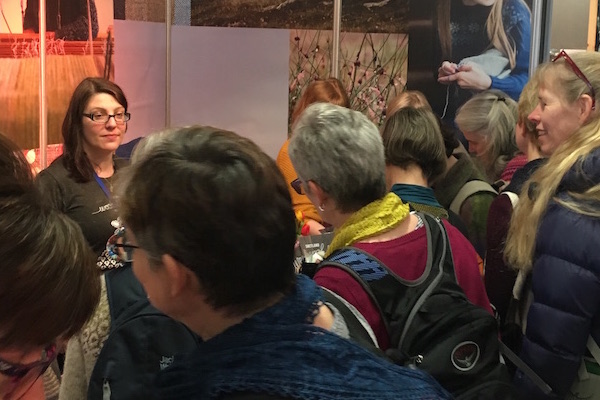 It's a big deal, attracting some 5000 visitors to the two-day market place, which is packed with vendors and knitwear designers from all over the world. It's also a key event for the Shetland Wool Week committee, as this is where we promote our own event and announce the new guest patron for the year together with the launch of the official hat.
EYF is a brilliant place to meet like-minded, yarn and knitting obsessed people from all over the world. It's impossible to leave without buying (another) stash of wool, a handful of buttons, a pattern or two.. and be inspired by the conversation and endless garments that vendors and visitors are wearing.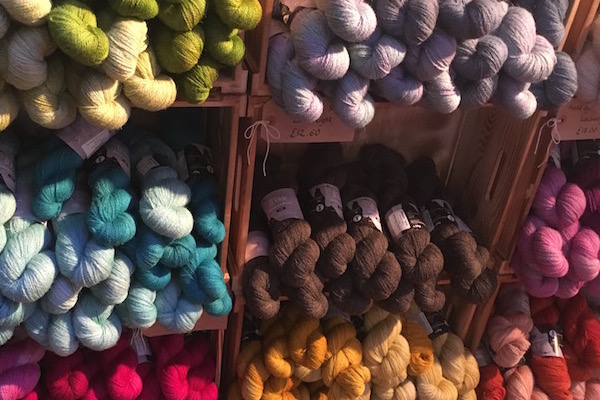 Before the event had even kicked off at Edinburgh's Corn Exchange there was already quite a buzz, with people wondering who would be stepping into Ella Gordon's shoes. All was eventually revealed via SWW's popular social media streams where we were delighted to announce Shetland-born knitwear designer, Gudrun Johnston, as this year's patron. The official hat, the slouchy-style 'Bousta Beanie', designed by Gudrun, was also launched.
Within minutes of the doors opening we had a steady stream of people wanting to meet with Gudrun, ask questions and take a copy of the free knitting pattern. The hat uses a variety of stunning colourways in Shetland yarns by Jamieson & Smith, Jamieson's of Shetland and Uradale Yarns.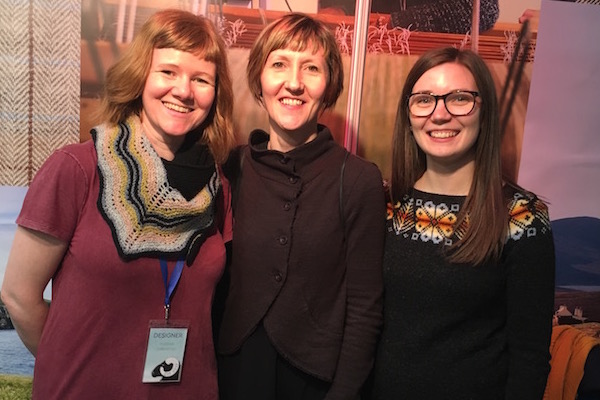 It was also clear from people's comments that  enthusiasm and interest for SWW continues to grow, with many people prepared to travel long distances to visit the islands.
For some, it is very much on the 'bucket list'. We loved meeting you all and answering your questions. It was also great to see SWW patrons past and present at the stand (Gudrun Johnston, Donna Smith and Ella Gordon).
This year there was a strong Shetland contingent with impressive stands from Jamieson's of Sandness, Uradale Farm, and Shetland Handspun.
The patron is an integral part of Wool Week and generates a lot of international interest. Gudrun Johnston is an enthusiastic ambassador for Shetland's textile industry, so she was a natural choice for the SWW committee.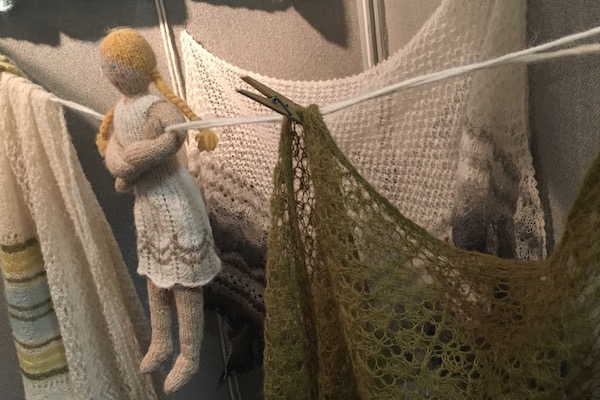 Gudrun was in high demand throughout the event and did a live podcast with Blacker Yarns. A frequent visitor to Shetland, she has attended every Wool Week since it started in 2010. Many of her designs feature Shetland patterns and yarns, and her Wool Week, Bousta Beanie hat design was inspired by the ever-changing shades of the Shetland landscape.  She wanted to reflect this in a simple Fair Isle pattern that floats between one background colour and two contrasting colours. The beauty of this approach is that it creates endless possibilities for colour combinations. In fact, Gudrun surprised us on the day by arriving with a fourth suggested colourway, which uses softer shades of blue. Her gorgeous combination uses J&S 2-ply jumper weight, Shade 2; FC 39MIX; FC34MIX.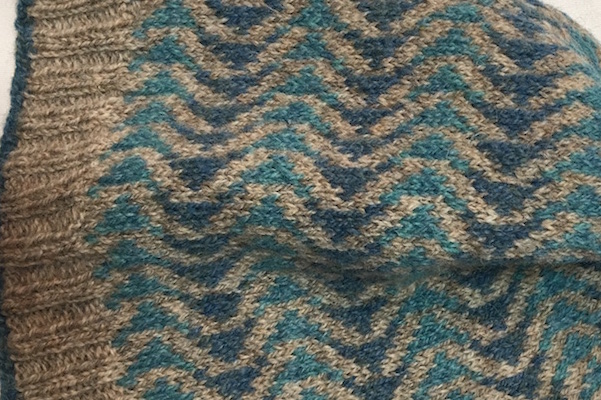 It was heartening to see such interest for SWW and the hat pattern at Edinburgh – we've been following everyone's progress on social media. We look forward to seeing more of your work– please do share pictures with us by hash tagging #boustabeanie or #shetlandwoolweek2017 !
Free pattern is launched and our 2017 patron is announced
Friday, March 10, 2017
We have some very exciting news – the official Shetland Wool Week 2017 hat pattern is being launched today at Edinburgh Yarn Festival.

We're also thrilled to announce that the SWW 2017 patron is one of our favourite knitwear designers, Gudrun Johnston – and she has designed this year's official hat pattern. Inspired by the myriad shades of Shetland's landscape, Gudrun has named her wonderful slouchy style hat the Bousta Beanie.
The pattern is available to download now and printed copies are available for those who are attending the festival. We'll be at stand M8 together with Gudrun, so we look forward to seeing you there!
Knit the hat in any of the suggested colours or choose your own variations and wear it to Shetland Wool Week 2017. Remember to share your pictures with us using #boustabeanie or #shetlandwoolweek2017, we can't wait to see your creations.
Gudrun Johnston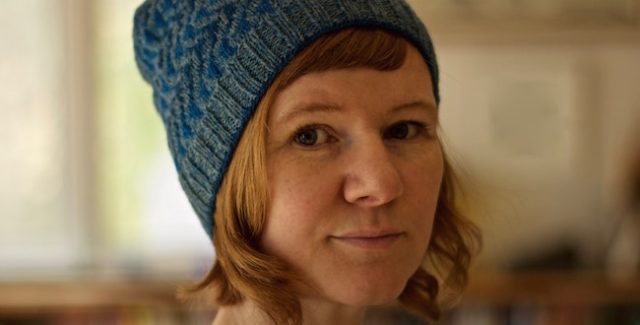 Knitwear designer Gudrun Johnston will be the guest patron for this year's eighth Shetland Wool Week. She was a popular choice for the festival's committee and we're delighted to have her on board.
Gudrun's Shetland lineage runs deep. She was born in Levenwick, Shetland in the 1970s and her grandparents were from Skerries and the Ness. Now based in America, Gudrun has successfully relaunched the Shetland Trader, a design company, first began by her mother, Patricia Johnston.
A regular visitor to Shetland, Gudrun has attended every Wool Week since it started. Many of her designs feature Shetland patterns and yarns, and she is inspired by the myriad shades of colour that can be seen throughout the islands' landscape.
Through her designs, publications and teaching she has been able to share Shetland's rich heritage with a broad international audience.
To find out more about Gudrun visit her website.
Wires, wirsit and words
Thursday, February 23, 2017
'Taak dy sock'  was an expression Donna Smith was familiar with whilst growing up. Here she  discusses the origins of some 'knitting' words in the Shetland dialect and how they are still very much in use today.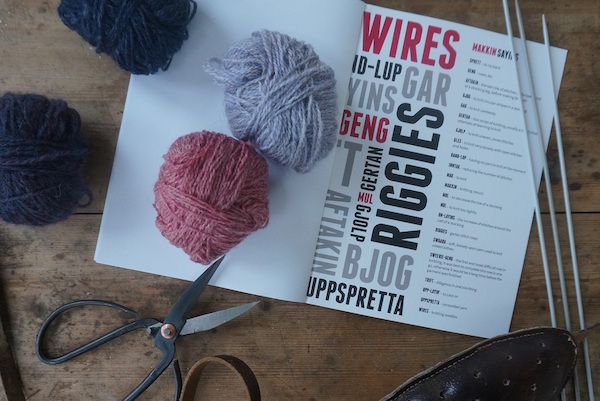 Those of you who have attended classes or events at Shetland Wool Week and are not familiar with the Shetland dialect might notice that there are many different words we use in Shetland and interestingly many of them involve knitting.  Often for a local teacher, it can be tricky to try to 'translate' the words or words to be used, particularly when nervous (I am speaking from experience here!).
Many of the words and terminology used to generally speak about knitting are dialect words, for example, we speak about laying up loops (casting on stitches), wires (needles), wirsit (wool yarn), dressing (blocking), we call our knitting "makkin" and the the verb "knit" is "mak".
The origin of the Shetland dialect, as any language is, is complicated and defined by the history of the place, its ownership, and the people living in and visiting the islands, amongst other things.  The Shetland dialect is largely a mixture of English, Lowland Scots and Norn, which is a variation of Scandinavian languages. Norn is now extinct but used to be spoken in Shetland from around the 9th century until it eventually was largely superseded by the Scots language in the 18th century and became no longer a distinct language.
A large number of distinct words are still found within the Shetland dialect today, many of the words are used to describe things that were a large part of day-to-day life such as the weather, crofting, fishing and knitting.  For example according to Jakob Jakobsen, who extensively studied the Norn language and in turn compiled the Etymological Dictionary of the Norn Language in Shetland in the 19th Century, the word "makkin", the Shetland dialect word for knitting, comes from the Norn verb "makk" a which is defined by Jakobsen as "to knit woollen yarn".
Other common words you might hear Shetlanders use include:
Sprett = to rip back or the newly coined term "frog", this comes from the old Norse "spretta", and in Shetland dialect the unravelled yarn is the "uppspretta"
Geng = row or rows
Sweerie geng = the first row in knitting.  This is often thought to be the most difficult one and so it is best to complete it in one go, otherwise it would be a long time before the garment is finished.
Riggies = Garter stitch rows
Interestingly, many dialect words are only used in certain places within Shetland, and I still often hear words I have never come across, many by the older generation.  I love finding new words but I often have trouble remembering them; I must learn to write them down!  A collection of words were made before Shetland Wool Week last year and printed inside the notebooks that were for sale. I hadn't actually come across many of those words so it's really important to compile them and write them down while we can.  Like the knitting heritage, the dialect is something we need to make sure we preserve.
A phrase I used to hear my Granny say to us was "Taak dy sock and hadd dee oot a lenger" which was an invitation to come along with your knitting, basically it means take your knitting to prevent boredom.  So, if you have your knitting you won't get bored – sounds right to me!
You can read more about the history of the Shetland dialect in John Graham's essay on the Shetland dialect website
Crofthoose hat on tour in NYC
Friday, January 20, 2017
Shetland Wool Week and its patron Ella Gordon have just returned from a packed few days in New York where they and Ella's 'Crofthoose hat' hit the North American market at the popular Vogue Knitting Live show.
We escaped the storms in Shetland and arrived in NYC, home to 8.5 million people, where we were met by a world of contrasts, noise and colour.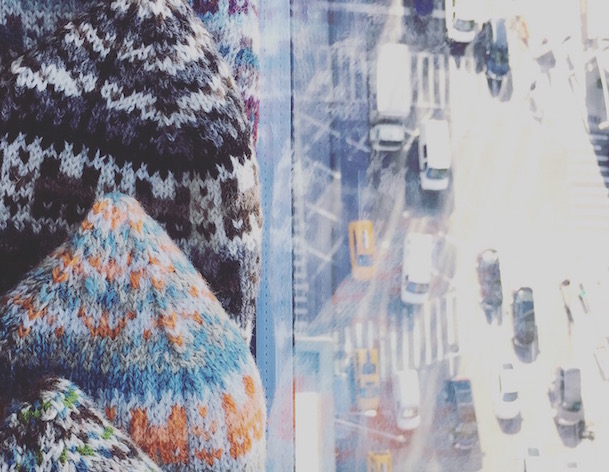 This is the second year we have attended the event – which is one of the biggest dates in the knitting and yarn calendar on the East Coast, attracting around 8,000 visitors. It took place in Times Square, a somewhat incongruous setting, and, over three days, knitting aficionados indulged their passion for yarn with thousands of like-minded people, bought endless quantities of wool from stall holders, attended classes, listened to talks and watched fashion shows. It was also a wonderful opportunity for visitors to wear their beautiful hand-knitted creations and there were many moments spent admiring and sharing compliments.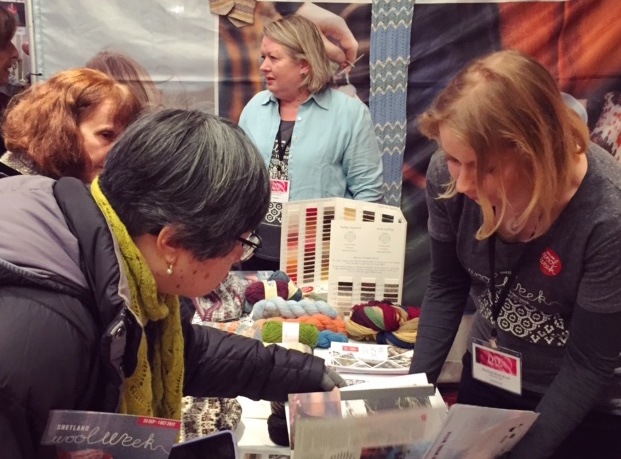 Our Shetland Wool Week stand attracted a lot of attention and it was so encouraging to be met with such enthusiasm. People seemed genuinely delighted that we had made a return visit and it was a wonderful chance for us to talk about our favourite things: Shetland's textile industry and heritage, the yarn, the islands, as well as answer any technical questions. We also loved meeting old friends and making new ones too.
We had taken samples of the different crofthoose colour ways – from Shetland Organics, Jamieson's, J&S, and Spindrift Crafts – among other Shetland samples. People appreciated the chance to be able to touch and feel the yarn and admired the different colours, especially the natural dyes from Spindrift.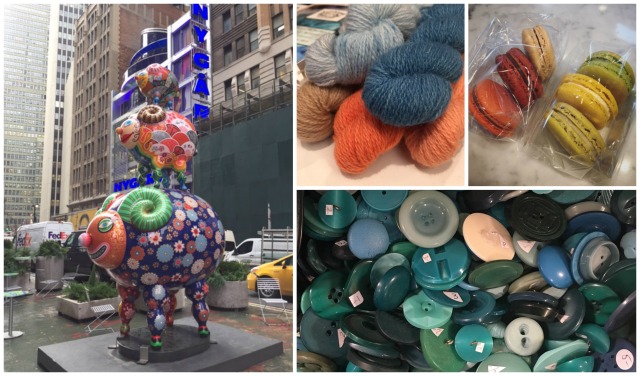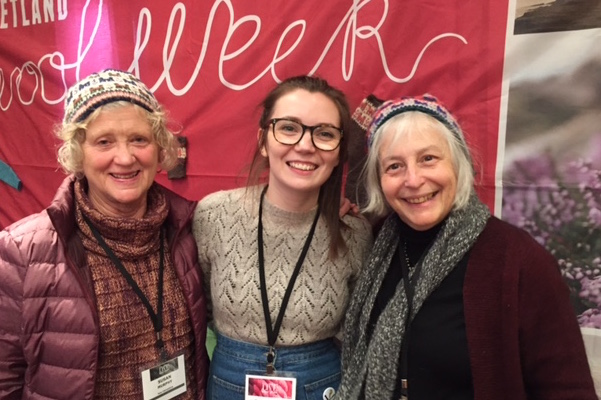 Ella was in her element as she met and chatted with her blog and instagram followers. Many were familiar with her hat design and had already knitted it, while others were keen to take the free pattern and give it a try. There were lots of questions about two colour knitting, which maybe need to be addressed. We feel another tutorial coming on …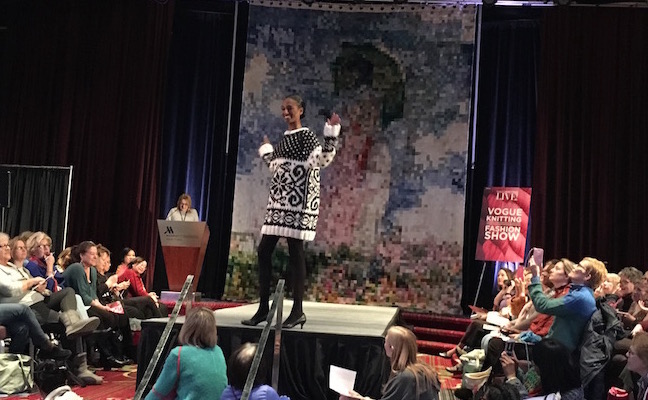 Yarn art is a key component of the event and there were some fantastic pieces on display, but the highlight surely had to be the magnificent depiction of Claude Monet's iconic 'Woman with a Parasol'. Produced in Europe by Citémôme it is the result of 100,000 knitted squares. It really was a masterpiece and made a dramatic backdrop to the non-stop fashion shows which took place.
Outside of the event, we gradually started getting the hang of Manhattan's grid plan. Seeing iconic buildings such as the wonderful 22 storey, triangular Flatiron which was built in 1902 was one to tick off the bucket list. Walking the High Line, a converted train track, and now an urban walkway with incredible views and public art was another highlight. We loved soaking up the culture and found the architecture, food, textures and colours an endless source of inspiration.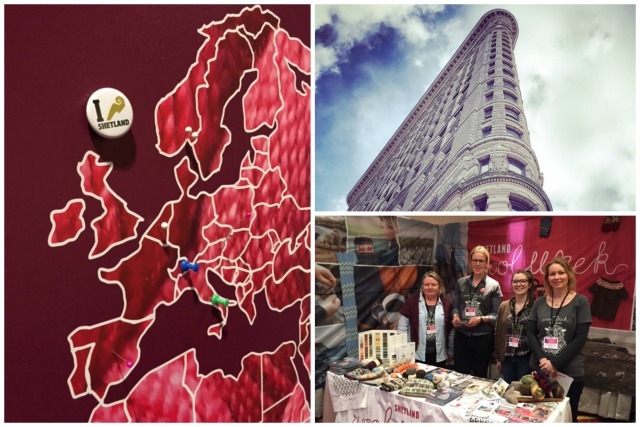 Thank you for having us NYC. We hope to be back and also see many of you at Shetland Wool Week soon.
Projects for 2017
Monday, January 16, 2017
A new year can only mean one thing … new projects.. We asked some of our Shetland Wool Week tutors what they've got lined up this year and what they're looking forward to. Read More
Oil-era Mittens
Tuesday, December 20, 2016
Shetland Museum curator, Carol Christiansen, tells us about about a recent donation to the museum which hails back to  the oil boom days of the 1970s.
Parcels of knitting sometimes arrive at my desk from people who wish to see it returned to Shetland.  A small pair of mittens, in very Christmassy colours, appeared a few weeks ago from Hampshire.  They were donated by Brenda Dawtry, in memory of her late husband Neil, who passed away earlier in the year.  Their story is set in a time of great change for Shetland.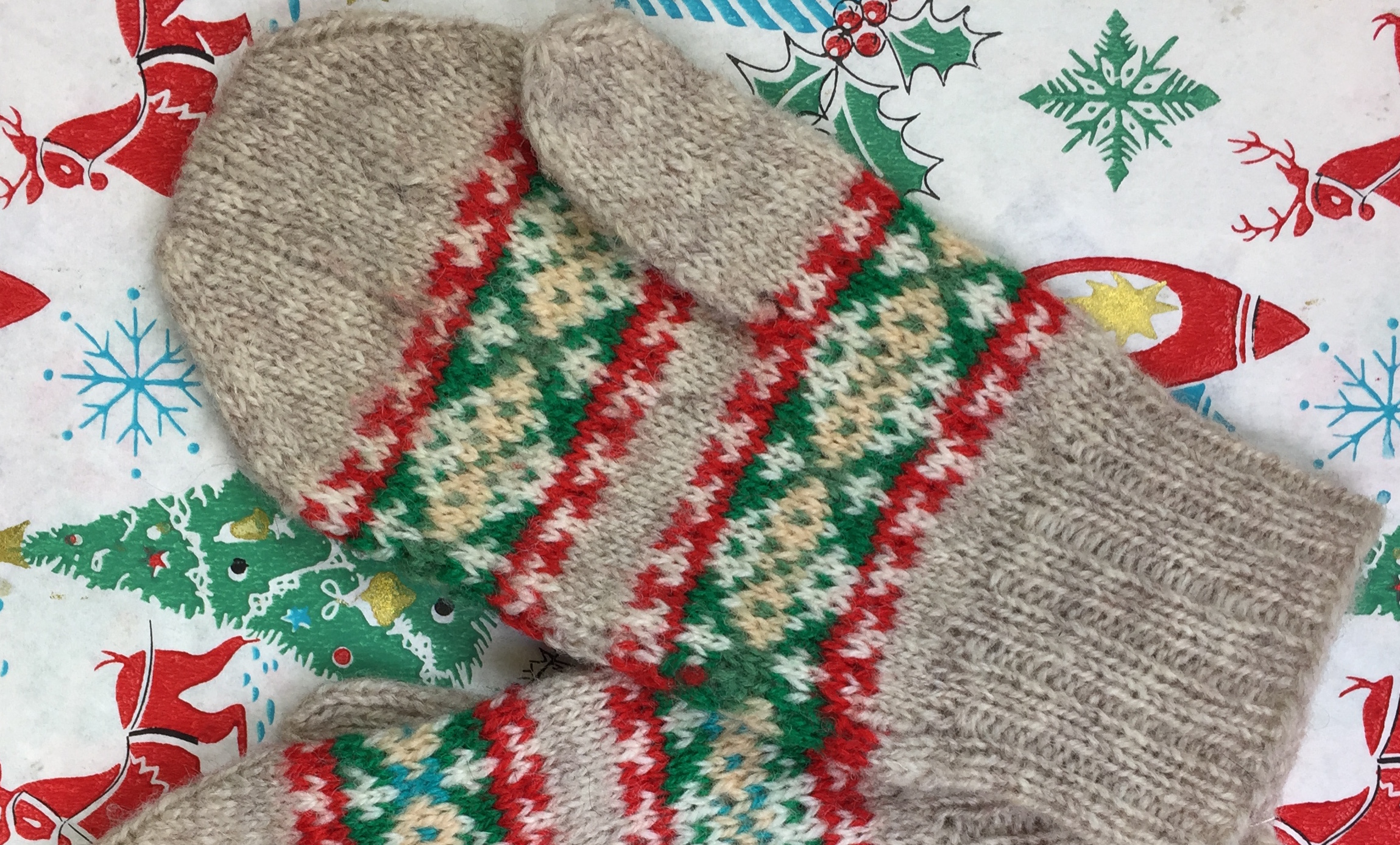 In the 1970s a huge terminal for North Sea oil extraction was built at Sullom Voe, in the north part of the main island.  Oil and gas development has transformed the islands, greatly increasing the standard of living and attracting workers from around the world, including Neil Dawtry, who worked as an electrical engineer. On his days off he explored the islands and during one of his excursions he met the Nicolsons of Brunga House, Northmavine parish.  They were an elderly couple who had raised a family of four on a small croft.  As a crofting wife, Kirsty Nicolson (1898-1985) knit her whole life, and sometimes demonstrated spinning to tourists at the St. Magnus Hotel in Hillswick.  On the back of Mrs Nicolson's calling card Neil wrote 'Mr and Mrs Nicolson bred their own sheep, sheared them, spun and dyed the wool, knitted it up.  I bought her last pair of mittens.  Mrs Nicolson's sight failed.  1979'.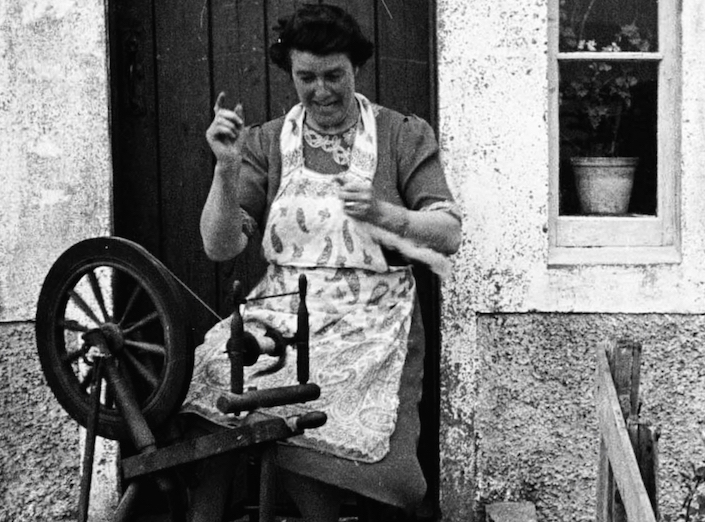 The mittens are in fawn wool with green, white and yellow diamond fair isle pattern stripes, bordered by a red and white small pattern.  The left mitten has a central band of turquoise in the fair isle diamond motif, whereas the right mitten has a slightly lighter green colour.  Perhaps this colour difference was due to Mrs Nicolson's failing eyesight at age 81.  She told Neil that she had spun, dyed and knit the mittens from her own wool, and had completed them in one day!  However, the mittens are not made from hand-spun, hand-dyed wool, but rather typical Shetland jumper weight machine-made yarns.  No doubt there was some embellishment about the making of the mittens in hopes he would buy them, which he duly did for his then future wife, Brenda.  We are grateful to Brenda for her kind donation.
Shetland's next generation of knitters
Wednesday, December 14, 2016
Donna Smith meets regularly with a group of young knitters from the Anderson High School. Here she explains how the group came about and what they've been up to.
Every Thursday at lunchtime during school term, a group of youngsters meet in one of the biology classrooms at the Anderson High School in Lerwick to knit.  The group consists of pupils, ranging from 12 to 18 years old, and school staff, and attracts a range of individuals from those who have never knitted before to those who have been knitting for several years and are expertly designing and knitting their own Fair isle garments.  This group is known as the Anderson High School Maakin and Yakkin (knitting and talking) group.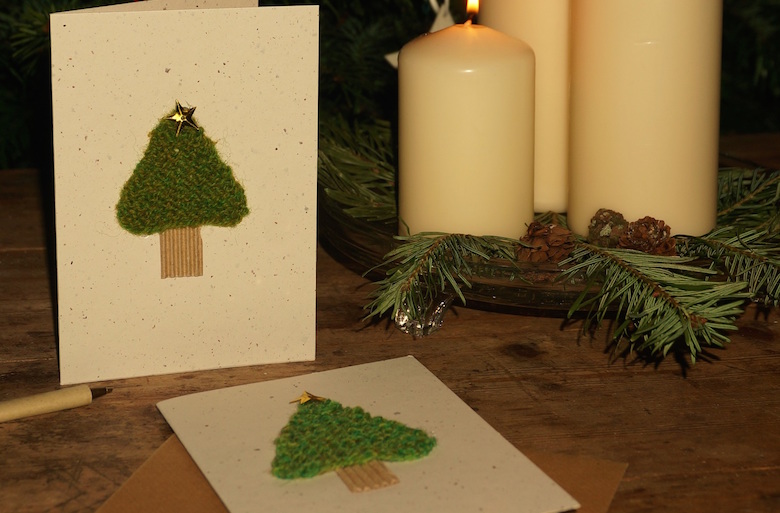 Over the past few weeks the group have been busy knitting garter stitch triangles (this has helped them practise casting on and decreasing) which were then transformed into Christmas cards to raise money for the school funds during a mass production line over a couple of lunchtimes.  Last Saturday I spent a very enjoyable morning at AHS Christmas Coffee Morning helping out at the Maakin and Yaakin stand and needless to say, the cards featuring the hand knitted trees proved to be very popular.  Pupils and staff also gathered in the 'Knitters Neuk' to spend time knitting and were joined by many members of the public who had come for their morning coffee and to browse the many stands in the school hall.
The lunchtime Maakin and Yakkin sessions were started in February 2013 by biology teacher, Caroline Simpson, a keen knitter who thought that it would be a good way to bring pupils and teachers together with a common interest, while introducing knitting to those who were less experienced.  I work as a science technician at the Anderson High School and go along to the group whenever I can.  It is so good to see so many youngsters knitting and it is really good to see someone progress from never having knitted a stitch before to knitting Fair Isle.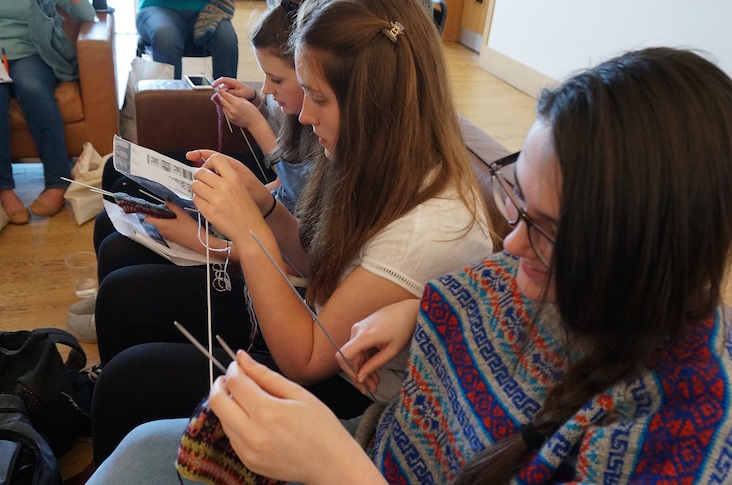 The group is part of the Peerie Makkers scheme, a two-year pilot scheme that encourages and enables skilled volunteers to teach traditional knitting methods to pupils in several schools around Shetland.  When I was in Primary school, we all got knitting lessons, but several years ago these classes were stopped due to lack of funding.  I remember at the time being horrified that this had happened and even wrote a letter to one of the local councillors, something that is not usually in my nature!  However, through the Peerie Makkers scheme, and the enthusiasm of several volunteers things are definitely looking up and we are seeing pupils attending these knitting sessions because they want to rather than because they have to which can only be a positive thing.   We are even hearing stories of the pupils getting their mothers interested in knitting which is fantastic!
The Anderson High School Maakin and Yakkin group have been involved in several things and projects and have attended other knitting events and groups.  In 2013 they made hats and tunics for babies in Malawi in conjunction with UNICEF, they have attended several events at Shetland Wool Week and this year several of the group members modelled their own work at the fashion show during the opening ceremony at the Clickimin Centre.  I am very sure these are the people to look out for during future Wool Weeks!
You can read more about the Maakin and Yakkin group on their new blog.
You can read more about the Peerie Maakers here
Getting out and about with SWW and the 'crofthoose' hat
Thursday, November 24, 2016
We've just attended our first ever Shetland Arts & Crafts Fair which took place over the weekend in Lerwick. It was so good to chat to novice and experienced knitters, or those purely interested in Shetland's wool and textile heritage. Shetland Wool Week really does have a diverse following! And, we'll be hitting the road again in the New Year, so here are some dates for your diaries.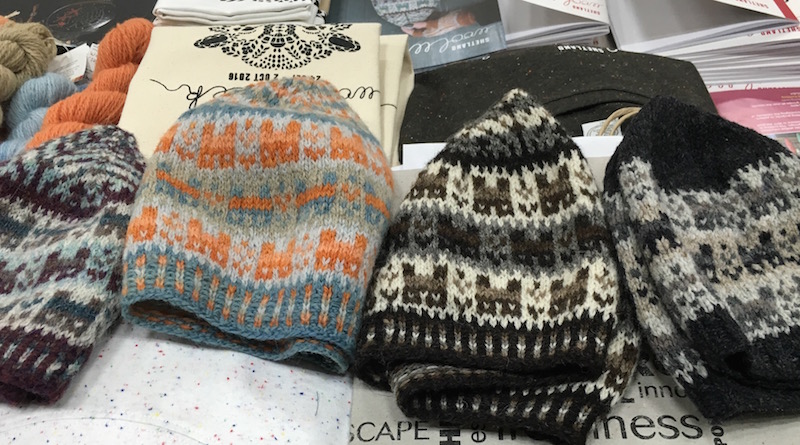 Having attended this very busy show last year, where we had such an incredible response and made so many contacts, we knew that we needed to exhibit again at VOGUEknitting Live textile and craft show New York, 13 – 15 January.
We'll be taking a stand and will be on hand to answer any questions, give details on SWW 2017 and chat about all things Shetland wool and knitting.
Take the opportunity to meet our SWW 2016 patron and knitwear designer, Ella Gordon and find out the inspiration behind the popular Crofthoose hat pattern. Also attending will be Dr Carol Christiansen, who is in charge of Shetland Museum's Textiles Collection, a recognised Collection of National Significance in Scotland. Carol has extensive knowledge of historical and archaeological textiles in Shetland and the Nordic countries.
If you're planning a trip to the show, please come and visit us. We'd love to see you there.
A must-have date for the diary is the popular international Yarn Festival in Edinburgh from 10 – 11 March.
As well as taking a stand, we'll be launching the official Shetland Wool Week 2017 hat pattern and also announcing this year's patron.
Printed copies of the pattern will be available too!
Hope to see you there!
Another very woolly week!
Monday, November 14, 2016
Here is our round up of Shetland Wool Week 2016
The seventh annual Shetland Wool Week was the biggest and busiest one yet! From the most northerly to the most southerly islands of the Shetland archipelago, participants indulged in wool-related workshops, drop-in sessions, talks, demonstrations, studio visits and our famous Sunday teas. Over 160 different events were offered, many with repeat sessions.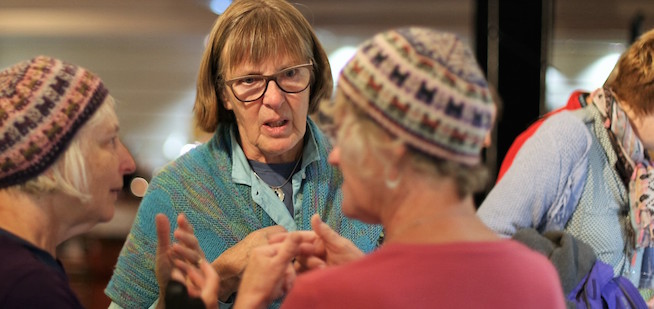 Many of Shetland's most experienced makers, designers, and textile specialists participate each year by presenting courses and other events. For 2016 the programme had grown considerably large and varied covering everything from spinning, dyeing, many types of knitting, and weaving to making accessories for wool-working such as shawl pins, silver buttons and baskets.
The Opening Ceremony was a wonderful way to kick off the nine-day festival and guests were given a snapshot of Shetland culture throughout the evening.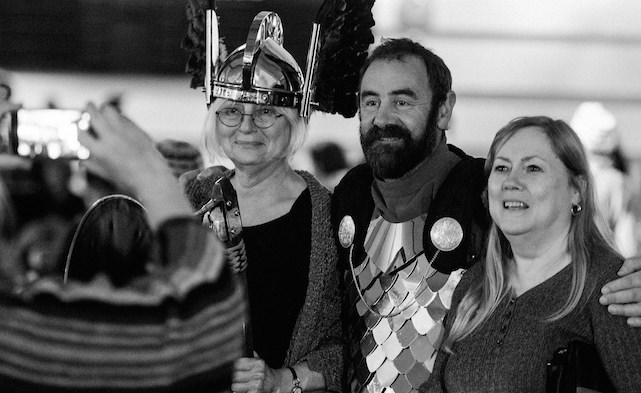 The Lerwick Jarl Squad put in a surprise appearance, and there were delicious canapes to try, using only Shetland produce and ingredients, as well as some painstakingly made, and very woolly inspired, cupcakes. There was music and talks and, for the first time, a Fashion Show, curated by Faye Hackers of Shetland College UHI. It was an eclectic display and showcased a variety of wonderful pieces from delicate handspun lace to Fair Isle jumpers and a dramatic Shetland tweed cloak. Keen that no one should miss out, the event was streamed live via facebook which meant that people all over the world could experience the evening.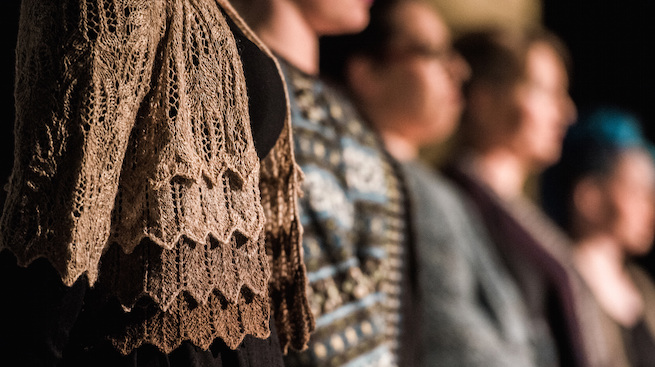 With so many classes and events taking place throughout the week it's impossible to capture everything, but here is a snapshot of pictures and words:
The tours to the outer isles of Whalsay, Fair Isle, Yell and Unst were incredibly popular and sold out quickly. People especially appreciated the warm welcome they received and the chance to meet and chat with islanders and find out more about their particular textile traditions. One participant commented on facebook, "The pride everyone has in Whalsay was evident which added so much to the day."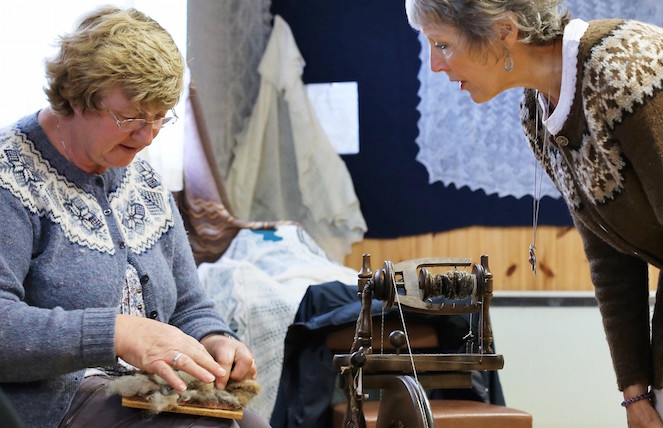 Fair Isle trip – a first for 2016, a lucky group of six ventured to this gem of an island to meet with Mati Ventrillon. Blessed with beautiful blue skies, the six took the short plane journey and began their full day tour, which focused on island life and knitting.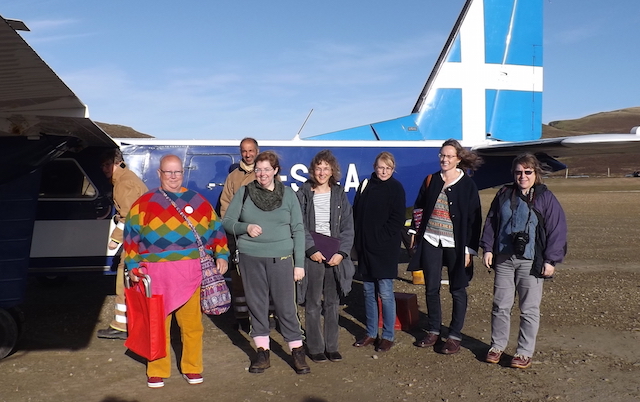 There was a guided tour to the South Lighthouse, and the Fair Isle Museum, as well as open studios and talks with Mati Ventrillon and Hollie Shaw. A delicious home cooked lunch at the Aauld Haa Gueshouse, followed by a trip to the  impressive Fair Isle Observatory and Lodge rounded off a perfect day, and will remain a favourite for many.
Joanna Hunter's Havera island trip went ahead in a slightly different format due to bad weather, but everyone still had the chance to view knitwear made by its inhabitants back at Joanna's home.
Joanna Hunter and Donna Smith's moodboard classes, always an inspiration, went down well. Joanna commented: "What an amazing wool week, meeting so many creative and exciting people, making new friends from all around the world. Everyone who attended our classes was so enthusiastic and the work they created was fantastic. I can't wait till next year to see who comes through the studio door."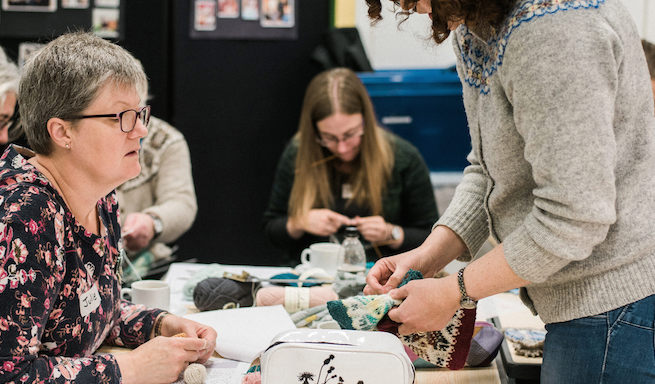 Experienced wire lace knitter Helen Robertson, held 'Light up your lace' lampshade classes, which proved to be very successful, with many commenting on her wonderful teaching skills and calm approach. Participants left the class with a totally completed project.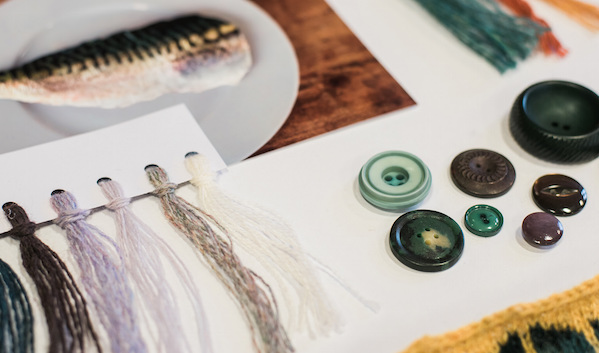 Natural dyeing workshops were available this year too, with Julia Billings exploring the essential steps involved in transferring the colour found in plants onto fibres.
Shetland's textiles and textile-making traditions are the focus each year but we also aim to bring different traditions into the mix by inviting foreign specialists.  This year Estonian knitwear designer and researcher Kristi Jõeste joined us.  She taught several classes in her speciality, Estonian glove-making, and one of her patterns was included in the Shetland Wool Week Annual.  Along with Shetland knitwear designer and Finnish native Outi Kater, Kristi discussed her research and designs at our Baltic Night evening lecture.
 The popular Makers' Market is an opportunity for local wool producers and makers to show and sell their wares during this nine-day event. It went down a storm with people keen to snap up a unique wool item. This year exhibitors featured yarn made from wool of Shetland's two most remote islands communities, Foula and Fair Isle. Students from Shetland College's Textile Department sold knitwear they designed and made in their courses and Shetland Handspun designer and maker Elizabeth Johnston made available her gorgeous hand-spun yarns in Shetland wool, coloured with natural dyes.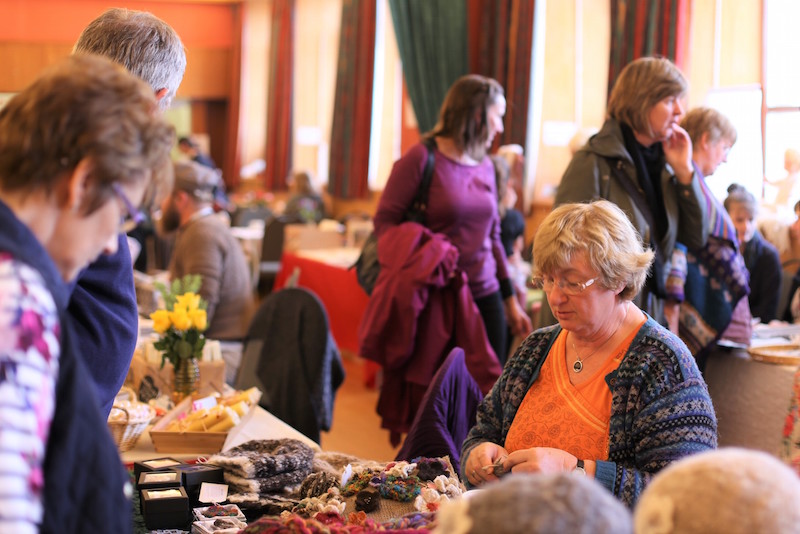 Talks were a great way for people to meet up in the evening and mainly took place at the Shetland Museum and Archives. Again, they were mostly all at full capacity, with Baltic Knitting Night; and SWW Patron Ella Gordon's 'Being a Knitter in Shetland' especially drawing in the crowds.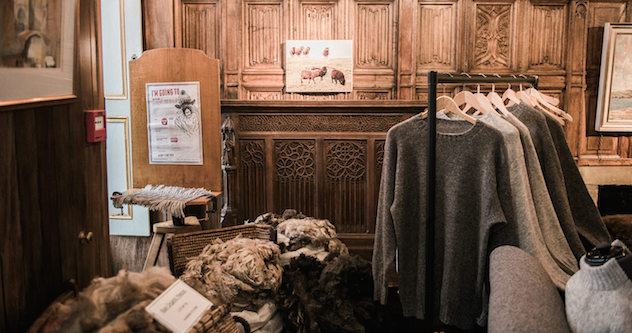 This year the Shetland Wool Week Committee introduced a new online booking system using Little Box Office.  This made registering for events easier, as tickets could be printed by the participant or simply shown on their phone, and allowed vendors to check participant numbers as events filled.
This year's HUB also enjoyed a change, and had moved from Islesburgh to the first-class location of the Shetland Museum and Archives. Here woolly participants could meet up with friends old and new, and enjoy a cuppa with their maakin. There were also many knitted donations throughout the week to the popular Shetland With Love charity.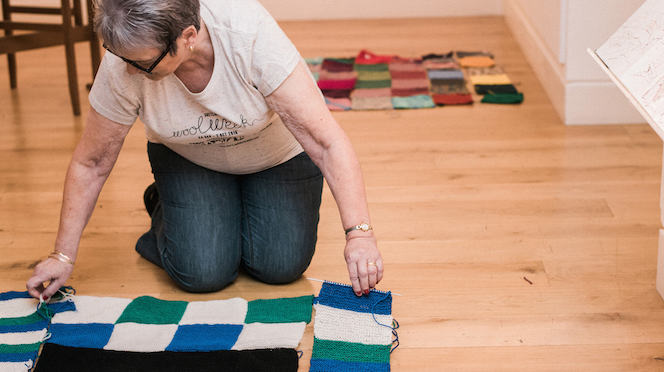 Shetland was blessed with 'Indian Summer' weather on most days but participants also got a taste of our wild and windy autumn weather.  Even Da Mirrie Dancers, the aurora borealis, made appearances on several clear nights – truly a magical nine days.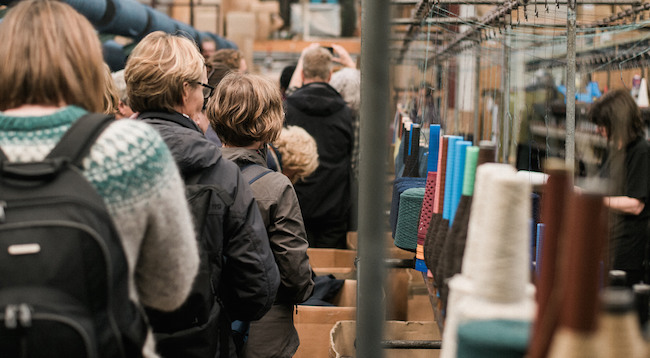 A big Shetland Wool Week thank you!
Thursday, October 20, 2016
Well, we've had a chance to recover from what was our biggest Shetland Wool Week yet! It was an amazing festival – packed with hundreds of classes, talks and tours, all celebrating Shetland's fantastic textile heritage and crofting community.
Now in its seventh year, our participant numbers have doubled – with almost 600 attending. As always, we are humbled by how far people will travel to join us. This year we welcomed visitors from all corners of the world from Norwich to New Zealand to Denmark and California.
2016 Survey
We'll be circulating a round up shortly with highlights and photos of the event. In the meantime, we would appreciate it if you could take a few minutes to complete our short survey to help us with our planning for 2017. As ever, we are keen to make improvements and ensure that the event stays fresh and relevant, so your feedback is important to us. As a thank you, you'll be entered into a free prize draw where you will have the chance to win an annual subscription to our 60North publication. The prize draw will close on 7th November 2016.
2017 dates announced
Looking ahead to next year we are pleased to announce that Shetland Wool Week 2017 will take place from the 23rd September until 1st October 2017. Planning is now underway and we can promise you that 2017 is set to be another unforgettable year!
We hope you enjoyed SWW 2016 and thank you for your continued support.