The simple things
By our reckoning Shetland is now nearing week 10 of lockdown, but frankly we're not even sure what day it is. How quickly the world changes, halts and everything we 'knew' is turned on its head.
Each week brings new announcements, but nothing is totally clear and staying home seems to be the new norm for a good while yet.
While the pace of life may have slowed, many of us find ourselves juggling more than ever. We have become unofficial IT help desks to our children, teachers, cooks for every meal and snack of the day, cleaners, workers, amateur pet groomers and hairdresser. Living day to day, rather than planning for the future, it's sometimes hard to find a lift in the mundanity of lockdown, so we take the simple wins when we can – a fresh coffee, a book recommendation from a friend, appreciating that we've been hoarding all that yarn for a reason, and the reassurance of nature's natural rhythm. We give thanks for our health, and think of those who are less fortunate, as we all journey on this emotional corona-coaster.
Usually at this time of year the SWW programme would have been launched and we would have seen a flurry of ticket sales, enquiries, extreme adrenalin rush and euphoria. Instead our SWW calendar is full of ghosts, but we are optimistic that all the hard work will not be lost and next year's event will be one to really look forward to.
Thank you
We wanted to start by saying a big thank you – the response we've had from you all has been wonderful  and really gives us a boost. So many of you have been in touch telling us what you're up to, sharing your knitting projects, including the #katieskep, or simply to vocalise your support. We've had some very generous donations to our Shetland Amenity Trust Local Giving page too, and for that we are very grateful. Your support means everything to us and will help us sustain this wonderful event and community into the future.
Due to the current situation we have an even smaller team than usual here at the Trust but we are working away on ideas that we can hopefully share with you later in the year.
However, we are delighted to let you know that we are planning for the Shetland Wool Week Annual 2020 to go ahead. Of course, the logistics of such a project under the current circumstances are far from straightforward, but where there's a will there's hopefully a way. If all goes to plan we'll be able to give you an update later in the summer, so watch this space!
In the meantime there are copies of the Annuals from 2017, 2018, 2019 available to buy.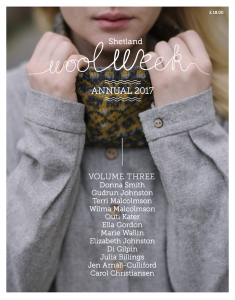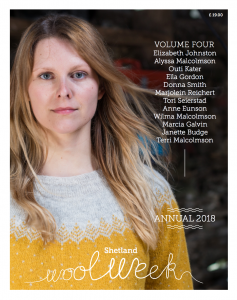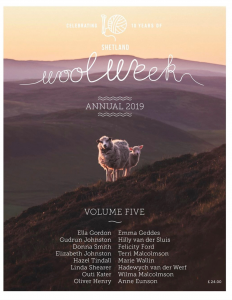 Spring in Shetland
Spring is firmly here which certainly lifts the spirits. Lambing is underway and we have been enjoying spotting the lambs on our daily walks as well as vicariously through various social media feeds. For lambing cuteness overload, check out the Instagram accounts for @garthscroftbressay, @barkland_croft in Fair Isle, @UradaleYarns, @janettebudge and Oliver Henry's @ooieollie.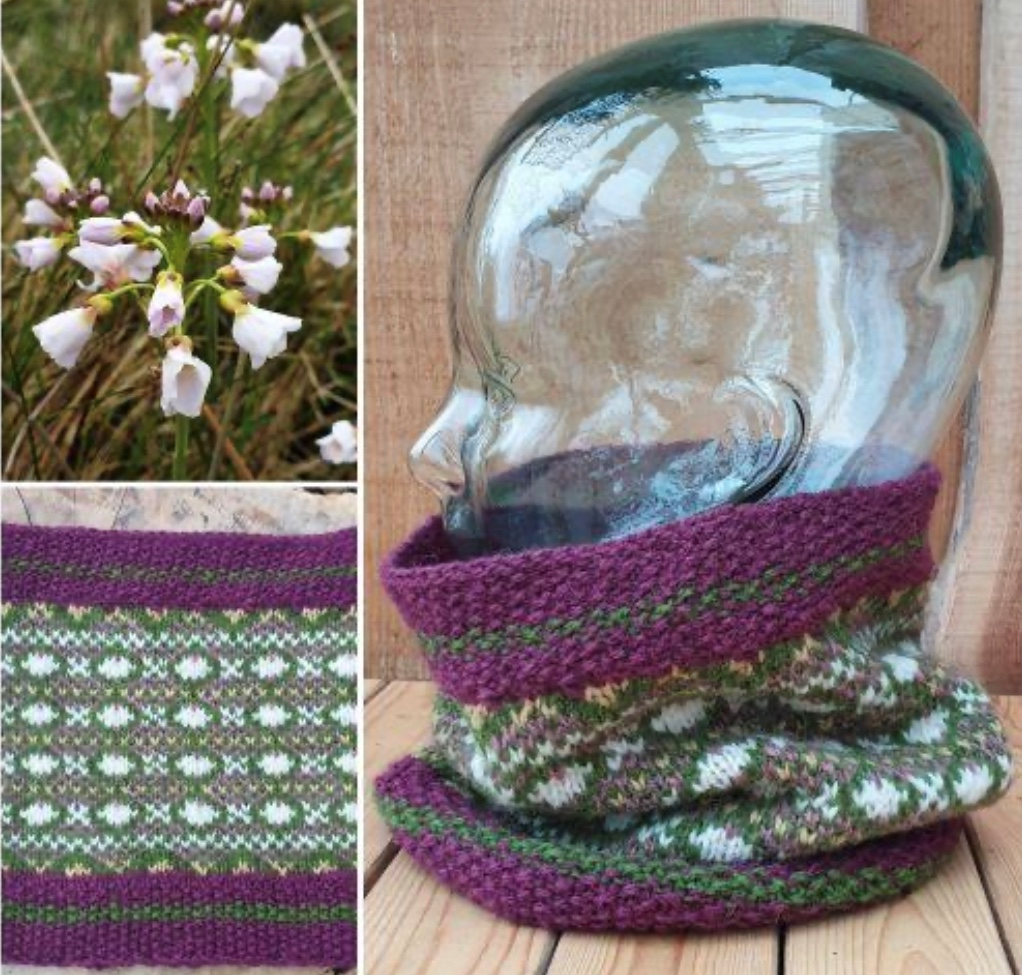 Wildflowers are coming through too, and whilst many of us are currently unable to access coasts and cliffs there's welcome signs of colour along roadside verges and pathways. Check out Shetland Amenity Trust's blog post on Shetland's wild flowers for what to look out for this spring. Recently Uradale Yarns launched a beautiful kit for their 'Fairy Cowl', the design was inspired by the Cuckoo Flower or Lady's Smock, which is just coming into flower.

Shetland Lace: Lace Veils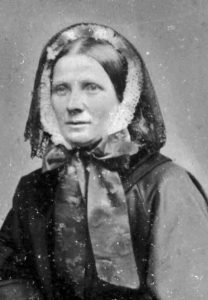 We share here the latest instalment from Carol Christiansen's lace blog.
This month the focus is face coverings – and lace veils, which seem particularly apt right now.
Carol writes about the Victorian lace face veils, for women and infants, and how they formed an important product in the Shetland lace industry during the 19th century.
Catching up with friends
We're missing all the social contact with our friends in the Shetland textiles community. We caught up with a few of them to ask them for their thoughts on the current situation.
Wilma Malcolmson, knitwear designer, SWW patron 2020 and tutor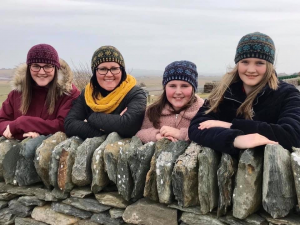 During this period of lockdown what do you miss most?
I miss my family. Seeing them at a distance is always something, but it is just not the same as having them round the table for a yarn. I also miss my friends, loyal knitters and all of the people who visit my shop. I am missing hearing their stories, where they come from, and what brought them to Shetland. I also miss being free to travel.
What woolly project are you working on right now?
I never struggle for motivation! I am currently putting the finishing touches to a new piece I have designed for an article in a Swedish magazine. I am also really enjoying the daily appearance of another Katie's Kep – the variety of colours people are putting together is wonderful!
A more unusual woolly project I have been asked to complete is to write an article for a national sheep magazine. My father would find that highly amusing as I showed very little interest in the practical sheep world when I was a child. So there is always something to keep me occupied.
Do you want to go back to the old normal?
I don't think it will be a question of going back to the old normal. Things have changed and we just have to get on with it. I believe you should 'count your blessings' and not focus on what you can't do. I hope we will all make more time for family and friends when the time comes and continue to enjoy the simple pleasures in life.
Helen Robertson, textiles designer, tutor and jewellery maker.
During this period of lockdown what do you miss most?
The thing I miss the most is visitors, both near and far. My favourite thing is to have friends and family along. I love when our kitchen table is surrounded with folk. I am very grateful to have all four of our children home at the moment as they fill the house with laughter. I am especially grateful for the extra time this has given us together as a family before the eldest leaves for Edinburgh University in the Autumn.

I will really miss the Wool Week visitors as I always feel as if I've been on a tour of the world after meeting everybody. I am very much missing running my Speedcrafting, Textile and Arts in Care workshops as they give me a real sense of community and connection and I enjoy them immensely.

Are you working on any woolly projects right now?
I have been trying out Kate Davies Milarrochy Tweed yarn using my Fiss Knit patterns and I've designed and made a fine hat.

With my new interest in gardening I am also designing and knitting a wire planter. Even with my new-found enthusiasm, I think I'll always be more of a knitter than a gardener!

I have so many finished and nearly finished patterns dating back 25 years so I'm delighted to have finally plucked up courage to ask for test knitters and to have sent out some patterns for test knitting. Home schooling does mean my designing and computer time is limited in new but enjoyable ways!

Do you want to go back to the old normal?
At the moment, this feels like a Pause and chance to sort and regroup. On a personal level I have enjoyed less driving and not being in so much of a rush. I'm enjoying the nesting that seems to be occurring with more gardening, baking and decorating. I am also delighted to see Vogue Knitting Live classes being offered online as it increases accessibility across the knitting community.

On a national level I hope that we finally realise the value of our true essential workers and that they are paid accordingly. I would love to see the end of Zero Hours contracts as I think if someone is insecure, then we are all insecure. On an international level I really hope that there is more cooperation between countries and a greater sense of common responsibility for fairer distribution of wealth.
Elizabeth Johnston, knitwear designer, spinner and tutor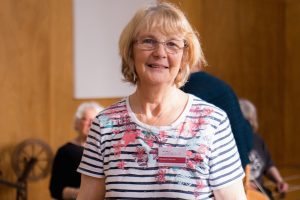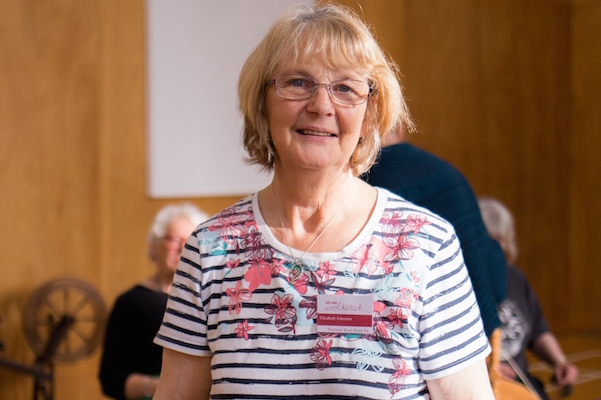 During this period of lockdown what do you miss the most?
I am missing seeing the grandchildren and cuddles from them, the small ones and the not so small, but I am also missing a teaching tour that was planned for April/May.
Are you working on any woolly projects right now?
Since the Wool Week Kep was launched, and for about the next six weeks, I will be spinning and dyeing yarn for kits for Katie's Kep. I had 150 order enquiries in three days so stopped taking orders after that.
Do you want to go back to the old normal?
The old normal would be good but with a cleaner, greener environment. Much of the world is seeing less pollution and smog right now and we need that to continue.
Chris Dyer, archaeologist and crofter at Garths Croft, Bressay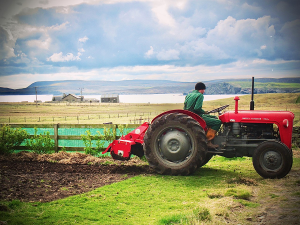 During this period of lockdown what do you miss most?
We are lucky in Bressay that we have superb history and nature on our doorstep for daily exercise walks. However, I miss visiting the nearby National Nature Reserve of Noss; the seabird colonies; archaeological sites … and cups of tea! The uninhabited island is staffed by two seasonal wardens who, between May and August, transport you by boat across the narrow stretch of water  –  unfortunately closed this year.
Are you working on any wool-related projects right now?
Late April/May is lambing so that has been the principal woolly project. The ewes go through so much hardship and tough weather during a Shetland winter that I always feel duty bound to do as much as I can to ensure a smooth lambing. This year we have been fortunate to have had lots of twins and a beautiful array of natural Shetland colouring and markings.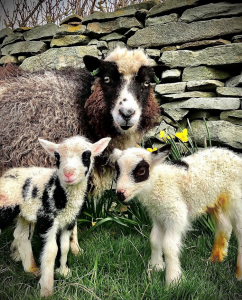 I have a sow in the maternity 'suite' and have also been building a traditional drystone enclosure to enlarge the garden and establish trees whilst planting fruit and vegetables – it's a busy time!
Do you want to go back to the old normal?
I sincerely hope to welcome visitors to the croft and indeed Shetland has so much to offer in terms of natural, textile and cultural heritage – when it is safe to do so. This time has given us a period of reflection and I feel has encouraged us to truly value our mental and physical health and our friends and family.
Donna Smith,  knitwear designer, tutor, and producer of naturally dyed Langsoond Yarn.
During this period of lockdown what are you missing most?
I really like being at home, and only go 'out to work' two days a week, but I am missing meeting up with friends and going for coffee or lunch at one of the Lerwick cafes. I also miss not being able to drive somewhere else in Shetland and go for a long walk.
Are you working on any woolly projects right now?
I found it hard to get motivated in the beginning and really hard to concentrate on anything. As it became likely that there would be few or no tours or visitors this year, I have had to adapt to a different way of working as I rely heavily on the tours for my income. I have been trying to concentrate on some new patterns, I have almost finished working on a new stole and scarf pattern which should be released soon and I will have some other things available within the next few months.I have also been dyeing Langsoond yarn with plant dyes; I have become fascinated at the colours you can achieve from plants and how they all blend together although they have been dyed with different materials. I have been busy getting the yarn ready to be sold online and am hoping they will be available this coming weekend.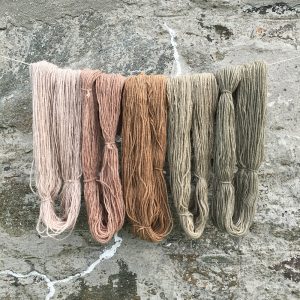 Do you want to go back to the old normal?
I have enjoyed being at home more, before there always seemed some place to go, somewhere to rush to. I would like to continue with that more. I have also been much more aware of how much I spend and have been questioning whether or not I need something before I buy it. As well as that I am thinking about where my food comes from and have been spending time planting vegetables and creating no dig beds for the seedlings. There is a large yard here on the croft that was used for growing all the food for the family. I have cultivated it before but had left it to grow over a few years ago. I always have a dream of being more self sufficient and this time has really made me look at whether or not I can use what I already have. In fact, I have just written a blog post about what I produced from a bag of dandelions. That's certainly a mindset I want to keep.
Janette Budge, Shetland knitting designer and tutor
During this period of lockdown what are you missing most?
Like many I'm sure, my family, particularly visiting my parents. They have lived in the same house all my life while I was growing up and beyond. The rural area they live is so beautiful with a long voe surrounded by hills, especially with a sunset. It is these views, these people but the whole experience of food, chatter and a visit next door to my brother his wife and young family.  So that will be my first trip when lockdown eases.
Are you working on any woolly projects right now?
Yes many, often at the same time. I've knitted my second pair of socks, ever! A Norwegian hap, 'Katie's Kep', a DK beanie I'm designing, a pattern commission and lately a rainbow cowl for a strainer post at the end of our road.  Last, but not least, I finished a lamb jacket I started 2 years ago! It was inspired by Outi Kater's dog jacket.
I often found it hard to design knits at the start of lockdown.  It was too difficult for my head to make choices, so I enjoyed knitting a couple of things from Norwegian designers I know and following a pattern, which is something I rarely do.  As the threat of the virus decreases my designing mojo has returned again.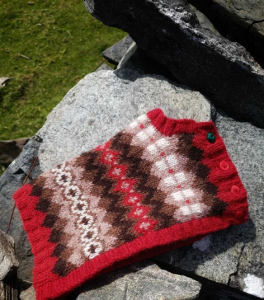 Do you want to go back to the old normal?
Not exactly, there is much that is the same as before, working from home, cooking etc.  But I have really enjoyed the time and space to watch, notice and enjoy the detail of the changes in nature. Spring is such a great time to witness the changes.  A new roadside flower here, another stalk appearing on the rhubarb there and listening to a bird song you haven't heard in months. It has brought me both pleasure and peace through an uncertain time.
RECIPE: Treacle Bannocks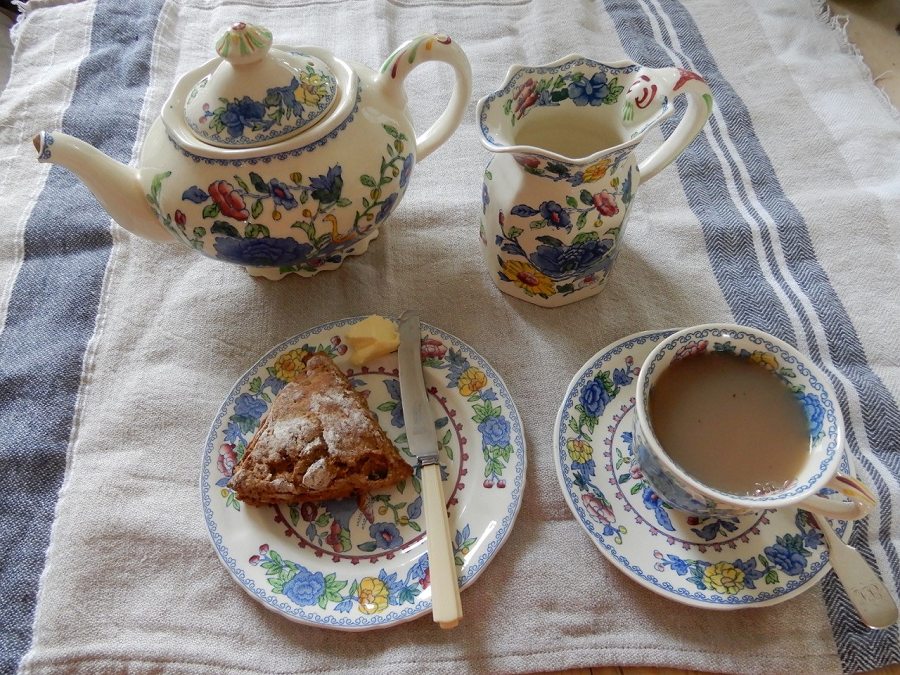 No Shetland Wool Week is complete without the obligatory teas and homebakes. Bannocks in particular are a classic. Typically, you might eat them with soup, but we've heard that Wilma Malcolmson makes treacle bannocks, which are a bit legendary – and she serves them to a lot of her visitors. When Marian Armitage of Taste of Shetland wrote her book 'Shetland Food & Cooking' she included an updated version of the recipe – making it more fruity, treacly and spicy. We're delighted that Marian has shared it with us. Enjoy.
Ingredients:
500g self-raising flour
2 level teaspoons baking powder
4 level teaspoons spice: ideally, ground cloves, nutmeg, cinnamon, mixed spice
50g butter
150g raisins
1 egg
½ pint (10g/fl.oz) milk
1 level tablespoon (25g) sugar
100g treacle (about 4 dessert spoons)
Method: 
Preheat the oven to 220°C.
1. In a small bowl, lightly beat the egg with about ¾ of the milk.
2. Sieve the flour, baking powder, spices and sugar into a large mixing bowl and rub in the butter. Add the raisins.
3. Make a well in the centre and add the treacle and egg/milk mixture and mix with a knife.
4. Add more milk to make a soft consistency.
5. Roll out lightly to about 2 cm thick.
6. Cut into triangles and bake in a hot oven for 15 minutes.
7. Cool under a tea towel.
8. Eat warm spread with Shetland butter.
*NOTE* This recipe freezes well too so are perfect to be made ahead of time.
If you're interested in Shetland ingredients and produce give Taste of Shetland a follow on their facebook and instagram pages. And if you make this bannock recipe they'd love to see your results.
'My corona circuit'
As we're currently limited to walks within short distances of our homes, we thought you might enjoy virtually experiencing someone else's. We invited Mike Finnie, artist and illustrator of Red Houss Shetland, who lives on the isle of Burra, to share his daily walk with us.
My (almost) daily covid walk starts from my house and I don't even need to touch tarmac if I cross the fence into my neighbours' field. I stop next door, to ask if Lily wants to go a walk – she always does.  Lily is a 12ish year old sheepdog. I have to say this is not my 'must do' walk on Burra but the Kettlaness peninsula walk would be a 10 mile round trip from home and I don't think my paws or Lily's would be up for that on a daily basis.

So we set off round the coastline and cross the Ayre Dyke (a pebble beach) which takes us onto a peninsula where the real part of the walk begins. We had a bad start on day one – we headed down the rough track on the west side of the peninsula and returned up the east side. This is totally against the convention that Shetlanders will always go sungaits (with the sun). To do the opposite brings bad luck, but we survived.

Having established our normal route, partly determined by Lily and based on the locations of rabbit burrows, we head uphill to the highest point of the peninsula. That is now the traditional stop for the first piece of a doggy chew. I sit on the boulder on top of the hill while Lily chews. From that point there's a 360 degree view with the spine of hills on the south mainland to our east and Fitful Head and sometimes Fair Isle to the south.  Fair Isle is 36 miles away so weather determines if it can be seen or not.  To the west lies the spectacular profile of Foula on the western horizon. It was here, on one of the earlier walks that we sat and watched the sunset. It was the first and only time that I have seen the 'green flash' when the last of the sun dips below the horizon.

Onwards and downwards we go towards the line of small beaches below cliffs.  But before that there is the place where the otter lives. Lily has a thing about otters in a friendly way. In an earlier encounter with a sleeping otter she licked his face. He ran away bemused. We've only seen the otter once when we have been walking but Lily can tell me that he or she is always around. Only one of the tiny beaches is easily accessible and we sometimes stop there but Lily's interest in sand and pebbles is less than mine so we usually move on.

The east side of the peninsula is slightly more sheltered than the west and this is where we started to see the first of the wild flowers appearing, first some scurvy grass – don't get excited, it's quite a dull thing. Then violets started to appear, incredibly tiny, as most plants are on the windblasted peninsula. After that new flowers appear almost daily, including the primroses which cover an inaccessible grass covered slope on the east side.  A bit south of the primroses there's a geo with a cave where men hid to avoid capture in the days of the press gangs. I'm told it's there but I'd need to be on a boat to see it.

Continuing south we reach the cliffs stacks and caves at the southern tip of the island. We continue around the clifftops with me trying to keep Lily away from the edges where there are more rabbit burrows.  Looking south we are close to the island of South Havera with the distinctive tower of a windmill on the highest point.  Havera is my favourite Shetland Island, unoccupied since the 1920s, the ruins of the cluster of houses remain on the cliff edge.

Heading north again, up the west coast new flowers appear, moss campion first followed by sea pinks, their buds just about ready to burst open.  The west side is lower with a rocky shoreline and is more accessible than the east so I keep my eye open for interesting things washed up on the rocks. I've carried home a few buoys and floats as well as sea urchin shells and interesting stones. We arrive at Symbister, the ruins of three crofthouses on a patch of good green grazing land – an ancient site with three burnt mounds. One is certainly a big burnt mound, of the other two marked on the Ordnance Survey map one is a gentle green hump and the third is a stony hummock.

Sometimes we take a more direct route to Symbister. We head over the centre of the headland, which in the earlier days was were black backed gulls congregated. Later as bird migration got going two pairs of bonxies (Great Skuas) and a few days later a pair of Scooty Allens (Arctic Skuas) arrived. At Symbister there is a houb (a muddy shallow inlet) sheltered by a pebble beach. But we don't go there with Lily as it's the nesting site of many seabirds, including tirricks (Arctic Terns). These amazing birds arrive in the first week of May having flown from Antarctica. Folk hereabouts look for the tirricks arrival with some excitement. Just don't go too close as they have a habit of dive bombing you and their beaks are sharp! Likewise the formidable bonxies which fly towards you at head height.

The walk back from here joins the old track from Symbister, a fine dry walk if you avoid a few muddy patches.  Now both myself and Lily know every part of the route like the back of our hand. I reckon that we've done the same walk about 40 times since lockdown started on the 24th of March. The walk is about five miles if you include a few detours to see something interesting. In that time we've only seen a group of four other people walking together on part of the route and one man on a quad who was repairing fences.  We didn't walk on the snowy day in May and we missed out a few a rainy days. Lily hasn't much concept of lockdown so I think the Houssness walks will have to continue when restrictions are eased – but I might sneak away to Kettlaness on my own.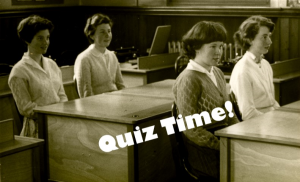 And finally we thought we'd include a short textiles quiz that we've put together to test your knowledge of Shetland textiles. We're sure you'll get top marks, but if you don't, you'll have learnt something new! If it's popular, let us know and we'll do more..
You can find it here
Yarn Shops
Remember many of our Shetland yarn shops are still contactable online. Due to the exceptional circumstances there may be delays in deliveries, but please show your support by considering them for your wool purchases.
Terri Malcolmson is running a series of online classes. She has several lined up for next week covering Swatching; Design a Crown and All About Mitts. Take a look at her website to find out more. Hazel Tindall is offering 50% discount on two instructional downloads until the end of the month.
We know that other SWW tutors are starting to plan online tutorials and we'll share this information with you as soon as we have it.
On that note, we wish you all well. Stay kind, stay healthy and stay in touch.