Summer update and new classes announced
A warm and woolly welcome to July! It seems hard to believe that we've reached summer. The weather in Shetland remains predictably unpredictable and sometimes it's felt closer to autumn; but the schools finished last week, the summer holidays are here, and we're looking forward to freeing up some time to soak up Shetland's long summer days and get outdoors and explore. We're just not ready to put our woollens away quite yet.
In this bumper newsletter we're announcing additional events and classes during Shetland Wool Week; final orders for the SWW 2019 Membership, an update on the MRI Maakers Appeal and #harrietshat, as well as an interview with local Whalsay knitter, Linda Shearer.
Additional SWW tickets
Tickets will be released via the Shetland Wool Week Little Box Office on Tuesday 18 July at 14.00 (BST).
TALKS
A Journey with Shetland Oo with SWW Patron Oliver Henry
(Balcony seating)
There are an additional 50 spaces available for Shetland Wool Week Patron Oliver Henry's Monday night talk. Get an insight into his work, collaborations and projects that have spanned 50 years in 'Shetland Oo'.
Date: Monday 30 September, 7.30 – 9.00pm
Location: Mareel Auditorium (Balcony seating)
Price: £6.00
TOURS
Westside Tour: Ponies, Sheep, Shetland Sheepdogs and Art Gallery
Enjoy a guided scenic tour of the westside and visit Marion at Tresta, with the family's ponies, sheep and Shetland sheepdogs.
Date: Friday 4 October,  09.30am – 12.30pm
Location: Pick up from Shetland Museum & Archives Car Park, Lerwick
Price: £48.00
Tour Around a Bressay Island Croft with Chris Dyer
Morning tours with lunch
Late Afternoon Tour (without lunch)
Take a 5-minute ferry trip to the isle of Bressay and join local crofter Chris Dyer on an exclusive walk through the agricultural year in Shetland. Chris will be putting on three extra tours on Thursday 3 October as well as increasing his capacity for all the other days. That's an additional 132 spaces!
All transport is included. Just turn up at the Lerwick to Bressay Ferry terminal and Chris will take care of the rest.
The two morning tours include lunch but the afternoon one does not, which is reflected in the price.
Dates: Saturday 28th September – Sunday 6th October
Classes:
Fancy trying something different? Join local glass artist Cheryl Jamieson for a chance to make Fair Isle patterns in glass. You will make either one large hanger, or two small ones, using sample patterns or bring your own.
Date: Monday 30 September, 10.00 – 13.00
Location: Lerwick Boating Club
Cost: £85.00
Shawl Pin Whittle Workshop
Cecil Tait of Paparwark will show how to hand-make a beautiful, simple timber shawl pin brooch using knives and chisels. Unlock your inner whittler! Participants will design and make a wooden shawl pin in decorative timber to take away with them.
Date: Wednesday 2 October, 14.00 – 16.45
Location: Bigton Community Hall, Bigton
Cost: £45.00
Dorset Buttons with Tania Ashton Jones
Learn how to make buttons from your leftover ends of wool to embellish and add a personal touch to your handknits. Using Shetland wool, start with the famous Crosswheel design and explore stitch variations to design your own.
Date: Wednesday 2 October
Time: 10.00am – 1.00pm
Location: Shetland Museum and Archives, Hay's Dock, Lerwick
Cost: £50.00
Beginners' Fair Isle with Janette Budge
If you're new to Fair Isle or stranded knitting, this three hour class with Janette Budge is for you. Janette will guide you through how to attach new colours, how to carry your yarn at the back, achieve an even tension and tips on how colour choice and pattern.
Date: Thursday 3 October, 14.00 – 17.00
Location: Shetland Museum and Archives, Hay's Dock, Lerwick
Cost: £50.00
Open Studios
Bressay
Open Studio and Sale: RAM Knitwear
Hop on over to R.A.M. Knitwear design studio in the old Bressay School on the island of Bressay and view machines a plenty as well as numerous woolly wonders for sale.
Date: Saturday 28 September – Sunday 6 October, 12.00- 16.00.
Location: Bressay School, Bressay
Cost: FREE
Yell
Date: Saturday 28 September – Sunday 5 October, 11am – 5.00pm (Sundays 2.00 – 5.00pm)
Location: GlobalYell, 4 Sellafirth Business Park, Yell
Cost: Free
Open studios at GlobalYell, weaving centre. Try your hand at a loom or look through the reference collection and library.
Westside
Morwenna Garrick Open Weave Studio
Date: Wednesday 2 October & Friday 4 October, 10.00 – 17.00
Location: Morwenna Garrick Studio, Melby, Sandness
Cost: Free
Head out to Sandness on the west side of Shetland to visit Morwenna in her little weave studio. You will find a colourful and contemporary range of scarves, 100% Shetland Wool blankets, cushions and more, which will be available to purchase.
Bigton Events
A Crofter's Life in Shetland: Film Night and Meal
Date: Friday, 4 October, 6.00 – 9.15pm
Location: Bigton Hall, Bigton
Cost: £35.00 (without transport)
20 additional spaces have been made available for this film night and meal. Enjoy a hearty two-course meal with a choice of local beef or lamb from Bigton Farm. The meal will be followed by the Jenny Gilbertson film 'A Crofter's Life in Shetland' (1931) and a Q&A session with her daughter Ann Black.
The following classes and events also still have spaces available:
Plying Techniques with Asita Krebs
Contemporary Fair Isle Textiles Printing Workshop
Quotidian Colourwork with Felicity Ford
Collaborative, Commemorative Colourwork with Felicity Ford
Knitsonik Bunting: Shetland Edition with Felicity Ford
Shetland Knitting Belt and Raepin String
Branding for Creative Businesses with Gail Turpin Designs
Talk: The Wayward Path of a Lawyer Turned Knitwear Designer with Niela Kalra
Evening Talk: Behind the Scenes of the UK Knitting and Crochet Guild
Evening Talk: Shetland Designers Inspirations and Collection Launch
Last chance to buy Shetland Wool Week 2019 Membership
Thanks so much for all your support with this year's SWW membership.
Here's a sneak peek at the goodies on offer, which are exclusive to Shetland Wool Week 2019 Members.
We've picked up on Oliver Henry's Roadside Beanie design and the glorious sheep, and chosen a bold blue to brighten up your day and reflect the colours of Shetland seas and fishing boats – both of which feature in the Roadside Beanie design. Also, the 10 sheep on the bag represent 10 years of SWW.
Ecoffee Cup: 8oz/250ml coffee cup

Project Bag: Medium sized cotton project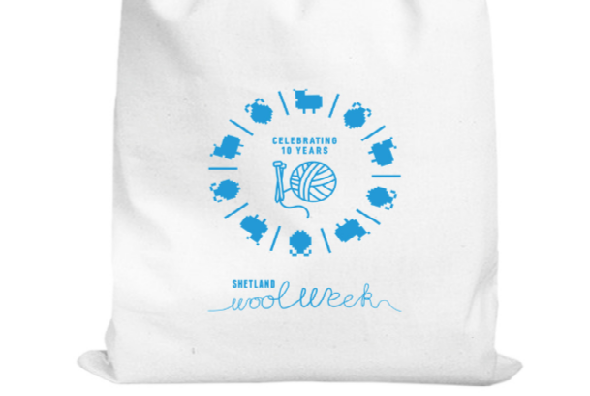 Candle: Rocksalt and Driftwood Mella Handmade Candle
The deadline for final orders for premium membership is Sunday 14 July.
Cost: £26
Please note, you can either select 'Click and Collect' and pick up your items on arrival at Shetland Wool Week, or chose the postage option. We will not be mailing out gift items until Shetland Wool Week.
Shetland MRI Scanner Appeal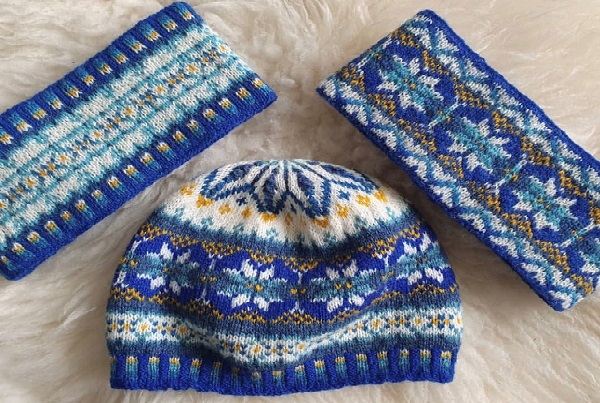 If you follow us on social media you'll see that we've been supporting the fabulous initiative by the MRI Maakers, which is focusing on their love of knitting to raise money for the Shetland MRI Scanner Appeal, which has a target of £1.65 million.
They have designed a Fair Isle hat pattern, 'Harriet's Hat' which is inspired by the colours  on the Shetland MRI Scanner logo. Copies of the pattern are available to buy for £4 (either as a PDF or a hard copy) and all proceeds go to the Appeal.
Jamieson's of Shetland  and Jamieson and Smith are also selling a kit containing all of the wool shades required along with a hard copy of the hat pattern.
If you would like to find out more or support the appeal by buying the pattern, visit their online shop.
We're looking into how we can link up with appeal during SWW, so watch this space for updates.
There have already been a number of generous donations to the appeal including international knitwear designer Marie Wallin who will be donating £1 from the sale of every copy of her new book 'Meadow' which will be launched during the autumn.
Latest Shetland Lace blog post
The latest blog 'Ready, Set, Click' on the Shetland Lace Assessment project is up. Find out about the trials and intricacies of preparing for and photographing such a broad range of lace knitwear.
My Day in Stitches: Linda Shearer
This month we spoke to Linda Shearer, who is Chairperson of the Shetland Guild of Spinners, Knitters, Weavers and Dyers.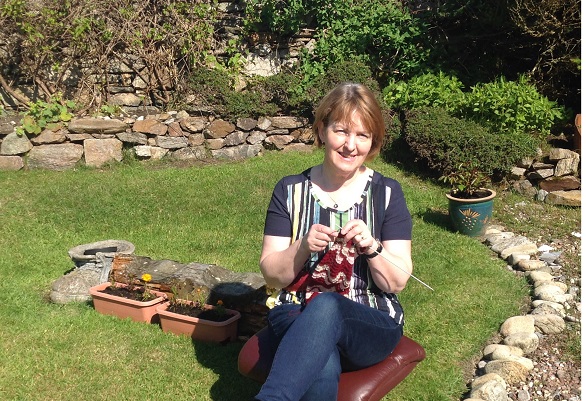 Linda was born and brought up in Whalsay and still lives there. Both her parents are from Whalsay, her dad was a fisherman all his life, and while Linda was small her mum knitted to help supplement the family income. Linda's mum taught her to knit at an early age, and she remembers knitting baby bootees and doll's clothes to start off with and then more intricate Fair Isle items with a nine-row pattern, some of which were sold alongside her mum's.  Linda knitted her first Fair Isle gansey when she was just 14, and she remembers it distinctly with its pink and white colours.
Now married, with five grown up adult children including twins, she has two young granddaughters. None of her children are knitters, but her three-year-old grandaughter is showing some interest, and already has her little bit of knitting! Following early retirement from her job as a Learning Support Worker and Early Years Assistant last summer, Linda is finding the time to concentrate more on knitting related work and being a granny.  She also tutors through Adult Learning, Shetland, and during Wool Week.
Why do you knit?
I love knitting and can't imagine not being able to do it – I knit mainly for pleasure, but sell a lot of what I make. I also knit for my family, especially the grandchildren.  I like entering competitions too, like the County Shows
Where and when do you usually knit?
Most of my knitting is done at home – I sometimes take up a whole sofa much to my family's despair!  However, I will take my knitting anywhere – if it's a calm crossing on the Whalsay ferry, I will knit.  We have a knitting group which meets each Friday afternoon through the winter at the Whalsay Heritage & Community Centre – that's always fun, and we help each other.  It is also a good opportunity for the PeerieMakkers to join us too
How does your perfect day shape up?
Perfect day – would be a lovely sunny summer's day in Shetland. There are lots of interesting places to see right on our doorstep. If I was going to the mainland of Shetland, of course I would bring my knitting with me and knit on the ferry from Whalsay. The west side of Shetland is quite beautiful; myself and a friend went there a couple of summers ago – we stopped off at Bonhoga in Weisdale and had coffee and cake, then we went right out west to the Gairdins of Sand. I had never been before and was blown away with how pretty it was
What's on your needles right now?
I think I have three projects on the needles at the moment – I began a large Shetland lace shawl a while ago, but had to lay it aside to get on with other things – I think it will probably take me a while to complete. I am also knitting a child's Fair Isle cardigan in bright colours.  I think I'm on the second sleeve so not too far to go. However, I have put that aside too so I can concentrate on Wool Week preparations. I tend to leave things for the last minute, but this year I have decided to be on the ball!  I am tutoring two classes this year, one on beginners Shetland lace, and one on Fair Isle tams.
What's been your most challenging knitwear project to date?
The most challenging knitwear project to date for me is probably the Curlew hat I designed for the RSPB.  It took a few patterns and hats before I was pleased with the outcome.  Also, as I am still a novice at writing patterns, that part took a while
What inspires you?
Inspiration is a question knitters get asked a lot – I find it quite difficult to answer.  However, I feel most of my ideas come from other Fair Isle designed garments.  I often find myself staring at people wearing Fair Isle and thinking "Yes those colours blend well, or I like the way that pattern is done." At the last count, I think I have 58 knitting books, so sometimes I have a look among them for motivation.   I do sometimes look at the Shetland landscape and sea and get some inspiration from those too, I especially love the colours of the heathers when they are in bloom
Neutrals of colour?
I do like the natural colours, but I seem to mainly use colour in my knitting. I like blues, purples and reds best.
Do you get involved in local events or community groups?
I do get involved in local and community events. During 2016 and 2017 I joined two other keen Fair Isle knitters and we set up a huge Fair Isle knitting display in our Heritage & Community Centre in Whalsay. We called it 'Fair Isle Knitting through the Decades'.  It was very successful and generated a lot of interest and revenue for the heritage centre.
I have been a steward in the knitting section at the Voe Show for many years now.  I really like being part of the team – I especially like the annual colourbox challenge, which involves knitting garments using eight chosen colours from Jamieson & Smith.  Some years the colours are not easy to work with, but then it wouldn't be a challenge if they were.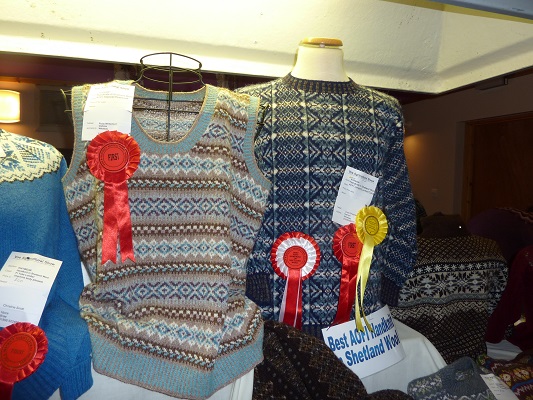 I often volunteer with the Whalsay PeerieMakkers which is so worthwhile.  It is really good to see the interest these young ones have, and I feel it is so important to help and encourage them.  We must keep our heritage alive.
I have been chairperson of Shetland Guild of Spinners, Knitters, Dyers and Weavers for 3 years now.  Our group meets once a month, except for January and August, and we share ideas, have speakers, demonstrators etc.  Something that has become an annual event is inviting the PeerieMakkers to join us for one of our month's meetings.  At the moment we are supporting the Shetland PeerieMakkers crowdfunding project by knitting headbands as a gift to people who donate large sums of money which will help set up even more groups.
As well as tutoring during Wool Week, I also offer knitting classes through Adult Learning, Shetland.  I have been doing that since 2012.
Favourite Shetland dialect word and why?
One of my favourite Shetland dialect words is 'stramash' which means commotion or turmoil.  I often find myself in a stramash when I am trying to sort out yarn – boxes and bags are everywhere!
What's your favourite thing about Shetland?
My favourite thing about Shetland is it's a safe, friendly and beautiful place.  You are never far from the sea, the air is clean and if I'm away on holiday for a week or two, I always look forward to coming home again.