Shetland Winter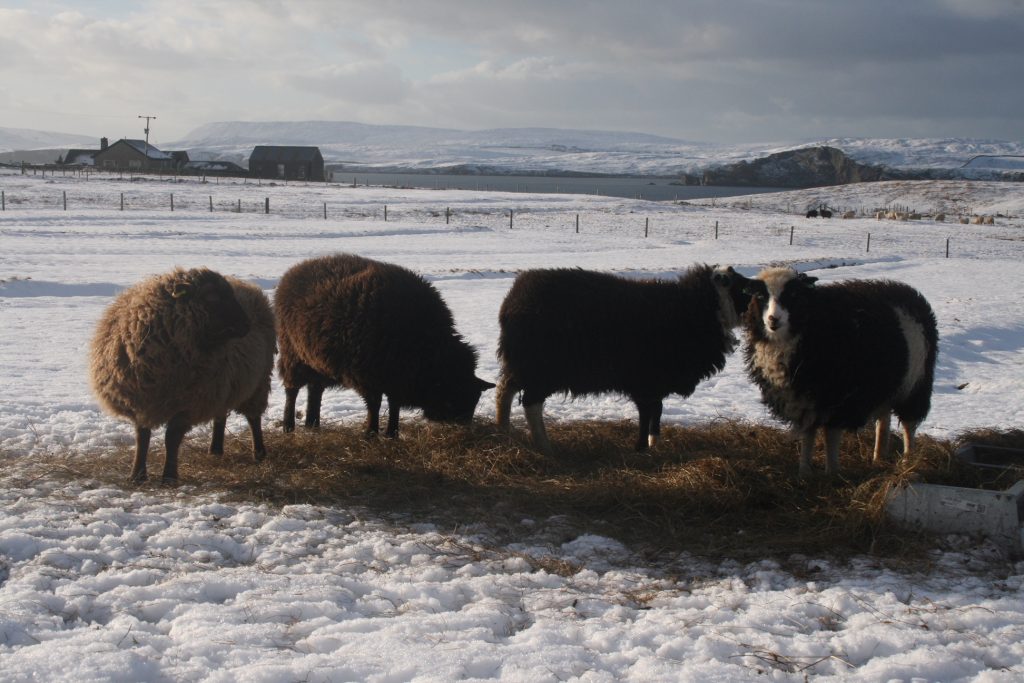 It's literally days before Christmas and we're getting in the festive spirit. Amid the flurry of school concerts, social events, last minute work deadlines and a few glasses of mulled wine along the way, we're edging towards the holidays. We've been battling against Storm Deidre over the weekend, and the days in Shetland have been dark and short. Sometimes it's hard to find the motivation to get going and the worry of a glitter topped Christmas seems unattainable. But we are not chasing perfection, and instead see this as a time to tie up loose ends, reassess and look forward to those moments connecting with friends and family.
The great outdoors beckons, too, and while the wild winds can make getting outside a challenge, the weather also throws up magnificent seas and views that invigorate. After a blustery walk there is always the added incentive to get back home, cosy up with woollen projects, and begin on plans for future ideas and trips.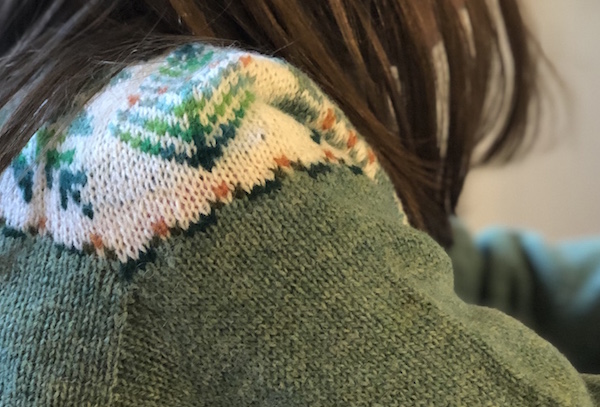 We are all for celebrating Christmas, fun, and laughter, but, like many, are choosing to reject the throwaway culture that often surrounds the season. We loved reading Hazel Tindall's blog and her views on Christmas Jumper Day and fully support the alternative idea of a 'favourite jumper' that can be wornthroughout the year. A #lifetimegoal was achieved recently when Victoria managed to snap up one of Ella Gordon's precious jumpers from her Vintage Collection. We've been eyeing it up for years and were drawn to the brilliant greens and tree of life pattern. It's a little small, so has been gifted to a young lover of Fair Isle, and has already been worn, admired and been a talking point in the classroom. Who needs sequins and a light up Rudolph nose after all?

This has also been the season to celebrate the many talents of others living in Shetland. Back in November, straight after Shetland Wool Week, we enjoyed the Shetland Arts and Craft Fair.What an inspiring weekend admiring the work of talented makers, many of whom have other jobs, families and commitments that all have to be juggled. A visit to the newly opened V&A Dundee was also a highlight (and a great place to visit if you are heading for the ferry at Aberdeen). Set on the River Tay, the impressive architecture presents endless photographic opportunities. Inside it was wonderful to see Shetland's contribution to the Scottish Design Relay as well as the display of Fair Isle patterned knitwear and a lace shawl in the Scottish Design exhibition, which features around 300 exhibits.
Shetland Wool Week received some great coverage in the press this year too. The New York Times featured the isles and the festival on the front page of their Travel section. Juliet Bernard visited Shetland Wool Week and wrote about her experiences in The Knitter (Issue 132), saying "It is so hard to capture the whole experience in a few words, but the welcome we received from Shetlanders was so incredibly warm. They were more than happy to share their skills in an informal and generous way, which completely bowled me over. I learned so much, both in and outside of the workshops." There is also a brilliant feature on Wilma, Terri Laura and Alyssa Malcolmson.
Fruity Knitting also joined us and over the past months have shared some fantastic podcastsbased on their time here, where they caught up with various tutors and personalities from Shetland's textile and crofting community.
Lace Project Begins
There have been exciting developments at Shetland Museum as they have begun their Lace Assessment Project. The 400+ knitted lace objects are part of the Museum's large Textile Collection, awarded the status of a collection of national significance in 2013. The project is being generously funded by Museums Galleries Scotland's Recognition Fund. The two-year study will review, assess condition and design, and digitally photograph each piece in the collection, from simple scarves to a black cocktail dress. Designs of a unique character are being selected for charting and samples will be knitted,to be used as a handling collection for researchers. The individual motifs chosen for charting will be compiled in a publication at the end of the project. The Museum team will keep you abreast of progress, special discoveries, and stories about knitted lace on the project blog. It's a fascinating project and we hope you'll be keen to follow developments.
The Lace Assessment Project developed as the obvious successor to in-depth research on the Shetland lace industry by Roslyn Chapman, School of Humanities, University of Glasgow, in partnership with Shetland Museum and Archives. Dr Chapman's PhD thesis is now available online, check our Lace Project blog for further information and download link.
My Day in Stitches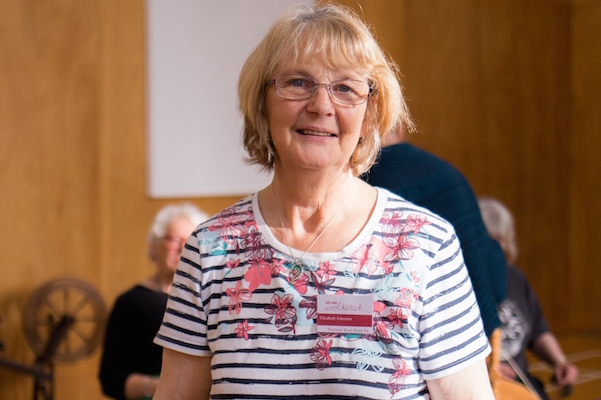 This month we caught up with Shetland WoolWeek 2018 Patron, Elizabeth Johnston to find out more about her work. Born in Shetland to a Shetland family, she has always lived here and can't imagine being anywhere else. Her mother's family is from Cunningsburgh and her father's from Sound, which is on the outskirts of Lerwick. She grew up in Lerwick butspent many weekends and holidays working with croft work at both Cunningsburghand Sound. She worked in finance, but knitting was always work as well. She hand knitted as a teenager, mostly Fair Isle yokes, and she later did machine knitting and finishing. Knitting was always a good second job. Now hand spinning ,hand knitting and natural dyeing, and teaching these skills as well as weaving is her main and only job.
Why do you knit/spin/dye/weave?
The answer to that question is – I have no idea. I have always knitted, and I think to begin with I just wanted to do what the adults were doing, and in the evenings that was knitting. As children we learned to knit garments. The first I knitted were children's mittens, and whenI could knit them well enough, I sold them. Having earnings from knitting was an incentive to knit more. I saw spinning as a child and always wanted to try. When I did start spinning I was just hooked, it is very addictive. Dyeing was just an extension of that, and the colours from natural dyeing are so easy to work with. Weaving for me is on the warp-weighted loom, and that came from an interest in Shetland's long and continuous textile history, with much of that being weaving on the old loom and with spindle spun yarns.
Where and when do you usually spin/knit?
All day, every day, anywhere, anytime…it is full time work for me. But maybe not on Sundays.
How does your perfect day shape up?
A typical day for me starts with preparing fleece for spinning. What needs to be done will depend on whether I am starting to usea fleece or if I am part way through spinning a fleece. Fleece need to be skirted, graded, teased, then carded. After a couple of hours of fleece preparation I should be ready to spin for the rest of the day. I have to take a break through the day to check and answer emails and check social media, but otherwise I would spin through the afternoon. Knitting is more of an evening job, and the perfect knit would be a hap which I can knit easily whether a visitor stops by or I watch agood film on TV.
What are you working on right now?
Winter time is when I get most of my spinning done, so right now I am spinning to get stock levels up. It is, however, good for the soul as well as the body to have some knitting to do as well, for a bit of variety. And as we all know there has to be more than one knitting project on the needles. I have just finished an allover waistcoat, a commission in my handspun yarns. Then there is a shawl which I have been working on slowly for a few months, and writing the pattern as I knit. The pattern is copied from a shawl which was knitted about 70-80 years ago so the pattern will have a little story with it. I have a Fair Isle throw almost finished, a sample for one of the colourways of my Fitful Head cushion and throw pattern. And, as it is December, I am knitting a few slouchy toories for grandchildren for Christmas presents. I might write the pattern for those for next year. They are knitted in one colour but with a 2-coloured rib where you can play with colour. I am also working on an idea for a different style of shawl, which will perhaps have a jumper or waistcoat to match. If the design works I will write the pattern and perhaps have it ready for Edinburgh Yarn Festival in March.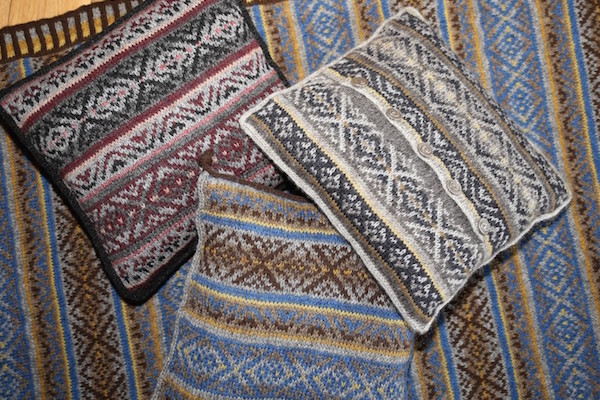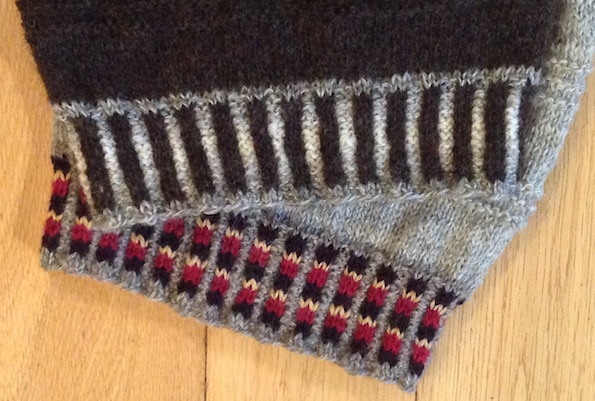 What has been your most challenging knitwear/spinning/dye/weave project to date?
… that has to be my Lunklet Jacket! The first one was a very satisfying knit. The problems started after having it at EYF in 2016. I displayed it as a sample of my handspun lace yarns, where we were repeatedly asked for the pattern. My sisterwas with me on the stand and her response to being asked was– no, sorry, it is in her head, – and that was how it was knitted, straight out of my head. That is how we design and knit. So I changed that response to – no, but the pattern will be here next year. I did not think of the difficulties of writing the pattern as I had knitted it, as a complete garment with no seams, and writing for different sizes. Of course I did have a year to figure it out, but then I did not start working on it till January the next year. That meant that the pressure was on to complete it. It took time but I completed the task and the pattern has been very successful.
What inspires you?
Now that is a hard one. Mostly I am spinning,and spinning natural coloured Shetland fleece. When choosing fleece I am looking for soft fleece in a range of greys and browns. Often a fleece will just say I have to take it – it is just the look of the fleece. From those spun yarns I will choose some as base colours to over-dye with natural dyes to get a range of colours which will shade. Inspiration should be involved with choosing colours for Fair Isle and Lace garments, but it is really just those colours that are my inspiration, if I could call it that. I will see two colours that appeal to me, that look good together, and to that first two colours I will add more to give a 'mood' to a colour scheme. Very occasionally I will have something that does inspire a design, as with the Shoormal Neck Shawl pattern. In that it was a beautifully coloured high tide line on the beach, the line that we call -shoormal.
Neutrals or colour?
I don't think of neutrals. I would think naturals (which are all those greys and browns in our fleece) and colours. For me it has to be natural fleece colours – and blue – you almost can't get a better colour than blue. In the past we did have a natural blue fleece, called 'blaegit', which translates to 'blue'.
What has being SWW Patron meant to you?
It was a privilege to be asked to be Patron, and perhaps a bit daunting to be the face of Shetland Wool Week for a year. A photo of my hand spinning were on the front of the catalogue and there was a photo of me with a message inside as well.That and the hat pattern made me quite visible – something I don't think I ever am (but apparently I am wrong!). I did enjoy talking to visitors during Wool Week and seeing all the hats that were knitted, seeing the different colours people had used, and quite a few in my handspun yarns. There are still hats being knitted with photos regularly coming up on social media.
Favourite Shetland dialect word and why?
Oh, there are so many good Shetland words, it is such a descriptive dialect. If I stay with spinning then I could choose 'hesp tree' which is a niddy noddy, or 'sweerie box' a lazy kate, but my most favourite word would have to be 'hentilagets'. As a child we were sent out to gather hentilagets. Some are now gathered by visitors to Shetland and there are always some Wool Weekers who come in to my classes with a pocket full of hentilagets to ask if they can use them. So what are hentilagets? 'hent' means to pick up or gather, and a 'lag' is a tuft of fleece. As Shetland sheep are a primitive breed they shed naturally and many will therefore loose some tufts of fleece before they are sheared which we can then pick up– those are 'hentilagets'.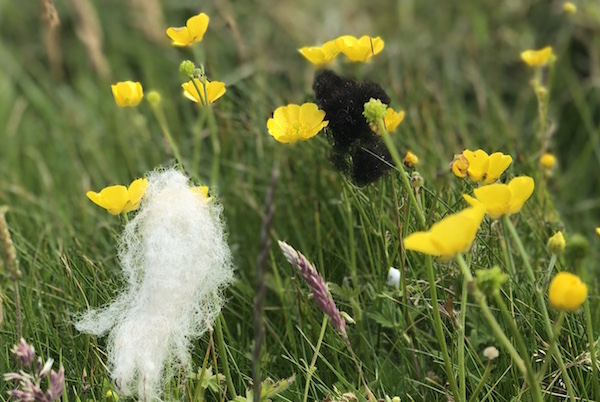 What's your favourite thing about Shetland?
That has to bethe sea, it is a constant, it is always there and almost always in sight. It is the sea combined with the landscape, the green fields and the rocky heather hills, the skerries, voes and geos, which make the magic in the atmosphere we see in the changing weathers. An extra bonus is to watch baby ducks feeding with their mother in the ebb stones on the beach, or watch a seal chase a small fish in the shallows of a sandy beach, and all from your bedroom window.
#Wovember
And on a final note, we were inspired by the responses to #Wovember in November, a collective appreciation of wool, celebrating its unique qualities in stories and pictures. It was touching to read various posts on instagram and hear just how passionate people are about wooland what it means to them on a personal level. What particularly resonated were the comments that said that wool signifies so much more to them than its physical form, and how it brings joy, comfort and calm. Some talked of how wool means connections to people through shared experiences, and is a way to show love and care. To others, wool brought hope and possibility. In our minds, pretty much the perfect Christmas message.
Stay warm this winter.