Shetland Wool Week 2019 Programme Launched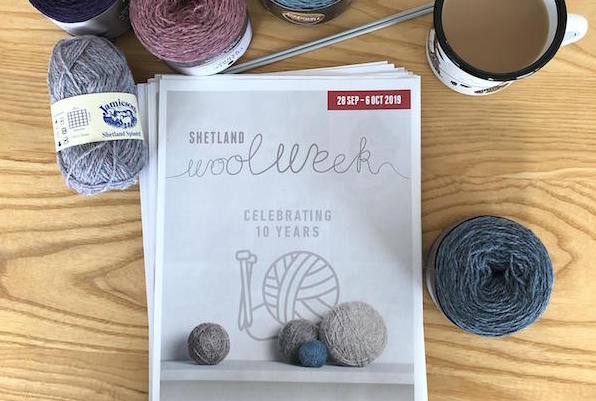 It's May, the sun is finally putting in an appearance – and it's nearly launch time for the Shetland Wool Week programme!
Tickets will go on sale on Saturday 18 May at 10.00am BST.
We will email you again next week with a handy 'How to' guide for booking tickets through the Little Box Office.
For all those who have signed up as SWW members an advance copy of the programme was emailed to you today (Thursday), so please check your inboxes.
SWW 2019 membership
There is still time to sign up for SWW membership, which along with a host of goodies includes advance access to the programme allowing you the chance to plan your schedules before the tickets go live.
Details on Premium Membership or Standard Membership can be found here.
Some highlights of this year's programme
It's the tenth year for Shetland Wool Week so we've pulled out all the stops to deliver a really full programme. We've been overwhelmed by the enthusiasm and community support and it's safe to say that pretty much all areas of the islands are hosting events.
We're delighted to see the return of many familiar faces and organisations. There are too many to list them all but there will be classes covering Fair Isle, lace knitting, crochet, weaving, spinning, felt, dye, machine knitting, brioche, double knitting, as well as many practical, problem-solving, creative and design led classes too.
We're excited to be putting on a special marketing and branding workshop for those who have, or aspire to have a creative business.  A fantastic chance to get practical advice in a small group from experts at Gail Turpin Designs.
Tours
The tours are always in demand and we're delighted to have increased our offering here too. We have croft tours taking place every day, and, for the first time, the Shetland Flock Book Society will host two tours, taking in stunning locations at Vementry and Lunna. Shetland's two most remote islands, Foula and Fair Isle will also be offering day trips: a real opportunity not to be missed. There are also guided tours to Unst, Yell, Whalsay, and North, South and West mainland, as well as walking tours at the stunning St Ninian's Isle and Lerwick.
Drop-in events and exhibitions are taking place throughout the islands, offering you a real insight into the skills and textiles heritage of our isles. As always, there will be wonderful 'teas' on offer too!
Talks
We've introduced a series of shorter lunchtime talks as well as the popular evening ones. Highlights include SWW Patron Oliver Henry's talk; an insight into Shetland Lace with Dr Carol Christiansen; and a 'Behind the Scenes' of the UK's Knitting and Crochet Guild Collection.
Social events will continue into the evening with a knitting quiz night, film and dinner night, dances, sprees and traditional music all planned.
And if that's not enough, there's a host of free drop-ins, exhibitions and open studios, as well as the Makers' Market and Flock Book sale. Shetland Amenity Trust sites will be open too – giving you or your partners the chance to take in Sumburgh Head Lighthouse, Old Scatness Broch and Iron Age Village, and the Shetland Crofthouse Museum. Heck, we've even included puffins in October (albeit in the form of a knitting workshop…)
Slow down!
With over 400 events from morning 'til night, there should be plenty for all.
Slow down, soak up the atmosphere, mix up your itinerary with a variety of classes, tours and exhibitions, and leave time to travel around the islands and appreciate all that Shetland has to offer. As well as learning new skills, Shetland Wool Week is also about meeting up with and making lifelong friends.
We hope you enjoy selecting your events!