Shetland Wool Week 2020 Patron and Hat Pattern launched!
The Shetland Wool Week Patron has been named today as Shetland knitwear designer, Wilma Malcolmson, who is internationally renowned for her skilfully blended Fair Isle knitwear.

The much-anticipated annual hat pattern, which is now synonymous with the launch of the patron has also been released. This year's official hat, designed by Wilma, is called 'Katie's Kep' and is available to download for free here.
Wilma is a key player in the local knitting community, a Wool Week and ShetlandPeerieMakker tutor, and is also one of Shetland's most influential and innovative designers. Wilma has lived in Shetland all her life, and like many others who grew up on the islands, has knitted from childhood. She established her business, Shetland Designer, in 1982 and during that time she has seen her creations reach all four corners of the world.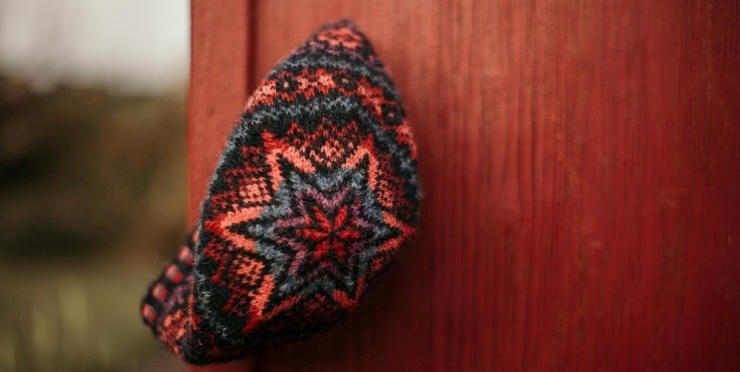 Wilma said, "I am touched and honoured to be this year's patron. Wool Week is a wonderful event that helps to bring people, not just knitters, from all around the world together. To me, the festival represents a time of friendship, of learning from each other and an appreciation of our islands and way of life as it celebrates old and new by putting traditional patterns and techniques on equal terms with new, innovative ones. The hat is the common bond for us all and I am delighted to have been asked to design it and become part of the Wool Week story.

"My hat 'Katie's Kep' is named after my mother Katie. It includes the patterns that she taught me when I was a peerie lass because they were her favourites. She belonged to that large group of professional knitters, without whom our Shetland colour work and lace heritage might not have been as alive and vibrant as it is today. This is my tribute to all the known and unknown designer artists of Shetland throughout the centuries."

Speaking of her love of knitting, Wilma added: "My mother instilled in me an interest in patterns and colours, from her I learned the importance of contrast and 'blending'. Colour inspiration is all around us in Shetland – you only need to look at the rugged landscape, seashores the ever-changing skies to find shades that work together."
Wilma has created four very different colourways for the hat using yarn from Jamieson's of Shetland, Jamieson and Smith, Uradale Yarns and Shetland Handspun. Each company has prepared yarn kits and are available to take back orders online, but currently are unable to guarantee any delivery dates. Check their websites for updates. In the meantime, it's probably a good to try and use up some of your Shetland stash!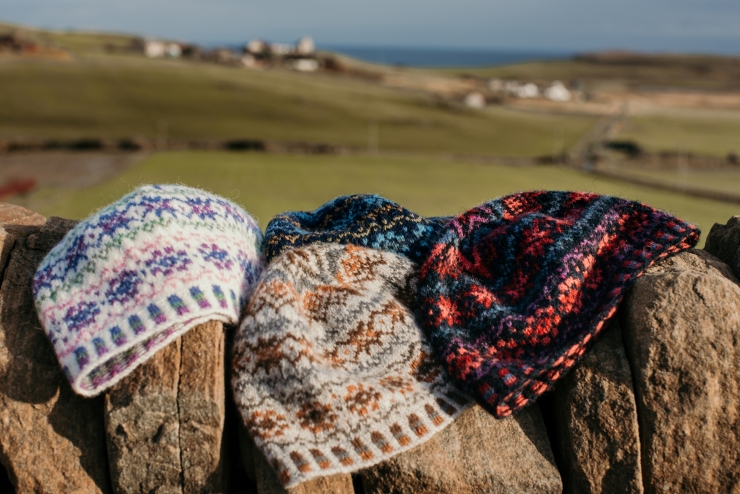 From left: Jamieson and Smith; Shetland Handspun; Uradale Yarns (blue version); Jamieson's of Shetland
We caught up with this year's patron Wilma Malcolmson to find out more:
Congratulations on becoming this year's Shetland Wool Week patron in what is Wool Week's 11th year. What does being patron mean to you?
Wool week is a wonderful event that helps to bring people, not just knitters from all around the world together. It is an event we look forward to. I am touched and honoured to be patron of SWW 2020.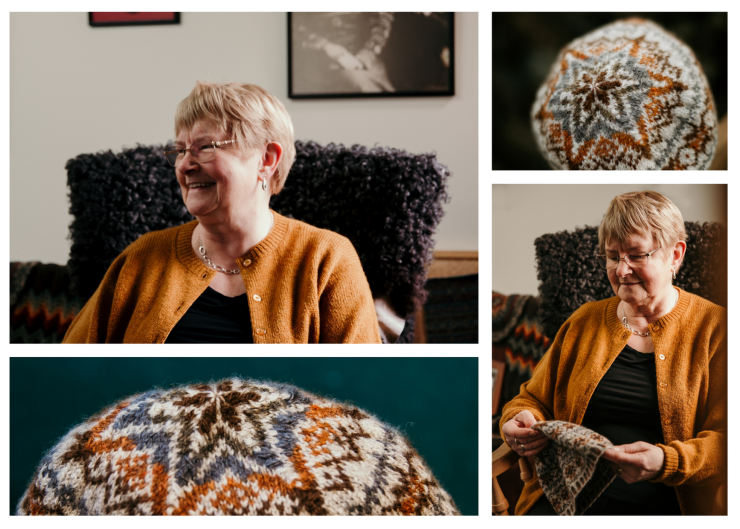 Tell us about your beautiful hat, Katie's Kep. Where did you start when planning this design? Talk us through the inspiration behind it.
Like many girls of my generation I was taught to knit by my mother, Katie. She was an amazing woman who was resourceful, patient and always ready with some wise words to make a tricky situation easier. I thought I could use two of her favourite patterns to create a traditional kep as a tribute to her and all the other knitters who were so willing to help us learn. I grew up on a Shetland croft at a time when electricity and running water were still to appear! Katie's Kep is reminiscent of times when folk enjoyed knitting by the light of peat fires and tilly lamps, chatting about the news of the day and where they could sell their knitting. There was also tea, home bakes and laughter.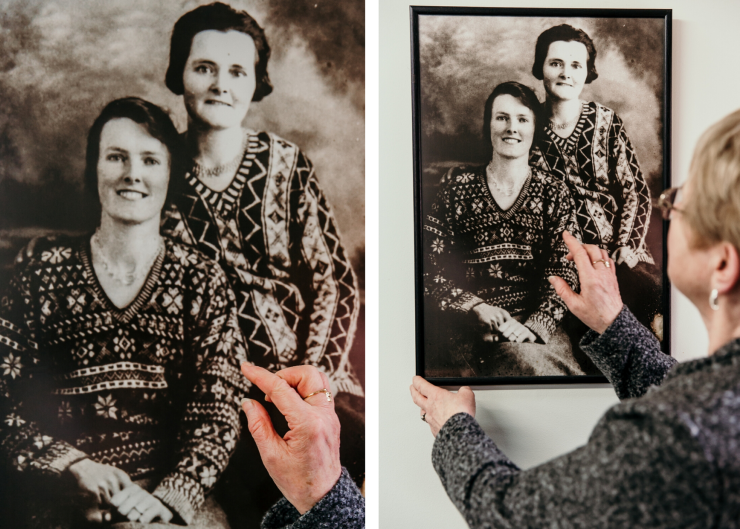 Is it an easy knit?
Katie's Kep is achievable for beginners, as with all traditional Fair Isle we are only ever knitting with two colours in a single row. The Kep uses five colours altogether, using one as a background colour throughout.
How did you come up with such different colourways?
I wanted to celebrate the wonderful range of yarns available in Shetland. I enjoyed designing different combinations of colour from each of the manufacturer's palette. Choosing colours are my favourite part of the design process.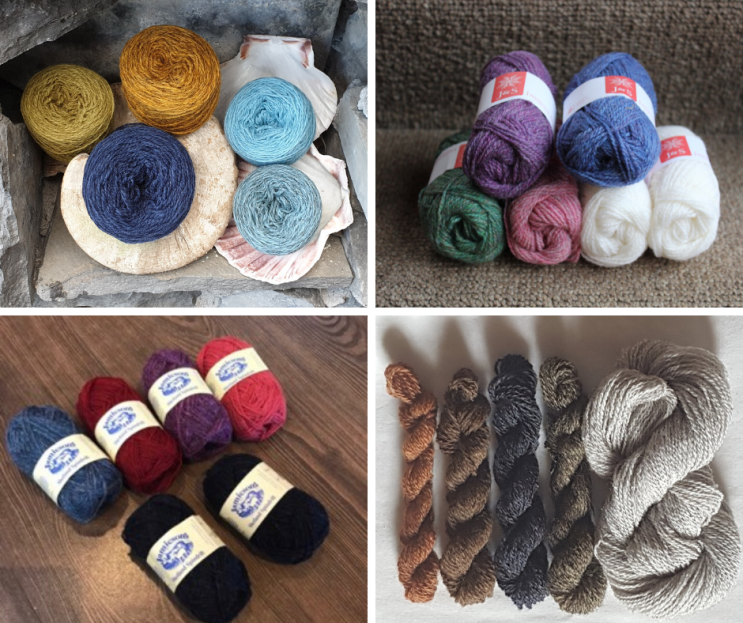 You've been involved with Shetland Wool Week for many years. What does the event mean to you?
Shetland Wool Week is an important date on the calendar for knitters the whole world over. It is a time of friendship, learning from each other and appreciation of our islands and way of life as it celebrates old and new by putting traditional patterns and techniques on equal terms with new, innovative ones. The hat is the common bond for us all and it is great to see everyone's take on the same pattern.
You're renowned for your love of pattern and colour. Where do you think that has come from? Do you think colour blending is instinctive or is it something that can be taught?
I have always enjoyed designing traditional patterns in interesting colours. I noticed the way nature can inspire us. The colour of the heather on the hill, the lichen on the stone dyke or seaweed on the beach have all influenced my designs. Again, my mother's influence was there in the early days as I would watch and learn as she produced beautiful patterns with the limited range available to her at that time.
Maybe colour blending in instinctive, but I believe with a few basic rules it can be learned. Much patience is required, and it is essential to knit swatches and we need to remember knitting swatches are not a waste of time. You must be satisfied with how the colours interact and patterns balance with each other. They are valuable for future reference.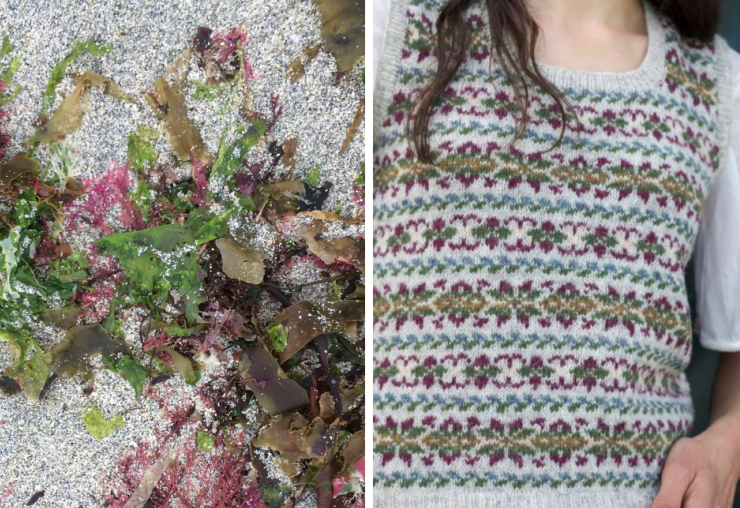 You come from a family of knitters, but when did you learn knitting?
As I mentioned earlier, knitting was an essential part of our life and not a hobby. It was going on around me the whole time and no doubt I sat and watched my mother, sister, aunts as they knitted but I do not actually remember 'learning' as such. Similarly, it is hard to remember when we learnt to read or tell the time!
However my mother never tired of reminding me of how , as a toddler, I used to sit in the deep croft house window and play with her 'cloos' (balls of yarn) when she popped out to feed the hens or hang out washing!
We had knitting in school where we were taught different stitches and textures which would not have been used at home.
When I met my future husband's family, I was introduced to machine knitting which was all around us by the 1960s. By the 1970s we had progressed to machines capable of knitting lace and Fair Isle. Knitting Fair Isle patterns by machine has played a huge part in my designing and production.
You started your knitwear design business in 1982, 39 years ago, designing and handknitting colourwork jumpers. Can you explain how that came about and how your business and designs have evolved?
In 1982 I went to a Trade Show in Aviemore along with three other local designers. We were all involved in knitting both by hand and machine. We put together a collection for display resulting in wholesale business. I found this was the route I would follow.
A new collection had to be put together each year according to colour predictions for the coming season. Many local knitters have supported and helped me over the years. Many colourways designed in those days have become some of my timeless pieces.
It gives me a huge sense of pride to know that my designs and products have reached the four corners of the world. The international links grew and gave me the opportunity to visit Tokyo to demonstrate hand knitting in a department store. I attended Vogue Knitting Live in New York and more recently I have been teaching in Norway and Sweden at similar wool festivals.
The emergence of the internet has made sharing and selling designs and products much more available to everyone at home. The knitwear community is now worldwide rather than only being able to share your ideas and products with people who live nearby. I often wonder what my mother and her friend would think of being able to knit with friends on Instagram or FaceTime.
What's your basic design process?
I aim to design garments which are comfortable to wear. Fit must be planned first, much time, effort and expense are invested in a knitted garment, so you expect to wear it for a very long time. Shaping is determined by the measurements required. In patterned garments the size of the motif needs to be considered. When planning several garments of the same style it is best to knit individual samples of each.
Next, I consider motif and colour, starting with the main colour. I begin by making swatches by machine, focusing on colour blending and accent colours. Sometimes I am satisfied with the result quite quickly but many a long swatch has been knitted before a successful colourway emerges!
For example, when I designed the sweaters and cardigans worn by the staff at the Shetland Museum and Archives, I worked closely with Shetland Amenity Trust to produce items that complimented their brand.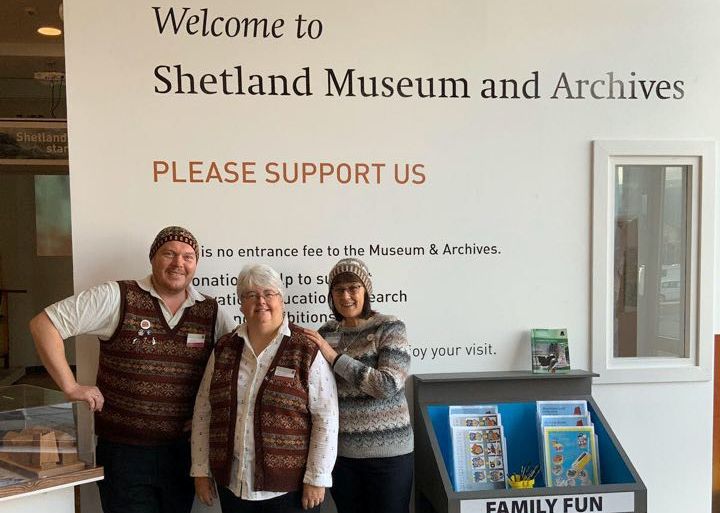 Apart from the Kep, what's your favourite design so far?
I have difficulty choosing a favourite as I spend enough time in the design process to ensure that I approve of each result.
One of my favourites is the 'Hairst' colourway which is based on the Shetland landscape. I feel it is one that connects with and celebrates the natural golden tones that I associate with the Shetland Harvest.
All of your designs are made using Shetland wool. What are the merits of Shetland wool to you?
First and foremost, Shetland wool is easily available to me as Shetland has a plentiful supply of high-quality yarn. It is warm, light to wear and sometimes when I see a sheep on the hill in the depths of a Shetland winter, I think to myself, she knows best!
So many colours of yarn are available to us both in natural shades and dyed mixes that blend well together. We make some of the sweaters worn by Jimmy Perez in the 'Shetland' series. The colours used are natural earthy shades that reflect the atmospheric and tone of the programme.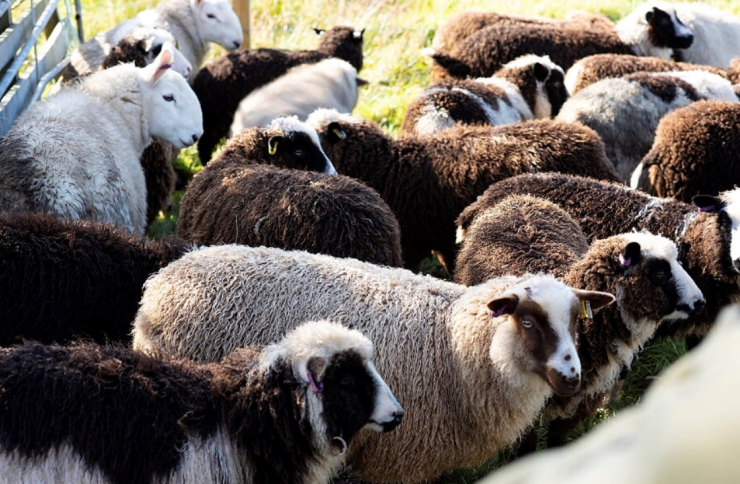 We've loved collaborating with you on the Shetland Wool Week Annual over the years, and always look forward to receiving your designs. We know that they will be beautiful, timeless and wearable, but we also love hearing about the inspiration behind each garment which often goes beyond your immediate surroundings. For example, your Vermeer cushion in 2017 took inspiration from Johannes Vermeer's painting 'The Milkmaid'. Do you need a sense of travel in order to fuel your mind to generate new ideas and designs?
While on a trip to Amsterdam with the first-year art and textile students from the Shetland College we visited many beautiful places relating to their courses. I bought a card showing "The Milkmaid". This was a painting I had always admired, and I thought the colours would be challenging for me. This sparked a memory of one of my designs from the 1970s which I thought was vaguely like Dutch tiles. 'Vermeer' cushion was the result. The mixing of scenes and patterns can happen unexpectedly at home or when travelling.
I am very lucky in that I am able to travel both with my family and through my business. That does continue to offer new experiences, new sights and of course, new colours!
I firmly believe that the view from our own windows is changeable and inspiring wherever we live. This is especially true and important to remember during current times when travel and movement within our own communities is being restricted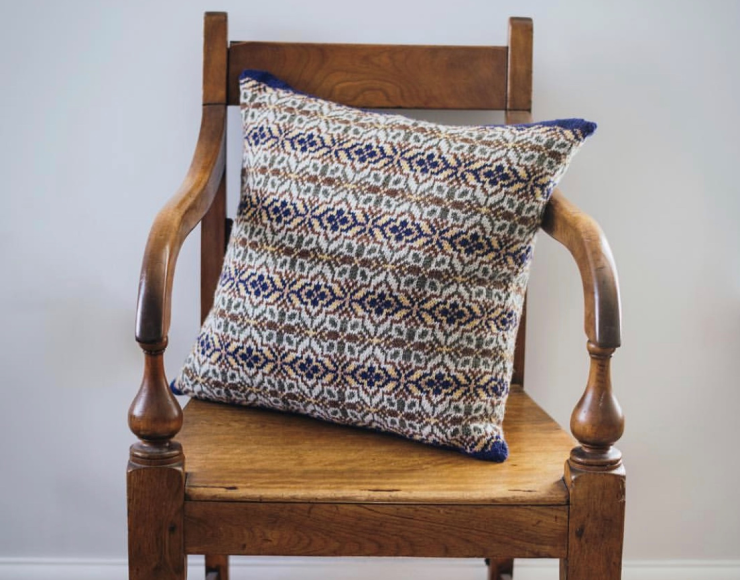 You run knitting workshops throughout the year, both in Shetland and overseas. What do you enjoy most about that experience?
The most enjoyable moment in the workshop is when a knitter produces a sample piece that they really like. Sometimes it is a surprise seeing an unusual colour or perhaps one that you would not have chosen, blending or highlighting a motif. Workshops bring together like-minded people and many lasting friendships are made.
Your studio is a bit of a mecca for knitters, especially the Fair Isle 'colour swatch wall'. How important is your studio to you and how do you use it?
My studio is where we work and laugh. It was designed by my late husband Leonard and is a special building. Knitters can never have enough space, so visitors are surrounded by finished items, work in progress, yarn everywhere, examples of inspiration, knitting machines and jumper boards.
It can be a busy and active place but it is also my space where I can lose myself for hours creating and adapting ideas and designs, almost regardless of the time of day!
The 'Fair Isle swatch' wall is an attraction where many a photograph has been taken.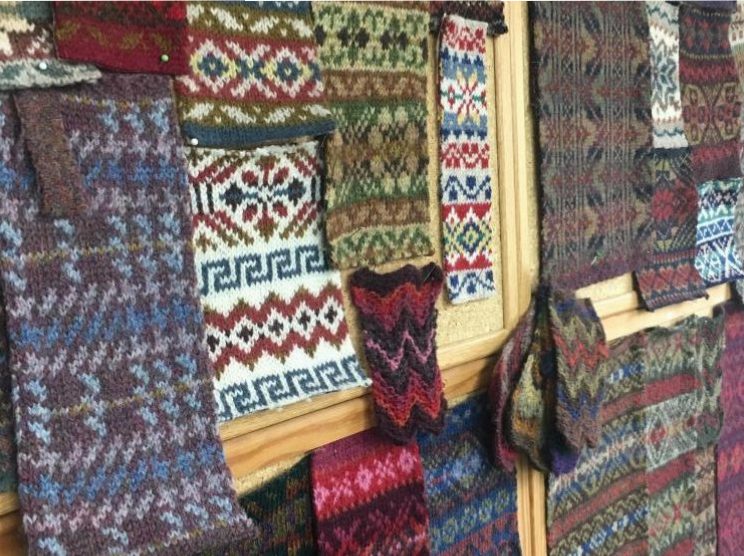 You're involved with the ShetlandPeerieMakkers as a tutor, what does it mean to you working with the next generation of knitters?
Peerie Makkers are the future. The group is held during lunch time so only the children who want to learn attend. Some are learning things that their parents don't know or are not able to help with at home, so we make sure to teach them the stitches they need to know then move on to completing samples of lace and Fair Isle. They can then move on to making their own projects.
The ShetlandPeerieMakkers group is also inter-generational as many of the helpers are grandparents in the community. It is great to spend time in a room of people of all ages, knitting, laughing and becoming friends.
I am lucky to have a very supportive family. My daughter and now some of my granddaughters are enjoying knitting Fair Isle and it gives me a great deal of pleasure and pride to see them enjoying something that has been such a huge part of my life. Their interest and involvement help to keep me up to date on current trends and colours.
What is the best bit of advice you would give to a young designer?
I would tell any young designer just to keep going and have confidence in your own ideas. Carefully develop your designs and have patience to try, try and try again as you find your own style. Knitwear design needs to keep evolving.
I am especially proud of my grand-daughter, Terri Malcolmson, who has created her own business and line of designs with only a little help from Granny! She has already travelled as far as India to share her knowledge, learn new things and find new inspirations as all designers need to do
What are you looking forward to the most as this year's Shetland Wool Week Patron?
At the moment this year is bringing a lot of uncertainty about some of the plans we have made so far. I have confidence that the Shetland Wool Week team will help us make the most of whatever happens later in the year. Every wool week I look forward to catching up with old friends, visitors, meeting new people, hearing what they have been making and doing, as well as having new experiences. This year, no matter what happens, it will certainly be a new experience for us all. Whether it is remotely or in person, I am looking forward to keeping in touch and carrying out my duties as this year's Wool Week patron.
*******
SWW KAL
A special facebook SWWKAL (Knit-A-Long) has also been launched for Katie's Kep and we'd love to see your progress. Remember to share your completed keps on social media too using #katieskep or #shetlandwoolweek2020 and we'll post them to our Shetland Wool Week pages.
SWW 2020
The eleventh Shetland Wool Week is due to take place from 26 September and already a huge amount of effort has gone into preparing for the event. However, in light of the coronavirus pandemic, the event remains under review. The organisers will continue to monitor the situation and hope to make an announcement in June on the future of this year's festival. All our fingers are crossed!
And finally, we are asking this year if you might be willing to make a voluntary donation in support of the event. Shetland Wool Week is run by a small charity and like so many others we are facing challenging and uncertain times. We have already invested a huge amount of time and money in preparing for the 2020 event – work which began in August of last year. Any support – large or small – is gratefully received and will help us to secure the future of an event which is so important to Shetland and its visitors.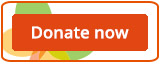 In the meantime, thank you for all your words of encouragement.
Stay safe, stay healthy and stay connected.