SWW 2021 announcement
AFTER careful consideration, it is with great regret that we write to inform you that Shetland Wool Week 2021 is cancelled due to the ongoing concerns relating to the Coronavirus pandemic.  We are deeply saddened that our annual gathering of wool aficionados and friends will not take place this autumn.
We have held off in the hope that there would be more positive news. While the initial roll out of vaccines is encouraging, it is still a time of great uncertainty and our primary concern is for the safety of the island community and our Wool Week visitors, who join us from all over the world. It is our view that cancelling the event is the responsible thing to do.
Having reviewed the situation in detail we do not feel we can deliver a socially distanced physical event that will capture the spirit of SWW. So many of you join us to make friends in large and small groups, be spontaneous, take hands-on, practical classes, and drop in to the numerous events that are laid on by the Shetland public throughout the isles.
We want to deliver a Wool Week that you have come to know and love and we will prepare for something really special for 2022.
For this year though, we will replace the event with an online version during what would have been SWW: 25 September – 3 October 2021 and build on the success and enthusiasm for last year's virtual programme.  A SWW Annual publication for 2021 is also planned.
As always, we thank you for your continued support and we look forward to sharing our virtual plans with you. In the meantime you can look back at some of our virtual highlights from last year on our YouTube channel and on SWW IGTV.

New SWW hat for 2021
On a more positive note, all is not cancelled, and knitting must go on!  We are thrilled that Wilma Malcolmson has graciously agreed to extend her role as SWW patron for 2021. And, drum roll please, she has created a new hat for us!
We will be launching the new hat pattern in early April – so watch this space and our social media pages.
Wilma has knitted the hat in five colourways, using Shetland wool from Jamieson's; Jamieson and Smith; Uradale Yarn; Foula Wool and Shetland Handspun, but of course it's also an opportunity to hit your stash!!
In the meantime, now is the time to download your free Katie's Kep hat pattern, or you can purchase a printed version from our online shop.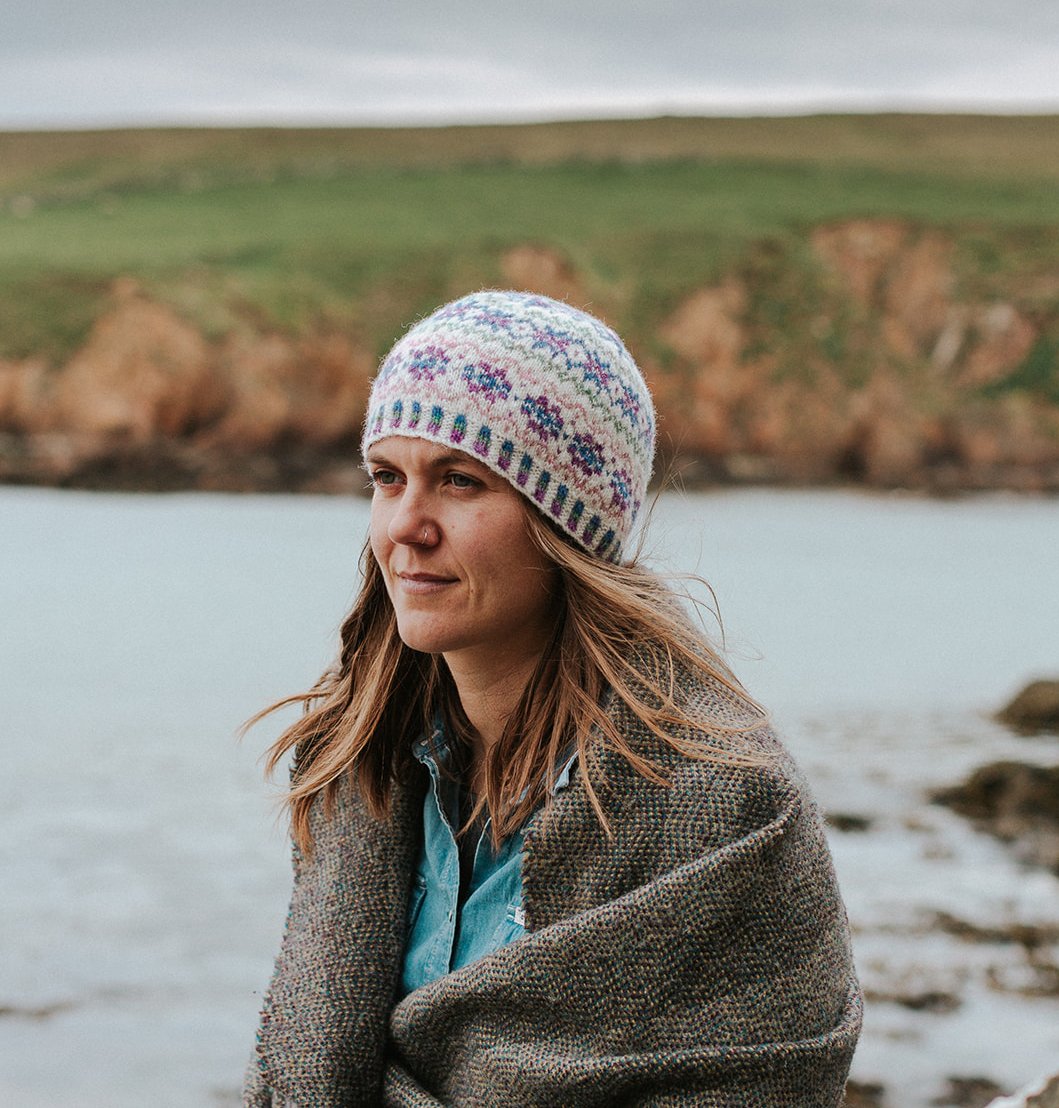 We loved seeing all your Katie's Keps during the year; it has really kept us going. Please do keep on sharing on social media, and hopefully it won't be too long before we can see all your hats together soon.
We all need small moments of cheer in our lives right now, so in response to this announcement, for a limited time we are offering a 20% discount on the Shetland Wool Week Annual 2020 and tote bag.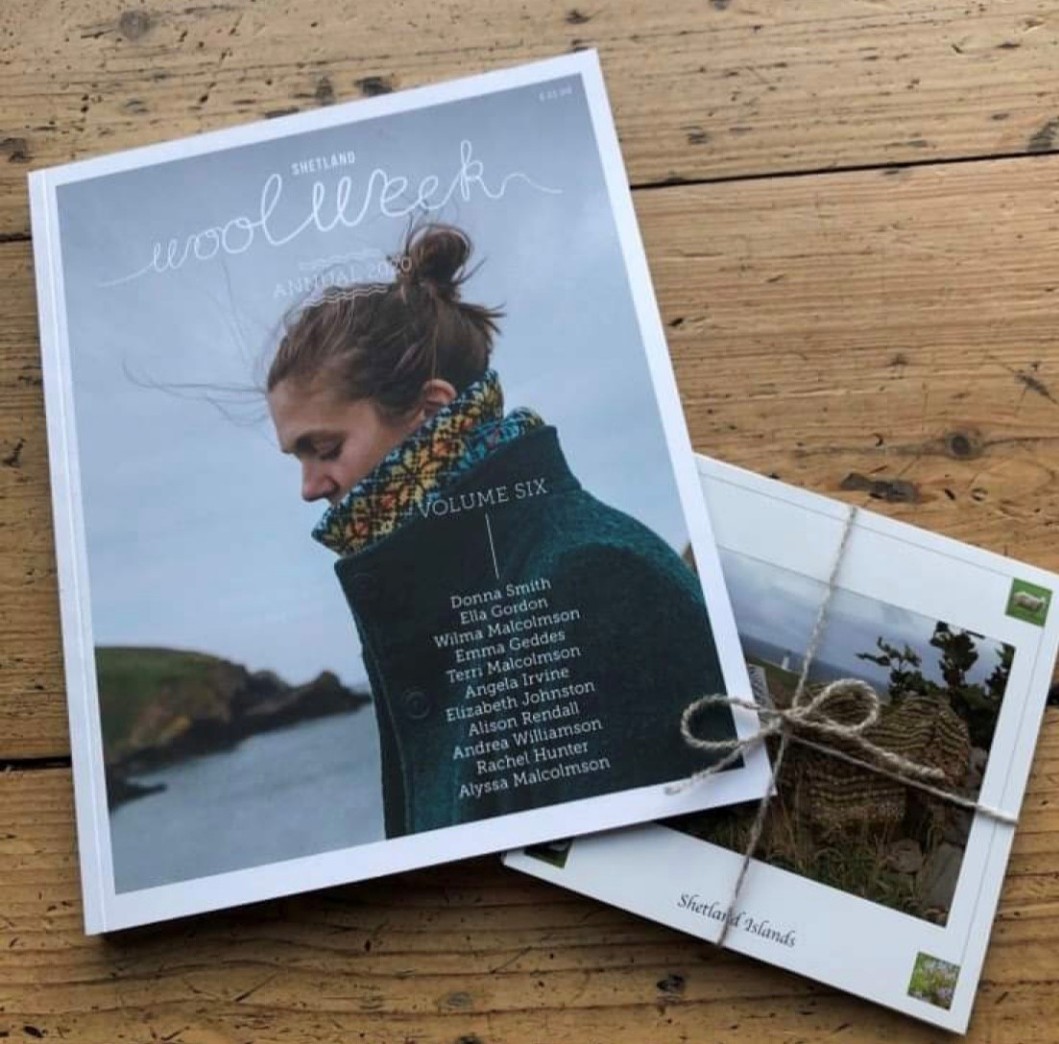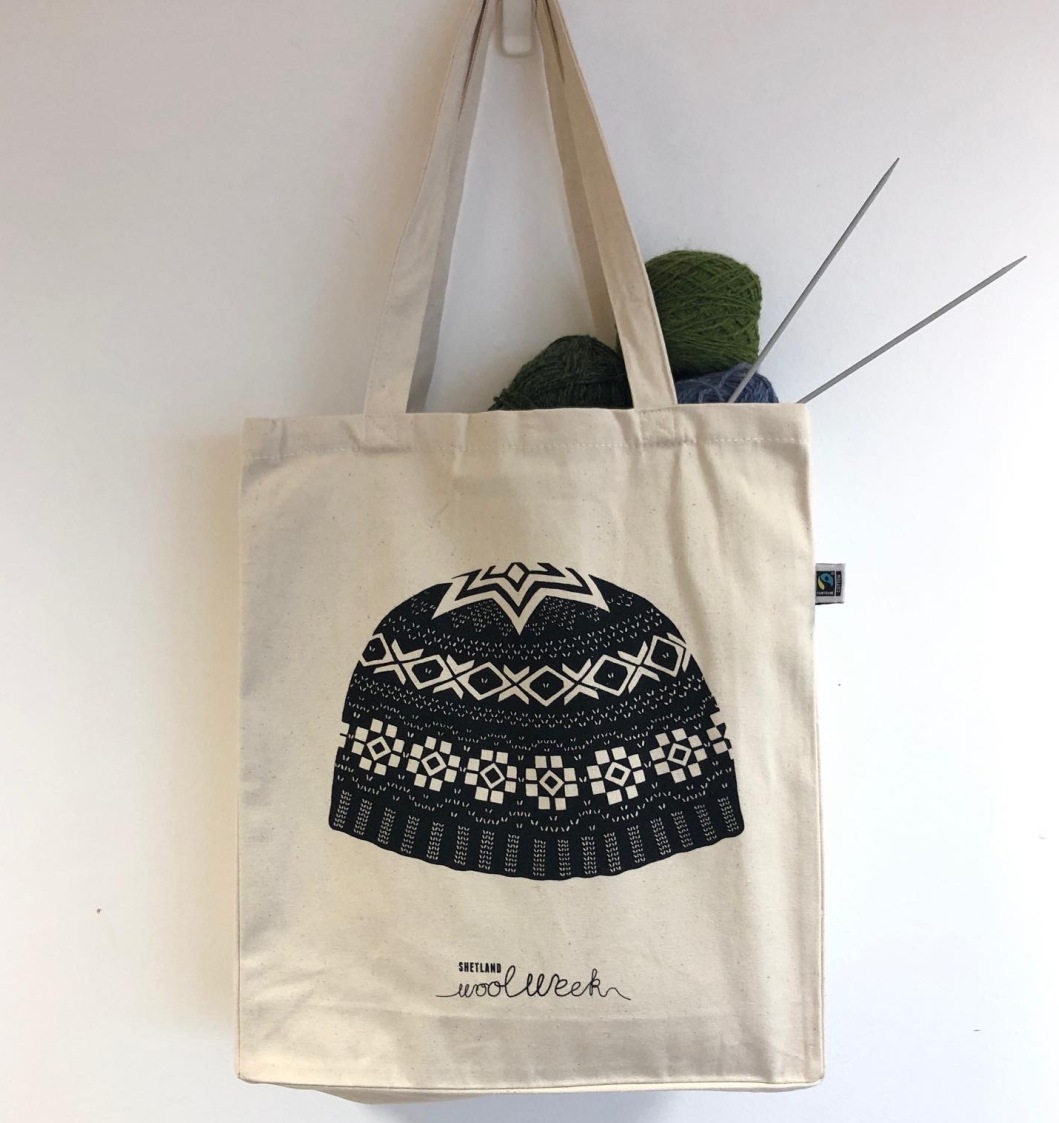 As a little thank you treat to the first 50 orders, a special selection of five Shetland heritage postcards will also be included with your order, so be quick! Don't worry if you don't quite make it, as for all subsequent orders during this offer period, we'll pop one postcard in with your order. Pin one as a Shetland memory to your noticeboard or why not pass on the gift and write to that friend you've been meaning to contact for a while?
Please note, stock levels of the SWW Annual 2020 are running low so this might be your last chance to get a copy!
This offer will end Friday 12 March 2021 at 12am GMT. Only orders placed online which include a sale Annual or Tote will qualify for the free gift.
As always, we have loved seeing all your creations from the SWW Annual – thank you for sharing them with us. Check out our Instagram page for pictures of latest completed projects.

Reflections on 2020
Despite the continued uncertainty we are feeling optimistic for what lies ahead. There has been much activity going on behind the scenes and many local community groups and museums have taken advantage of this enforced period of closure and moved forwards with repairs and improvements. The Old Haa Museum is one such place.
You may have visited the Old Haa Museum on the island of Yell during previous Shetland Wool Weeks and indulged in the tea room's lovely cakes, admired the hand-crafted, Yell-made pieces in the shop and gallery, and enjoyed the beautiful garden. Some interior areas of the 17th century merchant's house are now being updated and re-configured to assist with social distancing and other COVID-related measures.  It is getting a new kitchen area in the tearoom, new seating area in the former shop with a great view to the garden, and is changing its exhibition rooms.  The Old Haa staff look forward to welcoming you back at SWW 2022. You can follow their progress on their facebook page.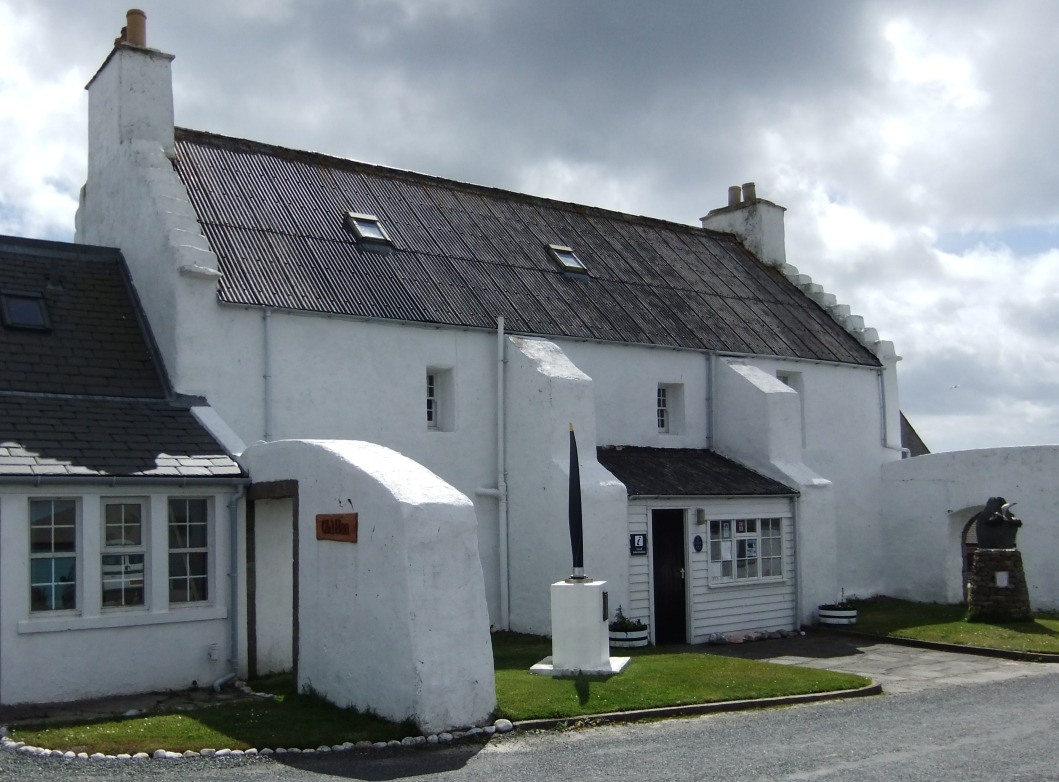 Having said that, 2020 was an incredibly tough year for many and we found ourselves realising that a focus on personal well-being was a vital part of coping with the situation. We were curious to find out what seemingly small but simple things helped people to keep going, and asked a few familiar SWW friends to share a memory and photograph from last year.
Wilma Malcolmson, SWW Patron and knitwear designer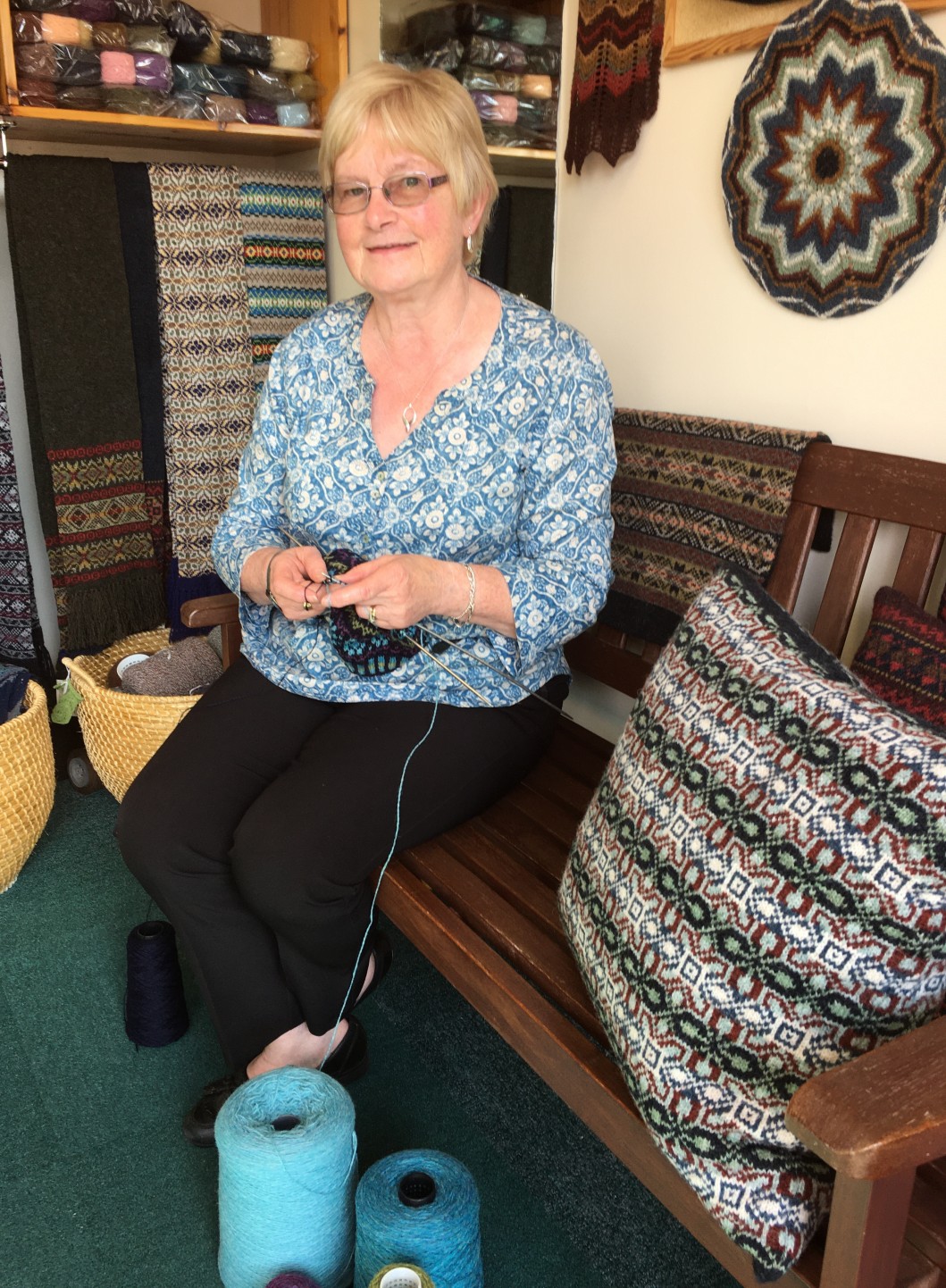 Knitting 'Katie's Kep' – I have been surprised and heartened to see how many hats have been knitted. Especially the knitters who have used the pattern for their first attempt at 'Fair Isle' knitting. My mother would have been very happy to know that the old patterns are being knitted worldwide.
I have enjoyed being patron of Shetland Wool Week for 2020. Thank you for the interaction online. It is good to connect with knitters. We are indeed a happy group!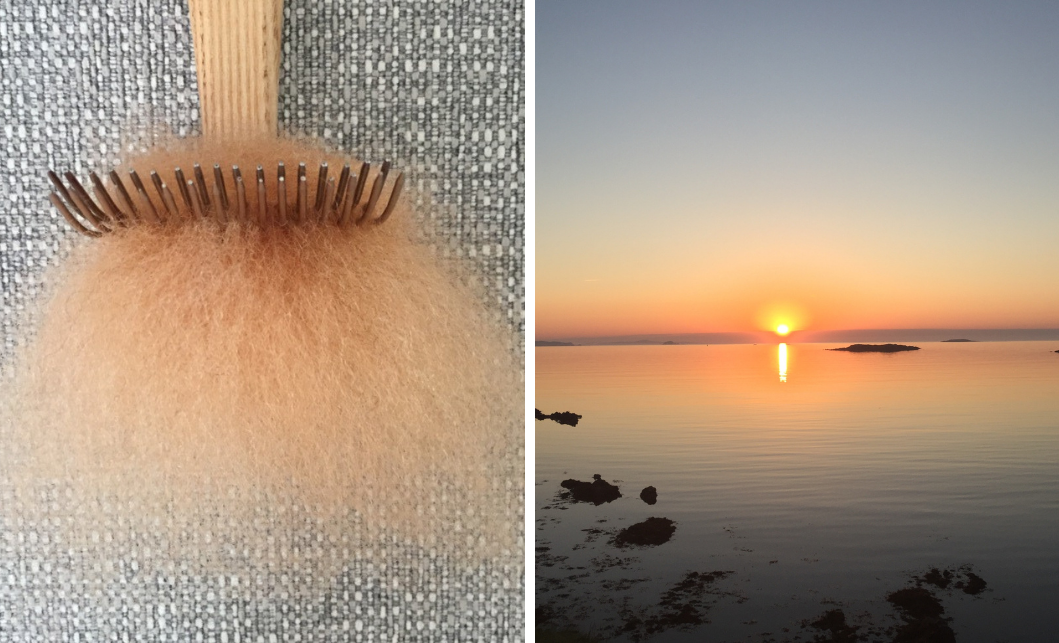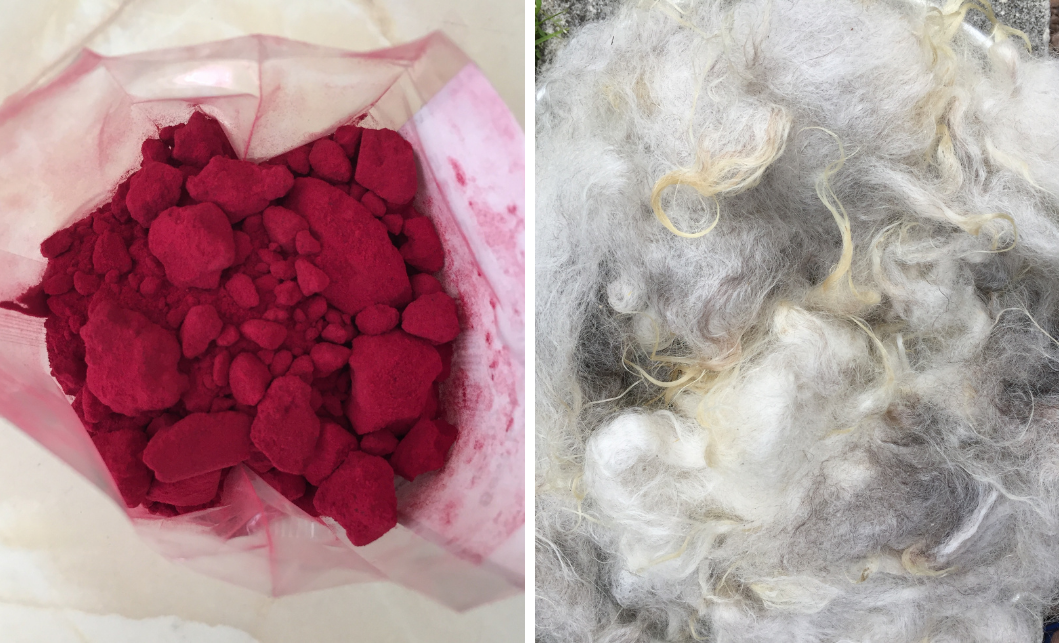 Happy days of summer 2020 – Lockdown summer 2020 could have been worse. We had glorious weather and working from home meant I was more likely to stop at 5pm and enjoy the sun still high in the sky. I decided early on to focus on dyeing and combing, to ensure my sanity through months of isolation. I had a few amazing Shetland fleeces, a stockpile of beetroot juice in the fridge and several bags of beetroot powder. Combined with an alum mordant, I got a summery, apricot colour, not so very different than the sunrise on midsummer morning at 3:30am!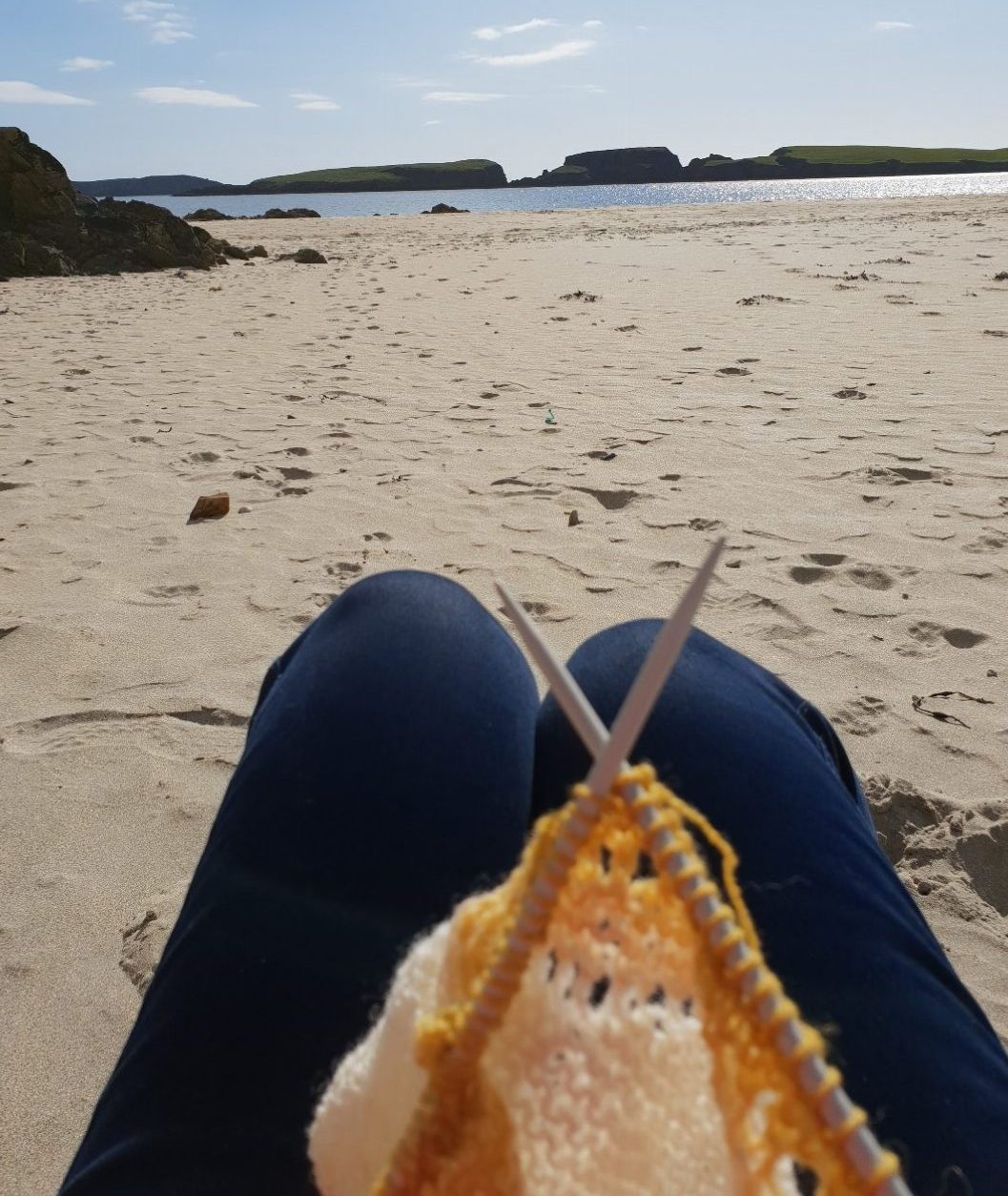 This image is from a lovely Shetland summer's day when I took myself off to the beach with my makkin, a flask and my audiobook.  It reminded me of foreign holidays and was such a tonic.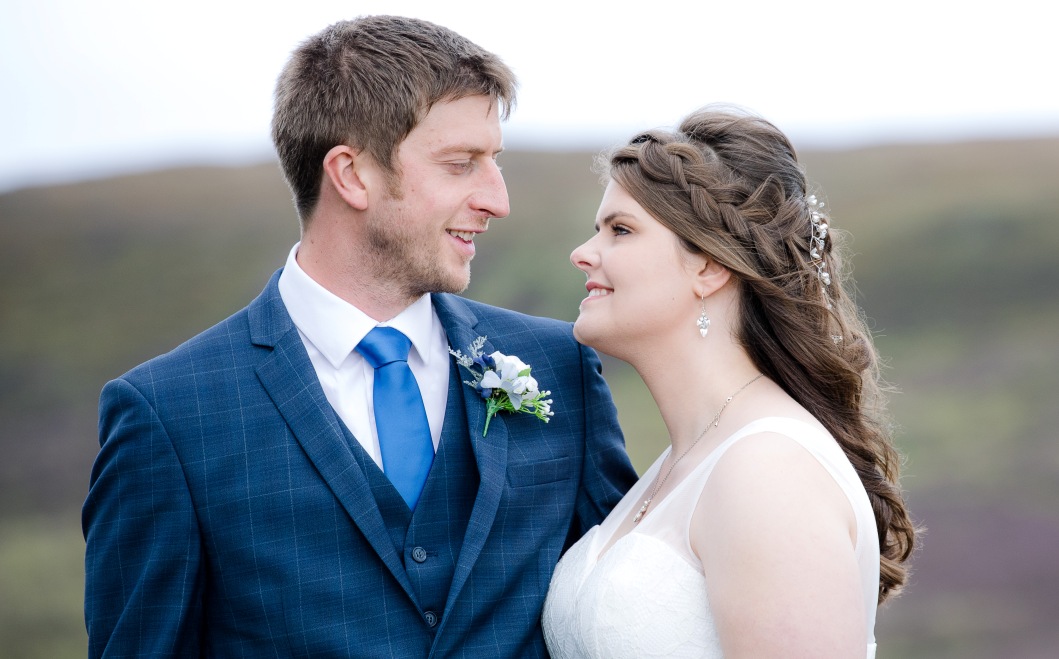 Although our trip was cancelled in the spring of last year, we managed to safely get to Skye in the late summer and reschedule our elopement! We had a lovely 6 days away before coming back home to share our news and photos with our families. Another reason 2020 will be an unforgettable year!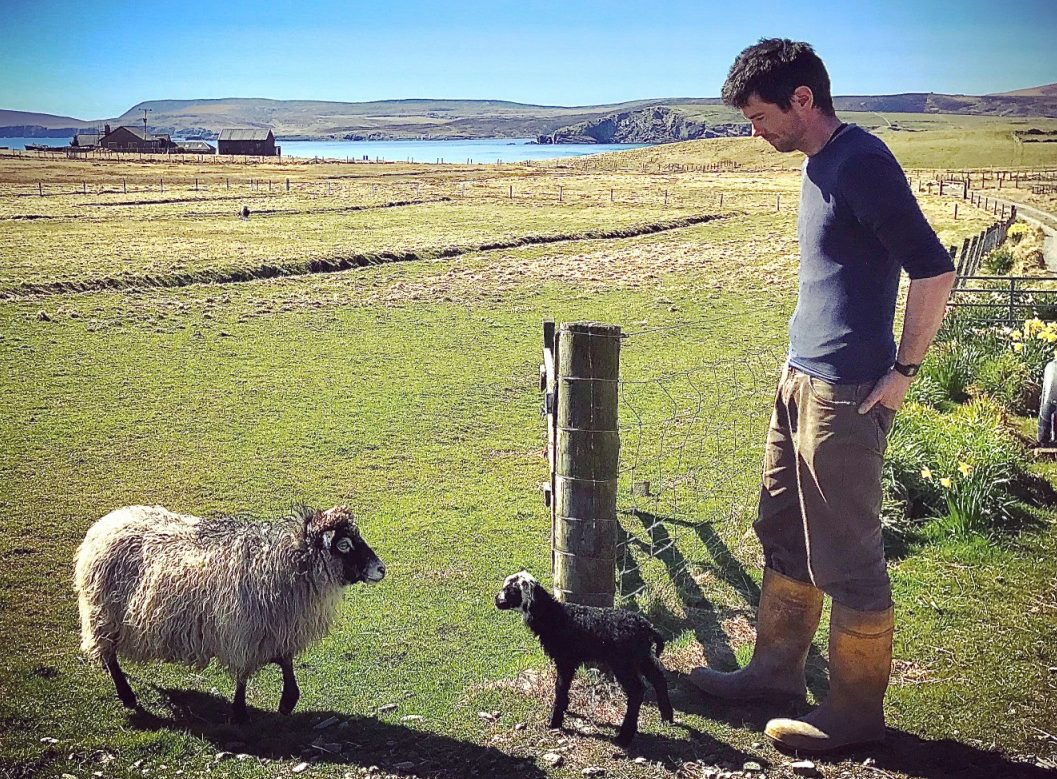 Shetland ewe with lamb. April 2020 – As the world went into lockdown, the seasonal nature of rural life in Shetland continued. Settled conditions (no wind and driving rain!) ensured an enjoyable lambing period with a wonderful mixture of traditional colours and markings in the flock at Garths Croft Bressay. The sheep were still
clipped through the summer whilst hay and silage crops were taken for feed in advance of winter. Shetland sheep have evolved over thousands of years, adept to and champion of their beautiful landscape. In that context, 2020 has provided positive memories of happy thriving lambs and super fleeces in challenging global conditions.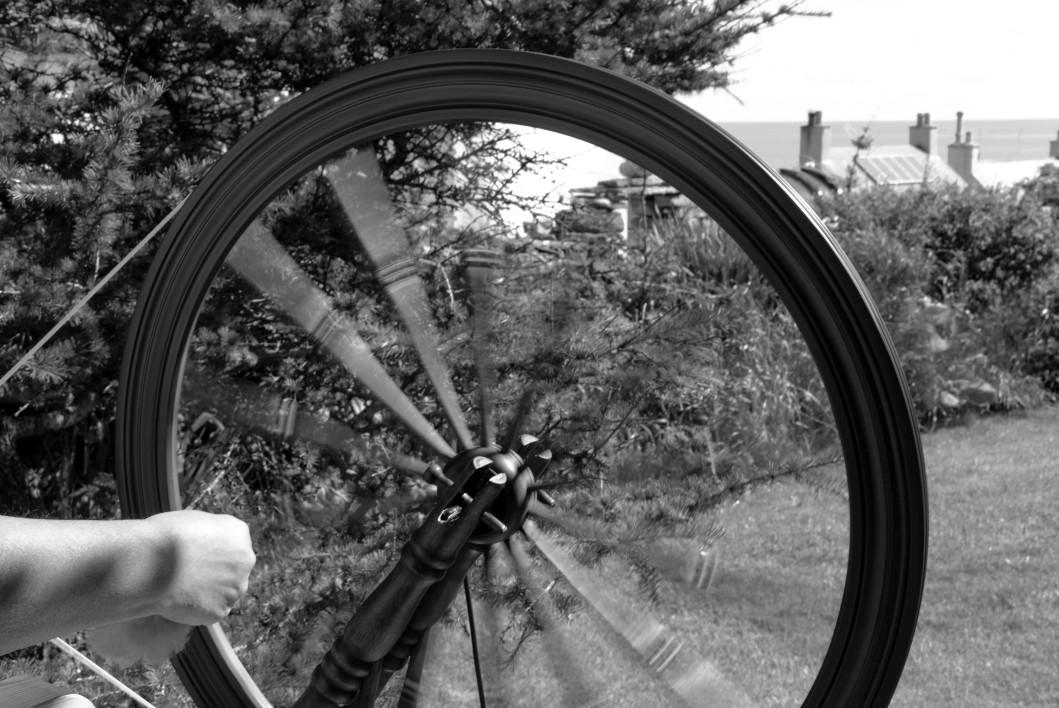 A good memory from 2020 was being able to sit outside in the sunshine, spinning and listening to the sea. It's not often that I would have this opportunity in the summer – not just because of weather, but because of how busy we usually are with visitors. I made new ranges of handspun yarn – something that I had been wanting to do for some time, and so different from designing knitwear collections.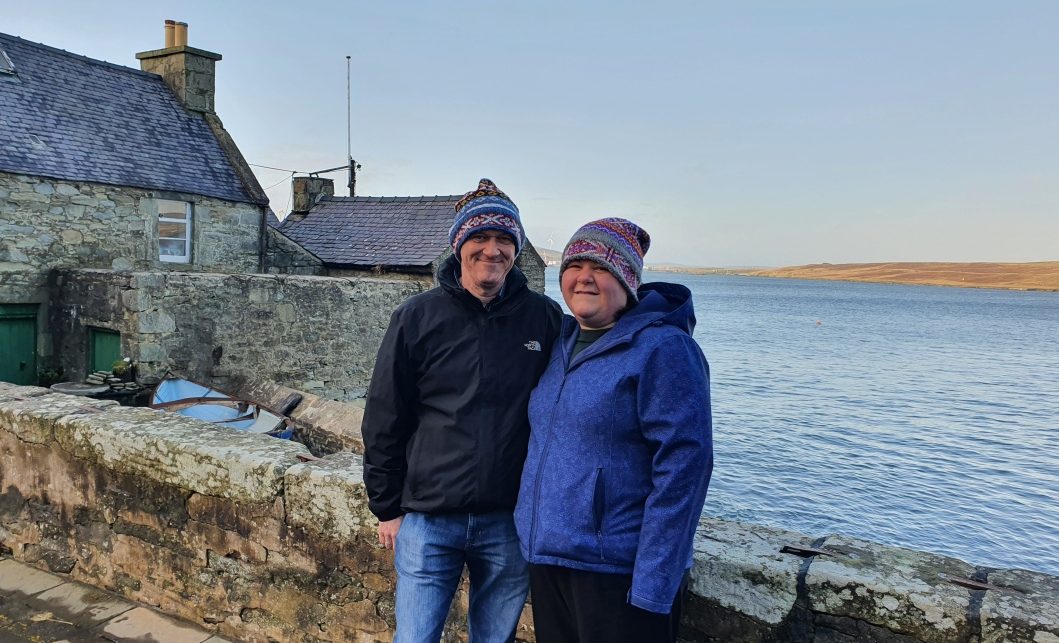 2020 was supposed to be a busy year of arranging tours and making memorable experiences for guests to our islands. Instead, lockdown allowed me to create my own memorable experience by finding love in lockdown. I already knew of Michael but it was after he messaged me at the beginning of lockdown to check that I was staying safe that things really started to develop. It has without a doubt been my highlight of 2020.
We look forward to sharing more happy memories with you throughout the year.