Happy midsummer to you all!
And just like that, summer seems to have crept up on us in Shetland, with the wool season well underway crofters across the isles are busy organising their flocks' annual clip – caaing (gathering the sheep), shearing, rolling and bagging the fleeces are usually the first of the summer chores in the crofting calendar.
The spring-born lambs are rapidly growing and the sky is alive with birds and the familiar sounds of Tirricks (Arctic Terns) and Shalders (Oyster Catchers). Grassy cliffside burrows at Sumburgh and Hermaness have seen the welcome return of the Tammie Norries (Puffins) too.
The hills and coastlines filled with colour seemingly overnight. Nestled on roadside verges and cliffside 'hanging gardens' are low-lying blooms, and the hillsides are filled with carpets of stunning, honey-scented wild flowers.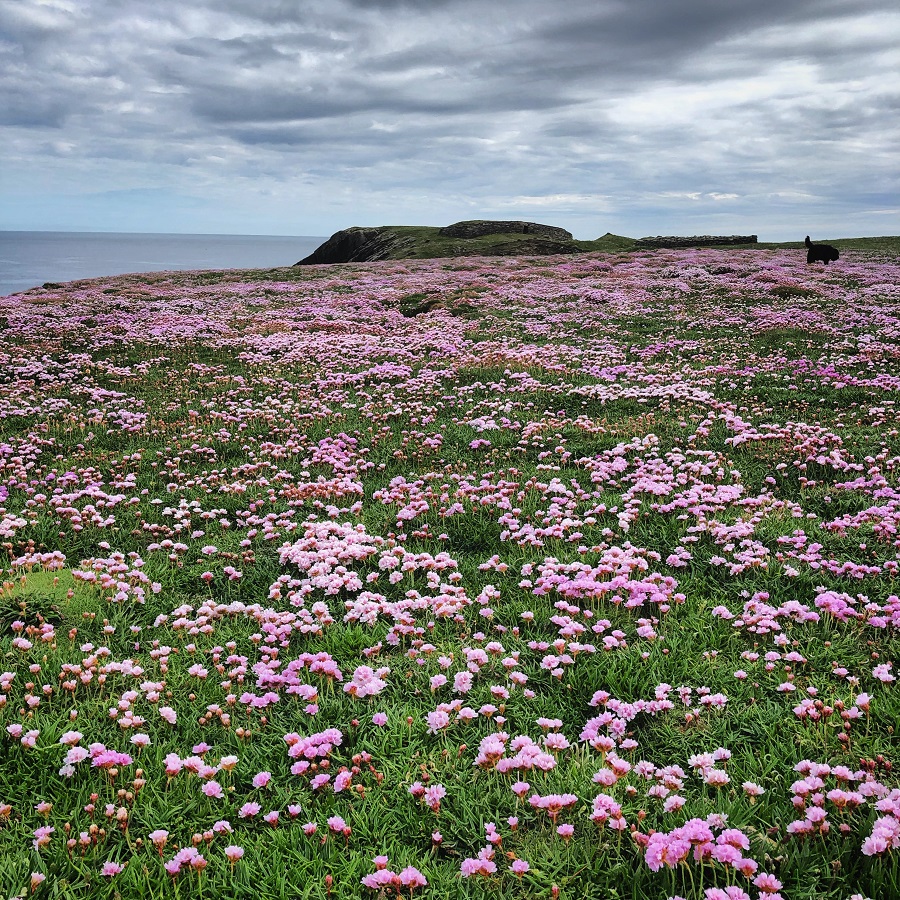 Of course, we're still shrouded in mist and rain from time to time (this is island life after all), and the winter woollies are never far from reach. But the 'simmer dim' of the long midsummer nights, when the sun dips below the horizon and the sky can turn a hazy shade of purple, is a really special time.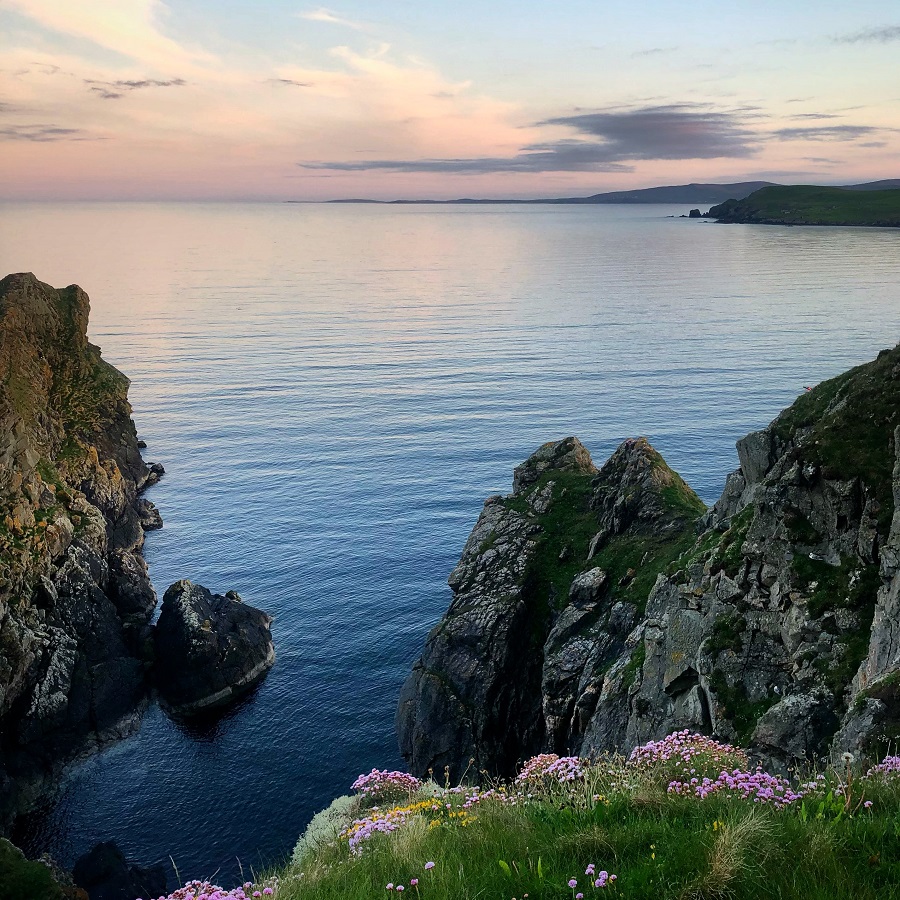 The Summer Solstice on 21 June has just passed, marking the longest day in the northern hemisphere. Many chose to make the most of the 19 hours of sunshine and made a special effort to stay out into the small hours. We loved seeing what people got up to, whether it was a hike up a hill to reflect and soak up the view; a midnight gathering to the island of Mousa to watch the amazing Storm Petrels flying in to the broch; or a family bonfire on a beach.
A night trip to the uninhabited island of Mousa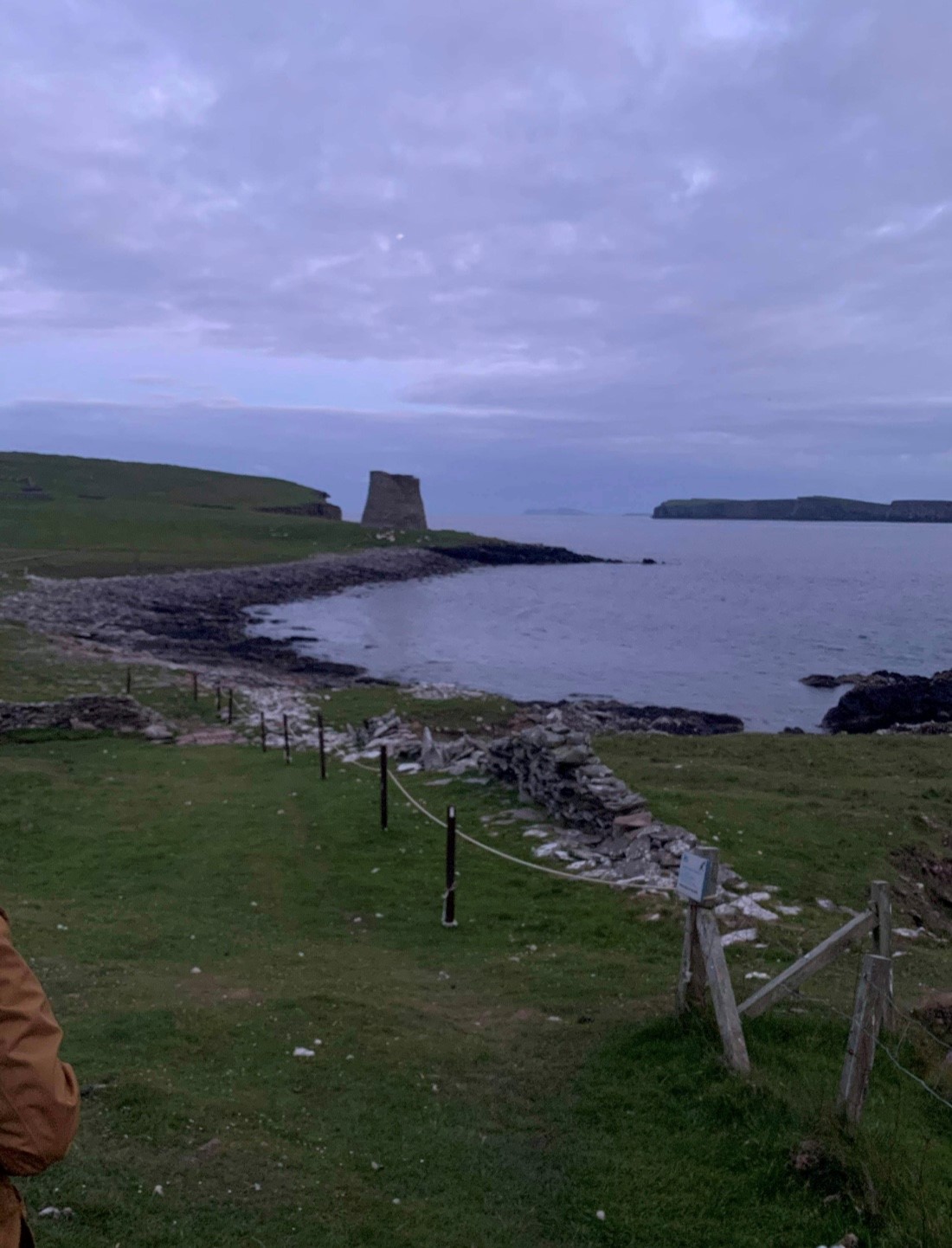 After a beautiful walk in Scalloway @laurenasmith took the night trip to the uninhabited island of Mousa to see the Storm petrels. These small and elusive seabirds feed far out to sea during the day, and only come ashore under the cover of darkness. From late May to mid July, guided night-time trips with The Mousa Boat allow visitors to witness the fantastic spectacle of storm petrels flying around the Iron Age broch as they enter and leave their nesting chambers.
Solstice swim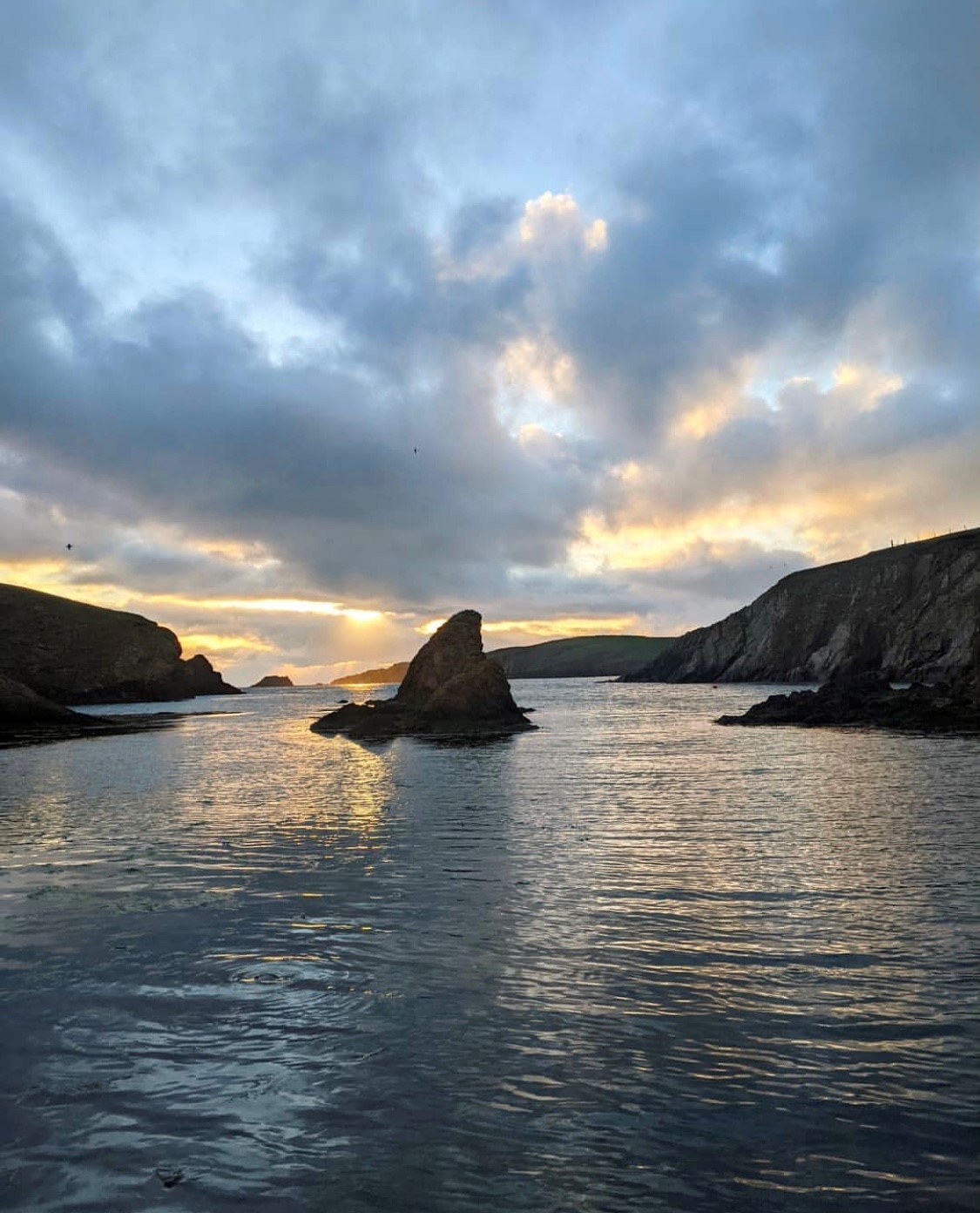 @hannahk8mc celebrated midsummer with a solstice swim around Peerie Spiggie and a campfire with marshmallows afterwards.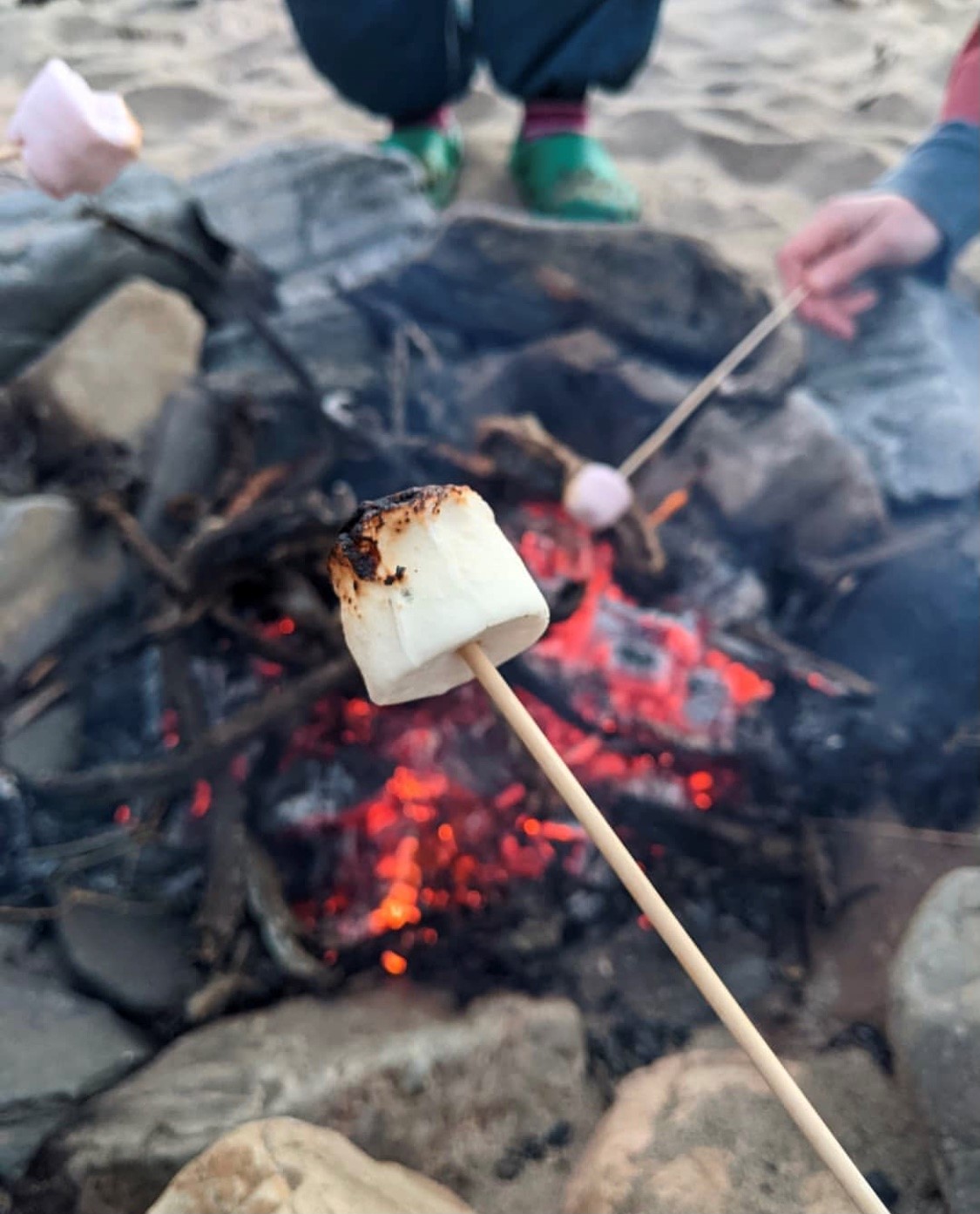 We're trying not to get caught up in the thought that this inevitably means that the days will begin to get shorter, and instead we're loving the fact that this is the peak of our summer and look forward to all the energy and fun that this season brings.
Local Museums Opening
More of the local museums are open once more, including the Unst Heritage Centre famed for its Shetland lace, the Old Haa in Yell, and the Shetland Textile Museum.
The venues are small so can only allow a restricted number of visitors in at any one time, but it's so good to see the word 'open' again.
The Shetland Museum and Archives had a very special visit a couple of weeks ago, when the film crew of the 'Shetland' TV series set up for two days and used it as a location. Cameras, lights and action made a big change from the typical day-to-day life in the museum. We can't wait to see the end results – the series is due out in the UK early next year.
We had a little peek at the Shetland Textile Museum last week too and enjoyed their displays including some of the winners from their recent 'At the Beach' competition. We also browsed in the shop – a brilliant place to buy original Shetland knitwear. If anyone is interested in a particular piece contact them via their website.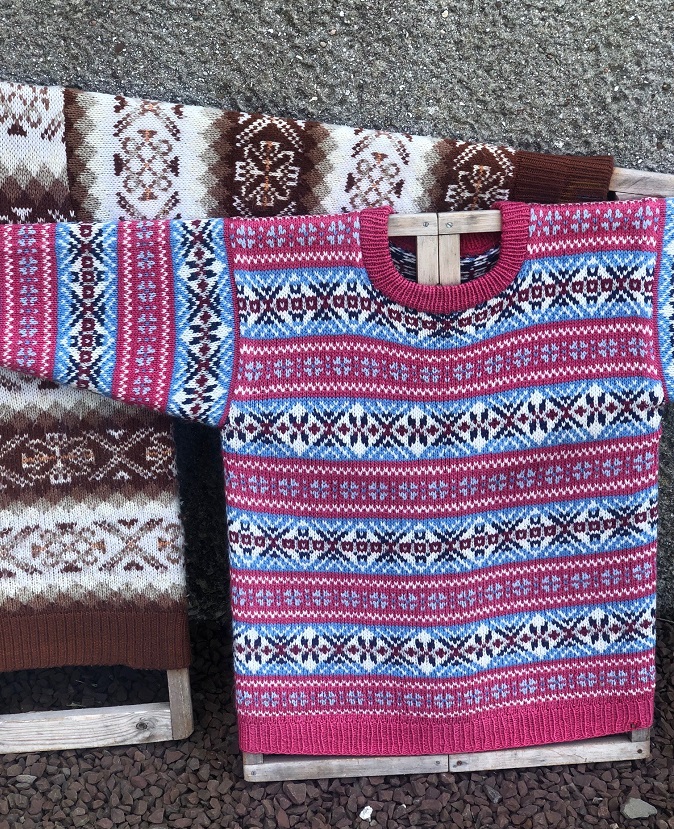 SWW 2021 Annual, virtual plans, and update
The SWW team has also been busy behind the scenes. We've been pressing ahead with the next Shetland Wool Week Annual Volume Seven, which is due out in September. We've got 12 patterns in lace, Fair Isle, and weaving lined up.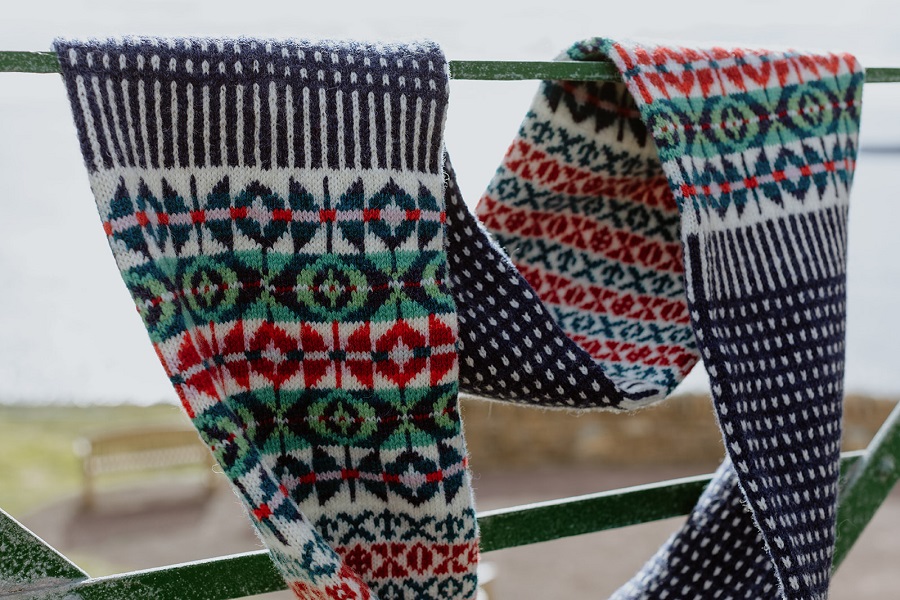 Here's a little peek at one of the items. We'll aim to launch pre-orders in late August.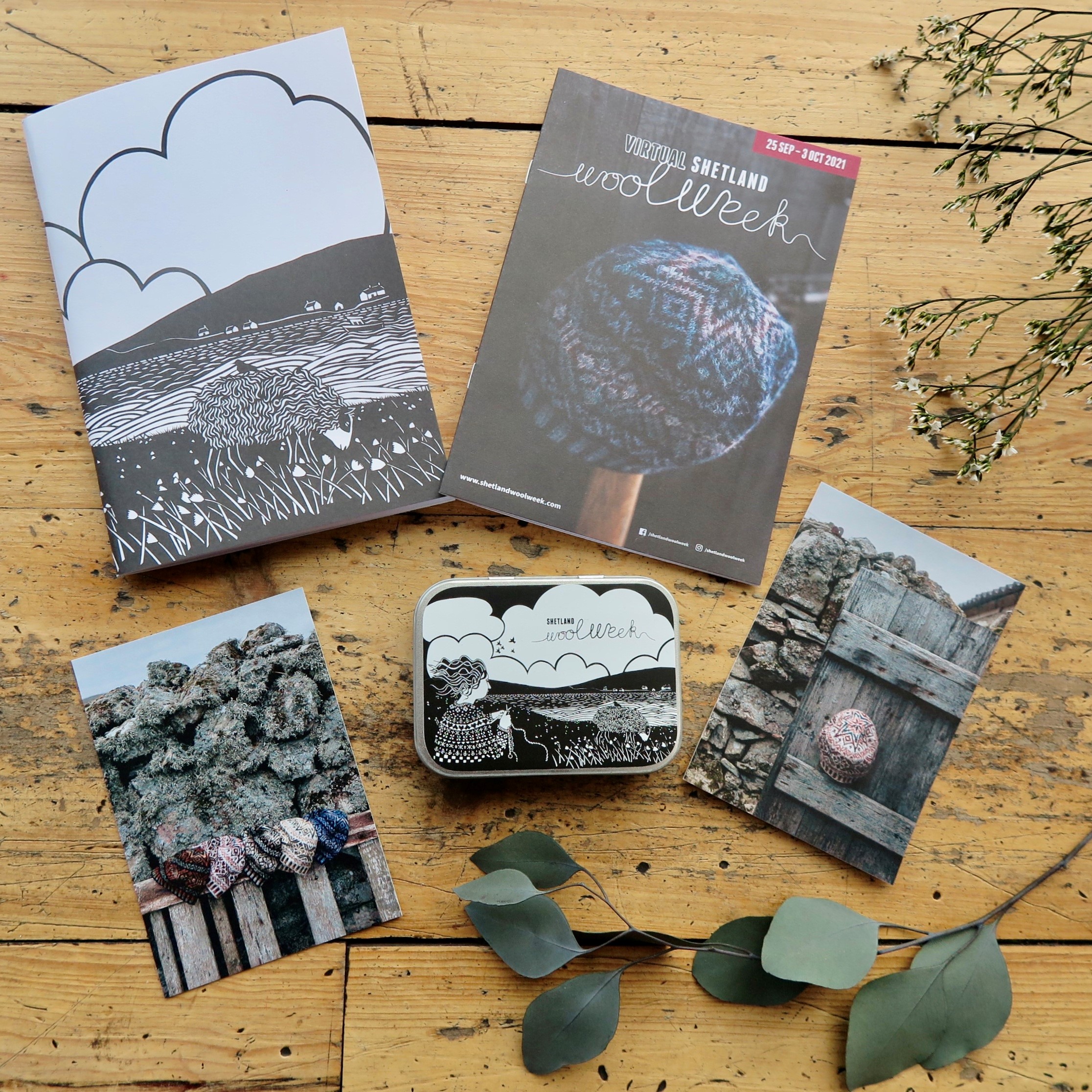 Another big thank you for buying our SWW Celebratory Hat Launch Pack. As with all our merchandise and publications, all proceeds go directly back into the event and to help us deliver virtual Wool Week as well as plan for the future. Your support means so much.

We have a few packs in stock, so if you missed out earlier, or would like to buy one for a friend, now is the time, as once they're gone they're gone!

Price: £16.50, including VAT
Our plans for Virtual SWW are also beginning to take shape. We'll keep you all informed by newsletter and social media, and we're planning to share a programme with you in August that we hope will include a deeper insight into Shetland wool, textiles, crofting and the people that make it all happen. There will also be a limited number of classes, talks and tours to book.

Thank you so much for your interest in Wilma Malcolmson's Da Crofter's Kep – you've clearly all been busy and are loving Wilma's second SWW hat.
If you didn't catch her video before, here it is again.
So many of you have joined the KAL facebook page too – that's the place to go to share your progress and ask all the questions within a welcoming and encouraging space.
Giveaway: Win a Jamieson and Smith blanket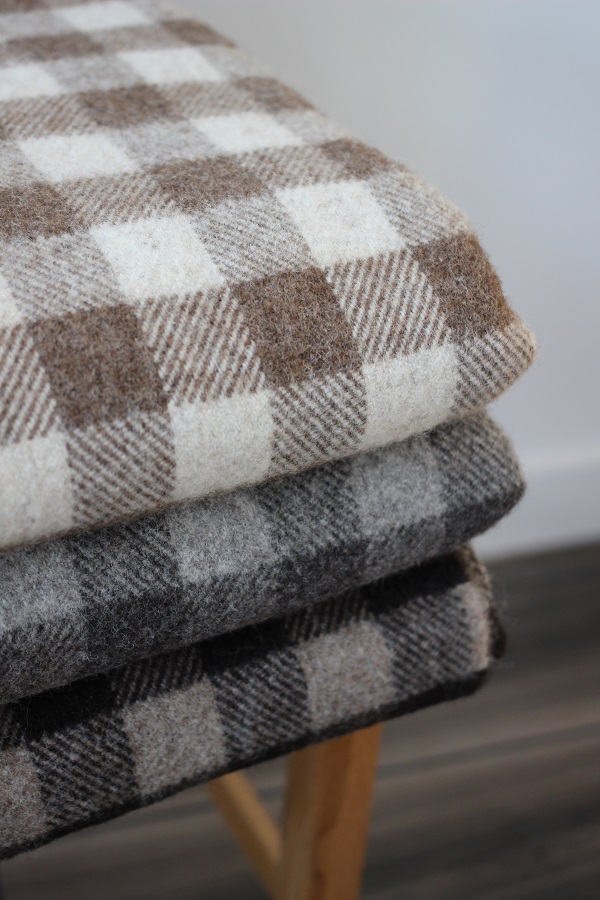 In other news, Jamieson and Smith have launched a new competition to win one of their 100% Real Shetland Wool blankets. The competition is hosted via their facebook and instagram social media pages and is asking people where their dream picnic location would be.
Share your answers on their social media pages to be in with a chance of winning. The deadline is 14 July.
'Lairds Witch'
For those of you who attended SWW in 2019, you may recall the concrete and knit sculptures of the 'Lairds Witch' that were on display in the Shetland Museum.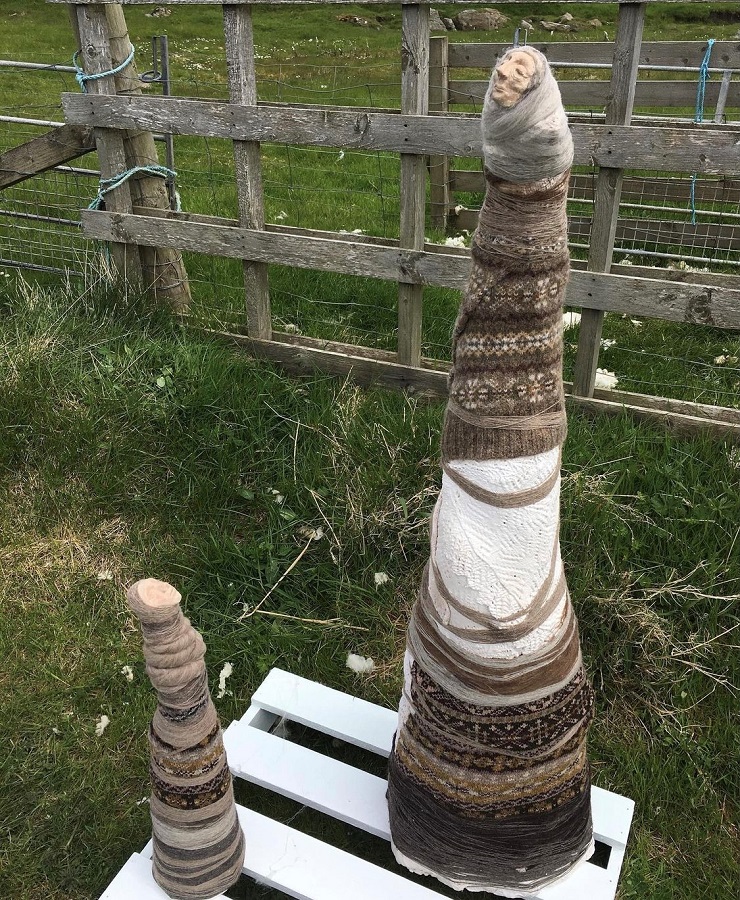 They were the creation of Susan Pearson, a 2nd year BA (Hons) Fine Art student at the Shetland College, UHI. Susan recently contacted us to share the results of her Professional Practice project. Each year Jamieson and Smith fund a residency for this module for the Textile and Fine Art students to create a piece of work that represents the Jamieson and Smith brand. Here Susan explains her response:

"My initial response to our visit to Jamieson and Smith Wool Brokers was to focus on the textures, colours and forms there. I was particularly interested in the juxtaposition of the industrial with the soft wool. I also took note of the shapes and colours of the roving and the cones of yarn.

"I was inspired by Folk Dolls from around the world and researched Russian Dolls, Guatemalan Worry Dolls and the Peruvian Folk Doll. I liked the second-hand materials and wrapped elements used on the cloth dolls and thought I could use knitted materials in a similar way. I also researched the sculptural forms of Barbara Hepworth.

"With an idea of materials and form I began to think of a story. The Greek myth of the Three Fates tells of Goddesses that spin a human's thread of life, cutting the thread once a person's time on earth is over; they are known as the Spinner, the Allotter and the Inevitable.

"I thought about making three sculptures loosely representing these three fates, spinning yarn.  I decided to use two figures so the viewer becomes the third. The viewer can choose their own fate.

"The abstract figures were wrapped in second-hand pieces of knitting, and 8 un-dyed Shetland Heritage yarns and mixed un-dyed wool roving.  I felt that name 'Heritage' yarn added another layer of meaning to the sculpture and the wrapping felt poignant; with the connotations of protection like swaddling a baby. I thought of old stories of gutter's hands and women in shawls and wrapped footwear, spinning yarns."
Update on 'Saucepan', the rescued lamb from Fair Isle
If you follow us on Instagram you'll have seen we shared photos of Rachel Challoner of Barkland Croft's lamb rescue. So many of you asked for an update, so here it is, in the words of 'Saucepan' himself 😊
"If you've not met me before, I was found up on the hills at the end of April, when I was only a couple of days old. My mum had died and I was very cold, wet and hungry. It was a really foggy day but, luckily, I had a really loud baa which Rachel heard and found me! She wrapped me in a fleecy jumper and carried me all the way home in her rucksack – I sometimes wonder why she called me Saucepan and not Rucksack! I now live with her and all my pals at Barkland Croft on Fair Isle.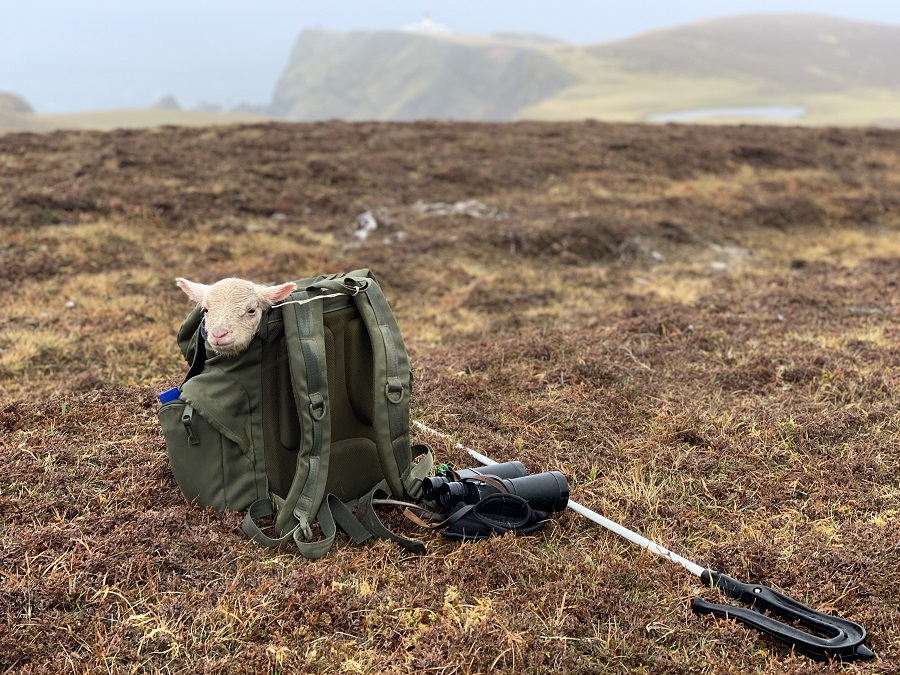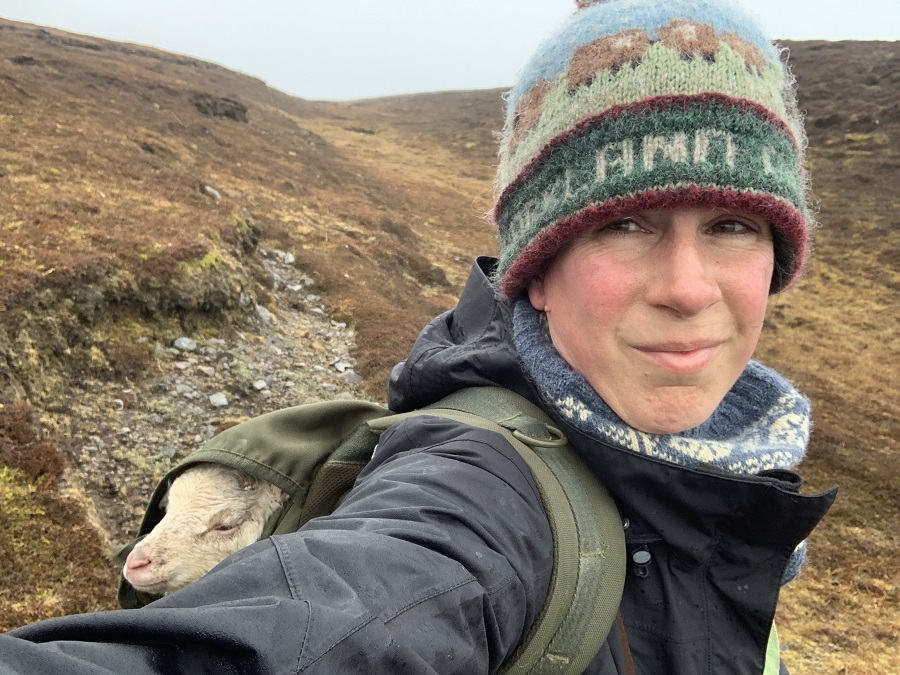 "As you will see from the photos we're getting really big – there's no way I'd fit in that little rucksack now! We used to have bottles of milk to help us grow and we had great fun using the bottle rack – Rachel said it looked like when she was knitting a cabled sweater and the yarns would weave under and over each other! I really like having lots of lamb pals and we also have cat friends too – Scampi is my favourite, she has a big, fluffy tail. Sometimes we all play 'follow the leader' and she leads us around! A few weeks ago there was something called the Eurovision Song Contest and we all got dressed up for it. I was in charge of decorating our 'stage' and put some flags up, but Violet kept trying to eat them and pulled them down!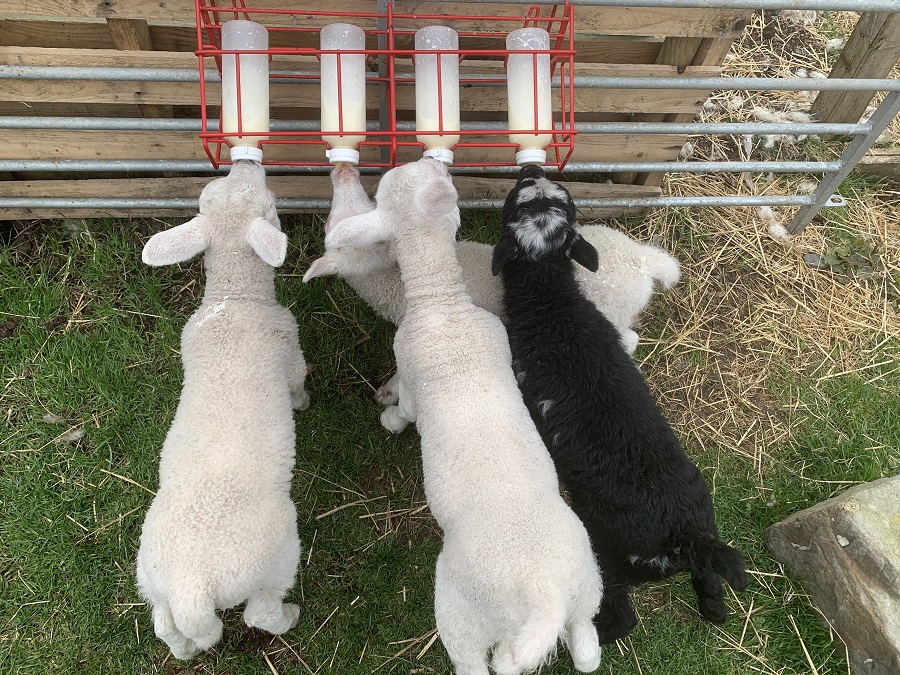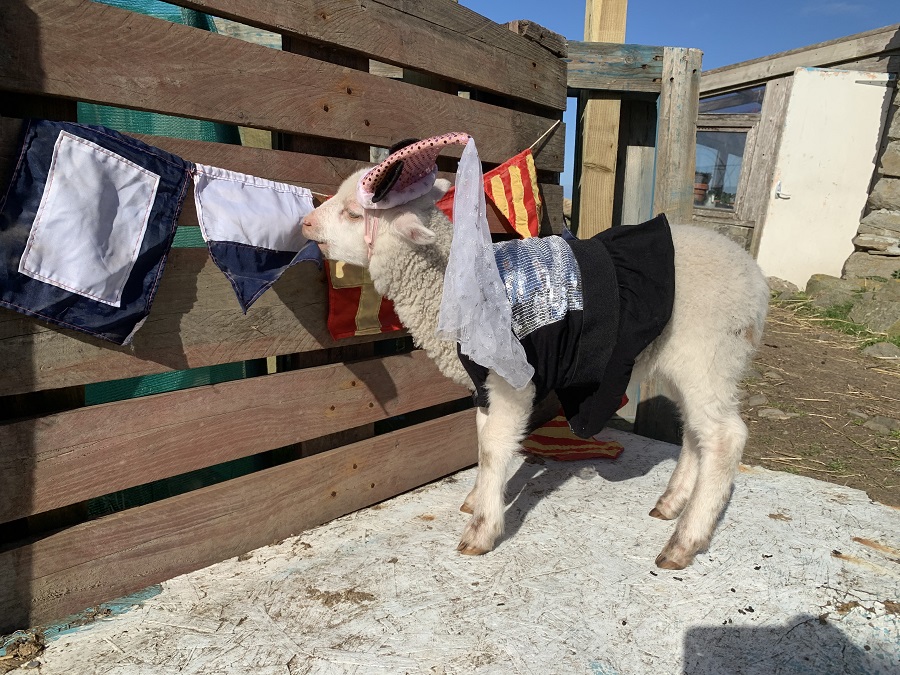 "One of my favourite things though is helping in the garden and I really want to become a gardener when I grow up. I started off bringing Rachel small plant pots when I was little and then I learnt to dig with a fork and carry buckets.  Just recently I have started teaching the other lambs to help too – Tiny Lamb and Fuzzy Felt have been learning the basics of bucket carrying and Violet was a really fast learner in stacking small plant pots!  I've now progressed to bigger plant pots and demonstrated to Violet the 'leg assist' method I use when picking up these larger pots."