Shetland's 'Sunday Teas'
by Mary Andreas, Bigton Community Hall
Not many of us will mourn the passing of year 2020, during which our lives have been completely turned upside down, and now to add to our woes… no Shetland Wool Week!
Food will always play a major part in any festival, especially in Shetland, where sharing food plays a huge part in our community life.  Sunday Teas are a great example of this, where Sunday after Sunday, especially throughout the summer months, local village halls throw open their doors and invite hungry visitors to sample the vast array of soups and home bakes, lovingly prepared by teams of willing volunteers, with the proceeds going towards many good causes. Many Wool Week visitors attending last year's festival will already have experienced such gatherings, and we hope you will have left our shores still feeling some of the warmth of Shetland community life.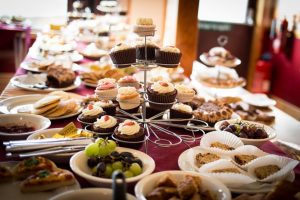 One of the staple foods at any good gathering is the trusty Shetland bannock. Filled with local delicacies such as salt beef, reestit mutton, cold roast lamb or smoked salmon, they are a true comfort food at any time of the year. For something made from such simple ingredients, it's hard for incomers to the isles to understand quite why the recipes continue to promote such local discussions! Everyone has their own favourite 'best' recipe, each made slightly differently. Should one use buttermilk, whole milk or yogurt… or indeed a mix of all three? What type of flour is best… self-raising, rye, beremeal, or again a mix of any or something completely different? Should one add an egg, or is that an absolute no-no?  The permutations are endless! One thing everyone can agree on is that sweet or savoury, the bannock is a must for any event and essential for all visitors to sample!
Shetland Food and Drink Chairwoman, Marian Armitage, has explored many different recipes over the years, but one of her favourite recipes is for beremeal bannocks. The recipe is here for all to try, so enjoy!
Beremeal Bannocks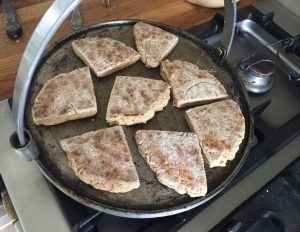 200g beremeal *
100g plain white flour
a large pinch salt
2 level teaspoons baking soda
1 level teaspoon cream of tartar
25g Shetland butter
300g Shetland buttermilk
Method:
Rub the butter into the sieved dry ingredients, add the buttermilk and mix to form a soft dough. Divide the mixture into 3 rounds. Flatten slightly to about 2cm thick. Divide into quarters. Cook on a medium hot griddle or large flat pan for approx. 5 minutes on each side. Cool in a tea towel.
Bannocks freeze very well and are particularly good served slightly warmed.
*Notes on Bere
'Bere' (Hordeum Vulgare) is an ancient six-rowed spring barley which dates back to the 8th Century. It is no longer grown commercially in Shetland but it is in Orkney where it is milled at the Barony Mills in Birsay, Orkney. The flavour is slightly bitter and these plain bannocks are delicious with just butter or with cold meat e.g. salt beef, pastrami, Shetland lamb; cheese, or as an accompaniment to a bowl of wholesome soup. They are equally good with a good spoonful of Shetland Rhubarb jam.
If you are unable to find beremeal – this recipe has been tested and works very well with rye flour instead of beremeal. Plain yogurt can also be substituted for buttermilk.
Treacle Bannocks
We also have another recipe for Treacle Bannocks, which was kindly gifted to us by Marian and was shared in our June newsletter.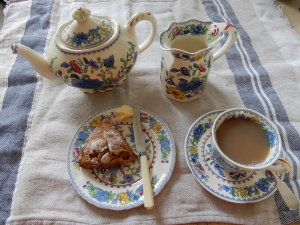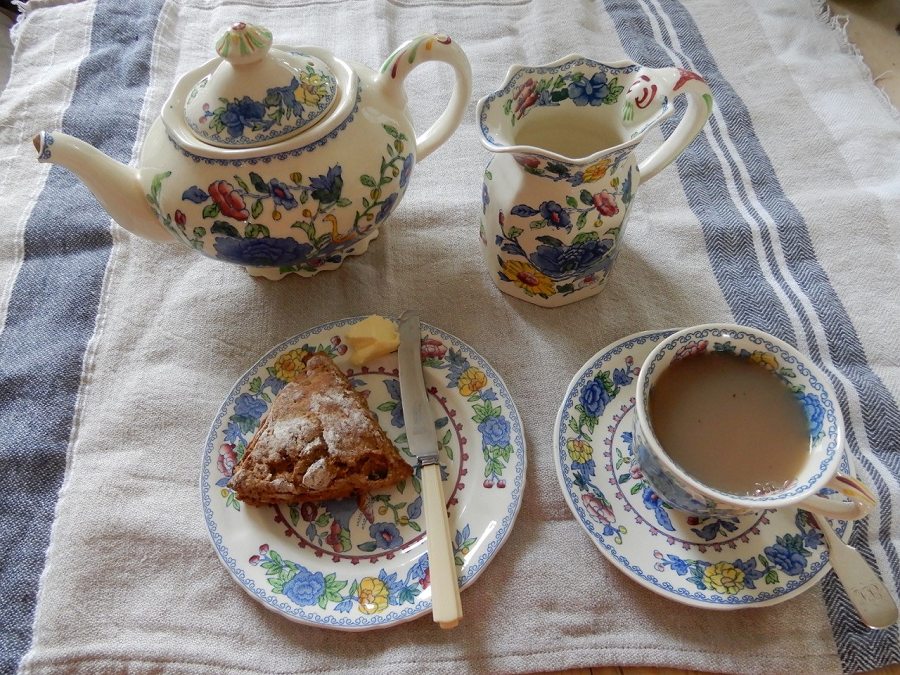 Ingredients:
500g self-raising flour
2 level teaspoons baking powder
4 level teaspoons spice: ideally, ground cloves, nutmeg, cinnamon, mixed spice
50g butter
150g raisins
1 egg
½ pint (10g/fl.oz) milk
1 level tablespoon (25g) sugar
100g treacle (about 4 dessert spoons)
Method: 
Preheat the oven to 220°C.
1. In a small bowl, lightly beat the egg with about ¾ of the milk.
2. Sieve the flour, baking powder, spices and sugar into a large mixing bowl and rub in the butter. Add the raisins.
3. Make a well in the centre and add the treacle and egg/milk mixture and mix with a knife.
4. Add more milk to make a soft consistency.
5. Roll out lightly to about 2 cm thick.
6. Cut into triangles and bake in a hot oven for 15 minutes.
7. Cool under a tea towel.
8. Eat warm spread with Shetland butter.
We certainly keep our fingers crossed that life can return to normal, but to bring you some additional cheer, Shetland Food and Drink will be broadcasting to the world on 17 October from 11am to 3pm with an on-line Food Festival through Facebook, with cookery demonstrations, films by Shetland Food and Drink businesses, providing entertainment for all the family. We would love you to join us. Just visit our Facebook page for updates in the run up to the festival! @tasteofshetland