Summer's here…
Friday, June 29, 2018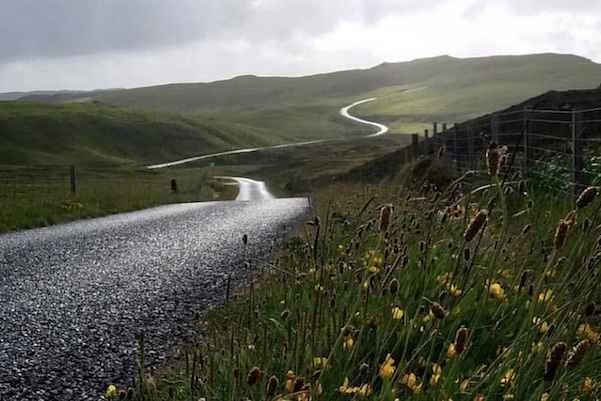 Now that the longest day has passed, it is officially summer! Bring it on we say. We can't get enough of the long Shetland days and all the freedom and opportunities that the extra light bring. Until around mid-July we'll enjoy the 'simmer dim' (summer twilight) when the sun only disappears for a few hours, bringing us almost 19 hours of sunshine. Those extra hours of daylight signal a season of opportunity and seemingly limitless options – whether that means exploring Shetland's great outdoors; grabbing the chance to do more with family and friends; or to relish the time to consider and pursue new creative projects.
Tickets to events during SWW
Last month saw the launch of the SWW 2018 programme. We had a really encouraging response and a lot of events are fully booked. However, there is still a good selection left, and we've listed them all at the end of this newsletter.
Additional classes:
We're adding the following classes to the programme. Tickets for these classes will go on sale Thursday 12 July at 14.00 BST via the SWW Little Box Office.
Traditional Gansey Techniques with Beth Brown-Reinsel
Another chance to try visiting tutor Beth Brown Reinsel's popular Gansey class.Students will learn how to construct a gansey, a sweater form prevalent in the 19th century and early part of the 20th century among the fishermen of the British Isles.
Beginners Fair Isle Knitting with Janette Budge (two hour class)
This two-hour class by Janette Budge is aimed at beginner knitters who are new to Fair Isle or stranded knitting. It will cover how to knit with two colours in the round. The class is open to all ages.
Fair Isle Yoke Bags with Janette Budge and Jeannie Tulloch
Join Jeannie and Janette and make your own Fair Isle-style pouch. An opportunity to practise blending, try a knitting belt and knit with two colours. This class is aimed at the intermediate knitter.
Tour Around a Shetland Croft with Chris Dyer
We've added two more times to this sell out tour. Join local crofter Chris Dyer on an exclusive walk through the agricultural year on the isle of Bressay, looking at the sheep – ewes, rams and lambs.
Learn to Machine Knit with Fair Isle: A Day Playing with Colour and Pattern
Join Andrea Williamson in her Whalsay studio for this creative taster to machine knitting, focusing on Fair Isle.
Creating the Effect with Fair Isle with Terri Malcolmson
In this class you'll be guided by tutor Terri Malcolmson on how the combination of colours and motifs can be used to create the desired effect in your Fair Isle knitting.
Shetland Star Sampler: An Introduction to Wool Embroidery
Create a mini stitch sampler, designed specially for Shetland Wool Week 2018 using the finest Shetland yarn and simple embroidery stitches. The tutor, Lesley Thornton, was involved in the creation of the Great Tapestry of Scotland. The class takes place in a workshop at the top of the cosy Peerie Shop, Lerwick. Choose from either Monday 24th or Wednesday 26th
Basic Brioche Stitch and How to Knit it with Amy Detjen
Learn the basics of 2-colour brioche in the round by beginning a lovely, reversible cowl.
SWW 2018 Annual
We've had lots of enquiries about the SWW 2018 Annual. Patterns are in, the photoshoot is complete so we're working away on the annual design now. We'll be giving you plenty of information in the next few months, but for now, here's a sneak peek of what's to come …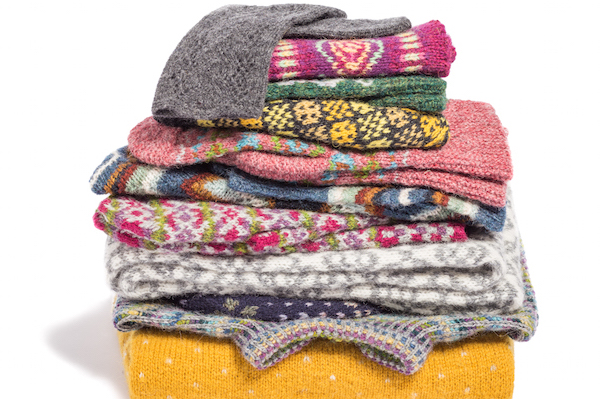 The annual will be available to pre-order from early September. Details will be announced in future newsletters and through social media.
Summer SALE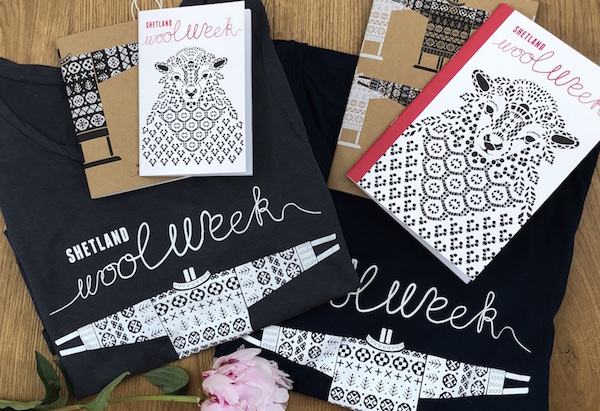 It seems to be the season of the summer sales, so we thought we'd do our bit too. We're delighted to be able to reduce the price of the exclusive SWW t-shirt and notepads form 2016/17.
Organic cotton long sleeved navy top: £8 (was £15)
Tencel and organic cotton twisted scoop neck t-shirt in ink grey: £10 (was £15)
A5 notepad: £2.50 (was £4) 2017 design  2016 design
A6 notepad: £1.75 (was £3) 2017 design 2016 design
Shetland College UHI / Shetland Wool Week Prize Winner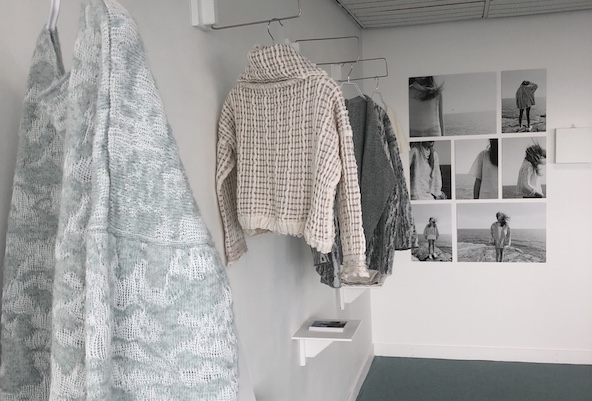 We were thrilled to see Rhea Kay, talented fourth year graduate in BA (hons) Contemporary Textiles at the Shetland College UHI named as the very worthy winner of this year's Shetland Wool Week Prize.
Her work was on display at the college this month, together with Megan Smith's woven project. Both students have really pushed the boundaries of what textiles are by incorporating elements, such as sound, installation, fashion and photography to an exhibition standard.
Rhea Kay's 'Coastal Cool' used the Shetlandic coast as its central focus and the project was inspired by elements such as the patterns and structures found in sea foam and shells. It also gave a nod to Shetland's links with Scandinavia and prioritised elements such as simplicity, minimalism and light. Her work is truly beautiful and we think Rhea's name is one that we will definitely be hearing more of in the future.
SWW tutor Janette Budge went along to the exhibition and commented: "I loved looking at the work today. Such a feast for the eyes! Rhea's pieces are all so wearable and the two light tops are so delicate and cloud like. It gives a different perception of wool which we often associate with warmth, cosiness and winter. These are the opposite, summery, classy and lightness of knit."
We're delighted that we'll be able to share Rhea's work with you as it will be on display at the 'Kaleidoscope' exhibition, which will take place at the SWW Hub in the Shetland Museum and Archives, as part of a wider exhibition to celebrate the Year of Young People.
My Day in Stitches / Anne Eunson
Many of you will know Anne Eunson from her fabulous lace knitting classes, or perhaps, more recently from visiting or seeing photos of her ingenious knitted Shetland lace fences, one of which is currently on display at the Shetland Textile Museum. Anne has lived in Shetland all her life. Originally from Voe, she now lives in Burra. She has a daughter and son, and three grandbairns. She's an extremely busy lady, and has had a varied working career: her first job on leaving school was at T M Adie & Sons in Voe, working on a knitting machine. She then spent seven years as auxiliary nurse at Maternity annexe before having her own children. This was followed by 16 years at Lerwick Pre-School, where many parents and carers would vouch for her most wonderful knack of eking out and encouraging creative talent in the very young.
We caught up with her to find out more..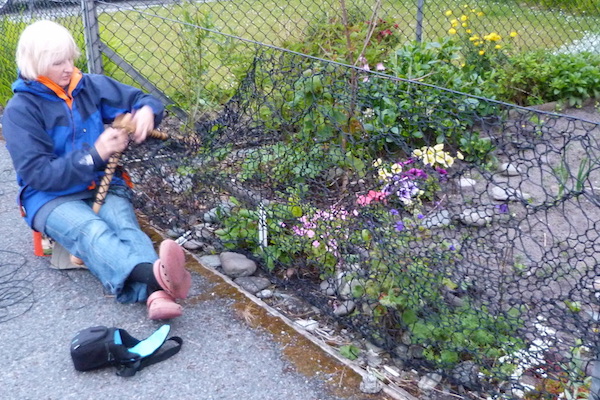 Why do you knit?
Knitting to me is a bit like breathing. I've been doing it all my life, I think I was born with knitting needles in my hands. I need to know I have something on "da wires" that I can pick up when I sit down otherwise I would become agitated. Maybe I've got an addiction?
Where and when do you usually knit?
I usually take my knitting with me wherever I go, so I'll knit anywhere and at any time. It's a big struggle for me to sit "haand idle". I do enjoy going to my favourite cafe and do some knitting while I have a coffee. The only place I won't take my knitting to is the church.
How does your perfect day shape up?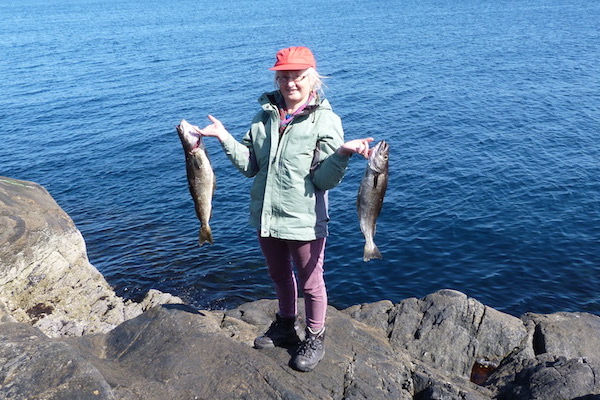 My perfect day would be getting up early on a sunny summer's day and potter about in my garden while I listen to the dawn chorus and the rest of the world slowly come to life. Then I'd like to spend a few hours at "da Craigs" (sea fishing from the rocks) and hopefully catch some fish for tea. In the afternoon I'd find a sheltered spot in the garden where I can sit and knit, then invite some friends/family round for tea. The evening would be spent playing music with a few of my musician friends.
What's on your needles right now?
I have a wedding to go to in a few weeks' time so I'm in the process of knitting a lace stole to wear for the occasion. I always have a pair of socks on the go too, that's my emergency/take anywhere knitting, which I can stuff in my handbag if necessary.
What's been your most challenging knitwear project to date?
A few years back I needed to replace the fence around my front garden and I was trying to think of how I could do this myself with materials that weren't going to cost a lot of money. The existing fence had angle iron uprights plus a top and bottom wire and I realised that would be the perfect support for a piece of lace knitting. One of my favourite Shetland lace patterns is "Da Print and Da Wave" and I thought that could look good just running along the fence. But what yarn could I find that was going to stand up to the elements here in Shetland? I decided to visit the local net mending store and see what they used for fishing nets. I came home laden with a few kilo of black polypropylene twine eager to get started but I didn't have any big knitting needles. I mentioned to my Mr Fix Anything friend what I was planning to do and, low and behold, a few days later he appeared with a beautiful pair of needles he had crafted from an old wooden curtain pole. Once I got started it only took about three weeks to complete, but it was not an easy knit, mainly because of the difficulty in seeing the pattern in the knitted twine. It's been in situ for six years and standing up well.
What inspires you?
In the knitting world it is the very fine handspun Unst lace that inspires me. I never get fed up seeing it and it never fails to amaze me that such intricate patterns can be achieved by just a few simple stitches. How did they have the patience to spin all that fine 2ply yarn?
Neutrals or colour?
Although I don't do a lot of colour work myself I do like colour. One person I admire greatly for her use of colour is Wilma Malcolmson: she just gets colours to work.
Do you get involved in local events or community groups?
I'm volunteer lead tutor for ShetlandPeerieMaakers at my local school, teaching primary bairns the Shetland way of knitting. I like to help at charity fundraising events my local church organises and the Soccer School they run each summer. The biggest event I get involved with each year is Shetland Wool Week. This year I'll be teaching six different classes all relating to lace, three of these will be with my sister Kathleen Anderson. I do enjoy the teaching aspect and meeting likeminded folk from all ends of the earth. It is a brilliant week.
Favourite Shetland dialect word and why?
Some Shetland words are just so descriptive that there is no substitute in the English language. Spaegie has to be a favourite, it's that ache you get in your muscles from overdoing things the day before. I suffered fae Spaegie in me airms and shooders whan I wis knitting me fence.
What's your favourite thing about Shetland?
I have so many favourite things about Shetland it's impossible to pick only one. There's the ever changing sea, wild flowers, long summer days, tattie soup and Reestit mutton, saat fish, bannocks and rhubarb jam and then there's the folk who live here, too. It's great to live in a community where you know your neighbours will be only too willing to help you should the need arise; that's especially reassuring for anyone living on their own. Oh, and I almost forgot, the music scene here is pretty special too, the talent in the young school bairns takes my breath away.
If you would like to join Anne on any of her classes during SWW there are still spaces for:
A Lace Wall Hanging with Anne Eunson
The Perfect Finish for Lace with Anne Eunson and Kathleen Anderson 
 SWW tickets still available
There are bookable tickets available for the following:
WORKSHOPS

TALKS AND/OR EVENING EVENTS
TOURS
SWW Ticket Sales Information
Thursday, May 17, 2018
We're on the countdown to the Shetland Wool Week 2018 programme official launch date and the opening of ticket sales.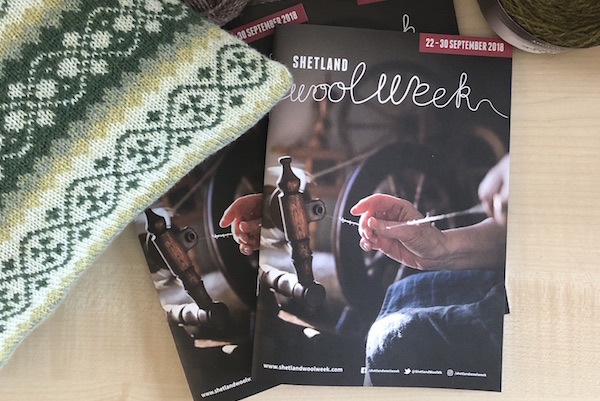 The Little Box Office opens on Sat 19 May at 10.00am (BST). The website can be found at www.thelittleboxoffice.com/shetlandwoolweek
Please DO NOT access the site between 9.55am – 10.00am BST on Saturday.
This is for two important reasons:
There will be nothing to see or buy
It will cause you issues when trying to see the events and buy tickets after 10.00am BST.
Leave it for a little while and go to the site after 10.00am.
SWW 2018 Programme Update
Tuesday, May 1, 2018
As always, May signals the launch of the Shetland Wool Week programme.
Tickets will go on sale on Saturday 19 May, 10.00am BST.
For all those who have signed up as members we will be emailing you the programme as a PDF file on Wednesday 9 May.
A contact telephone number will be issued closer to the launch date, in case anyone experiences technical problems on May 19th.
SWW 2018 membership
There is still time to sign up for SWW membership, which along with a host of goodies includes advance access to the programme allowing you the chance to plan your events of choice before the tickets go live.
We kindly ask that you do not share your advance copy of the programme with non-members.
Details on Premium Membership or Standard Membership can be found here.
Some highlights of the programme:
The programme is looking really great this year!
We're delighted to see the return of many familiar faces and organisations. There are too many to list them all but they include Donna Smith, Hazel Tindall, Terri Malcolmson, Joanna Hunter, Wilma Malcolmson, Rachel Hunter, Janette Budge, Deborah Gray, Niela Kalra, Mike Finnie, Shetland College Textiles, Shetland Organics, Ronnie Eunson, Oliver Henry, Helen Robertson and Linda Shearer.
Shetland Wool Week primarily works with tutors from Shetland, but we have visiting tutors joining us too, including Beth Brown Reinsel; Sally Melville; Tania Ashton Jones; Anna Vasko and Frankie Owens.
We've added more weaving and spinning classes, with patron Elizabeth Johnston running two additional spinning courses designed especially for Shetland Wool Week.
As well as tours to Unst, South Mainland, Bressay, Uradale, Whalsay, Sandness Mill, North Mainland and a Walking Tour of Lerwick, there are vibrant talks and social events lined up too, plus a host of free drop-ins and exhibitions, as well as the Makers' Market and Flock Book sale.
Slow down!
With over 300 events from morning 'til night, there should be plenty for all.
Slow down, soak up the atmosphere, mix up your itinerary with a variety of classes, tours and exhibitions, and leave time to travel around the islands and appreciate all that Shetland has to offer. As well as learning new skills, Shetland Wool Week is also about meeting up with old friends and making new ones along the way.
We hope you enjoy the programme when it comes.
Love Shetland Wool Week – Become a 2018 Member
Friday, March 30, 2018
 Annual Shetland Wool Week 2018 membership is now live!
This year we are introducing a few changes to our membership with the focus on benefits to you, as well as supporting the future of Shetland Wool Week.
Shetland Wool Week depends on its many supporters in everything it does. Your generosity is important to us and provides us with the life blood to continue delivering a varied and inspiring event, as well as helping to preserve Shetland's textile heritage and its rural farming community for future generations to enjoy.
Introducing the Merrie Dancers Toorie
Thursday, March 15, 2018

We are thrilled to announce this year's Shetland Wool Week patron as Shetland knitwear designer and handspinner, Elizabeth Johnston.
Read More
March update
Wednesday, March 7, 2018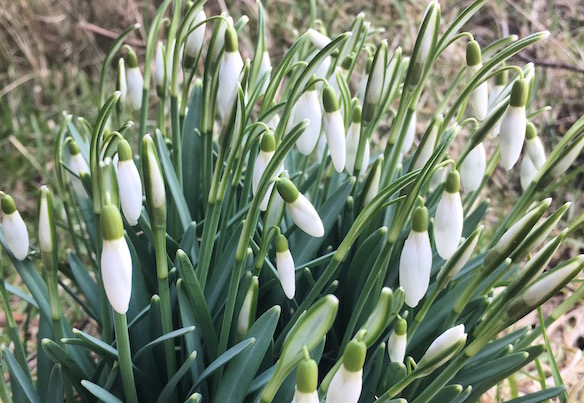 It's March and we are definitely still in the throes of winter here in Shetland. Despite enjoying a handful of brighter, warmer days which teased us with hints of spring, the 'Beast from the East' has caught up with us and the rest of the UK. Read More
Christmas festivities
Wednesday, December 20, 2017
We're now in the final week before Christmas and, as always, it's hectic with too many things to fit in – last minute work commitments, last minute shopping, pressures to get the house organized and the fridge well-stocked. Island life also throws into the mix the extra worry factor of bad weather and whether transport connections will run smoothly, or the supermarket and parcel deliveries will make it in time.
It is a crazy time of year, but there is no hiding from the fact that we love it! We enjoy the traditions, the food, the glitter and sparkle – and the chance to be 'off' and spend time doing all the things we love most, whether that's cosying up by the fire, knitting, visiting friends and family, or making the most of the wonderful Shetland scenery.
We caught up with some of our Shetland Wool Week tutors to find out what the festive period means for them. 
SWW 2017 round up
Monday, November 6, 2017
We can't believe it's a month since Shetland Wool Week 2017 ended. What an amazing, inspiring, creative and wonderful nine days it was! We're still buzzing.
Having had a break to recover from the adrenalin surge it's lovely to be able to look back at the photographs, swap stories, read your social media feeds and all your comments.
As always, we are staggered by how far people will travel for SWW, and this year was no exception. The visitors' map, where everyone is invited to pin where they travelled from was a great indicator, with marks on Australia, Canada, the East and West coasts of USA, Scandinavia, Europe, Israel and the UK.
SWW Annual Volume 3 (2017) launched
Saturday, September 16, 2017
At last, the wait is over and the SWW Annual Vol III (2017) is now available to pre-order.
This year it's bigger than ever with 12 exclusive patterns and six essays. As ever the photography is stunning and much of it was taken at Shetland's historic south end of Commercial Street in Lerwick.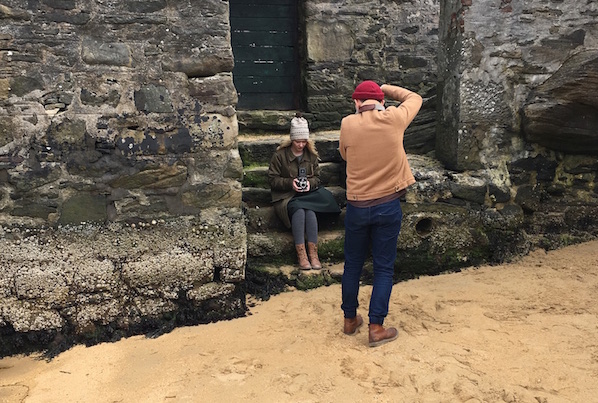 We're thrilled with how it has turned out and are in awe of the talents of all the contributors. Thanks also to Alex Mazurov for his incredible photography and Ruth Brownlee for the loan of her amazing SeaWinds house.
Summer agricultural shows
Thursday, August 24, 2017
Shetland Agricultural Shows
Summer in Shetland always means the fabulous agricultural shows. These offer so much to the community and visitors – and are also an opportunity to showcase livestock, knitwear, baking, horticulture, arts and crafts, stalls, kittens, ducks, dyed yellow sheep:  you name it, it's likely to be there!
Hazel Tindall visited all the big shows: in Voes, Cunningsburgh and Walls. Here are some of her highlights.