Introducing the Merrie Dancers Toorie
Thursday, March 15, 2018

We are thrilled to announce this year's Shetland Wool Week patron as Shetland knitwear designer and handspinner, Elizabeth Johnston.
The news was officially launched this morning at the start of the Edinburgh Yarn Festival, where Shetland Wool Week has a stand.
The annual SWW hat pattern, which is now synonymous with the launch of the patron, was also released. This year's official hat pattern is called 'The Merrie Dancers Toorie' and was designed by Elizabeth Johnston. The hat is based on a fisherman's kep in the Shetland Museum and Archives' Boat Hall, and features three small patterns, but is not a Fair Isle design.
Elizabeth has lived in Shetland all her life, and like many others who grew up in the islands, has knitted from childhood. Elizabeth bought her first spinning wheel in 1978, which changed her focus from knitting to spinning, and also teaching these skills. She eventually started her own business, Shetland Handspun, which has taken her to many places around the world and she is in high demand as a speaker and instructor.
Elizabeth said: "I have loved designing the Merrie Dancers Toorie. The kep has a dark background with colours that remind me of the northern lights, or 'merrie dancers', and a familiar sight to fishermen. You can blend or contrast any colours and I have suggested a variety that use yarns from Jamieson & Smith; Jamieson's of Shetland; Uradale Yarns and Shetland Handspun."
We are delighted to have Elizabeth as our new patron. She has a life-time of knowledge about Shetland wool, learned from those who came before and honed through practice. Centuries of Shetland textile craft come together in her work: sheep-rearing, wool processing, dyeing, spinning, knitting, weaving. Perhaps more importantly, she is passing on her skills and knowledge to others through practice-based teaching, just as Shetlanders have always done.
Download your copy of the hat pattern
The Merrie Dancers Toorie pattern can be downloaded for free here or come along to our stand at EYF and pick up a printed copy. Elizabeth will be splitting her time between the SWW stand and also her own stand, Shetland Handspun, so drop by and say hello.
The pattern will also be available from the Shetland Museum and Archives shop and textile outlets in Shetland.
Knit the hat in any of the suggested colour variations, or come up with your own colour scheme, and wear it to Shetland Wool Week 2018 – identify your fellow Wool Weekers and compare hats throughout the week and at the official SWW 2018 photograph!
Remember to share your creations and experiences with us by tagging your photos with #merriedancerstoorie or #shetlandwoolweek2018
March update
Wednesday, March 7, 2018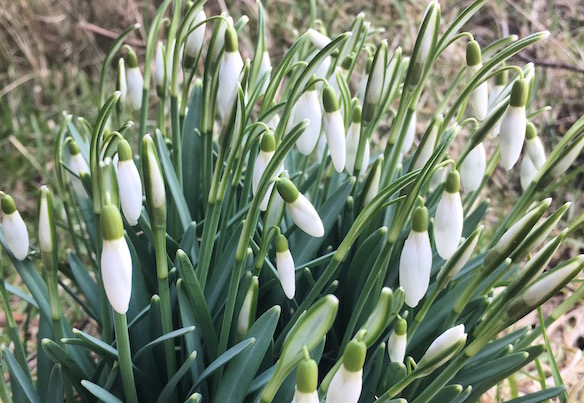 It's March and we are definitely still in the throes of winter here in Shetland. Despite enjoying a handful of brighter, warmer days which teased us with hints of spring, the 'Beast from the East' has caught up with us and the rest of the UK.
We're lucky though that despite the long dark days, there have been plenty of highlights to keep us going. Many will be familiar with Shetland's spectacular fire festival that falls on the last Tuesday of every January: Up Helly Aa.
Winter celebrations
This year the weather wasn't kind, but still the raven flags were hoisted high and the Jarl Squad started its long 24 hours celebrating Shetland's viking heritage.  Throughout the morning the Jarl Squad marched the streets of Lerwick, roaring, singing and showing off their incredible Viking costumes and galley 'Blaze Away', which had taken thousands of hours to craft.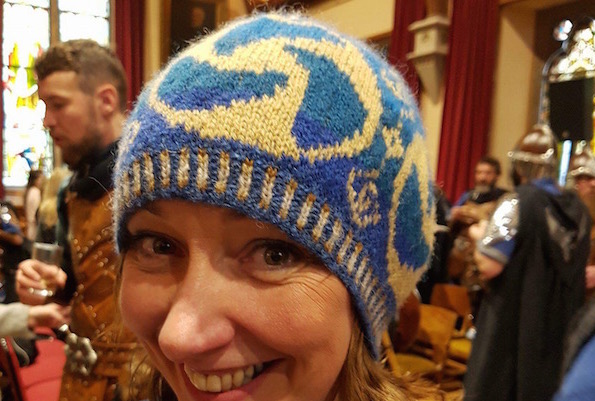 The Chief Guizer Jarl's wife wore an amazing cowl and hat, specially designed and hand-knitted by SWW tutor Janette Budge.
The real event came in the evening though, with around 1,000 men gathered in their 'squads', all dressed in weird and wonderful costumes, ready to begin the torchlit procession. UHA really is a spectacular sight and the heady smell of paraffin in the air is strangely comforting. The procession culminated, as always, with the burning of the galley. And from there it was off to the 'halls' for all night revelling until around 9.00am. Shetlanders know how to party! And all was eerily still the next day as schools and many offices closed for a Public Holiday.
With a further 11 UHAs taking place throughout the rest of Shetland, winter is actually a very busy and community-led season.
Crime drama: Shetland
Another highlight has been the welcome return of the popular BBC crime drama 'Shetland'. It's been encouraging to learn that the production company has been increasingly keen to showcase local knitwear.
So now, not only are we spending our time analysing every location and accent, we're also playing 'spot the Shetland knitwear'.
Detective Inspector Jimmy Perez can be seen in Wilma Malcolmson's (Shetland Designer) ganseys which are made from Jamieson's wool. If only he would take his pea jacket off more often so that we could see beyond his neck! And Quendale Designs (Hannah Nelson) provided scarves, head wraps and fingerless gloves too.
Plans for SWW 2018 programme gather pace
We're well underway with our programme for 2018. It does take some considerable time to coordinate all the events. As anyone who has experienced Shetland Wool Week knows, many of our events are run on a voluntary basis or by people who are adding it to their day jobs.
We are really working hard behind the scenes to put together a full and diverse programme to showcase the skills and expertise of Shetland tutors as well as some visiting international ones too.
Changes to SWW membership
We'll announce 2018 membership details in the next few weeks. This year membership will not include access to the 'opening ceremony' so there is no immediate rush to buy it.
Rather it will be set up more as a direct way of supporting the sustainability of the event as well as including some perks and goodies too.
The programme will be announced in late April/early May to all members and tickets will go on sale to everyone in mid-May. 
Edinburgh Yarn Festival
We'll be attending the Edinburgh Yarn Festival later this month. There's going to be a strong Shetland contingent with Jamieson's of Shetland, J&S, Uradale Yarns, and Shetland Handspun all taking stands.
We're very excited to also be announcing our new SWW patron as well as the 2018 hat pattern. Visit us at stand M1 and pick up your free pattern. We're handily situated close to the coffee and cake café… so no excuses not to come and say hello! For those not attending EYF the hat pattern will be available to download for free on the SWW website from 15 March.
'My day in stitches': Janette Budge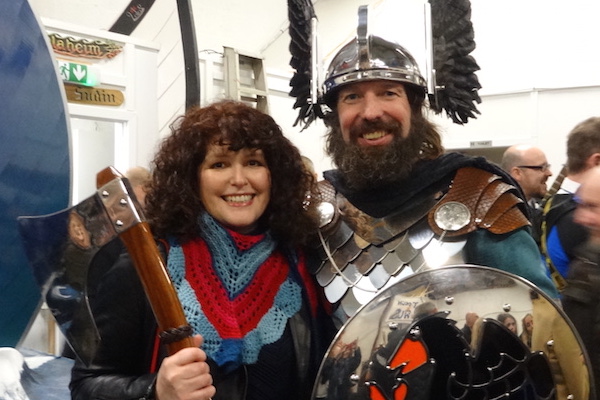 Some of you may have met Janette during previous Shetland Wool Weeks. She and her mum Jeannie Tulloch hold the popular 'Knit your own Fair Isle yoke bag' class.
Janette has lived in Shetland all her life, except for a brief working holiday in Australia in her early 20s. She grew up on the west side of Shetland but now lives in the south mainland close to St Ninian's Isle. Married, with two daughters, she's mostly a stay at home mum but volunteers for various groups and helps out on her niece's farm at lambing time, and knits.
She learned to knit when she was about six from her mum and also had knitting lessons at primary school a few years later as part of the curriculum.
We caught up with her to find out more about her love of knitting.
Why do you knit?
I love the creative challenge and making unique presents for people.
Where and when do you usually knit?
I try to take my knitting everywhere, waiting at children's activities, cafés, but usually at home in my sitting room with the peat fire on in the evening this time of year.
How does your perfect day shape up?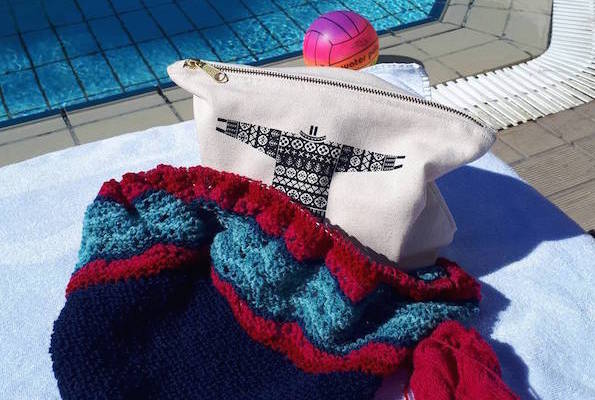 Well, I had a pretty perfect day on holiday in Cyprus last October. Lovely walk along a shore side path taking in all the morning sights and sounds, chatting to cats along the way followed by a scrumptious buffet breakfast in our 5 star hotel of fruit, pancakes, bacon, scrambled eggs and not forgetting the maple syrup!  A few relaxing rows on the shawl scarf I was knitting on our sunny balcony followed by an energetic burst of aqua aerobics.  After a quick dry off I settled back on my padded sun lounger by the pool with my audio book and my knitting: it was heaven.
What's on your needles right now?
A raspberry cowl for myself, inspired by Up Helly Aa, the colours that suit me and a swatch I made on a Vivian Hoxbro colour class at Shetland Wool Week back in 2014.  It was a fantastic day in the stunning location of Sumburgh Lighthouse.  It was a windy day with sea spray flying up the cliffs but this made it all the more dramatic and memorable.  Colour is my thing and to spend a whole day talking and swatching with colours was invigorating!
What's been your most challenging knitwear project to date?
Probably the hats and cowls I made for my cousin Elaine who was this year's Lerwick Guizer Jarl's wife.  She asked me to make several hats using the design on the men's Viking shields and the jewellery specially commissioned for the wives and girlfriends of the squad.  Working out motifs that are not symmetrical and having only worked out a couple of hat crowns before made it a little challenging but I enjoyed the process.
What inspires you?
Colour and practicality, last week I saw a poster at school and thought the colours would look lovely knitted together.  The practicality comes from what I've either been asked to make or what I'm needing at that time, like the cowl I'm making for myself. I would love to have something I can pull up over my chin or nose when I'm out for a walk on a cold day and for it to tone with my jacket.
Neutrals or colour?
Colour.
Do you get involved in local events or community groups?
Yes, I'm a volunteer head tutor for ShetlandPeerieMakkers at my daughters' school.  I'm a rower and help out at our rowing club events.  These are not your sliding seat type, these are based on a traditional Ness yoal used for fishing many moons ago.  We do have a cox, and six rowers with one oar each.  I bake and help out at Sunday Teas when needed for various groups that I or my children are involved in.  It's a great way for community organisations to raise much needed funds.  I volunteer when I can at the Shetland Textile Museum in Lerwick, I love meeting all the visitors and it's great to have the excuse to speak about knitting all day.  I'm a member of the Shetland Guild of spinners, weavers, knitters and dyers and have learned a lot from the other members and visiting speakers, plus it's great to be in the company of like-minded people.  And, of course, Shetland Wool Week, which is one of the highlights of my year. I am so fortunate to have such a long wool related festival on my doorstep.  Many wool festivals are only a few days but ours lasts a full 9 days and there's still knitters around before and after the programmed days.  I teach classes with my mum, and volunteer at The Hub plus go to as many other events and classes as time allows.
Favourite Shetland dialect word and why?
Paes-wisp; – means a tangle of threads or lines.  For me it just sounds so descriptive and is usually said with a bit of expression.
Sometimes my knitting bag can get in a bit of a paes-wisp with all the colours I carry around with me.  "Hits geen in a paes-wisp upo me"  It's gone in a tangle on me.
What's your favourite thing about Shetland?
That's a hard one. I could say fried reestit mutton, gardening at 11pm on a sunny night in June or family trips to Unstfest, but I would probably have to say community spirit, whether it's through the many Up Helly Aas, sports clubs, ShetlandPeerirMakkers.
Things happen in Shetland because of the community spirit and the openness to work together: the camaraderie, the enjoyment of working together in some way for the greater good of the community.  This then leads to other individual acts of kindness to the friends you have made, like picking up something from town to save them a special trip or lending them your lawn mower when theirs has broken down.
"Da giean haand is aye gittin"
A kindly and generous person is usually treated well by her neighbours.
Christmas festivities
Wednesday, December 20, 2017
We're now in the final week before Christmas and, as always, it's hectic with too many things to fit in – last minute work commitments, last minute shopping, pressures to get the house organized and the fridge well-stocked. Island life also throws into the mix the extra worry factor of bad weather and whether transport connections will run smoothly, or the supermarket and parcel deliveries will make it in time.
It is a crazy time of year, but there is no hiding from the fact that we love it! We enjoy the traditions, the food, the glitter and sparkle – and the chance to be 'off' and spend time doing all the things we love most, whether that's cosying up by the fire, knitting, visiting friends and family, or making the most of the wonderful Shetland scenery.
We caught up with some of our Shetland Wool Week tutors to find out what the festive period means for them. 
Linda Shearer from the island of Whalsay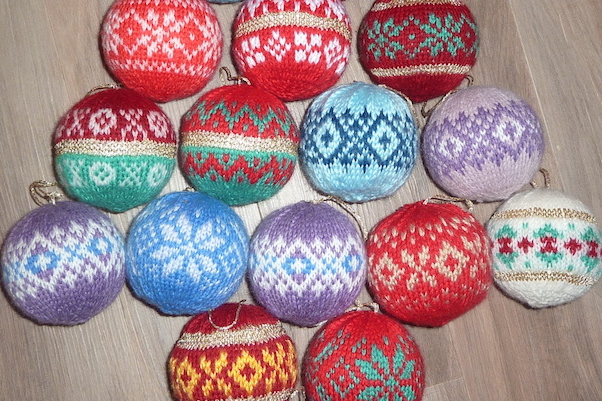 Christmas to me means family; we usually have all our family including my mum and dad for Christmas dinner.  I always like to have some knitting on the go, but be finished with any large projects – it's supposed to be bad luck to have a knitting project lying unfinished over Christmas.  According to my mum, it would "Craa on Yuleday".  I don't know if this is just a Whalsay saying, or if it's known Shetland wide.
 Joanna Hunter, knitwear designer and owner of Lerwick-based gift shop, Ninian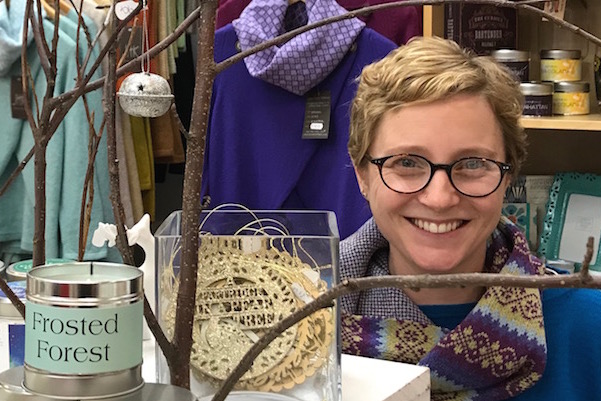 Christmas has always been about frantic knitting, long dark nights driving home and glitter from head to toe. Having a shop at Christmas time means that Christmas for me starts in October with the first wave of overseas orders coming in and filling the shelves with woolly items and sparkly baubles. I love how the shop looks and how happy everyone is when they come in to chat.
The Christmas window display is something we have been talking about and planning all year, when it's finally finished it feels like a coming together of everyone's ideas, hard work and inspiration.
Our studio is always a mix between bits of yarn, stacks of knitwear waiting to be finished and parcels with addresses for all over the world; it amazes me every year where our orders come from. When we close the shop on Christmas Eve the staff all stay and have a few mince pies, glass of bubbles and inevitably a few customers have a toast with us too. It's always a relief to get some days off with the family to sit with my feet up, play board games and eat far too much!!
 Niela Kalra of Nielanell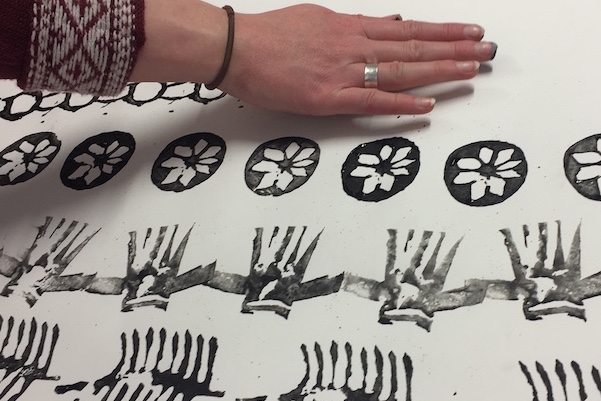 Christmas is a time to reflect, and to percolate new design ideas while enjoying a break from studio life – come January prototyping of new collections will be well underway. It's been such a busy and exciting autumn: I've been collaborating with V&A Dundee on a series of workshops with young Shetlanders, and also took a Nielanell pop-up shop to Inverness. Now that we're amongst Christmas orders, Wool Week seems a really long time ago!
The inspiration for the V&A Dundee project was, of course, an old Fair Isle jumper.  Young Shetlanders studied Fair Isle knitting and deconstructed some knit to enable them to explore community through pattern. They made potato prints of imagery which reflected their own Shetland communities.  The new knitted designs they came up with will be exhibited when the new museum opens next year!
Gudrun Johnston, SWW 2017 patron and knitwear designer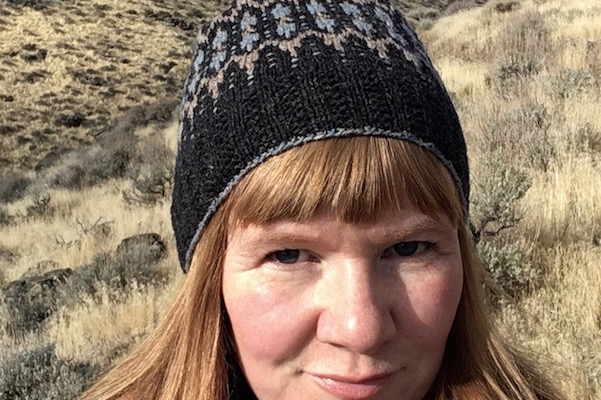 I do enjoy the festive season but don't necessarily have hard and fast traditions that I stick to. Since marrying an American 20 years ago and moving back and forth between countries, Christmas has always taken on slightly different formats. Sometimes we are with friends, sometimes with extended family. However every year definitely involves some knitted gifts! In the early days of my knitting I would be overly ambitious and plan far too many projects. This often meant staying up late Christmas Eve to frantically finish something off! Nowadays I make a few hats and randomly decide who will get them! Only this year, so far, I have kept one of those hats for myself!
 Hazel Tindall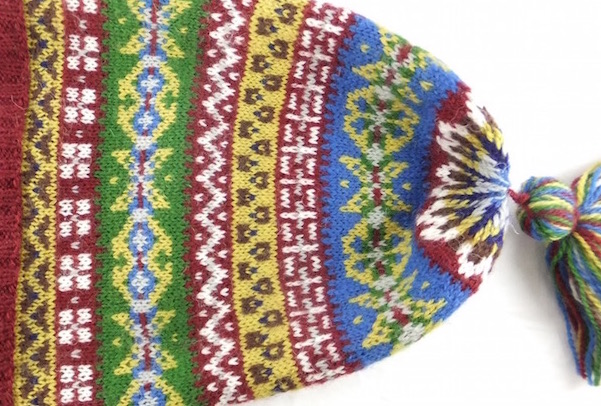 Christmas in Shetland means few hours of daylight and, unless we are lucky and get a frosty spell of weather: grey skies. That's a good reason to wear bright clothes. This year I'll be wearing my Fair Isle Kep – knitted from Anne Sinclair's pattern which is sold to support Fair Isle's George Waterston Museum.
Terri Malcolmson, knitwear designer
Christmas for me is not just about one day. It's about going (last minute) late night shopping and bumping into people I might not have otherwise seen. Watching my musical sisters get their tinsel-wrapped instruments ready for a concert while I'm working on Christmas orders and makes, hoping there's time to spare to finish current projects in preparation for the new year. Taking festive photos of decorations is a must; you can't go wrong with dark nights and twinkling lights. I love watching films in the middle of the day, surrounded by candles, blankets, and endless cups of tea. Then once we've eaten and rested – going on a long Boxing Day walk, just because we have nowhere else to be.
Kathy Coull, tutor and owner of Fair Isle Textile Workshop
I have just finished several weeks of running guest accommodation on Fair Isle without a break but it did include one textile guest who I photographed doing some sheepskin Christmas decorations. They also drafted a woven floor rug design. Textile guest, Katherine Montgomery also made a basket for my windowsill … which was a nice Christmas present for me!
Rachel Hunter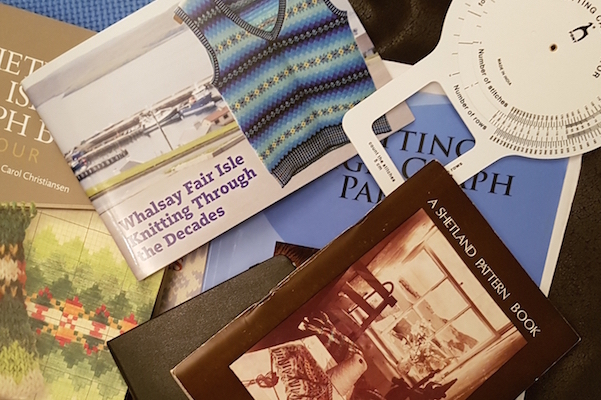 I am a member of the local Guild of Spinners, Weavers, Knitters and Dyers and I am currently designing a pattern for the Guild's next Fair Isle pattern book that will be released at some point next year.  This is the first time that I've actually written down a pattern from scratch so I've being doing a lot of research and swatching over the past couple of months.  I've had great fun immersing myself in my library of knitting and Fair Isle pattern books and as I am designing a garment I have found Kate Atherley's book 'Beginners Guild to Writing Knitting Patterns', as well as the  Craft and Yarn Council's guidelines for sizing for standard body measurements, invaluable.  These standards can be downloaded from https://www.craftyarncouncil.com if you are new to designing garments.  I am not going to say too much about my design at the moment, except that I am using yarn from Jamieson's of Shetland 'Heather' range – a soft spun Aran weight yarn.
In between designing I am also having to cram in finishing a hat for the office Christmas raffle!  I have decided to knit a hat using the Jamieson and Smith's Worsted Aran Weight Yarn in black, white and grey and use simple and bold Fair Isle motifs.   This yarn is an extension of their Heritage Yarn range and comes in 13 traditional shades. I will post a photo of it on the next SWW blog!
After finishing these projects I will then be starting to think about what classes I can provide at next year's Wool Week!  As I have been working with a lot of Aran Weight yarn lately, I have started to think about classes in lace and Fair Isle using this weight of yarn. Watch this space!
Ronnie Eunson of Uradale Farm
I'll be gathering in the sheep on the hill tops of Uradale. Shetland rams are waiting impatiently to see the yowes coming down to the inbye fields. Days are short at this time of year and beautiful still afternoons are rare. So 'caain' in the winter sunshine is an experience worthy of mention.  But where are the sheep!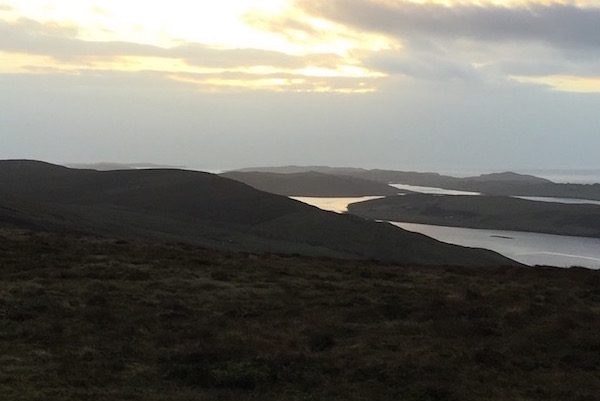 Pete Glanville of ShetlandOrganics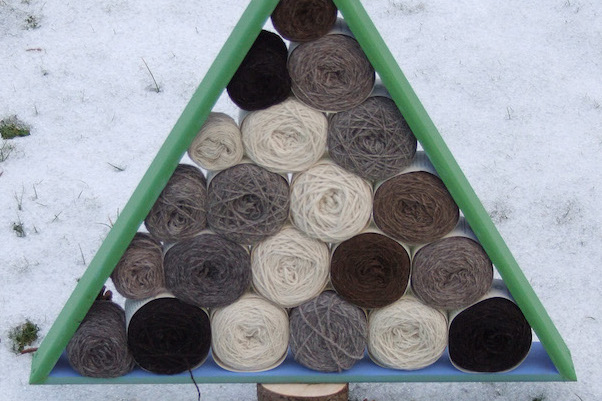 Shetland Organics were wanting to wish everyone festive greetings. They are looking forward to 2018 and another fantastic Shetland Wool Week.
Elizabeth spinning
Many of you will have seen Kate Davies's wonderful book 'Shetland Oo', which captures the many different kinds of work that oo supports, through a series of essays and evocative photography.
All the photos were taken by Kate's husband Tom Barr, and back in November one of Tom's images, 'Elizabeth Spinning', was shortlisted in the 8th annual EEF manufacturing photography competition. The image is a wonderful capture of talented hand spinner, Elizabeth Johnston of Shetland Handpun who is based in Scousburgh, Shetland.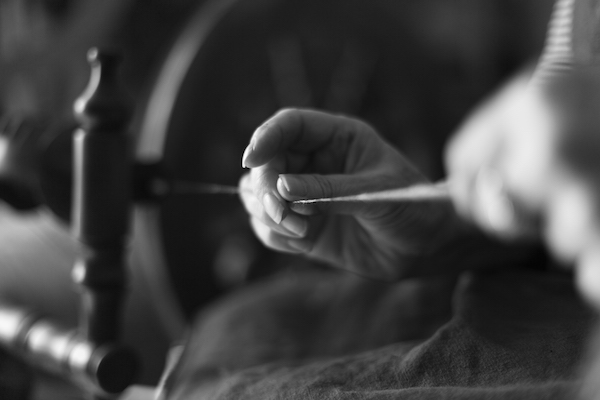 We love the image and are delighted that it is getting a chance to be seen by a wider public as it is on display at the House of Commons in London.
Whatever you're up to this festive period, we wish you the happiest of happy times and a wonderful New Year.
SWW 2017 round up
Monday, November 6, 2017
We can't believe it's a month since Shetland Wool Week 2017 ended. What an amazing, inspiring, creative and wonderful nine days it was! We're still buzzing.
Having had a break to recover from the adrenalin surge it's lovely to be able to look back at the photographs, swap stories, read your social media feeds and all your comments.
As always, we are staggered by how far people will travel for SWW, and this year was no exception. The visitors' map, where everyone is invited to pin where they travelled from was a great indicator, with marks on Australia, Canada, the East and West coasts of USA, Scandinavia, Europe, Israel and the UK.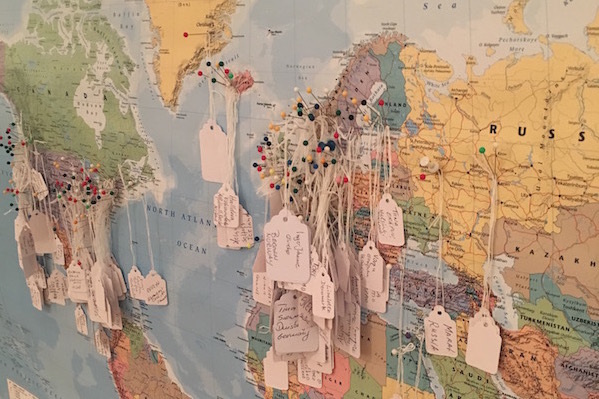 SWW 2017 was our biggest festival yet and we estimate that around 600 people attended a huge range of activities which took place the length and breadth of the islands. Many stayed the entire nine days, and beyond, so that they could really soak up the atmosphere.
Shetland may be small but we're resourceful and we hope that we were able to offer something for everyone, from classes, tours, talks, drop ins, exhibitions, community events, demonstrations and a dance. The SWW events are located throughout the isles and to some it can seem a little overwhelming working out how to get around. And that's when it is so heartening to see a real sense of community spirit emerge between attendees, with people sharing their knowledge, offering lifts – so that somehow it all gets figured out. As someone so rightly said, 'it's all part of the adventure'.
So here are just some of our highlights of 2017.
The event kicked off with people coming along to the Hub at the Shetland Museum and Archives to collect their membership bags, ask questions and just get a general feel for the islands, especially if this was their first visit. Alex Boak's photographic exhibition 'People who touch wool' also presented the many faces behind Shetland's woollen industry.
The SWW 2017 merchandise was also on sale in the foyer area.
With a full programme, classes began right away on the Saturday, whilst the opening ceremony on the Sunday evening signified the official start of the eighth SWW.  This year we welcomed around 350 guests, who had the chance to mingle, enjoy a drink and sample some local Shetland food. The evening was compered by BBC radio producer and musician Claire White and we listened to music from Shetland trad band Vair, various speeches, including patron, Gudrun Johnston; and watched the SWW Fashion Show featuring a wide range of designs including a kimono and a lace garment for men. It was also amazing to see so many Bousta Beanies in one place!
And then the week was well and truly underway. The workshops are of course core to the festival and this year offered a wide choice of skills and techniques, from spinning, dyeing, many types of knitting, and weaving to making accessories for wool-working such as shawl pins and silver jumper pendants.
The tutors came from a variety of backgrounds both within Shetland and beyond and we are grateful to them for so generously sharing their experience and skills. It was lovely to include classes with past SWW patrons, Felicity Ford, Hazel Tindall, Donna Smith, as well as Gudrun. Our visiting tutors included Julia Billings who ran classes on dyeing and fisherman's knits; the Icelandic Ladies from Thingborg with their Lopi and Icelandic Shawl workshops; Nancy Marchant shared her extensive brioche wisdom; Amy Detjen took away the fear of knitting with two colours; and Karin Kahnlund ran advanced classes in knitting traditions in Sweden.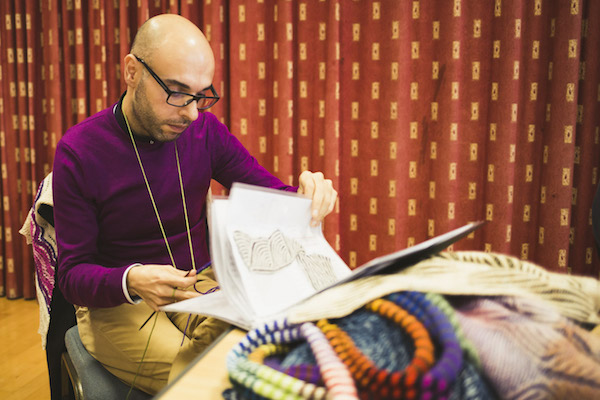 There were almost daily tours throughout the week too which gave people the opportunity to listen to the experts whilst taking in the scenery of the impressive islands.
Crofting visits are always in demand and there were tours to Bressay with crofter Chris Dyer, and also to Ronnie Eunson's organic farm Uradale throughout the week.
Hoswick Wool Week, organized by Niela Kara and Elizabeth Johnston  – a mini Wool Week in itself – was incredibly busy with an amazing variety of classes running from day to night with a wide range of tutors.
And a trip to SWW is not complete with a visit to family-owned Jamieson's in Sandness to see Shetland's only commercial woollen mill. As always, visitors came away with vivid memories and stories, as well as overflowing bags of yarn.
Jamieson and Smith Wool Brokers in Lerwick were extremely busy. They ran a number of classes and drop-in events, as well as keeping their yarn shop fully stocked (no mean feat during SWW) and Oliver Henry did his wonderful Shetland fleece sorting demonstration.
This year the Flock Book fell outside of SWW so J&S, in association with Vispring, hosted a day at Gremista Farm bringing together sheep, food and farmers.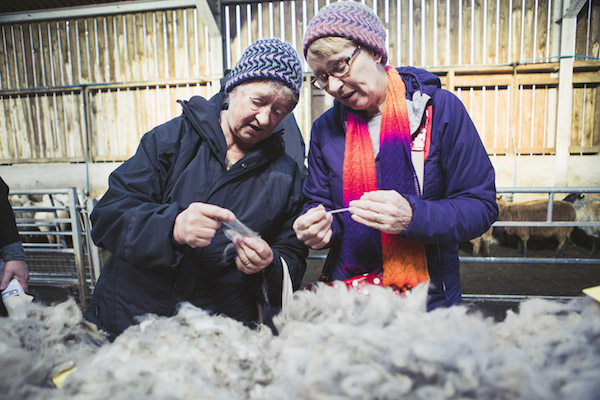 While Shetland Wool Week has always been about wool, we have been surprised and delighted that so many participants are thirsty for information about Shetland's cultural heritage too. The community museums and groups played a crucial role in SWW and it was wonderful to see the range of open days, demonstrations and exhibitions open to everyone, taking place in community halls, such as Ollaberry, Whalsay, Unst and Yell. The Scandinavian Boundweave demonstrations using ShetlandOrganics Natural coloured yarns were also impressive.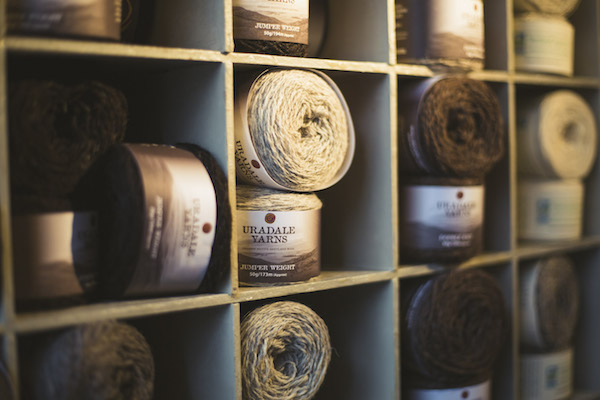 The SWW talks are now becoming something of an institution. It was fascinating hearing about Gudrun Johnston's knitting roots on the westside of Shetland and how she has carved out a successful knitwear design business. Internationally renowned knitwear designers Marie Wallin and Di Gilpin also gave a wonderful, informal insight into their careers and designs and it was encouraging to hear Di endorse the textiles undergraduate course at Shetland College UHI as the "best in the UK". The Ladies from Thingborg were a blast and their poetic description of Icelandic sheep and wool was captivating.
And at the centre of it all was the Hub where people could relax, chat, knit, ask questions, check out the noticeboard, and enjoy a cuppa. SWW can be very busy at times, but this place provided a focus and sense of calm, and we were thrilled to see so many people use it throughout the week.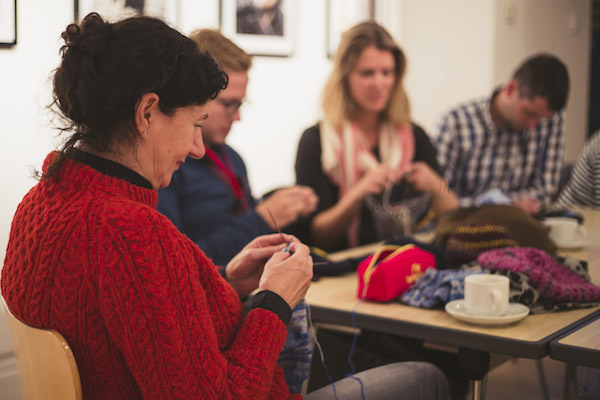 As always, we would like to thank everyone who joined us this year, but also those who support SWW all year round. We love receiving your emails and comments and keeping abreast of your latest projects. To us, Shetland Wool Week really does mean community.
We'd also like to give a special mention to Fruity Knitting Podcast who attended SWW. They recorded eight interviews as well as capturing some great footage throughout the week.
Check out Episodes 39 & 40, which include interviews with Hazel Tindall, Dr Carol Christiansen, Elizabeth Johnston; Donna Smith, and a short tour of Jamieson and Smith.
Links can be found here
And finally, huge thanks to all the volunteers and tutors for their expertise, warmth and generosity and for helping us pull it all together.
And now we turn ourselves to future plans …
Dates for SWW 2018 are 22 – 30 September. Watch this space!
SWW Annual Volume 3 (2017) launched
Saturday, September 16, 2017
At last, the wait is over and the SWW Annual Vol III (2017) is now available to pre-order.
This year it's bigger than ever with 12 exclusive patterns and six essays. As ever the photography is stunning and much of it was taken at Shetland's historic south end of Commercial Street in Lerwick.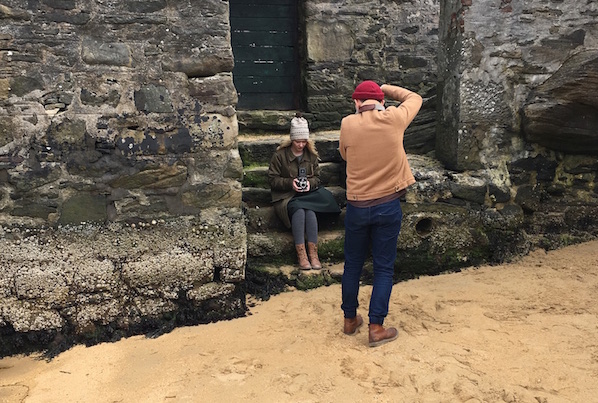 We're thrilled with how it has turned out and are in awe of the talents of all the contributors. Thanks also to Alex Mazurov for his incredible photography and Ruth Brownlee for the loan of her amazing SeaWinds house.
Patterns include:
SWW 2017 Patron Gudrun Johnston's Bousta Beanie; Donna Smith's Addie's Scarf; Terri Malcolmson's Triple Tone Circular Scarf; Wilma Malcolmson's Vermeer Cushion; Outi Kater's Rosepath Sweater; Ella Gordon's Tveir Fingerless Mittens; Marie Wallin's Fetlar Scarf; Elizabeth Johnston's Shoormal Neck Shawl; Di Gilpin's Geo Snood; Julia Billings' Sea Thrift Mitts; Jen Arnall-Culliford's Sumburgh Hat; Carol Christiansen's Churchill Pattern.
Essays include:
Roslyn Chapman uncovers the extraordinary stories of some historic Shetland knitters, all male; Douglas Sinclair writes about Shetlander Arthur Anderson who founded the P&O shipping line and championed the isles' textile industry; a fascinating insight into Shetland knitwear designer Victoria Gibson whose career spans five decades; and Carol Christiansen on rooing, an almost lost method of producing the best wool for hand spinning.
Priced at £18 it can be pre-ordered here. Arrange to collect it at the HUB or have it delivered.
Summer agricultural shows
Thursday, August 24, 2017
Shetland Agricultural Shows
Summer in Shetland always means the fabulous agricultural shows. These offer so much to the community and visitors – and are also an opportunity to showcase livestock, knitwear, baking, horticulture, arts and crafts, stalls, kittens, ducks, dyed yellow sheep:  you name it, it's likely to be there!
Hazel Tindall visited all the big shows: in Voes, Cunningsburgh and Walls. Here are some of her highlights.
Cunningsburgh – Alyssa Malcolmson is young enough to enter in the 12-16 age group and is a deserved trophy winner with this beautiful jumper. The scalloped edging is, I think, unique, and the patterns in the rib remind me of the work of Pearl Johnson and the late Anna Bell Bray.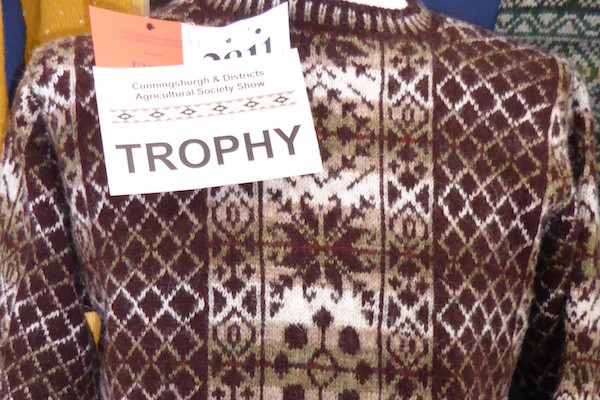 Voe – Ruby Williamson's cardigan in Jamieson & Smith's Colourbox category (J & S choose eight colours and competitors have to use at least five) deservedly won the trophy. Her use of colour, as always, is exquisite and the cardigan is beautifully knitted and finished.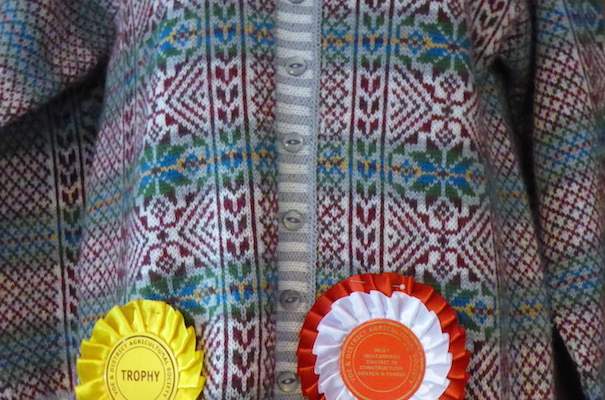 Walls – I was in sole charge of two young grandsons so saw things at the show I would normally have walked past (tractors and trikes mostly) and didn't spend as much time in the hosiery section as I would have liked.
The Scarecrow is wearing lovely gloves but the knitting is not quite of show standard.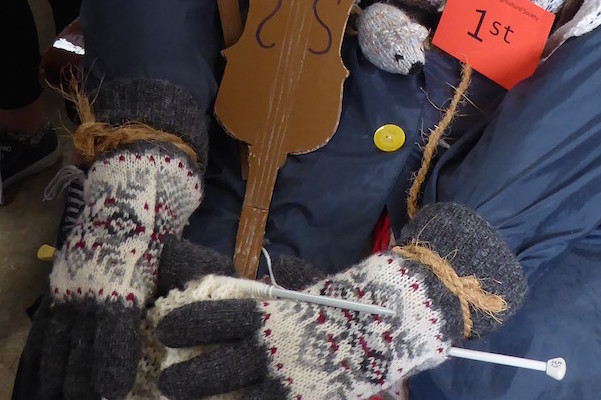 Kathleen Anderson's black lace shawl was another deserved trophy winner; earlier in the summer it won prizes at the Royal Highland Show.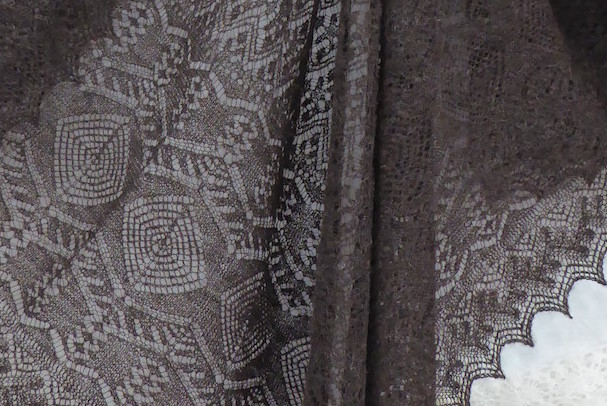 Swedish two-end knitting
Monday, July 17, 2017
Shetland Museum's Textile Curator Carol Christiansen tells us about knitting in the north of Sweden and the work of accomplished visiting SWW tutor Karin Kahnlund.
Last Saturday the Shetland Guild of Spinners, Weavers, Dyers and Knitters gathered at the Shetland Textile Museum for their monthly meeting.  We were treated to an interesting talk by Brita Hövenmark, STM's custodian, about knitting in the north of Sweden, including tvåändsstickning, or two-end knitting (sometimes called twined knitting).  Brita knows a lot about the knitting traditions from her homeland and is herself an accomplished designer and knitter of this technique.  She showed us gloves and mittens she had made, the fabric dense and warm.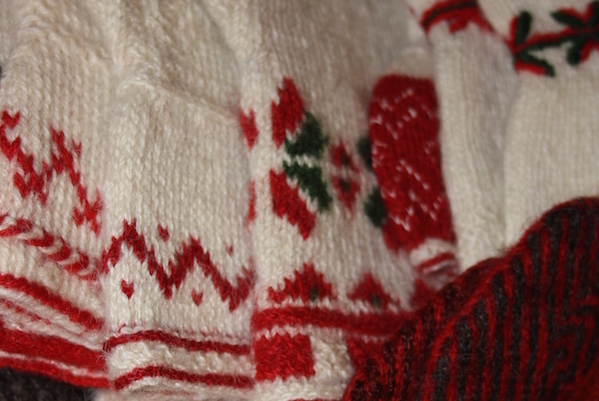 It was Brita who introduced me to the work of Karin Kahnlund, the accomplished Swedish knitwear designer, who is inspired by historical knitted and woven fabrics from Sweden.  Karin is one of the foremost practitioners of two-end knitting and we are pleased she is bringing her knowledge to Shetland Wool Week.  Two-end knitting is usually made in to mittens or gloves in a single colour.  Karin will show how to incorporate small areas of colour, commonly used to decorate cuffs of mittens.  What a wonderful thing to learn as we head into the dark winter months and the holiday season!  There are still a few  places available to her Advanced Two-end Knitting in Colour class.
SWW 2018 dates announced
Tuesday, July 11, 2017
We have exciting news! Shetland Wool Week dates for 2018 have been announced!
Due to the recent support and sponsorship from Loganair and our key longstanding sponsors, including Jamiesons of Shetland and J&S, SWW will definitely be going ahead next year. The dates are 22 – 30 September.
Mark your diaires!
Loganair supports SWW
Thursday, July 6, 2017
Shetland Amenity Trust is delighted to announce that Loganair, one of the Scottish regional airlines that service Shetland, has agreed to support Shetland Wool Week from 2018, securing the future of  a hugely successful festival which is crucial to the Shetland economy.
Loganair Managing Director Jonathan Hinkles told a meeting of the Shetland External Transport Forum the company was "proud to guarantee support for Shetland Wool Week in 2018 and beyond."
Shetland Amenity Trust chairman Brian Gregson thanked Mr Hinkles and said he was delighted at the news.
"Loganair's recognition of  the importance of tourism and heritage in the isles is to be welcomed," Mr Gregson said. "I'm really pleased to say that the company is fully committed to working with Shetland Amenity Trust in continuing to develop these sectors."
Other sponsors of the festival, which was previously run under the Promote Shetland banner, include Jamieson and Smith, Shetland  Wool Brokers and Jamiesons of Shetland.
Wool Week organiser Misa Hay said the Loganair announcement provided a sense of stability and security.
"Wool Week has become a festival of international significance," said Ms Hay. "We now have a secure base on which to build it into an even bigger and more influential event. And one which in the future will bring bigger and bigger benefits to the Shetland community and economy."
ADDITIONAL CLASSES FOR 2017
Thursday, June 29, 2017
As many of you will know from first-hand experience, we were overwhelmed by the response to ticket sales back in May. There are still some tickets available, but we have also teamed up with our fabulous tutors to put on a few more! Classes will go on sale on Wednesday 12 July at 1400 BST on the Little Box Office/Shetland Wool Week.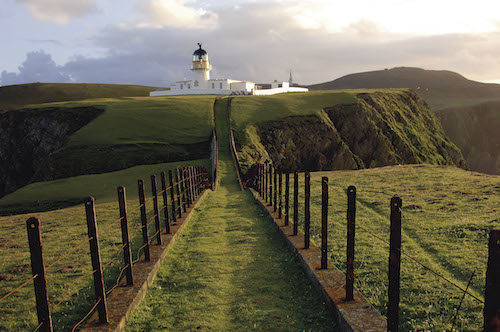 Fair Isle Experience – DRAW
We are delighted to announce that a second trip to Fair Isle during SWW has been organised! Rather than selling the tickets via the Box Office we will allocate them on a 'lottery' basis (* see details below).
The trip will take place on Friday 29 September and six lucky people will have the chance to take in Fair Isle's history and culture. Admire the views from the lighthouse, enjoy lunch and afternoon tea, and soak up the experts' knowledge on Fair Isle's knitting patterns and colours first hand. All transport included in the price.
Friday 29th September, 0830 – 1600
Spaces: 6
Cost: £200.00
NO BOX OFFICE
To enter: *As this is an extremely popular tour, we want to try and make it as fair as possible for everyone to be in with the chance of getting a ticket. If you would like to enter the competition simply email your name, address and contact telephone number to: info@shetlandwoolweek.co.uk
In the email subject heading put: 'Fair Isle Experience Draw'.
We will select six names at random and contact you separately to organise payment.
Deadline: Monday 10 July
Note: Please note that due to Fair Isle's unique geographical location this event can be cancelled at short notice in the case of adverse weather. This trip ends an hour earlier than the Monday tour due to changes in the flight timetable. However, the itinerary remains the same.
Visit an Organic Farm and Native Shetland Sheep
Two more tours to Ronnie and Sue Eunson's organic sheep farm have been added to the programme.
Look through fleeces in a wide range of natural colours, and chat about what farming/crofting in Shetland is really like.
Friday 29 September, 11.00 – 13.00 or 14.00 – 16.00
NEW CLASS
Try a Lace Sampler with Nan Smith
In this class you will knit a lace sampler. You'll have a chance to try various Shetland lace patterns, such as old shell, new shell, cockle shell, horseshoe, ring, fir cone, leaf, bead etc as well as garter stitch, stocking stitch and moss stitch.
Broaden your knowledge of the Shetland knitting dialect too as Nan will be referring to many Shetland 'makkin' words throughout. This class is aimed at all skill levels. 
Thursday 28 September, 1000 – 1700
ADDITIONAL CLASSES
Fair Isle Yoke Bag
Join Jeannie and Janette Budge and make your own Fair Isle-style pouch bag. An opportunity to practise blending colours, try a knitting belt and knit with two colours. This class is aimed at the intermediate level knitter.
Steeking with Barbara Cheyne
In this class you will knit in the round a small piece of work in two colours – part pattern and part steek. Appropriate for all levels.
Monday 25 September 1400 – 1700
Wednesday 27 September 1000 – 1300
Cockleshell Lace with Rachel Hunter
This class will introduce you to the Cockleshell lace pattern – a well-known and very recognizable pattern in the Shetland lace tradition.  It is appropriate for all skill levels.
Thursday 28 September, 1400 – 1700
From Lace to Chunky: Knitting Traditional Shetland Lace Patterns in Heavier Organic Yarns
This introductory class with Sheila Fowlie will show you how easy it is to knit lace, and how traditional Shetland lace patterns can be used with different weight wools. This is aimed at the intermediate level knitter.
Thursday 28 September, 1000 – 1300
Learn to Knit with Two Colours with Amy Detjen
Launch into two-colour knitting (Fair Isle, Norwegian, and Armenian) with an arsenal of tips for two colours (traditionally one in each hand). 
Friday 29 September, 1000 – 1300
Shetland Museum and Archives Textiles Tours
Join Shetland Museum & Archives Visitor Services Assistants for a tour of the Textile displays. The Textile Collection is Recognised as a collection of national significance.
ADDITIONAL SPACES!
Icelandic Button Band – Crochet a 'knitted' button band
Join Ingibjorg Sveinsdottir and Maja Siska in this class where you will learn about how to crochet a 'knitted' button band. It looks like it is knitted horizontally and it is a beautiful finish to any Fair Isle or Icelandic cardigan. This class is aimed at the intermediate level knitter. 
Tuesday 26 September, 1000 – 1300
Additional 8 spaces
Introduction to Fair Isle Yokes with Hazel Tindall
We're delighted to be able to offer a few more spaces to Hazel's popular Fair Isle yokes class. You'll learn how to knit a section of yoke to understand the shaping, follow a chart and use colours. This is an intermediate level class.
Friday 29 September, 1000 – 1300
Additional 6 spaces
 Remember, there are still spaces available on classes listed in the programme, so please take another look and book your spot.