Swedish two-end knitting
Monday, July 17, 2017
Shetland Museum's Textile Curator Carol Christiansen tells us about knitting in the north of Sweden and the work of accomplished visiting SWW tutor Karin Kahnlund.
Last Saturday the Shetland Guild of Spinners, Weavers, Dyers and Knitters gathered at the Shetland Textile Museum for their monthly meeting.  We were treated to an interesting talk by Brita Hövenmark, STM's custodian, about knitting in the north of Sweden, including tvåändsstickning, or two-end knitting (sometimes called twined knitting).  Brita knows a lot about the knitting traditions from her homeland and is herself an accomplished designer and knitter of this technique.  She showed us gloves and mittens she had made, the fabric dense and warm.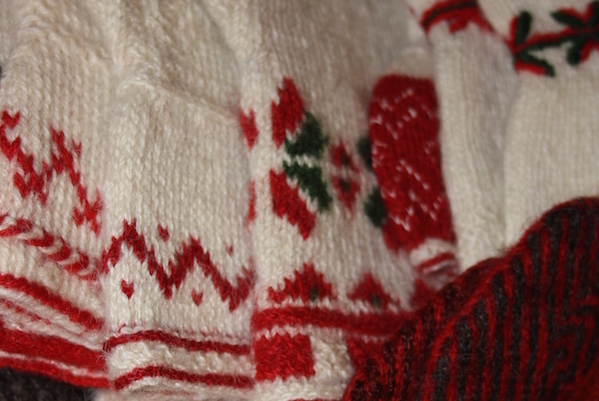 It was Brita who introduced me to the work of Karin Kahnlund, the accomplished Swedish knitwear designer, who is inspired by historical knitted and woven fabrics from Sweden.  Karin is one of the foremost practitioners of two-end knitting and we are pleased she is bringing her knowledge to Shetland Wool Week.  Two-end knitting is usually made in to mittens or gloves in a single colour.  Karin will show how to incorporate small areas of colour, commonly used to decorate cuffs of mittens.  What a wonderful thing to learn as we head into the dark winter months and the holiday season!  There are still a few  places available to her Advanced Two-end Knitting in Colour class.
SWW 2018 dates announced
Tuesday, July 11, 2017
We have exciting news! Shetland Wool Week dates for 2018 have been announced!
Due to the recent support and sponsorship from Loganair and our key longstanding sponsors, including Jamiesons of Shetland and J&S, SWW will definitely be going ahead next year. The dates are 22 – 30 September.
Mark your diaires!
Loganair supports SWW
Thursday, July 6, 2017
Shetland Amenity Trust is delighted to announce that Loganair, one of the Scottish regional airlines that service Shetland, has agreed to support Shetland Wool Week from 2018, securing the future of  a hugely successful festival which is crucial to the Shetland economy.
Loganair Managing Director Jonathan Hinkles told a meeting of the Shetland External Transport Forum the company was "proud to guarantee support for Shetland Wool Week in 2018 and beyond."
Shetland Amenity Trust chairman Brian Gregson thanked Mr Hinkles and said he was delighted at the news.
"Loganair's recognition of  the importance of tourism and heritage in the isles is to be welcomed," Mr Gregson said. "I'm really pleased to say that the company is fully committed to working with Shetland Amenity Trust in continuing to develop these sectors."
Other sponsors of the festival, which was previously run under the Promote Shetland banner, include Jamieson and Smith, Shetland  Wool Brokers and Jamiesons of Shetland.
Wool Week organiser Misa Hay said the Loganair announcement provided a sense of stability and security.
"Wool Week has become a festival of international significance," said Ms Hay. "We now have a secure base on which to build it into an even bigger and more influential event. And one which in the future will bring bigger and bigger benefits to the Shetland community and economy."
ADDITIONAL CLASSES FOR 2017
Thursday, June 29, 2017
As many of you will know from first-hand experience, we were overwhelmed by the response to ticket sales back in May. There are still some tickets available, but we have also teamed up with our fabulous tutors to put on a few more! Classes will go on sale on Wednesday 12 July at 1400 BST on the Little Box Office/Shetland Wool Week.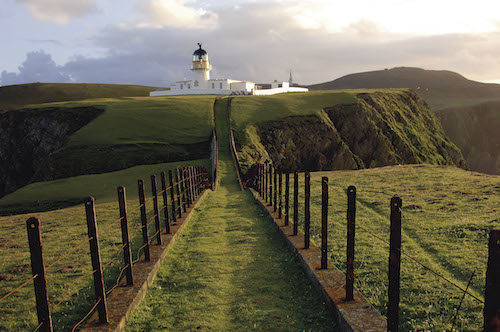 Fair Isle Experience – DRAW
We are delighted to announce that a second trip to Fair Isle during SWW has been organised! Rather than selling the tickets via the Box Office we will allocate them on a 'lottery' basis (* see details below).
The trip will take place on Friday 29 September and six lucky people will have the chance to take in Fair Isle's history and culture. Admire the views from the lighthouse, enjoy lunch and afternoon tea, and soak up the experts' knowledge on Fair Isle's knitting patterns and colours first hand. All transport included in the price.
Friday 29th September, 0830 – 1600
Spaces: 6
Cost: £200.00
NO BOX OFFICE
To enter: *As this is an extremely popular tour, we want to try and make it as fair as possible for everyone to be in with the chance of getting a ticket. If you would like to enter the competition simply email your name, address and contact telephone number to: info@shetlandwoolweek.co.uk
In the email subject heading put: 'Fair Isle Experience Draw'.
We will select six names at random and contact you separately to organise payment.
Deadline: Monday 10 July
Note: Please note that due to Fair Isle's unique geographical location this event can be cancelled at short notice in the case of adverse weather. This trip ends an hour earlier than the Monday tour due to changes in the flight timetable. However, the itinerary remains the same.
Visit an Organic Farm and Native Shetland Sheep
Two more tours to Ronnie and Sue Eunson's organic sheep farm have been added to the programme.
Look through fleeces in a wide range of natural colours, and chat about what farming/crofting in Shetland is really like.
Friday 29 September, 11.00 – 13.00 or 14.00 – 16.00
NEW CLASS
Try a Lace Sampler with Nan Smith
In this class you will knit a lace sampler. You'll have a chance to try various Shetland lace patterns, such as old shell, new shell, cockle shell, horseshoe, ring, fir cone, leaf, bead etc as well as garter stitch, stocking stitch and moss stitch.
Broaden your knowledge of the Shetland knitting dialect too as Nan will be referring to many Shetland 'makkin' words throughout. This class is aimed at all skill levels. 
Thursday 28 September, 1000 – 1700
ADDITIONAL CLASSES
Fair Isle Yoke Bag
Join Jeannie and Janette Budge and make your own Fair Isle-style pouch bag. An opportunity to practise blending colours, try a knitting belt and knit with two colours. This class is aimed at the intermediate level knitter.
Steeking with Barbara Cheyne
In this class you will knit in the round a small piece of work in two colours – part pattern and part steek. Appropriate for all levels.
Monday 25 September 1400 – 1700
Wednesday 27 September 1000 – 1300
Cockleshell Lace with Rachel Hunter
This class will introduce you to the Cockleshell lace pattern – a well-known and very recognizable pattern in the Shetland lace tradition.  It is appropriate for all skill levels.
Thursday 28 September, 1400 – 1700
From Lace to Chunky: Knitting Traditional Shetland Lace Patterns in Heavier Organic Yarns
This introductory class with Sheila Fowlie will show you how easy it is to knit lace, and how traditional Shetland lace patterns can be used with different weight wools. This is aimed at the intermediate level knitter.
Thursday 28 September, 1000 – 1300
Learn to Knit with Two Colours with Amy Detjen
Launch into two-colour knitting (Fair Isle, Norwegian, and Armenian) with an arsenal of tips for two colours (traditionally one in each hand). 
Friday 29 September, 1000 – 1300
Shetland Museum and Archives Textiles Tours
Join Shetland Museum & Archives Visitor Services Assistants for a tour of the Textile displays. The Textile Collection is Recognised as a collection of national significance.
ADDITIONAL SPACES!
Icelandic Button Band – Crochet a 'knitted' button band
Join Ingibjorg Sveinsdottir and Maja Siska in this class where you will learn about how to crochet a 'knitted' button band. It looks like it is knitted horizontally and it is a beautiful finish to any Fair Isle or Icelandic cardigan. This class is aimed at the intermediate level knitter. 
Tuesday 26 September, 1000 – 1300
Additional 8 spaces
Introduction to Fair Isle Yokes with Hazel Tindall
We're delighted to be able to offer a few more spaces to Hazel's popular Fair Isle yokes class. You'll learn how to knit a section of yoke to understand the shaping, follow a chart and use colours. This is an intermediate level class.
Friday 29 September, 1000 – 1300
Additional 6 spaces
 Remember, there are still spaces available on classes listed in the programme, so please take another look and book your spot.
Tickets still available to 2017 events
Wednesday, May 17, 2017
The Shetland Wool Week 2017 programme was launched yesterday and we had a record number of sales. Despite the initial technical glitch to the booking system, many people were able to book a range of events.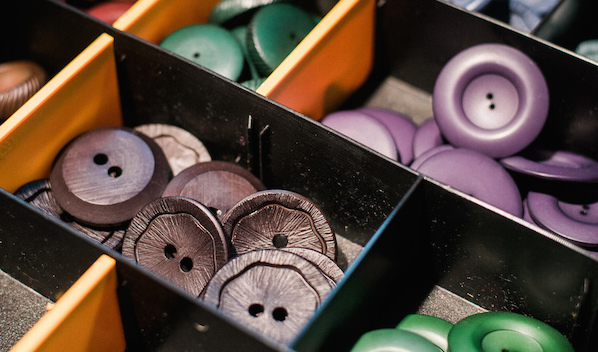 We are working with tutors to see if we can put on additional classes during Wool Week. We will confirm this in the next few weeks once we have allocated venues.
In the meantime, as of Wed 17 March, there are still over 1,000 bookable tickets left, including the following.
If you go to the search box at the top of the page with the name of your preferred class and choose 'Book Tickets' it will take you straight to the Little Box Office website.
'Shetland' Book Launch – A New Collection of Fair Isle by Marie Wallin
A Norwegian Challenge
A Shetland Photography Safari with Austin Taylor
Advanced Two-end Knitting in Colour with Karin Kahnlund
An Evening with the Ladies from Thingborg
Basic Brioche (one colour) with Nancy Marchant
Beginner's Drop Spindle Spinning with Deborah Gray
Beginning Double Knitting with Amy Detjen
Blending Colours of Shetland with Deborah Gray
Bressay Lighthouse Exhibition
British Fisherman's Knits with Julia Billings
Chunky Cable Masterclass with Di Gilpin
Crochet Class with Lizzie Simmons
Double Knitting – a Journey into the Reversible
Dressing Shetland Knitwear Accessories
Fae Ewe Tae You
Fair Isle and Lace Candle Holder with Linda Shearer
Fair Isle Charts for Beginners with Terri Malcolmson
Felt Your Own Bag
Felted Creatures
Felted Gloves (note this ends at 1600 and not 1400)
Felted Slippers
Felted Shetland Postcards
Felted Wool Vessels
Get Organised – Make a perpetual knitting workbook
In conversation with Di Gilpin and Marie Wallin
Introduction to Magic Loop Knitting
Knit a Picture
Knit Wire Earrings
Knit Your Own Bangle
Knit Your Own Wire Lampshade
Knitting from Lopi and Design of Classic Lopi Sweater
Knitting Texture
Knitting the Thumb Gusset
Make a Wooden Needle and Threading Hook
More is More
Nalbinding
Picture-perfect Knitting
Scandinavian Boundweave
Shetland Sheep, Food and Folk on the Croft
Spree for Cushla
Taat Chat at da Bod
The Dye Spell
The Importance of Plying
The Perfect Finish for Lace with Anne Eunson and Kathleen Anderson
The Perfect Picture (photography class)
The Warp Weighted Loom
Threads as Thick as Fishers Lines
Tuck into Your Own Brioche Cowl with Nancy Marchant
Unique Unst: Lace Knitting and Georgian Grandeur (email bookings@belmontunst.co.uk)
Up your game – improver's spinning
Wearable Felted Art
Weaving Stories at the Bressay Lighthouse
Wirds in Wirsit
Wool Labyrinths
Woolly Words Folded Book Origami
Tours:
North Mainland Tour
Central Shetland Tour
Tour to Unst
Tour to Yell
Visit an Organic Farm (Uradale Farm)
SWW 2017 Little Box Office Update
Monday, May 15, 2017
Just a reminder to all those planning to join us at this year's Shetland Wool Week that tickets will go on sale tomorrow, Tuesday 16 May at 1.00pm BST.
The website for the Little Box Office can be found here
A few of you have raised some questions on how the Little Box Office works, so hopefully the following information will help clarify things:
You do not have to be a SWW member in order to buy tickets, although those of you who paid for membership, will have had a preview of the programme for the past week.
The Little Box Office does not accept PayPal. In order to book tickets you will need to pay by credit or debit card (Visa, MasterCard or American Express).
You will be able to book 2 tickets at a time for smaller events, and for larger ones, such as talks and tours, 4 at a time. Once a ticket is selected and added to the basket, it is unavailable for any other customer to select for 60 minutes, to allow you to add other items and check-out without rushing.
There is absolutely no requirement to set up an account at The Little Box Office, and you will be able to purchase event tickets without doing so. However, if you do decide to set up an account, your contact details will be saved and you will be able to view your past orders.
Tickets are non-refundable (unless a class is cancelled).
Phone line
The quickest way for you to book tickets is directly online.
However, we will have a special number for anyone experiencing difficulties with the Little Box Office.   The number to call is 01595 980100
This will be available from:
Tuesday 16th May, 13.00 – 19.00 BST
Wednesday 17th May 09.00 – 17.00 BST
We must stress though that as we are a small team, your call will be placed in a queue.
It will be no quicker booking tickets by phone. If you have more general, less urgent enquiries, please email us at: info@shetlandwoolweek.co.uk
Printed copies of the programme
If you would like to order a printed copy of the programme you'll be able to do this from Tuesday through the SWW website. No rush here as there will be plenty of copies available.  Copies are free, although there will be a charge for postage and package.
And finally, please don't be disappointed tomorrow if you're unable to get hold of your first choice of tickets. There is plenty going on throughout Shetland Wool Week, so there really should be something for everybody.
Happy planning and booking and as always, thank you for your support.
Traditional Shetland patterns influence scarf design
Friday, May 5, 2017
Linda Shearer, member of the Shetland Guild of Spinners, Knitters, Weavers and Dyers, shares her latest project with us, which was inspired by two patterns from the book, A Shetlander's Fair Isle Graph Book – In Colour. She writes:
With the success of the book 'A Legacy of Shetland Lace' produced by the Shetland Guild of Spinners, Knitters, Weavers and Dyers in 2012, we decided to start work on another book – this time Fair Isle patterns using members' own designs.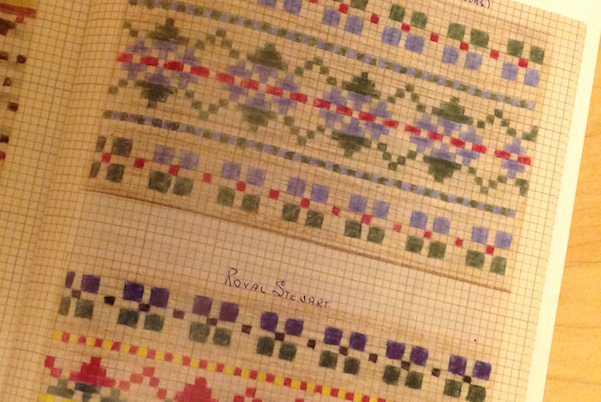 This prompted one of our members, Kathleen Anderson, to look out old graph books which had been given to her quite a few years ago by the son of the knitwear manager for Anderson & Co. where she previously worked.  Kathleen took the books along to a Guild meeting where most of us thought the books should be produced just as they were.  The Shetland Times published the books, into one volume, split into two parts.
After the Guild had the book published, I decided I would like to try knitting one of the coloured patterns from it.  I chose the two patterns, 'Hunting McIntyre' and 'Royal Stewart', thinking it would be fun to knit them both in a scarf.  I tried to choose colours as near to the graphed picture as possible.
The scarf is modelled by Linda's daughter, Emily.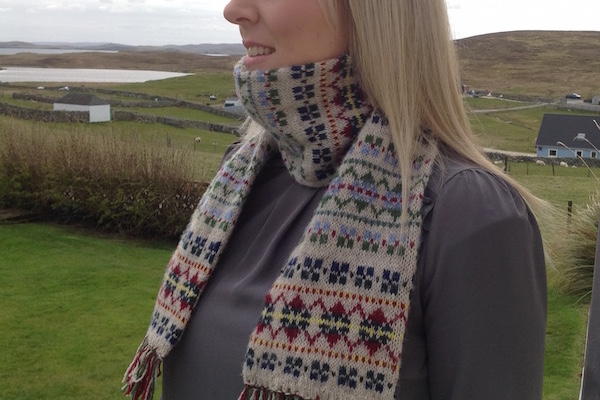 We are still in the process of producing our own book of members Fair Isle knitting patterns, and hope to have it completed in the next few months.
SWW 2017 Membership tickets announced
Thursday, April 6, 2017
*Membership Update* Please note that due to high demand, the Full Membership option which includes a ticket to the Opening Ceremony is now sold out.
You can still purchase standard membership which includes the official Shetland Wool Week bag and membership pack as well as early access to the programme a whole week before tickets go on sale.
A small number of additional Opening Ceremony tickets will be available when event tickets go on general sale on 16th May.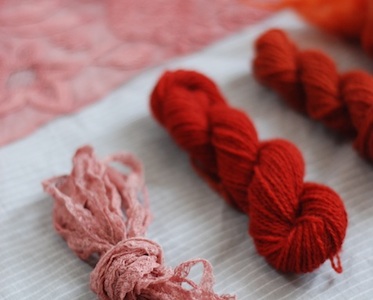 Full Membership £25 [SOLD OUT]
First look at the events programme one week before it is officially launched
An official 2017 SWW bag
A ticket to the Opening Ceremony (worth £15)
Official member badge
An automatic entry into our fantastic Shetland Wool Week Prize Draw for 2017
Standard Membership (no opening ceremony ticket) £15
First look at the events programme one week before it is officially launched
An official 2017 SWW bag
Official member badge
An automatic entry into our fantastic Shetland Wool Week Prize Draw for 2017
The real advantage of being a member is that you get a chance to have a good look through the programme in advance, which will be sent to you as a PDF by email on Monday 8 May. Bookings will go live on Tuesday 16 May at 1300 BST and this is when you can order tickets to all SWW events.
Shetland Wool Week is a nine-day festival, and this year there are over 300 events  from which to choose. Once tickets are announced many events sell out very quickly, so if there are specific classes, talks or tours that you want to sign up for, it is advisable to try and order them as soon as the Little Box Office goes live.
The Opening Ceremony will take place on Sunday 24th September from 1900 – 2100 at the Clickimin Leisure Complex, Lerwick. It's a fun evening with talks, Shetland entertainment and refreshments. It's also a great way to meet up with your fellow knitters and tutors for the week.
We have also added a handy 'Frequently Asked Questions' (FAQs) page to this website, which will hopefully answer some of your queries. Please let us know if we've missed anything by emailing: info@shetlandwoolweek.co.uk
We're really looking forward to sharing the programme with you in the coming weeks. We've got some fantastic events lined up, and, as ever, an array of talented and inspiring tutors. Watch this space for updates!
Introducing the Bousta Beanie at EYF
Thursday, March 23, 2017
Here's our woolly round up of Edinburgh Yarn Festival.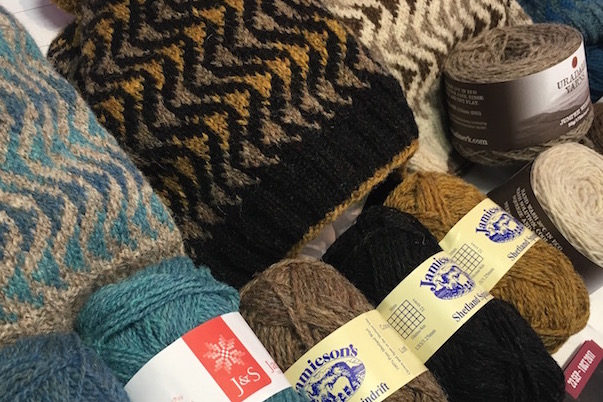 Anyone who has a love of yarn and textiles probably has a big red circle marked in their diary around the beginning of March – to highlight Edinburgh Yarn Festival – one of the biggest urban knitting festivals in the UK.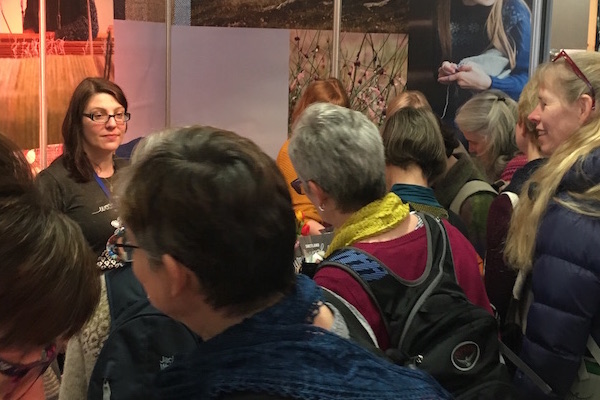 It's a big deal, attracting some 5000 visitors to the two-day market place, which is packed with vendors and knitwear designers from all over the world. It's also a key event for the Shetland Wool Week committee, as this is where we promote our own event and announce the new guest patron for the year together with the launch of the official hat.
EYF is a brilliant place to meet like-minded, yarn and knitting obsessed people from all over the world. It's impossible to leave without buying (another) stash of wool, a handful of buttons, a pattern or two.. and be inspired by the conversation and endless garments that vendors and visitors are wearing.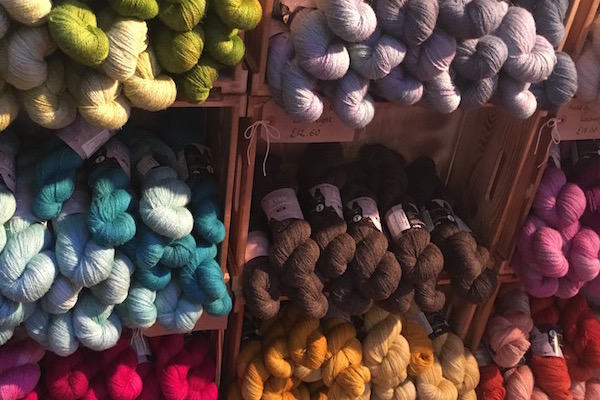 Before the event had even kicked off at Edinburgh's Corn Exchange there was already quite a buzz, with people wondering who would be stepping into Ella Gordon's shoes. All was eventually revealed via SWW's popular social media streams where we were delighted to announce Shetland-born knitwear designer, Gudrun Johnston, as this year's patron. The official hat, the slouchy-style 'Bousta Beanie', designed by Gudrun, was also launched.
Within minutes of the doors opening we had a steady stream of people wanting to meet with Gudrun, ask questions and take a copy of the free knitting pattern. The hat uses a variety of stunning colourways in Shetland yarns by Jamieson & Smith, Jamieson's of Shetland and Uradale Yarns.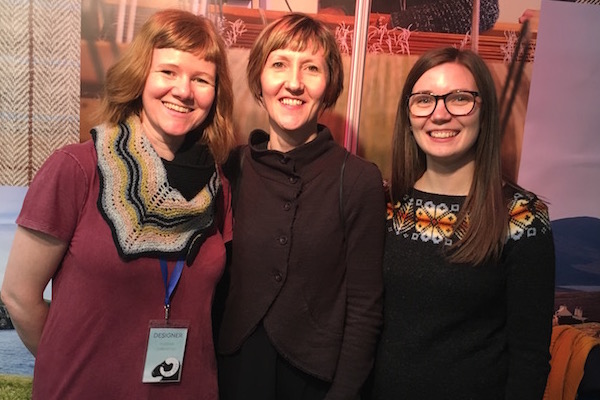 It was also clear from people's comments that  enthusiasm and interest for SWW continues to grow, with many people prepared to travel long distances to visit the islands.
For some, it is very much on the 'bucket list'. We loved meeting you all and answering your questions. It was also great to see SWW patrons past and present at the stand (Gudrun Johnston, Donna Smith and Ella Gordon).
This year there was a strong Shetland contingent with impressive stands from Jamieson's of Sandness, Uradale Farm, and Shetland Handspun.
The patron is an integral part of Wool Week and generates a lot of international interest. Gudrun Johnston is an enthusiastic ambassador for Shetland's textile industry, so she was a natural choice for the SWW committee.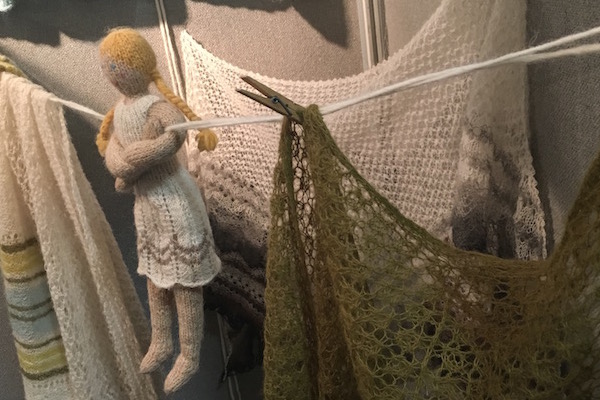 Gudrun was in high demand throughout the event and did a live podcast with Blacker Yarns. A frequent visitor to Shetland, she has attended every Wool Week since it started in 2010. Many of her designs feature Shetland patterns and yarns, and her Wool Week, Bousta Beanie hat design was inspired by the ever-changing shades of the Shetland landscape.  She wanted to reflect this in a simple Fair Isle pattern that floats between one background colour and two contrasting colours. The beauty of this approach is that it creates endless possibilities for colour combinations. In fact, Gudrun surprised us on the day by arriving with a fourth suggested colourway, which uses softer shades of blue. Her gorgeous combination uses J&S 2-ply jumper weight, Shade 2; FC 39MIX; FC34MIX.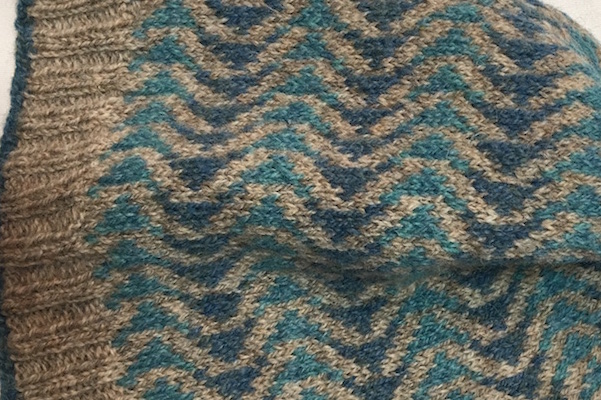 It was heartening to see such interest for SWW and the hat pattern at Edinburgh – we've been following everyone's progress on social media. We look forward to seeing more of your work– please do share pictures with us by hash tagging #boustabeanie or #shetlandwoolweek2017 !
Free pattern is launched and our 2017 patron is announced
Friday, March 10, 2017
We have some very exciting news – the official Shetland Wool Week 2017 hat pattern is being launched today at Edinburgh Yarn Festival.

We're also thrilled to announce that the SWW 2017 patron is one of our favourite knitwear designers, Gudrun Johnston – and she has designed this year's official hat pattern. Inspired by the myriad shades of Shetland's landscape, Gudrun has named her wonderful slouchy style hat the Bousta Beanie.
The pattern is available to download now and printed copies are available for those who are attending the festival. We'll be at stand M8 together with Gudrun, so we look forward to seeing you there!
Knit the hat in any of the suggested colours or choose your own variations and wear it to Shetland Wool Week 2017. Remember to share your pictures with us using #boustabeanie or #shetlandwoolweek2017, we can't wait to see your creations.
Gudrun Johnston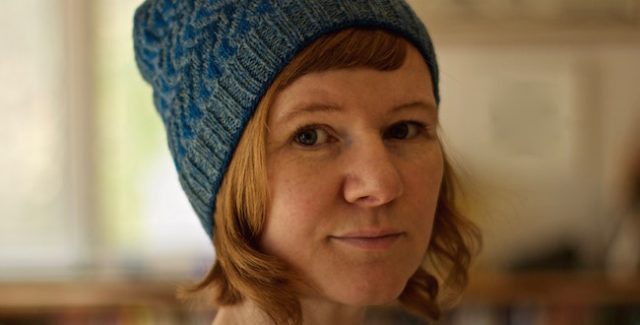 Knitwear designer Gudrun Johnston will be the guest patron for this year's eighth Shetland Wool Week. She was a popular choice for the festival's committee and we're delighted to have her on board.
Gudrun's Shetland lineage runs deep. She was born in Levenwick, Shetland in the 1970s and her grandparents were from Skerries and the Ness. Now based in America, Gudrun has successfully relaunched the Shetland Trader, a design company, first began by her mother, Patricia Johnston.
A regular visitor to Shetland, Gudrun has attended every Wool Week since it started. Many of her designs feature Shetland patterns and yarns, and she is inspired by the myriad shades of colour that can be seen throughout the islands' landscape.
Through her designs, publications and teaching she has been able to share Shetland's rich heritage with a broad international audience.
To find out more about Gudrun visit her website.