Crofthoose hat on tour in NYC
Friday, January 20, 2017
Shetland Wool Week and its patron Ella Gordon have just returned from a packed few days in New York where they and Ella's 'Crofthoose hat' hit the North American market at the popular Vogue Knitting Live show.
We escaped the storms in Shetland and arrived in NYC, home to 8.5 million people, where we were met by a world of contrasts, noise and colour.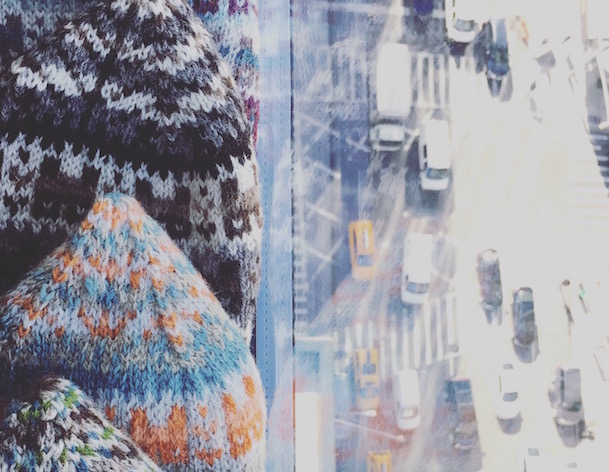 This is the second year we have attended the event – which is one of the biggest dates in the knitting and yarn calendar on the East Coast, attracting around 8,000 visitors. It took place in Times Square, a somewhat incongruous setting, and, over three days, knitting aficionados indulged their passion for yarn with thousands of like-minded people, bought endless quantities of wool from stall holders, attended classes, listened to talks and watched fashion shows. It was also a wonderful opportunity for visitors to wear their beautiful hand-knitted creations and there were many moments spent admiring and sharing compliments.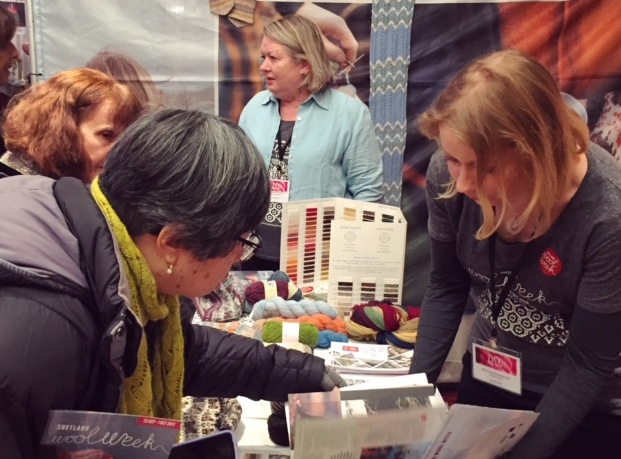 Our Shetland Wool Week stand attracted a lot of attention and it was so encouraging to be met with such enthusiasm. People seemed genuinely delighted that we had made a return visit and it was a wonderful chance for us to talk about our favourite things: Shetland's textile industry and heritage, the yarn, the islands, as well as answer any technical questions. We also loved meeting old friends and making new ones too.
We had taken samples of the different crofthoose colour ways – from Shetland Organics, Jamieson's, J&S, and Spindrift Crafts – among other Shetland samples. People appreciated the chance to be able to touch and feel the yarn and admired the different colours, especially the natural dyes from Spindrift.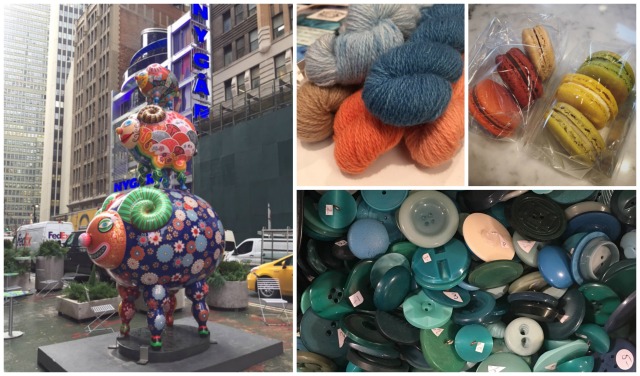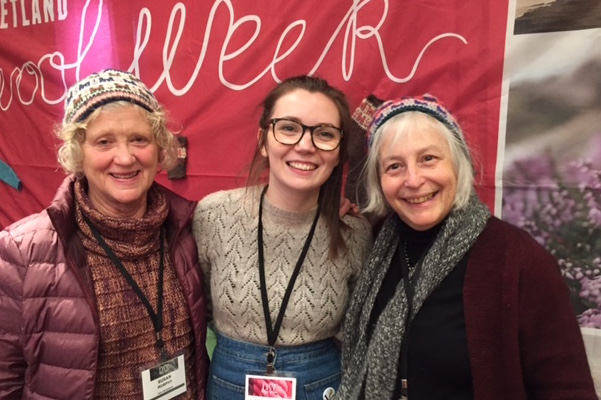 Ella was in her element as she met and chatted with her blog and instagram followers. Many were familiar with her hat design and had already knitted it, while others were keen to take the free pattern and give it a try. There were lots of questions about two colour knitting, which maybe need to be addressed. We feel another tutorial coming on …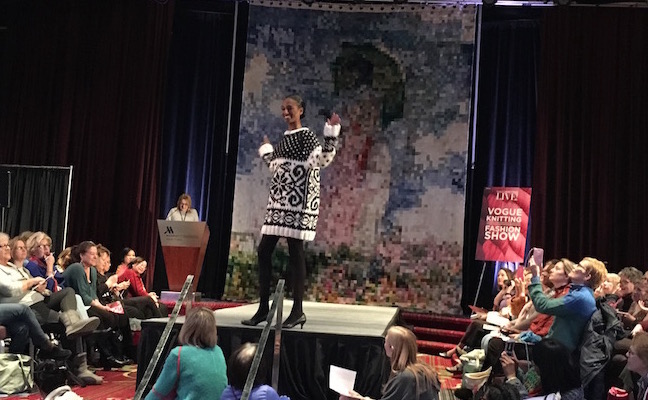 Yarn art is a key component of the event and there were some fantastic pieces on display, but the highlight surely had to be the magnificent depiction of Claude Monet's iconic 'Woman with a Parasol'. Produced in Europe by Citémôme it is the result of 100,000 knitted squares. It really was a masterpiece and made a dramatic backdrop to the non-stop fashion shows which took place.
Outside of the event, we gradually started getting the hang of Manhattan's grid plan. Seeing iconic buildings such as the wonderful 22 storey, triangular Flatiron which was built in 1902 was one to tick off the bucket list. Walking the High Line, a converted train track, and now an urban walkway with incredible views and public art was another highlight. We loved soaking up the culture and found the architecture, food, textures and colours an endless source of inspiration.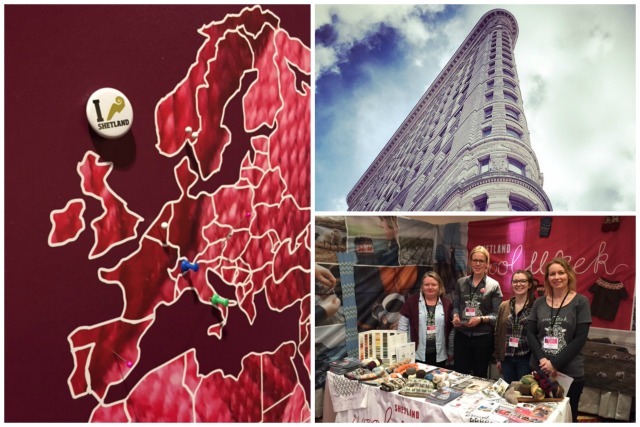 Thank you for having us NYC. We hope to be back and also see many of you at Shetland Wool Week soon.
Projects for 2017
Monday, January 16, 2017
A new year can only mean one thing … new projects.. We asked some of our Shetland Wool Week tutors what they've got lined up this year and what they're looking forward to. Read More
Oil-era Mittens
Tuesday, December 20, 2016
Shetland Museum curator, Carol Christiansen, tells us about about a recent donation to the museum which hails back to  the oil boom days of the 1970s.
Parcels of knitting sometimes arrive at my desk from people who wish to see it returned to Shetland.  A small pair of mittens, in very Christmassy colours, appeared a few weeks ago from Hampshire.  They were donated by Brenda Dawtry, in memory of her late husband Neil, who passed away earlier in the year.  Their story is set in a time of great change for Shetland.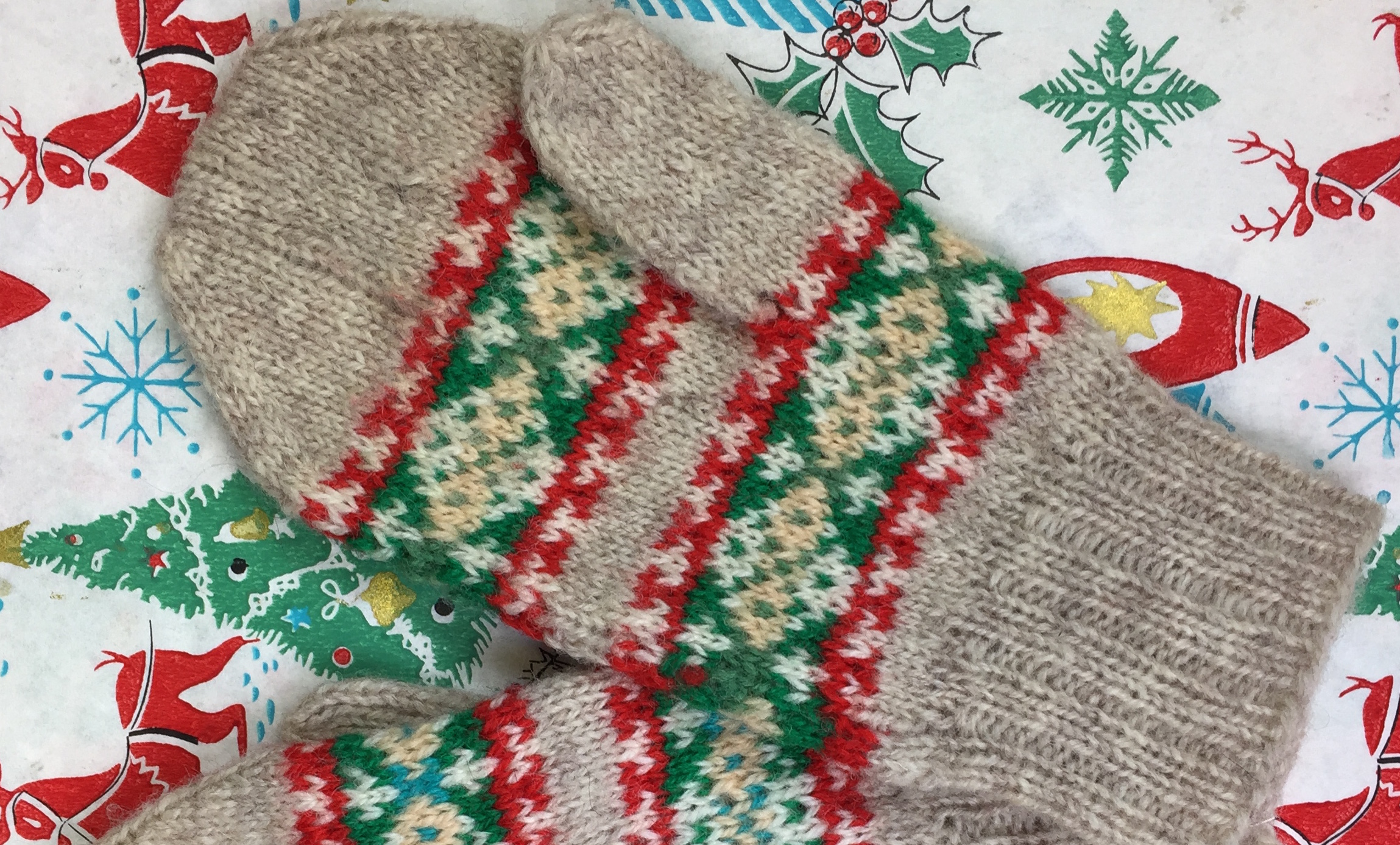 In the 1970s a huge terminal for North Sea oil extraction was built at Sullom Voe, in the north part of the main island.  Oil and gas development has transformed the islands, greatly increasing the standard of living and attracting workers from around the world, including Neil Dawtry, who worked as an electrical engineer. On his days off he explored the islands and during one of his excursions he met the Nicolsons of Brunga House, Northmavine parish.  They were an elderly couple who had raised a family of four on a small croft.  As a crofting wife, Kirsty Nicolson (1898-1985) knit her whole life, and sometimes demonstrated spinning to tourists at the St. Magnus Hotel in Hillswick.  On the back of Mrs Nicolson's calling card Neil wrote 'Mr and Mrs Nicolson bred their own sheep, sheared them, spun and dyed the wool, knitted it up.  I bought her last pair of mittens.  Mrs Nicolson's sight failed.  1979'.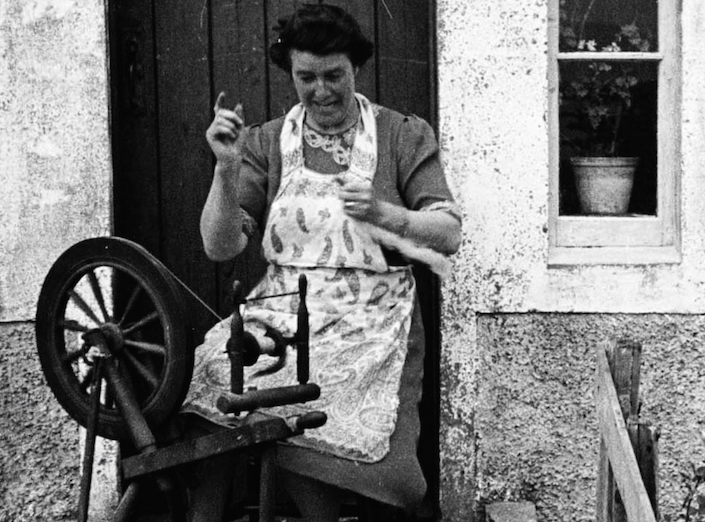 The mittens are in fawn wool with green, white and yellow diamond fair isle pattern stripes, bordered by a red and white small pattern.  The left mitten has a central band of turquoise in the fair isle diamond motif, whereas the right mitten has a slightly lighter green colour.  Perhaps this colour difference was due to Mrs Nicolson's failing eyesight at age 81.  She told Neil that she had spun, dyed and knit the mittens from her own wool, and had completed them in one day!  However, the mittens are not made from hand-spun, hand-dyed wool, but rather typical Shetland jumper weight machine-made yarns.  No doubt there was some embellishment about the making of the mittens in hopes he would buy them, which he duly did for his then future wife, Brenda.  We are grateful to Brenda for her kind donation.
Shetland's next generation of knitters
Wednesday, December 14, 2016
Donna Smith meets regularly with a group of young knitters from the Anderson High School. Here she explains how the group came about and what they've been up to.
Every Thursday at lunchtime during school term, a group of youngsters meet in one of the biology classrooms at the Anderson High School in Lerwick to knit.  The group consists of pupils, ranging from 12 to 18 years old, and school staff, and attracts a range of individuals from those who have never knitted before to those who have been knitting for several years and are expertly designing and knitting their own Fair isle garments.  This group is known as the Anderson High School Maakin and Yakkin (knitting and talking) group.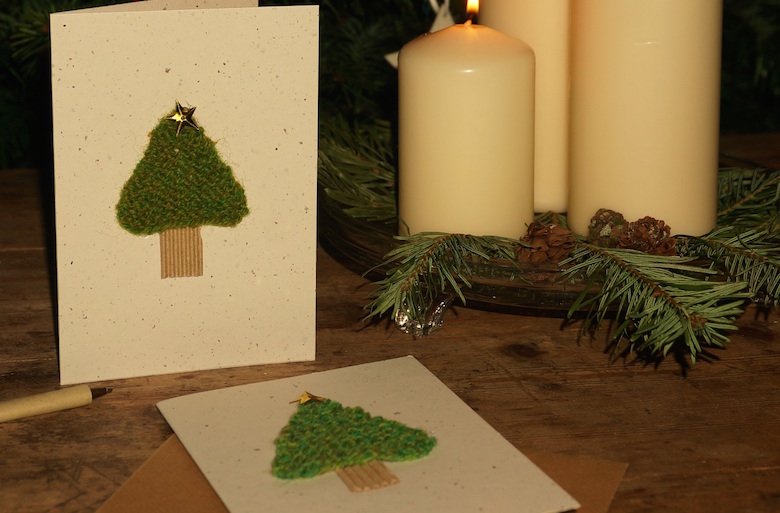 Over the past few weeks the group have been busy knitting garter stitch triangles (this has helped them practise casting on and decreasing) which were then transformed into Christmas cards to raise money for the school funds during a mass production line over a couple of lunchtimes.  Last Saturday I spent a very enjoyable morning at AHS Christmas Coffee Morning helping out at the Maakin and Yaakin stand and needless to say, the cards featuring the hand knitted trees proved to be very popular.  Pupils and staff also gathered in the 'Knitters Neuk' to spend time knitting and were joined by many members of the public who had come for their morning coffee and to browse the many stands in the school hall.
The lunchtime Maakin and Yakkin sessions were started in February 2013 by biology teacher, Caroline Simpson, a keen knitter who thought that it would be a good way to bring pupils and teachers together with a common interest, while introducing knitting to those who were less experienced.  I work as a science technician at the Anderson High School and go along to the group whenever I can.  It is so good to see so many youngsters knitting and it is really good to see someone progress from never having knitted a stitch before to knitting Fair Isle.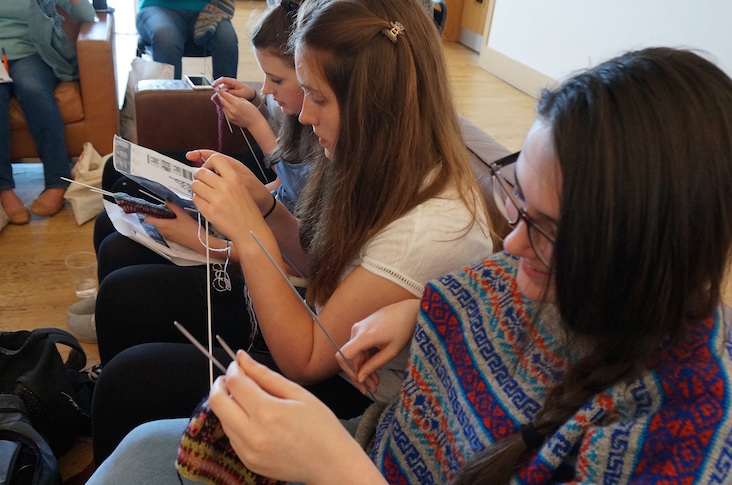 The group is part of the Peerie Makkers scheme, a two-year pilot scheme that encourages and enables skilled volunteers to teach traditional knitting methods to pupils in several schools around Shetland.  When I was in Primary school, we all got knitting lessons, but several years ago these classes were stopped due to lack of funding.  I remember at the time being horrified that this had happened and even wrote a letter to one of the local councillors, something that is not usually in my nature!  However, through the Peerie Makkers scheme, and the enthusiasm of several volunteers things are definitely looking up and we are seeing pupils attending these knitting sessions because they want to rather than because they have to which can only be a positive thing.   We are even hearing stories of the pupils getting their mothers interested in knitting which is fantastic!
The Anderson High School Maakin and Yakkin group have been involved in several things and projects and have attended other knitting events and groups.  In 2013 they made hats and tunics for babies in Malawi in conjunction with UNICEF, they have attended several events at Shetland Wool Week and this year several of the group members modelled their own work at the fashion show during the opening ceremony at the Clickimin Centre.  I am very sure these are the people to look out for during future Wool Weeks!
You can read more about the Maakin and Yakkin group on their new blog.
You can read more about the Peerie Maakers here
Getting out and about with SWW and the 'crofthoose' hat
Thursday, November 24, 2016
We've just attended our first ever Shetland Arts & Crafts Fair which took place over the weekend in Lerwick. It was so good to chat to novice and experienced knitters, or those purely interested in Shetland's wool and textile heritage. Shetland Wool Week really does have a diverse following! And, we'll be hitting the road again in the New Year, so here are some dates for your diaries.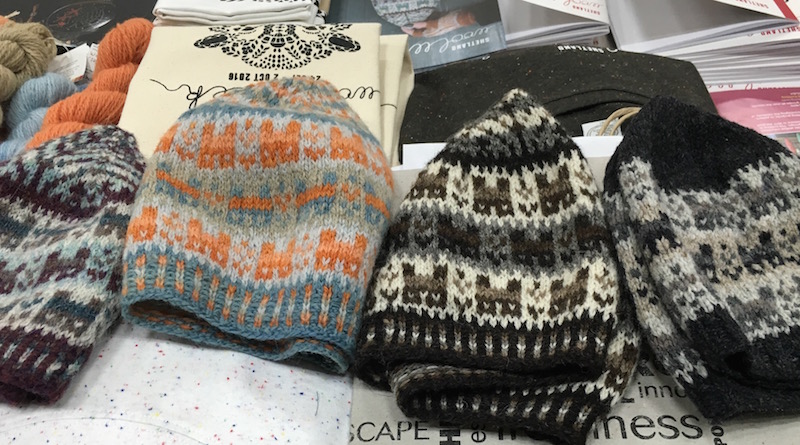 Having attended this very busy show last year, where we had such an incredible response and made so many contacts, we knew that we needed to exhibit again at VOGUEknitting Live textile and craft show New York, 13 – 15 January.
We'll be taking a stand and will be on hand to answer any questions, give details on SWW 2017 and chat about all things Shetland wool and knitting.
Take the opportunity to meet our SWW 2016 patron and knitwear designer, Ella Gordon and find out the inspiration behind the popular Crofthoose hat pattern. Also attending will be Dr Carol Christiansen, who is in charge of Shetland Museum's Textiles Collection, a recognised Collection of National Significance in Scotland. Carol has extensive knowledge of historical and archaeological textiles in Shetland and the Nordic countries.
If you're planning a trip to the show, please come and visit us. We'd love to see you there.
A must-have date for the diary is the popular international Yarn Festival in Edinburgh from 10 – 11 March.
As well as taking a stand, we'll be launching the official Shetland Wool Week 2017 hat pattern and also announcing this year's patron.
Printed copies of the pattern will be available too!
Hope to see you there!
Another very woolly week!
Monday, November 14, 2016
Here is our round up of Shetland Wool Week 2016
The seventh annual Shetland Wool Week was the biggest and busiest one yet! From the most northerly to the most southerly islands of the Shetland archipelago, participants indulged in wool-related workshops, drop-in sessions, talks, demonstrations, studio visits and our famous Sunday teas. Over 160 different events were offered, many with repeat sessions.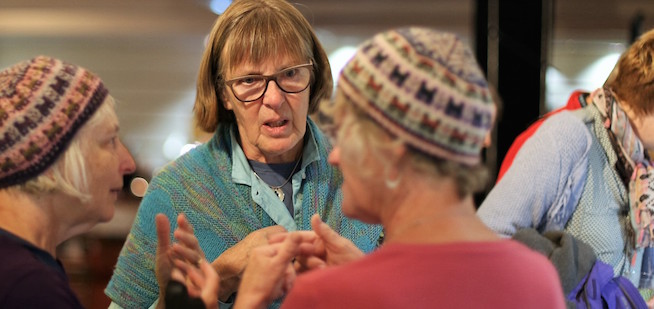 Many of Shetland's most experienced makers, designers, and textile specialists participate each year by presenting courses and other events. For 2016 the programme had grown considerably large and varied covering everything from spinning, dyeing, many types of knitting, and weaving to making accessories for wool-working such as shawl pins, silver buttons and baskets.
The Opening Ceremony was a wonderful way to kick off the nine-day festival and guests were given a snapshot of Shetland culture throughout the evening.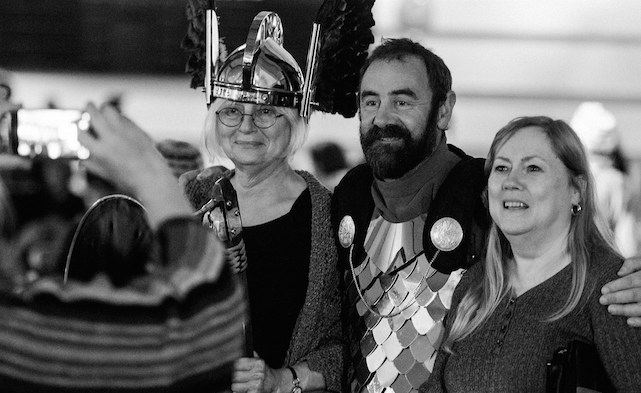 The Lerwick Jarl Squad put in a surprise appearance, and there were delicious canapes to try, using only Shetland produce and ingredients, as well as some painstakingly made, and very woolly inspired, cupcakes. There was music and talks and, for the first time, a Fashion Show, curated by Faye Hackers of Shetland College UHI. It was an eclectic display and showcased a variety of wonderful pieces from delicate handspun lace to Fair Isle jumpers and a dramatic Shetland tweed cloak. Keen that no one should miss out, the event was streamed live via facebook which meant that people all over the world could experience the evening.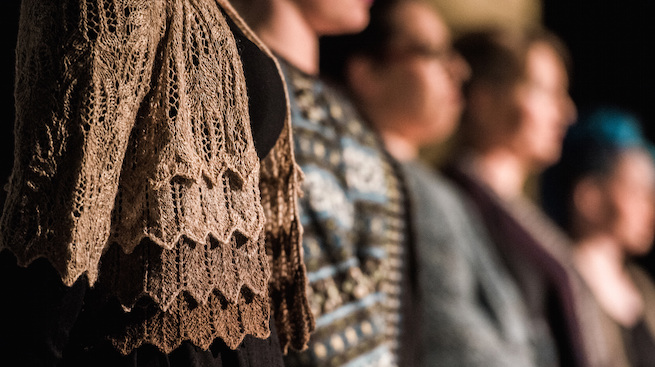 With so many classes and events taking place throughout the week it's impossible to capture everything, but here is a snapshot of pictures and words:
The tours to the outer isles of Whalsay, Fair Isle, Yell and Unst were incredibly popular and sold out quickly. People especially appreciated the warm welcome they received and the chance to meet and chat with islanders and find out more about their particular textile traditions. One participant commented on facebook, "The pride everyone has in Whalsay was evident which added so much to the day."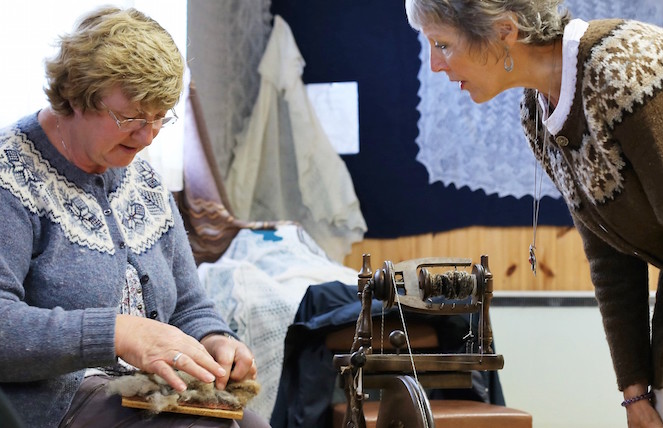 Fair Isle trip – a first for 2016, a lucky group of six ventured to this gem of an island to meet with Mati Ventrillon. Blessed with beautiful blue skies, the six took the short plane journey and began their full day tour, which focused on island life and knitting.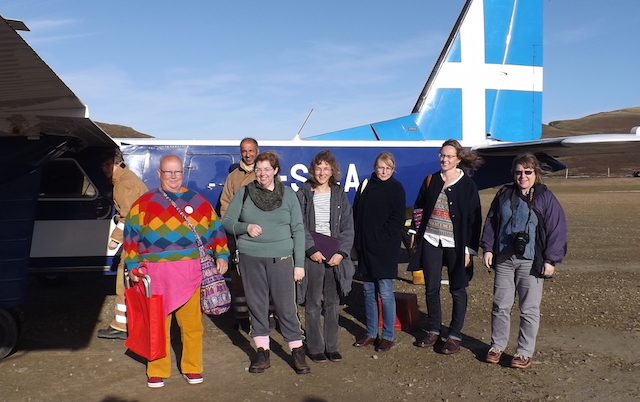 There was a guided tour to the South Lighthouse, and the Fair Isle Museum, as well as open studios and talks with Mati Ventrillon and Hollie Shaw. A delicious home cooked lunch at the Aauld Haa Gueshouse, followed by a trip to the  impressive Fair Isle Observatory and Lodge rounded off a perfect day, and will remain a favourite for many.
Joanna Hunter's Havera island trip went ahead in a slightly different format due to bad weather, but everyone still had the chance to view knitwear made by its inhabitants back at Joanna's home.
Joanna Hunter and Donna Smith's moodboard classes, always an inspiration, went down well. Joanna commented: "What an amazing wool week, meeting so many creative and exciting people, making new friends from all around the world. Everyone who attended our classes was so enthusiastic and the work they created was fantastic. I can't wait till next year to see who comes through the studio door."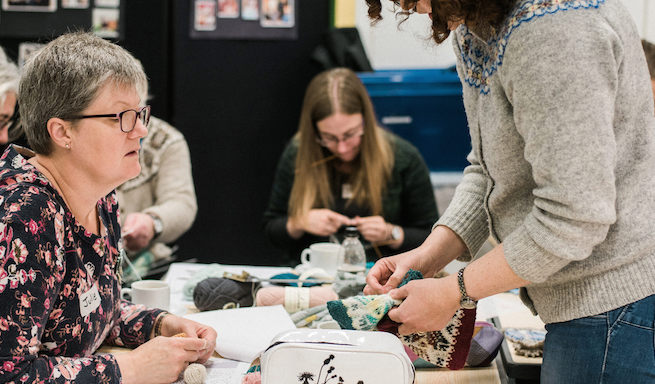 Experienced wire lace knitter Helen Robertson, held 'Light up your lace' lampshade classes, which proved to be very successful, with many commenting on her wonderful teaching skills and calm approach. Participants left the class with a totally completed project.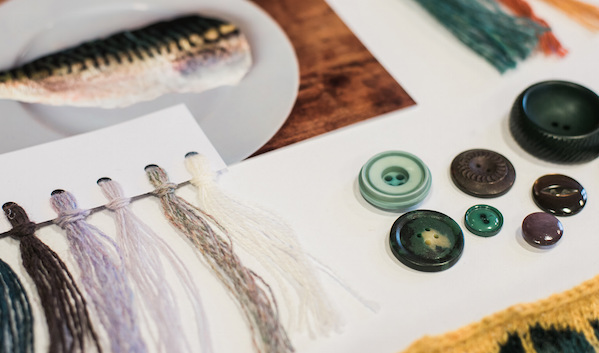 Natural dyeing workshops were available this year too, with Julia Billings exploring the essential steps involved in transferring the colour found in plants onto fibres.
Shetland's textiles and textile-making traditions are the focus each year but we also aim to bring different traditions into the mix by inviting foreign specialists.  This year Estonian knitwear designer and researcher Kristi Jõeste joined us.  She taught several classes in her speciality, Estonian glove-making, and one of her patterns was included in the Shetland Wool Week Annual.  Along with Shetland knitwear designer and Finnish native Outi Kater, Kristi discussed her research and designs at our Baltic Night evening lecture.
 The popular Makers' Market is an opportunity for local wool producers and makers to show and sell their wares during this nine-day event. It went down a storm with people keen to snap up a unique wool item. This year exhibitors featured yarn made from wool of Shetland's two most remote islands communities, Foula and Fair Isle. Students from Shetland College's Textile Department sold knitwear they designed and made in their courses and Shetland Handspun designer and maker Elizabeth Johnston made available her gorgeous hand-spun yarns in Shetland wool, coloured with natural dyes.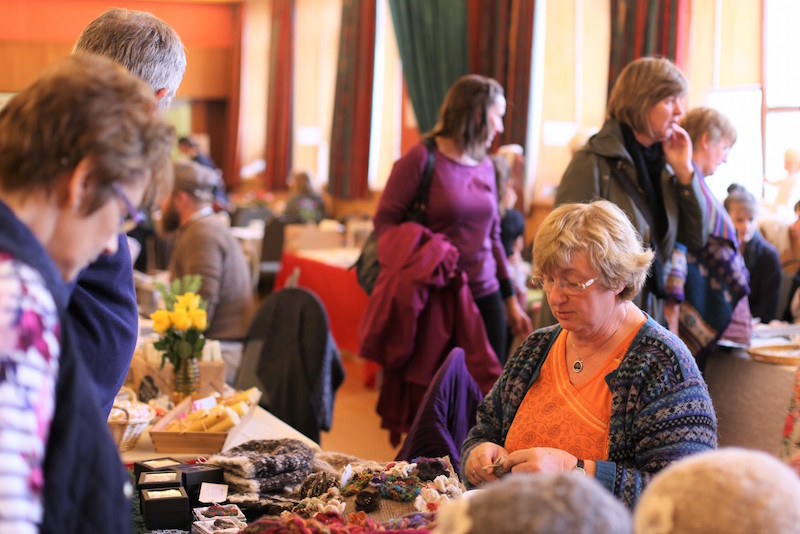 Talks were a great way for people to meet up in the evening and mainly took place at the Shetland Museum and Archives. Again, they were mostly all at full capacity, with Baltic Knitting Night; and SWW Patron Ella Gordon's 'Being a Knitter in Shetland' especially drawing in the crowds.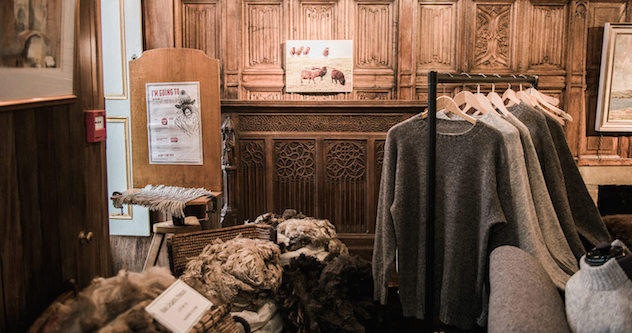 This year the Shetland Wool Week Committee introduced a new online booking system using Little Box Office.  This made registering for events easier, as tickets could be printed by the participant or simply shown on their phone, and allowed vendors to check participant numbers as events filled.
This year's HUB also enjoyed a change, and had moved from Islesburgh to the first-class location of the Shetland Museum and Archives. Here woolly participants could meet up with friends old and new, and enjoy a cuppa with their maakin. There were also many knitted donations throughout the week to the popular Shetland With Love charity.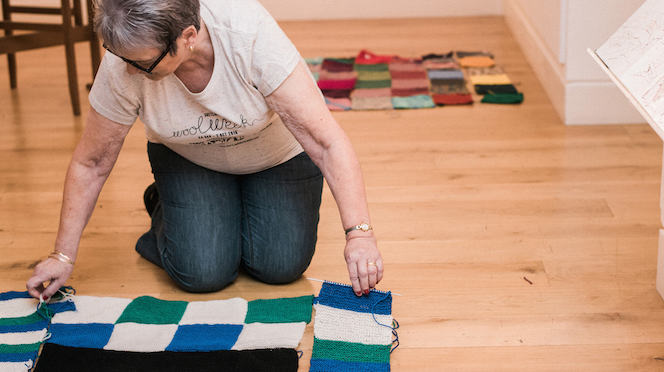 Shetland was blessed with 'Indian Summer' weather on most days but participants also got a taste of our wild and windy autumn weather.  Even Da Mirrie Dancers, the aurora borealis, made appearances on several clear nights – truly a magical nine days.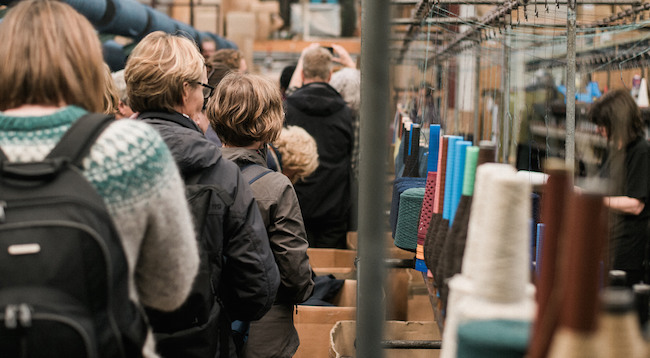 A big Shetland Wool Week thank you!
Thursday, October 20, 2016
Well, we've had a chance to recover from what was our biggest Shetland Wool Week yet! It was an amazing festival – packed with hundreds of classes, talks and tours, all celebrating Shetland's fantastic textile heritage and crofting community.
Now in its seventh year, our participant numbers have doubled – with almost 600 attending. As always, we are humbled by how far people will travel to join us. This year we welcomed visitors from all corners of the world from Norwich to New Zealand to Denmark and California.
2016 Survey
We'll be circulating a round up shortly with highlights and photos of the event. In the meantime, we would appreciate it if you could take a few minutes to complete our short survey to help us with our planning for 2017. As ever, we are keen to make improvements and ensure that the event stays fresh and relevant, so your feedback is important to us. As a thank you, you'll be entered into a free prize draw where you will have the chance to win an annual subscription to our 60North publication. The prize draw will close on 7th November 2016.
2017 dates announced
Looking ahead to next year we are pleased to announce that Shetland Wool Week 2017 will take place from the 23rd September until 1st October 2017. Planning is now underway and we can promise you that 2017 is set to be another unforgettable year!
We hope you enjoyed SWW 2016 and thank you for your continued support.
'FROM SHETLAND WITH LOVE' CHARITY: BRING ALONG A KNITTED BLANKET SQUARE TO SHETLAND WOOL WEEK.
Friday, September 16, 2016
This year we would like to give something back and support a charity close to our hearts, 'From Shetland with Love'.
Founded by Shetlanders Mona and Iain McAlpine in 2005, the charity helps and supports children in Southern Africa who have been left orphaned due to HIV/AIDS crisis.
We would like to pool your knitting talents and invite everyone to bring with them a knitted square, that we will link together to create beautiful, bespoke blankets which will then be sent to an orphanage in Lesotho.
'From Shetland with Love's' story: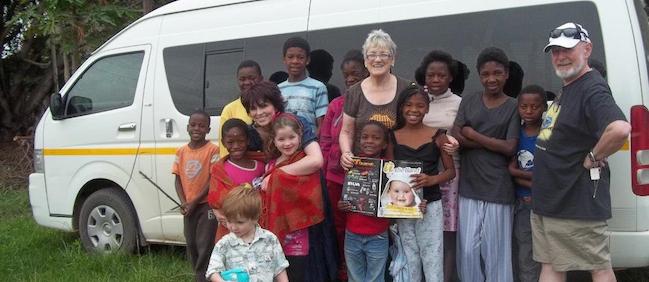 Mona and Iain lived and worked in South Africa for 32 years. As Mona is a midwife she had up close and personal contact with affected families, especially mothers along with their unborn babies, who back in the 80s and 90s had little or no hope of survival. They saw that the impact on families is devastating as adults become too sick to work and children already suffering from physical disabilities along with HIV are left abandoned and orphaned.
On their return to Shetland Mona and Iain decided to set up the charity FSWL. To date, well over £100,000 has been raised. All funds go directly with the couple to Africa when they visit family there.
Over the years, many orphans and orphanages have benefited including Gods Golden Acre (GGA); Good Will and Growth for Africa (GAGA); Rifilwe, Baby House and many more.
Unfortunately Iain passed away last year and Mona toyed with the thought of 'giving up' the work, but her last visit to Morapeli changed her mind. "I knew I could not abandon them. So off I go to visit in November 2016. The children love to hear the stories I bring them about Shetland. So I can guarantee much excitement will be generated when I bring out the blankets."
The McAlpines source the recipients of the funds carefully and always support the most needful. The latest project is 'Morapeli', an orphanage for Disabled Children in The Mountain Kingdom of Lesotho. Lesotho is warm and wet in summer and cold in the winter so blankets are always welcome.
We think the finished blankets will look amazing – and, most importantly, they will also be of real, practical use in the orphanages.
If you would like to contribute the details are:

Knitted square, finished size: 15cm (6inch square)
Any yarn, any design and any colour.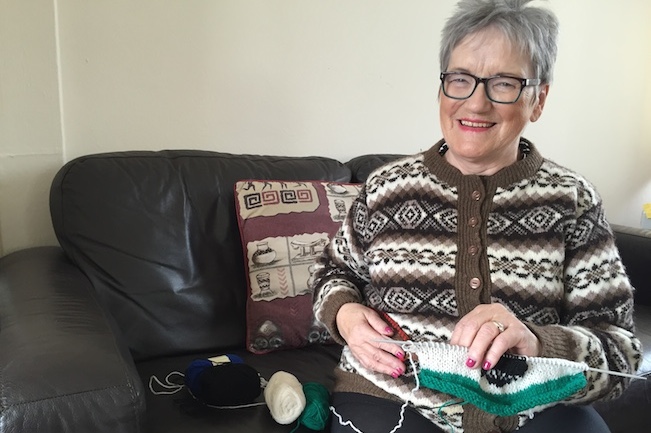 Throughout SWW, we will ask everyone to drop into The Hub at the Shetland Museum in Lerwick, and sew their square so that we can create as many blankets as possible. If everyone attending wool week came with just one square we would be able to make at least 30 blankets. A little really will go a long way. If you would like to send a small donation you can do so on Mona's fundraising page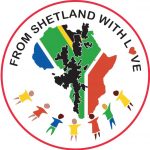 Shetland Wool Week classes still available
Tuesday, September 13, 2016
There are a limited number of classes still available to book via the Little Box Office. Make sure you don't miss out!
Basics of Knitting Pattern writing with Outi Kater – Saturday 24th or Tuesday 27th September
Moodboards, Colour and Swatches with Joanna Hunter & Donna Smith – Saturday 24th September
Mittens from Finland with Outi Kater – Thursday 29th September
Taking Inspiration from Vintage Knitwear with Ella Gordon – Thursday 27th September
Mug Warmers with Donna Smith – Sunday 25th or Wednesday 28th September
SWW: Stretch & Breathe – Monday 26th, Wednesday 28th or Friday 30th September
Light up your Lace – Wire Knit lace Lampshade – Monday 26th or Friday 30th September
A Norwegian Challenge – Monday 26th September
Estonian Circular Knitting with Kristi Joeste – Monday 26th September
Knitting the Thumb Gusset with Tori Seierstad – Monday 26th or Wednesday 28th September
Shades of Shetland with Donna Smith – Monday 26th September
Twoend Twined Knitting – Tuesday 27th September
Demonstration of Monk's Belt Weave Technique with Alicja Tyburska – Monday 26th, Wednesday 28th or Friday 30th September
Dingle Dangle Sheep (CHILDREN'S CLASS) – Monday 26th or Tuesday 27th September
Improvers Spinning Class – Monday 26th September
Woolly Words Folded Book Origami – Monday 26th September
Yoga for Knitters – Tuesday 27th or Thursday 29th September
Design a Knit a Toorie (2 day workshop) – Tuesday 27th September
Fabulous Felt, Wire Knit, Enamel Jewellery with Helen Robertson – Tuesday 27th September
Calculations in Knitwear with Marjolein Reichert – Tuesday 27th or Wednesday 28th September 
Estonian Glove Knitting with Kristi Joeste – Wednesday 28th September
Fair Isle Yoke Tips – Tuesday 27th or Thursday 29th September
Gradient Discovery Day for Spinners – Dyeing and Fleece Preparation – Tuesday 27th September
Lace Shawl Construction – Tuesday 27th September
Explore the Versatility of Organic Wool – Tuesday 27th September
Getting the Perfect Finish with Hazel Tindall – Friday 30th September
Did Shetlanders Knit their own Furniture? – Tuesday 27th September
More is More, Cuffs, Basques and Trims – Tuesday 27th September
Blending Colours of Shetland with Deborah Gray – Wednesday 28th September
Felted Sea Shore, Pebbles and Shells – Wednesday 28th September
The Perfect Finish – Wednesday 28th September 1.30pm or 6.30pm
Beginners' Drop Spindle Spinning with Deborah Gray – Wednesday 28th September
Ink Block Printing with Wool onto Paper – Wednesday 28th September
Baa Baa Badges (CHILDREN'S WORKSHOP) – Wednesday 28th September 7, 2016
Fair Isle Makes Its Mark – Thursday 29th or Friday 30th September
Dressing Lace – Wednesday 28th September
In Search of Lace, Tweed and Haps: Three Projects – Wednesday 28th September
Cockleshell Lace Scarf for Beginners – Thursday 29th September
Doreen Brown, Shetland Knitwear – Knitting Pattern making for hand and machine knitting – Thursday 29th September
Silk Spinning with a Difference – Thursday 29th September
Baltic Knitting Night – Thursday 29th September
Colours of Shetland and Lace with Anne Eunson – Friday 30th September
Design – the Difficult Part – Friday 30th September
Four Fingers and a Thumb – Friday 30th September
Make a Wooden Needle and a Threading Hook – Friday 30th September
Seaweed Jewellery – Friday 30th September
Wirds in Wirsit – Friday 30th September
The Perfect Picture – Saturday 1st October
3D Wet Felted Vases (2-part workshop) – Saturday 1st October
Sumburgh Bonnet with Linda Shearer and Ina Irvine – Saturday 1st October
Shetland Wool Week Annual 2016
Tuesday, August 30, 2016
Last year's Shetland Wool Week Annual was an instant sell-out, and this year's edition, packed with exclusive patterns, fascinating essays, interviews with top knitters and glorious photography, is set to be a huge hit too.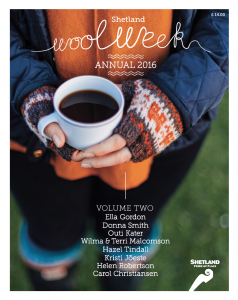 Among the full patterns provided, along with profiles of the designers, are Shetland Wool Week Patron Ella Gordon's spectacular Crofthoose Hat and Crofthoose Mitts; Donna Smith's beautiful Shetland lace Sanik Shawl; Outi Kater's Fair Isle Snaefrid Legwarmers; Wilma and Terri Malcolmson's Da Hölmin hat and a classic Brogash cardigan from Hazel Tindall.
Also provided are patterns for Kristi Jöeste's Muhu Fly Gloves, Carol Christiansen's Küttikins slipper socks, Marian B Leslie's Sleeveless Spencer and a design for Helen Robertson's Light Up Your Lace Jar Lantern.
Essays include Donna Smith on the phenomenon of the makkin belt, Tom Kidd's fabulous photographs of 1970s Fair Isle gansies, Roslyn Chapman on the infamous Truck and Barter system of paying knitters, and the amazing story of how Shetland knitwear conquered Everest.
Extraordinary illustrations, a selection of book reviews and some personal insights into the lives of the isles' top knitters: The Shetland Wool Week Annual 2016 is available at £14, but get your copy quickly: it's bound to be in short supply.
You can order your copy here.