Tickets still available to 2017 events
Wednesday, May 17, 2017
The Shetland Wool Week 2017 programme was launched yesterday and we had a record number of sales. Despite the initial technical glitch to the booking system, many people were able to book a range of events.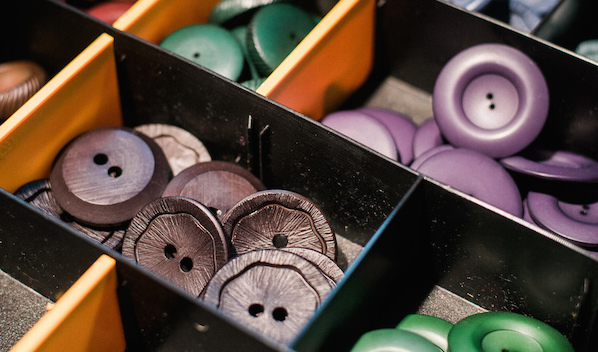 We are working with tutors to see if we can put on additional classes during Wool Week. We will confirm this in the next few weeks once we have allocated venues.
In the meantime, as of Wed 17 March, there are still over 1,000 bookable tickets left, including the following.
If you go to the search box at the top of the page with the name of your preferred class and choose 'Book Tickets' it will take you straight to the Little Box Office website.
'Shetland' Book Launch – A New Collection of Fair Isle by Marie Wallin
A Norwegian Challenge
A Shetland Photography Safari with Austin Taylor
Advanced Two-end Knitting in Colour with Karin Kahnlund
An Evening with the Ladies from Thingborg
Basic Brioche (one colour) with Nancy Marchant
Beginner's Drop Spindle Spinning with Deborah Gray
Beginning Double Knitting with Amy Detjen
Blending Colours of Shetland with Deborah Gray
Bressay Lighthouse Exhibition
British Fisherman's Knits with Julia Billings
Chunky Cable Masterclass with Di Gilpin
Crochet Class with Lizzie Simmons
Double Knitting – a Journey into the Reversible
Dressing Shetland Knitwear Accessories
Fae Ewe Tae You
Fair Isle and Lace Candle Holder with Linda Shearer
Fair Isle Charts for Beginners with Terri Malcolmson
Felt Your Own Bag
Felted Creatures
Felted Gloves (note this ends at 1600 and not 1400)
Felted Slippers
Felted Shetland Postcards
Felted Wool Vessels
Get Organised – Make a perpetual knitting workbook
In conversation with Di Gilpin and Marie Wallin
Introduction to Magic Loop Knitting
Knit a Picture
Knit Wire Earrings
Knit Your Own Bangle
Knit Your Own Wire Lampshade
Knitting from Lopi and Design of Classic Lopi Sweater
Knitting Texture
Knitting the Thumb Gusset
Make a Wooden Needle and Threading Hook
More is More
Nalbinding
Picture-perfect Knitting
Scandinavian Boundweave
Shetland Sheep, Food and Folk on the Croft
Spree for Cushla
Taat Chat at da Bod
The Dye Spell
The Importance of Plying
The Perfect Finish for Lace with Anne Eunson and Kathleen Anderson
The Perfect Picture (photography class)
The Warp Weighted Loom
Threads as Thick as Fishers Lines
Tuck into Your Own Brioche Cowl with Nancy Marchant
Unique Unst: Lace Knitting and Georgian Grandeur (email bookings@belmontunst.co.uk)
Up your game – improver's spinning
Wearable Felted Art
Weaving Stories at the Bressay Lighthouse
Wirds in Wirsit
Wool Labyrinths
Woolly Words Folded Book Origami
Tours:
North Mainland Tour
Central Shetland Tour
Tour to Unst
Tour to Yell
Visit an Organic Farm (Uradale Farm)
SWW 2017 Little Box Office Update
Monday, May 15, 2017
Just a reminder to all those planning to join us at this year's Shetland Wool Week that tickets will go on sale tomorrow, Tuesday 16 May at 1.00pm BST.
The website for the Little Box Office can be found here
A few of you have raised some questions on how the Little Box Office works, so hopefully the following information will help clarify things:
You do not have to be a SWW member in order to buy tickets, although those of you who paid for membership, will have had a preview of the programme for the past week.
The Little Box Office does not accept PayPal. In order to book tickets you will need to pay by credit or debit card (Visa, MasterCard or American Express).
You will be able to book 2 tickets at a time for smaller events, and for larger ones, such as talks and tours, 4 at a time. Once a ticket is selected and added to the basket, it is unavailable for any other customer to select for 60 minutes, to allow you to add other items and check-out without rushing.
There is absolutely no requirement to set up an account at The Little Box Office, and you will be able to purchase event tickets without doing so. However, if you do decide to set up an account, your contact details will be saved and you will be able to view your past orders.
Tickets are non-refundable (unless a class is cancelled).
Phone line
The quickest way for you to book tickets is directly online.
However, we will have a special number for anyone experiencing difficulties with the Little Box Office.   The number to call is 01595 980100
This will be available from:
Tuesday 16th May, 13.00 – 19.00 BST
Wednesday 17th May 09.00 – 17.00 BST
We must stress though that as we are a small team, your call will be placed in a queue.
It will be no quicker booking tickets by phone. If you have more general, less urgent enquiries, please email us at: info@shetlandwoolweek.co.uk
Printed copies of the programme
If you would like to order a printed copy of the programme you'll be able to do this from Tuesday through the SWW website. No rush here as there will be plenty of copies available.  Copies are free, although there will be a charge for postage and package.
And finally, please don't be disappointed tomorrow if you're unable to get hold of your first choice of tickets. There is plenty going on throughout Shetland Wool Week, so there really should be something for everybody.
Happy planning and booking and as always, thank you for your support.
Traditional Shetland patterns influence scarf design
Friday, May 5, 2017
Linda Shearer, member of the Shetland Guild of Spinners, Knitters, Weavers and Dyers, shares her latest project with us, which was inspired by two patterns from the book, A Shetlander's Fair Isle Graph Book – In Colour. She writes:
With the success of the book 'A Legacy of Shetland Lace' produced by the Shetland Guild of Spinners, Knitters, Weavers and Dyers in 2012, we decided to start work on another book – this time Fair Isle patterns using members' own designs.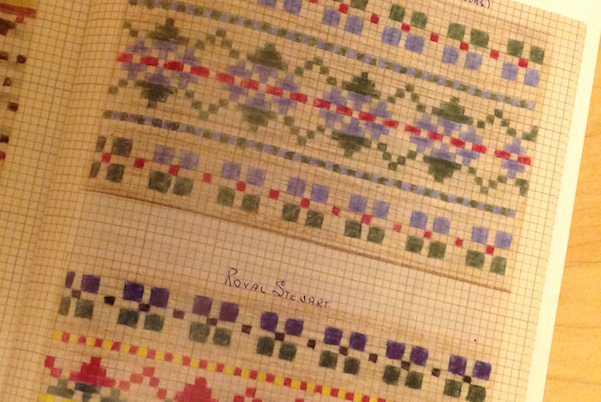 This prompted one of our members, Kathleen Anderson, to look out old graph books which had been given to her quite a few years ago by the son of the knitwear manager for Anderson & Co. where she previously worked.  Kathleen took the books along to a Guild meeting where most of us thought the books should be produced just as they were.  The Shetland Times published the books, into one volume, split into two parts.
After the Guild had the book published, I decided I would like to try knitting one of the coloured patterns from it.  I chose the two patterns, 'Hunting McIntyre' and 'Royal Stewart', thinking it would be fun to knit them both in a scarf.  I tried to choose colours as near to the graphed picture as possible.
The scarf is modelled by Linda's daughter, Emily.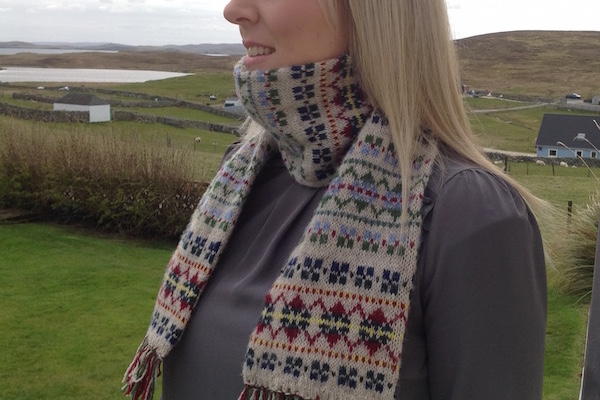 We are still in the process of producing our own book of members Fair Isle knitting patterns, and hope to have it completed in the next few months.
SWW 2017 Membership tickets announced
Thursday, April 6, 2017
*Membership Update* Please note that due to high demand, the Full Membership option which includes a ticket to the Opening Ceremony is now sold out.
You can still purchase standard membership which includes the official Shetland Wool Week bag and membership pack as well as early access to the programme a whole week before tickets go on sale.
A small number of additional Opening Ceremony tickets will be available when event tickets go on general sale on 16th May.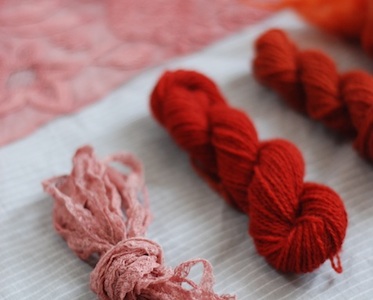 Full Membership £25 [SOLD OUT]
First look at the events programme one week before it is officially launched
An official 2017 SWW bag
A ticket to the Opening Ceremony (worth £15)
Official member badge
An automatic entry into our fantastic Shetland Wool Week Prize Draw for 2017
Standard Membership (no opening ceremony ticket) £15
First look at the events programme one week before it is officially launched
An official 2017 SWW bag
Official member badge
An automatic entry into our fantastic Shetland Wool Week Prize Draw for 2017
The real advantage of being a member is that you get a chance to have a good look through the programme in advance, which will be sent to you as a PDF by email on Monday 8 May. Bookings will go live on Tuesday 16 May at 1300 BST and this is when you can order tickets to all SWW events.
Shetland Wool Week is a nine-day festival, and this year there are over 300 events  from which to choose. Once tickets are announced many events sell out very quickly, so if there are specific classes, talks or tours that you want to sign up for, it is advisable to try and order them as soon as the Little Box Office goes live.
The Opening Ceremony will take place on Sunday 24th September from 1900 – 2100 at the Clickimin Leisure Complex, Lerwick. It's a fun evening with talks, Shetland entertainment and refreshments. It's also a great way to meet up with your fellow knitters and tutors for the week.
We have also added a handy 'Frequently Asked Questions' (FAQs) page to this website, which will hopefully answer some of your queries. Please let us know if we've missed anything by emailing: info@shetlandwoolweek.co.uk
We're really looking forward to sharing the programme with you in the coming weeks. We've got some fantastic events lined up, and, as ever, an array of talented and inspiring tutors. Watch this space for updates!
Introducing the Bousta Beanie at EYF
Thursday, March 23, 2017
Here's our woolly round up of Edinburgh Yarn Festival.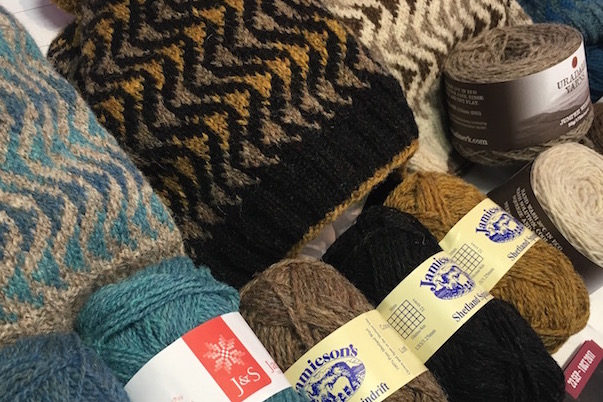 Anyone who has a love of yarn and textiles probably has a big red circle marked in their diary around the beginning of March – to highlight Edinburgh Yarn Festival – one of the biggest urban knitting festivals in the UK.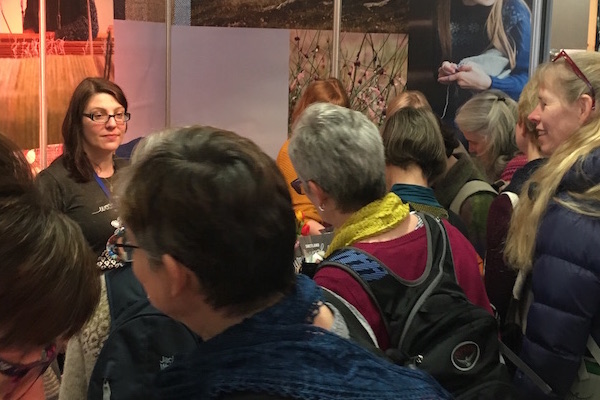 It's a big deal, attracting some 5000 visitors to the two-day market place, which is packed with vendors and knitwear designers from all over the world. It's also a key event for the Shetland Wool Week committee, as this is where we promote our own event and announce the new guest patron for the year together with the launch of the official hat.
EYF is a brilliant place to meet like-minded, yarn and knitting obsessed people from all over the world. It's impossible to leave without buying (another) stash of wool, a handful of buttons, a pattern or two.. and be inspired by the conversation and endless garments that vendors and visitors are wearing.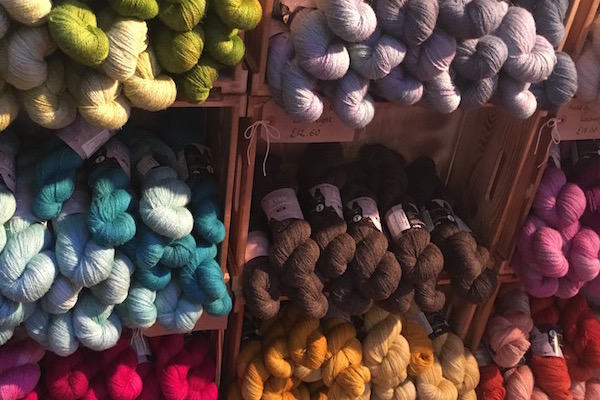 Before the event had even kicked off at Edinburgh's Corn Exchange there was already quite a buzz, with people wondering who would be stepping into Ella Gordon's shoes. All was eventually revealed via SWW's popular social media streams where we were delighted to announce Shetland-born knitwear designer, Gudrun Johnston, as this year's patron. The official hat, the slouchy-style 'Bousta Beanie', designed by Gudrun, was also launched.
Within minutes of the doors opening we had a steady stream of people wanting to meet with Gudrun, ask questions and take a copy of the free knitting pattern. The hat uses a variety of stunning colourways in Shetland yarns by Jamieson & Smith, Jamieson's of Shetland and Uradale Yarns.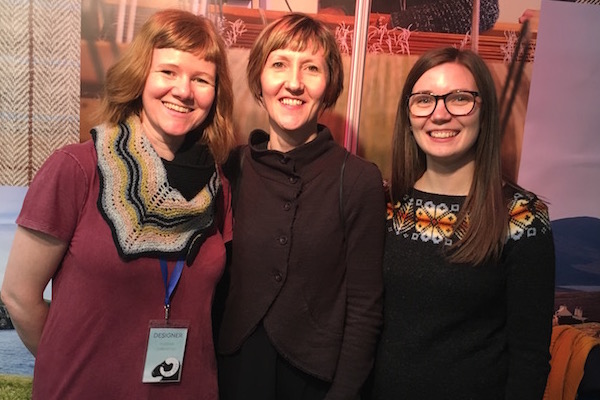 It was also clear from people's comments that  enthusiasm and interest for SWW continues to grow, with many people prepared to travel long distances to visit the islands.
For some, it is very much on the 'bucket list'. We loved meeting you all and answering your questions. It was also great to see SWW patrons past and present at the stand (Gudrun Johnston, Donna Smith and Ella Gordon).
This year there was a strong Shetland contingent with impressive stands from Jamieson's of Sandness, Uradale Farm, and Shetland Handspun.
The patron is an integral part of Wool Week and generates a lot of international interest. Gudrun Johnston is an enthusiastic ambassador for Shetland's textile industry, so she was a natural choice for the SWW committee.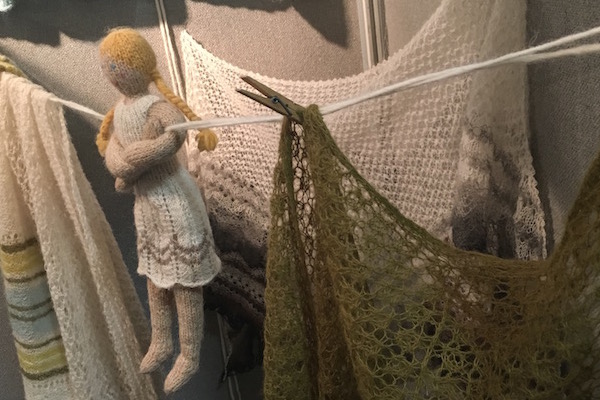 Gudrun was in high demand throughout the event and did a live podcast with Blacker Yarns. A frequent visitor to Shetland, she has attended every Wool Week since it started in 2010. Many of her designs feature Shetland patterns and yarns, and her Wool Week, Bousta Beanie hat design was inspired by the ever-changing shades of the Shetland landscape.  She wanted to reflect this in a simple Fair Isle pattern that floats between one background colour and two contrasting colours. The beauty of this approach is that it creates endless possibilities for colour combinations. In fact, Gudrun surprised us on the day by arriving with a fourth suggested colourway, which uses softer shades of blue. Her gorgeous combination uses J&S 2-ply jumper weight, Shade 2; FC 39MIX; FC34MIX.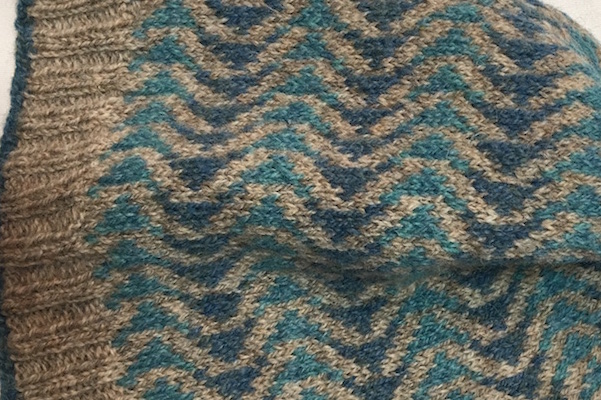 It was heartening to see such interest for SWW and the hat pattern at Edinburgh – we've been following everyone's progress on social media. We look forward to seeing more of your work– please do share pictures with us by hash tagging #boustabeanie or #shetlandwoolweek2017 !
Free pattern is launched and our 2017 patron is announced
Friday, March 10, 2017
We have some very exciting news – the official Shetland Wool Week 2017 hat pattern is being launched today at Edinburgh Yarn Festival.

We're also thrilled to announce that the SWW 2017 patron is one of our favourite knitwear designers, Gudrun Johnston – and she has designed this year's official hat pattern. Inspired by the myriad shades of Shetland's landscape, Gudrun has named her wonderful slouchy style hat the Bousta Beanie.
The pattern is available to download now and printed copies are available for those who are attending the festival. We'll be at stand M8 together with Gudrun, so we look forward to seeing you there!
Knit the hat in any of the suggested colours or choose your own variations and wear it to Shetland Wool Week 2017. Remember to share your pictures with us using #boustabeanie or #shetlandwoolweek2017, we can't wait to see your creations.
Gudrun Johnston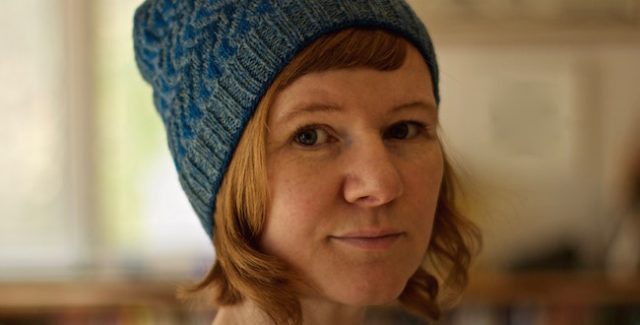 Knitwear designer Gudrun Johnston will be the guest patron for this year's eighth Shetland Wool Week. She was a popular choice for the festival's committee and we're delighted to have her on board.
Gudrun's Shetland lineage runs deep. She was born in Levenwick, Shetland in the 1970s and her grandparents were from Skerries and the Ness. Now based in America, Gudrun has successfully relaunched the Shetland Trader, a design company, first began by her mother, Patricia Johnston.
A regular visitor to Shetland, Gudrun has attended every Wool Week since it started. Many of her designs feature Shetland patterns and yarns, and she is inspired by the myriad shades of colour that can be seen throughout the islands' landscape.
Through her designs, publications and teaching she has been able to share Shetland's rich heritage with a broad international audience.
To find out more about Gudrun visit her website.
Wires, wirsit and words
Thursday, February 23, 2017
'Taak dy sock'  was an expression Donna Smith was familiar with whilst growing up. Here she  discusses the origins of some 'knitting' words in the Shetland dialect and how they are still very much in use today.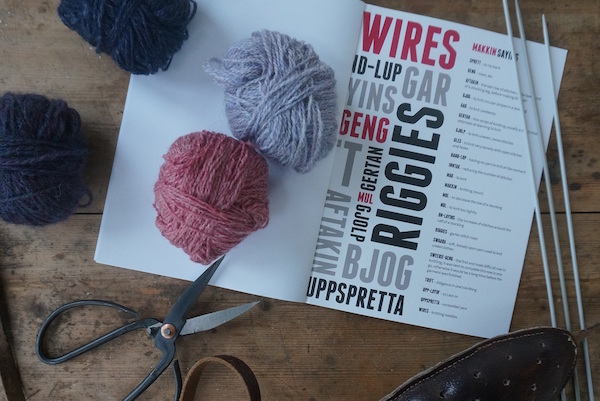 Those of you who have attended classes or events at Shetland Wool Week and are not familiar with the Shetland dialect might notice that there are many different words we use in Shetland and interestingly many of them involve knitting.  Often for a local teacher, it can be tricky to try to 'translate' the words or words to be used, particularly when nervous (I am speaking from experience here!).
Many of the words and terminology used to generally speak about knitting are dialect words, for example, we speak about laying up loops (casting on stitches), wires (needles), wirsit (wool yarn), dressing (blocking), we call our knitting "makkin" and the the verb "knit" is "mak".
The origin of the Shetland dialect, as any language is, is complicated and defined by the history of the place, its ownership, and the people living in and visiting the islands, amongst other things.  The Shetland dialect is largely a mixture of English, Lowland Scots and Norn, which is a variation of Scandinavian languages. Norn is now extinct but used to be spoken in Shetland from around the 9th century until it eventually was largely superseded by the Scots language in the 18th century and became no longer a distinct language.
A large number of distinct words are still found within the Shetland dialect today, many of the words are used to describe things that were a large part of day-to-day life such as the weather, crofting, fishing and knitting.  For example according to Jakob Jakobsen, who extensively studied the Norn language and in turn compiled the Etymological Dictionary of the Norn Language in Shetland in the 19th Century, the word "makkin", the Shetland dialect word for knitting, comes from the Norn verb "makk" a which is defined by Jakobsen as "to knit woollen yarn".
Other common words you might hear Shetlanders use include:
Sprett = to rip back or the newly coined term "frog", this comes from the old Norse "spretta", and in Shetland dialect the unravelled yarn is the "uppspretta"
Geng = row or rows
Sweerie geng = the first row in knitting.  This is often thought to be the most difficult one and so it is best to complete it in one go, otherwise it would be a long time before the garment is finished.
Riggies = Garter stitch rows
Interestingly, many dialect words are only used in certain places within Shetland, and I still often hear words I have never come across, many by the older generation.  I love finding new words but I often have trouble remembering them; I must learn to write them down!  A collection of words were made before Shetland Wool Week last year and printed inside the notebooks that were for sale. I hadn't actually come across many of those words so it's really important to compile them and write them down while we can.  Like the knitting heritage, the dialect is something we need to make sure we preserve.
A phrase I used to hear my Granny say to us was "Taak dy sock and hadd dee oot a lenger" which was an invitation to come along with your knitting, basically it means take your knitting to prevent boredom.  So, if you have your knitting you won't get bored – sounds right to me!
You can read more about the history of the Shetland dialect in John Graham's essay on the Shetland dialect website
Crofthoose hat on tour in NYC
Friday, January 20, 2017
Shetland Wool Week and its patron Ella Gordon have just returned from a packed few days in New York where they and Ella's 'Crofthoose hat' hit the North American market at the popular Vogue Knitting Live show.
We escaped the storms in Shetland and arrived in NYC, home to 8.5 million people, where we were met by a world of contrasts, noise and colour.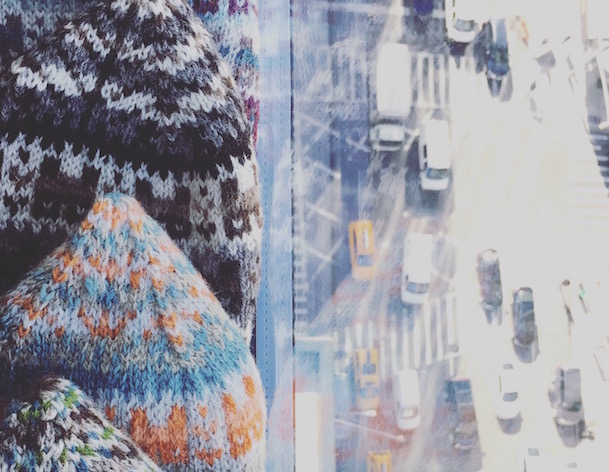 This is the second year we have attended the event – which is one of the biggest dates in the knitting and yarn calendar on the East Coast, attracting around 8,000 visitors. It took place in Times Square, a somewhat incongruous setting, and, over three days, knitting aficionados indulged their passion for yarn with thousands of like-minded people, bought endless quantities of wool from stall holders, attended classes, listened to talks and watched fashion shows. It was also a wonderful opportunity for visitors to wear their beautiful hand-knitted creations and there were many moments spent admiring and sharing compliments.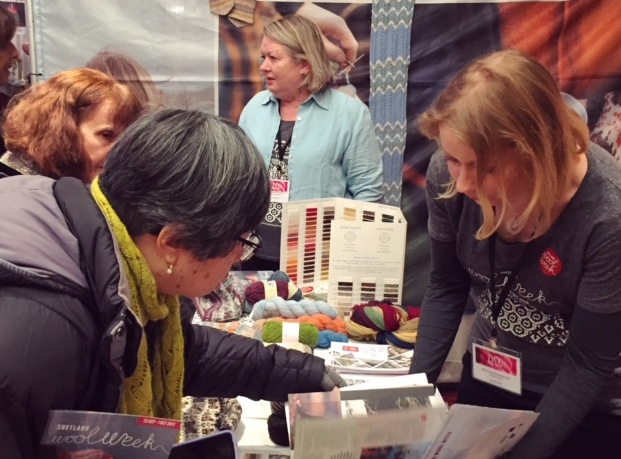 Our Shetland Wool Week stand attracted a lot of attention and it was so encouraging to be met with such enthusiasm. People seemed genuinely delighted that we had made a return visit and it was a wonderful chance for us to talk about our favourite things: Shetland's textile industry and heritage, the yarn, the islands, as well as answer any technical questions. We also loved meeting old friends and making new ones too.
We had taken samples of the different crofthoose colour ways – from Shetland Organics, Jamieson's, J&S, and Spindrift Crafts – among other Shetland samples. People appreciated the chance to be able to touch and feel the yarn and admired the different colours, especially the natural dyes from Spindrift.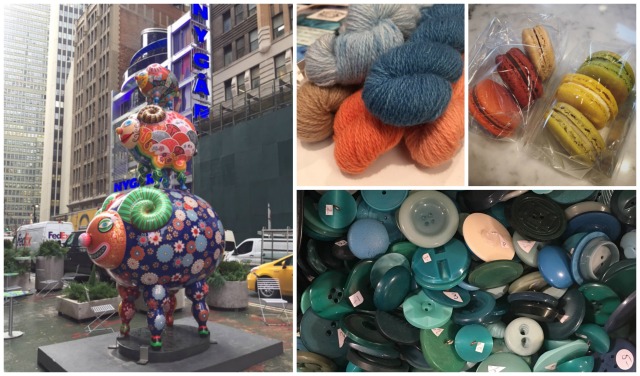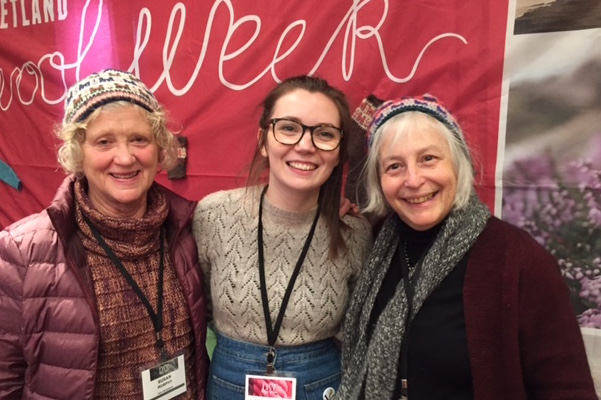 Ella was in her element as she met and chatted with her blog and instagram followers. Many were familiar with her hat design and had already knitted it, while others were keen to take the free pattern and give it a try. There were lots of questions about two colour knitting, which maybe need to be addressed. We feel another tutorial coming on …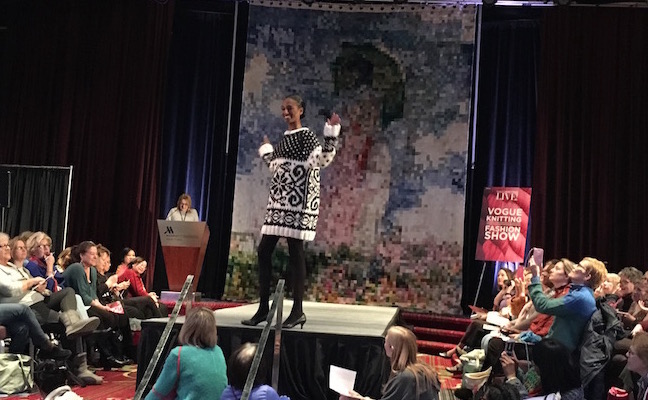 Yarn art is a key component of the event and there were some fantastic pieces on display, but the highlight surely had to be the magnificent depiction of Claude Monet's iconic 'Woman with a Parasol'. Produced in Europe by Citémôme it is the result of 100,000 knitted squares. It really was a masterpiece and made a dramatic backdrop to the non-stop fashion shows which took place.
Outside of the event, we gradually started getting the hang of Manhattan's grid plan. Seeing iconic buildings such as the wonderful 22 storey, triangular Flatiron which was built in 1902 was one to tick off the bucket list. Walking the High Line, a converted train track, and now an urban walkway with incredible views and public art was another highlight. We loved soaking up the culture and found the architecture, food, textures and colours an endless source of inspiration.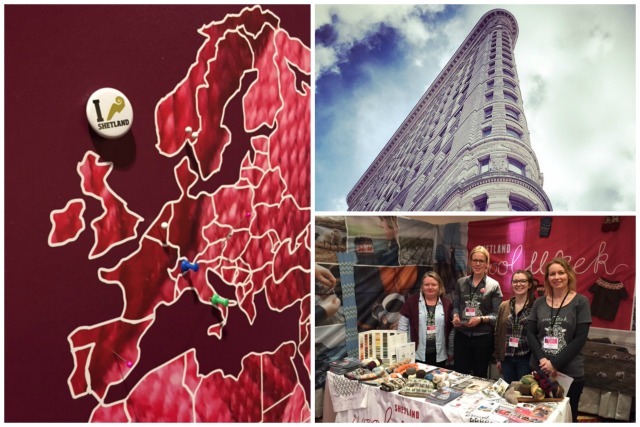 Thank you for having us NYC. We hope to be back and also see many of you at Shetland Wool Week soon.
Projects for 2017
Monday, January 16, 2017
A new year can only mean one thing … new projects.. We asked some of our Shetland Wool Week tutors what they've got lined up this year and what they're looking forward to. Read More
Oil-era Mittens
Tuesday, December 20, 2016
Shetland Museum curator, Carol Christiansen, tells us about about a recent donation to the museum which hails back to  the oil boom days of the 1970s.
Parcels of knitting sometimes arrive at my desk from people who wish to see it returned to Shetland.  A small pair of mittens, in very Christmassy colours, appeared a few weeks ago from Hampshire.  They were donated by Brenda Dawtry, in memory of her late husband Neil, who passed away earlier in the year.  Their story is set in a time of great change for Shetland.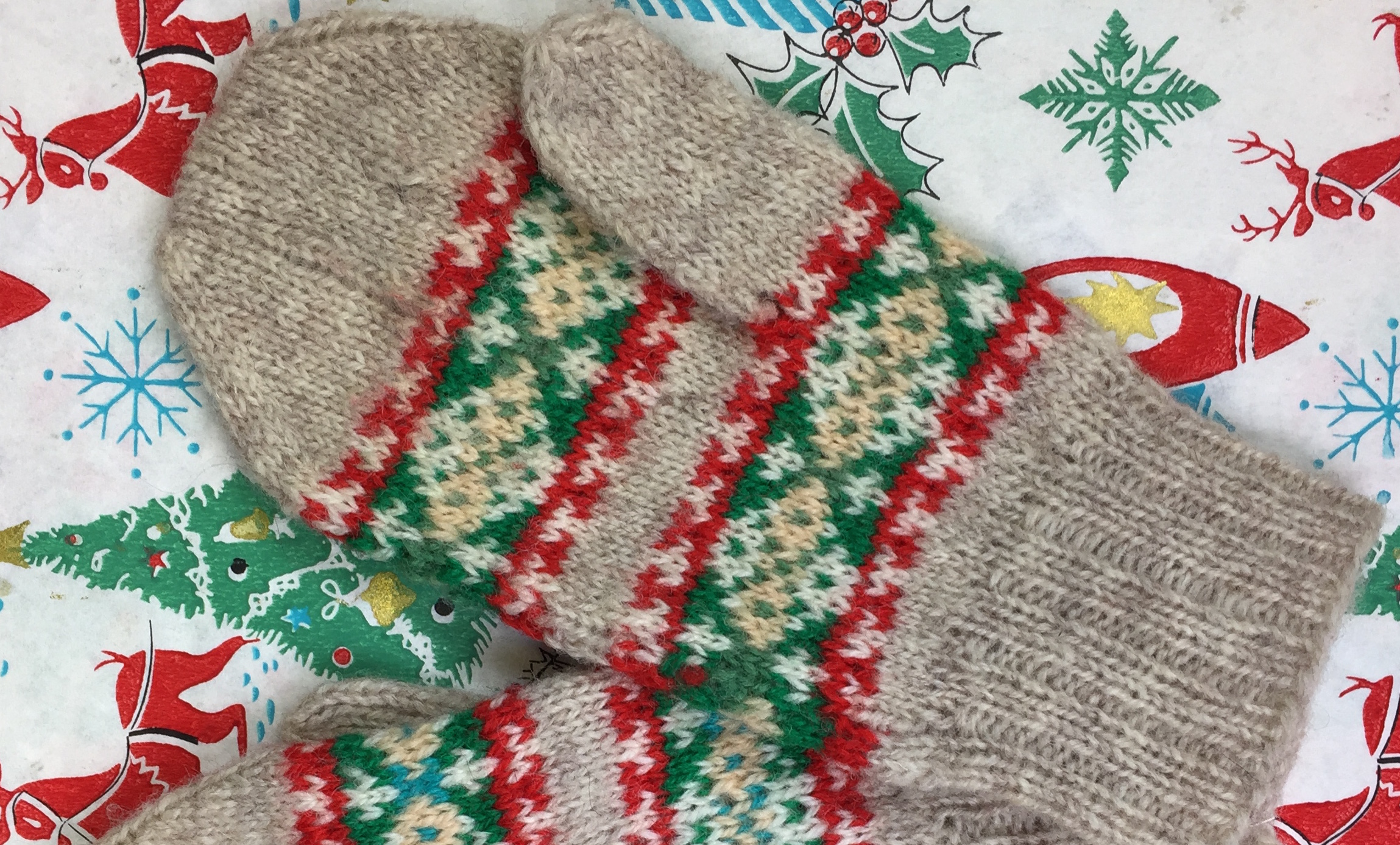 In the 1970s a huge terminal for North Sea oil extraction was built at Sullom Voe, in the north part of the main island.  Oil and gas development has transformed the islands, greatly increasing the standard of living and attracting workers from around the world, including Neil Dawtry, who worked as an electrical engineer. On his days off he explored the islands and during one of his excursions he met the Nicolsons of Brunga House, Northmavine parish.  They were an elderly couple who had raised a family of four on a small croft.  As a crofting wife, Kirsty Nicolson (1898-1985) knit her whole life, and sometimes demonstrated spinning to tourists at the St. Magnus Hotel in Hillswick.  On the back of Mrs Nicolson's calling card Neil wrote 'Mr and Mrs Nicolson bred their own sheep, sheared them, spun and dyed the wool, knitted it up.  I bought her last pair of mittens.  Mrs Nicolson's sight failed.  1979'.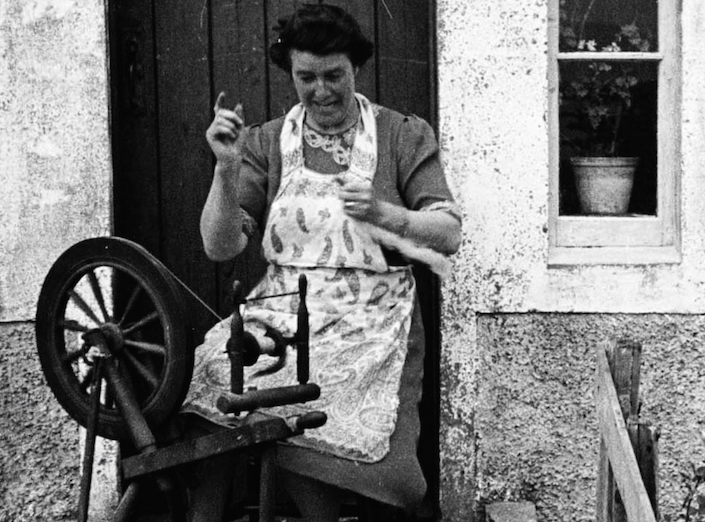 The mittens are in fawn wool with green, white and yellow diamond fair isle pattern stripes, bordered by a red and white small pattern.  The left mitten has a central band of turquoise in the fair isle diamond motif, whereas the right mitten has a slightly lighter green colour.  Perhaps this colour difference was due to Mrs Nicolson's failing eyesight at age 81.  She told Neil that she had spun, dyed and knit the mittens from her own wool, and had completed them in one day!  However, the mittens are not made from hand-spun, hand-dyed wool, but rather typical Shetland jumper weight machine-made yarns.  No doubt there was some embellishment about the making of the mittens in hopes he would buy them, which he duly did for his then future wife, Brenda.  We are grateful to Brenda for her kind donation.